I'm a firm believer that every guitarist should own an acoustic guitar, even if they're primarily an electric player. I'd put myself firmly in that camp, but every time I pick up an acoustic, something different happens.
Whether it's the completely new feel when playing or the obvious tonal differences between the two, acoustic guitars inspire a whole different style of playing. Of course, there are guitarists that are wholly committed to acoustic playing, and some amazing ones at that. Acoustics are great for singer-songwriter types, buskers, traveling guitarists, and those that want to pull out their gat at a party and impress a few friends.
Whichever category you'd put yourself in, you're going to need a decent acoustic guitar. Here's the problem:
There are way too many options out there, and it's tough to know which is the best guitar to go with. That's why we've brought together the six best acoustic guitars that you can find in 2023, rated them, and reviewed them, giving you the lowdown on which is best acoustic guitar for you.
Let's get into it.
Our Top Acoustic Guitar Picks
| Image | Guitar | Summary | Price Check |
| --- | --- | --- | --- |
| | Best Overall: Yamaha FG800 | With a solid spruce top and an all-new scalloped internal bracing, the Yamaha FG800 is one of the best sounding acoustic guitars in its price range. Heck, it's one of the best sounding acoustic guitars, hands down! You'll also find one of the nicest necks out there on the FG800 (at least in my opinion), with an accessible design and an awesome satin finish, which nicely bridges the gap between fast playing and decent neck grip. | |
| | Best For Travel: Martin LX1E Little Martin | Traveling with an acoustic guitar has never been easier than with the Martin LX1E, and there are no compromises when it comes to sound either! This capable little guitar is bright, twangy, and jangly, which comes as a result of the design of the body and neck. With a solid top, laminate back and sides, and Martin's 'rust stratabond' neck, which is super strong and made for life on the road. | |
| | Best High End: Martin SC-13E | I'm absolutely obsessed with this guitar. With an all-new S-inspired body shape, innovative internal bracing, and a neck profile that changes as you move down the neck for ultimate accessibility, the Martin SC-13E is the acoustic guitar designed for electric guitar players. With a comfortable, redesigned bridge and some fancy and discrete electronics thanks to Fishman, this really is something to be proud of. | |
| | Best Mahogany: Fender CD-60S All-Mahogany | If you're keen to get into acoustic guitar playing, but you're not such a fan of the bright and jangly variety, then you'll want to go with an all-mahogany guitar. And if you're going mahogany, you'll want to go with the Fender CD-60S All-Mahogany. It's tonally rich, it's mellow, and it's a delight to play. The flat rosewood fingerboard and thin neck profile with rounded edges make it a great option for beginners and players with smaller hands alike. | |
| | Best Budget: Fender FA-115 | Buying your first acoustic guitar can be a daunting experience; what if you get it wrong? Well, if you go with the Fender FA-115, you won't. For a low-budget guitar, the FA-115 not only sounds impressive, but it plays brilliantly. This is important for new guitarists, as learning the instrument (especially an acoustic) can mean a pretty steep learning curve. Fender helps you get around this with a thin, accessible neck profile and a solid spruce top to make sure you're hearing the best of your playing. | |
| | Best For Younger Players: Yamaha JR2 | Picking up your first guitar as a child can be tough, especially starting out on a full-sized dreadnought acoustic. That's why Yamaha has created the JR2, a ¾ sized guitar with a full-bodied sound and an excellent design. Being a smaller guitar, it's much more accessible for younger players, as the body is better matched to the body size of children, as is the neck length. | |
Every single time I hear someone playing one of these guitars, I am absolutely blown away by the pure fact that despite the FG800 being incredibly affordable, it sounds DAMN GOOD.
Sure, "good" is kind of a subjective term; everyone likes what they like. But Yamaha has gone the extra mile with the FG800 in terms of the physical design and build, and that's what separates it from the pack of other 'entry-level guitars.'
Here's what I mean:
Most budget-friendly acoustic guitar bodies are made entirely out of laminate, meaning that each surface of the guitar is actually a bunch of different layers of wood glued together. At the opposite end of the spectrum, you have all-solid-wood guitars, which don't make use of laminate and are a lot more expensive.
The Yamaha FG800 instead opts for a hybrid approach, bringing a solid spruce top into the mix. Solid-top designs tend to be more common in mid-range acoustic guitars, so it's surprising, and even inspiring, to see a solid-top acoustic being priced so affordably. As a result, the difference in sound is night and day.
The FG800 sounds epic right out of the box, but the great thing is that as the solid wood top matures, the guitar is only going to sound better as it ages!
Spruce is a fairly bright wood, so the solid spruce top on the Yamaha FG800 gives the guitar a nice bit of edge and attack, which is complemented perfectly by the nato (aka eastern mahogany) and okume wood of the rest of the body's construction.
Mahogany is a much warmer and darker wood, so it's the combination of these two choices, which give the FG800 such a well-rounded tone. It's not an overly bright or twangy guitar, nor is it boomy or too full.
It's basically sitting right in the middle of the spectrum, a sort of goldilocks acoustic, if you will.
But that's not all that Yamaha has done to make this the best sounding affordable acoustic on the market; they've also redesigned the internal bracing to improve the harmonic structure of the guitar.
Inside the body of an acoustic guitar, you'll find some form of wood bracing which keeps the body in shape and prevents it from warping. Given the way that acoustic guitars project sound is by reverberating sound waves within the body itself, it follows that anything used to brace the guitar is going to have an impact on the structure of the guitar's tone.
On the FG800, Yamaha have implemented what's known as a scalloped bracing, which essentially smooths out the shape of the wood pieces used for internal bracing, which not only makes for a more complex and rich harmonic structure it also aids punch and projection, giving the FG800 a huge dynamic range.
It's little wonder then that the FG-series is the best selling range of acoustic guitars in the world!
Compared to most acoustic guitars, the neck profile on the FG800 is a little slimmer, making the fretboard more accessible and easier to play. That makes the FG800 a great option for beginners or those with smaller hands!
The neck itself has a lovely satin-feel, which I'm a massive fan of. It's the perfect balance between grip (you don't want your hand slipping around when things get a little sweaty) and ease of movement (painted or fully-matte necks can prevent you from getting around the fretboard).
There aren't a lot of downsides to this guitar, in all honesty. Some say the string action is a little high, but this is, of course, more of a thing of preference.
All in all, the Yamaha FG800 is, without a doubt, the best acoustic guitar overall, balancing playability, tonality, and price perfectly.
Yamaha FG800 Acoustic Guitar Overview
---
Every guitarist out there knows this: Traveling with a guitar of any kind can be a massive pain in the ass.
In general, they're big, they can be kind of heavy, and as such, cost a lot to lug around on planes and trains, or even to fit into your car with a group of people.
The problem for those of us who love to travel is this: pay to bring my guitar along, or go without?
I recently spent three months traveling around South East Asia, leaving my guitar at home, and I can tell you this: the guitars you find around most backpackers and hostels are absolute garbage.
Check out our FULL Martin LX1E review HERE
Next time I do the same, I'm going to be getting myself one of the handy little guys from Martin, the LX1E.
Affectionately known as the 'Little Martin' (how cute?), the LX1E is a ¾ size acoustic-electric guitar with a 23" scale length and, despite its compact form factor, a lot to say for itself. Tonally, the LX1E is bright and jangly, definitely great for strummers and fingerpickers, though if you're after something a little more mellow and laid back, the LX1E might not be your thing.
This tone comes down to the construction of the guitar, which features a solid Sitka Spruce top, known for bright and resonant sound qualities. This is the same style of top that's used on Martin's top-of-the-line guitars, so no cheaping out here.
The rest of the body is made from high-pressure mahogany laminate, which you'd expect from a guitar of this price range. The design means the guitar body is strong and durable, just what you want if you're taking it on the road.
The LX1E comes with a padded gig bag, though I'd probably look at buying a hard case to protect such a nice acoustic guitar!
The neck on the LX1E is something a little interesting; it's a 'rust stratabond' design, which is essentially a whole bunch of little strips of wood glued together. The benefits here are twofold: a strong neck and less requirement for wood (yay, environment).
The verdict is still out on what this means for playability, though it really seems to a matter of preference, kind of like everything else!
As far as electronics go, the current version of the LX1E (which features upgraded electronics since the initial release) includes a lovely pickup and preamp from Fishman, a Sonitone unit.
This allows the LX1E to be plugged in as an acoustic-electric guitar for extra amplification, meaning it's a great choice not only for casual guitar-playing travelers but for touring musicians as well!
Martin LX1E Little Martin Acoustic Guitar Overview
---
Guys, I'm in love. Sadly, it is not with a human. It is with this epic new release from Martin.
The SC-13E was released mid-2020, and I'm just going to come out and say it: this guitar is a gamechanger.
It's safe to say that Martin has been a bit quiet on the innovation front, but they've turned the tables with the SC-13E.
Okay, enough hype. Here's why:
One look at the Martin SC-13E, and you'll see this is a new shape from Martin. In fact, there aren't really any other acoustic guitar manufacturers out there doing anything like this.
The shape might not be everyone's bag, but I've recently discovered an affinity for offset shaped guitars such as the Fender Jaguar and Jazzmaster, so this is definitely up my alley. That newly designed body shape has a few benefits (other than being sexy as hell).
One of which is the tonality of the guitar, which is pro-level for sure, and a good balance between jangly and subdued.
More importantly (for those like me who are primarily electric players), it allows greater access to higher frets.
That appears to be Martin's main objective with the SC-13E, as they've also completely redesigned the neck joint on this baby.
The joint has no heel whatsoever, and there's an interesting little cutaway where the neck joins the body so you can get your hand right in there. In line with this idea, the neck and body meet at the 13th fret, which is something a little unique in itself.
Most acoustic guitars opt for a join at either the 12th fret or the 14th fret. By joining the body to the neck at the 13th fret, Martin has blended the best of both worlds: the accessibility and comfort of a short-scale guitar and the gorgeous tonality of standard scale acoustics.
Other features on the SC-13E that lend themselves to easy playing are a redesigned bridge profile, a slim neck profile that is contoured along the length of the neck, and a lovely ebony fretboard.
Speaking of tonewoods (god, do you hate that word as much as I do?), the body of the SC-13E is a mahogany core with a thin koa veneer (super sexy), with a solid piece of Sitka spruce making up the top of the guitar.
There are a few more interesting little innovations on the Martin SC-13E (yeah, I know, more!).
The first is a cross-braced back, which you can see through the soundhole. It appears this is necessary to properly brace the new body shape, but I personally think it also looks super cool.
It's an acoustic-electric, with discrete electronics from Fishman that are well hidden. There's a tuner tucked just inside the bottom side of the soundhole, visible only by the player!
All in all, this is an absolutely fantastic acoustic guitar.
Fine, I'll say it, it's the guitar of the future!
Martin SC-13E Acoustic Guitar Overview
---
Here's something a little different: an affordable acoustic guitar featuring an all-mahogany build and solid wood top.
All-mahogany, you say? This is going to be one mellow and warm sounding acoustic, no?
Well, yes, compared to some of the other models reviewed here, and compared to the spruce-topped CD-60S, it is pretty laid-back, but not as much as I was expecting.
Of course, there's the influence of the strings you put on this bad boy, as well as, of course, your playing style, but in general, the CD-60S All-Mahogany is probably only about half as dark as I was expecting tone-wise.
It's built with beginner guitarists in mind (and priced accordingly), so Fender has incorporated a slim, thin-C shape neck profile, which they've so creatively dubbed their "Easy-to-play" neck profile. Gets the point across though. Still, being a dreadnought (read: big body) acoustic, the Fender CD-60S All-Mahogany might be a little on the cumbersome side for some smaller-bodied, younger learners.
You're rewarded with all that a full-sized dreadnought has to offer, though: excellent bass response, and pronounced midrange, and a volume and sustain for days.
In line with Fender's "hey, this guitar is for beginners" attitude, they've designed the CD-60S with a fairly flat rosewood fingerboard with a 12-inch radius, neatly rounding off the edges for a smoother, more accessible feel that welcomes beginner hands.
Inside the body, there's not too much going. It's an acoustic-only guitar, so no fancy electronics or pickups here, and the CD-60S All-Mahogany uses Fender's tried and tested scalloped X bracing to keep the body strong and the guitar resonant and harmonically complex.
There's little else to say for the Fender CD-60S All-Mahogany, really. It's a solid contender for any beginner or intermediate acoustic guitarist and the top pick for anyone after an affordable guitar that offers a more subdued and mellow tonal palette than spruce-top acoustics.
Fender CD-60S All-Mahogany Acoustic Guitar Overview
---
Buying a guitar on a budget is tough, real tough.
Not because there is no shortage of low-cost guitars, not at all. More because there is no shortage of really bad low-cost guitars.
The Fender FA-115, however, is not one of them (aside from the low-cost part, as it's super affordable).
Yes, there are cheaper guitars out there, no doubt. But none of them hold a flame to the FA-115.
The big lift in quality compared to other similarly-priced guitars comes from the FA-115's solid spruce top.
Where most other budget-friendly acoustics use a laminate top (as did the FA-100, the FA-115's predecessor), the FA-115 opts for a solid chunk of wood, which up until now has been a design and build technique reserved for higher-end guitars. The result is a much punchier and beautifully complex tone, with greater resonance and pronounced midrange that accentuates both intricate fingerpicking pieces as full-on, balls to the wall strumming.
Aside from the spruce top, the rest of the FA-115 build is pretty standard for a budget-friendly guitar, but the construction is high-quality regardless.
The rest of the guitar is made from laminated basswood, which provides that classic visual contrast of dark and light woods we've come to know and love on acoustic guitars.
The neck is nato, and it has a laminated hardwood fretboard, so really nothing special in either of these areas, but also nothing to sniff at!
One thing you'll find on the FA-115 which appears to have been given special attention is a thin, accessible neck profile. Sure, it's not so thin as to feel like an electric, but it's definitely narrower than some more traditional acoustics.
This makes it great for those of us who have smaller hands, or, of course, beginner guitars, which is primarily who the FA-115 is designed for.
Whether you're looking for your first guitar, or just an affordable, reliable backup, the Fender FA-115 will be at home with you for sure.
Fender FA-115 Acoustic Guitar Overview
---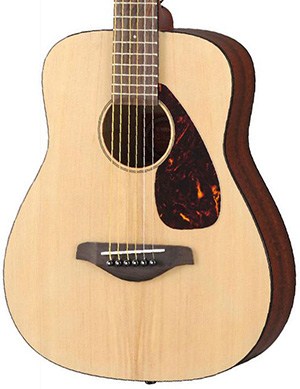 Buy from Amazon
There is no better time to pick up a new instrument than when you are young.
For budding guitarists, though, this can present a wee issue:
Full-sized dreadnought guitars are huge; way too big for young guitarists picking up their first acoustic at aged 7.
Enter the Yamaha JR2.
The most recent addition to Yamaha's JR series (yep, junior), the JR2, is the perfect entry point for guitarists aged 12 and below (roughly), being a ¾ sized guitar.
That means that the distance from the nut to the bridge (one end of the strings to the other) is ¾ the length of that of a full-sized guitar, bringing the furthest end of the neck closer to the body of the guitar and of the player! The physical body of the guitar is a fair bit smaller too, which makes it a lot easier to hold and brings it more in line with the normal ratio of human body size to guitar body size.
Don't let the small form factor fool you, though: this is not a toy.
Far from it, the Yamaha JR2 is a proper acoustic guitar, designed especially for children, younger players, and travelers alike.
The JR range is based on Yamaha's best-selling F-series (you'll notice their FG800 took out our Best Overall acoustic guitar spot), so you know it's excellently designed.
As such, it features mahogany back and sides, a spruce top (solid top on the JR2S), a nato neck, and a rosewood bridge and fingerboard.
That's a whole bunch of different woods, which leaves you thinking: what does the JR2 sound like?
In sum: nothing short of excellent.
Okay, let's be realistic, it might not be on the same par as guitars that cost 10x as much as the JR2, but I can tell you this: those guitars sure as hell don't sound 10 times better.
The tone of the JR2 is well-rounded, thanks to its mainly mahogany construction (a warm and mellow wood), and its spruce top, which is a much brighter and edgy sounding tonewood.
Together, the two elements work in harmony to create beautiful melodies with a rich complexity about them.
Aside from it's much more accessible body shape and size, it's much like a full-sized dreadnought in every other way: it plays like a full-sized guitar, it's strung like a full-sized guitar, and it pretty much sounds like a full-sized guitar.
Those considerations together are what see the Yamaha JR2 take the title of best acoustic guitar for younger players and make it the perfect entry point into acoustic guitar playing.
Yamaha JR2 Acoustic Guitar Overview
---
Frequently Asked Questions
How do I choose a good acoustic guitar?
There are a lot of factors that need to be considered when choosing a good acoustic guitar.
First of all, there's what's good for your playing style (which you may not yet have discovered). Guitars labeled as 'bright' tend to be good for super jangly strumming or for fingerpickers. That said, some fingerpickers prefer a darker tonality, so it does come down to preference a little.
As a general rule, look for something with a solid top as opposed to a laminate top, as solid top guitars tend to sound much better.
Though choosing a guitar on the basis of brand name alone might not be the best avenue, it should still hold some weight. The reason being is that well-known brands are well known for a reason.
Companies like Fender and Yamaha have been making quality acoustic guitars for years, have perfected the art, and have the physical capacity to make excellent, low-budget guitars at scale.
The same simply can't be said for some new, unheard of brands entering the market today.
Which is the best guitar for beginners?
The best guitar for beginners is the Fender FA-115, which is a great all-round acoustic guitar at an affordable price point.
It's comfortable, it sounds great, and it doesn't break the budget, which is something to bear in mind when choosing your first guitar, as you may well find it's not for you!
For younger guitar players, we'd recommend something a little smaller, like the Yamaha JR1.
How do I choose an acoustic guitar for the first time?
If you're looking for your first acoustic guitar, then you probably don't yet have a preference for playing style, sound, or specific woods or components.
In that case, you should look for a well-rounded guitar like the Yamaha FG800.
If you can, find a friend or local store that has the same model that you're looking at, and give it a try!
How long does it take to learn acoustic guitar?
It can take around 18 months to learn acoustic guitar, though you should be up and running and playing a few tunes within the first six months.
That said, guitarists never stop learning, as there's always a new technique to master. So, even after the first 18 months, you'll still have plenty to keep you busy! Check out our guitar lessons review page to find which lessons may be best suited to you.
Is acoustic guitar easy to learn?
The acoustic guitar isn't "easy" to learn, but there are definitely harder instruments to master.
The biggest challenge for most beginner guitarists is the initial learning curve, especially from a physical perspective.
Many chord shapes and guitar techniques feel pretty unnatural at first, and it can take a while to build up hand and finger strength to be able to nail things like barre chords.
If you're new to music and instruments, then it might take you a bit of time to master timing aspects as well. Plus, there's all of the terms of concepts which can be pretty alien to first-time musicians.
Don't let that hold you back though, everyone has to start at the beginning, and even your favorite guitarists were, at one point, complete beginners.
Learning an instrument, especially the acoustic guitar, is an incredibly fun and rewarding experience for sure.
How many hours a day should you practice guitar?
You should practice for around 30 mins a day, up to an hour.
A good rule of thumb, especially when you're first learning, is to practice for short periods of time, regularly.
For example, it's better to practice for half an hour every day than to practice for two hours twice a week.
This approach is not only proven to be more effective for human learning, but it also reduces the amount of physical fatigue (your fingers can get pretty sore when you're first starting out), allowing you to continue practicing the next day.
Conclusion
Choosing a new acoustic guitar can be a little daunting, but it doesn't have to be.
In fact, it should be exciting!
That's why we've taken the hard part out of the exercise, found the six best acoustic guitars to buy in 2023, and put them to the test right here.
If you're still undecided, then I'd have to say go with the Yamaha FG800. It's the best acoustic all-round, it's pretty damn affordable, and it sounds amazing.
If you're an electric guitar player looking for a high-end acoustic, but you often struggle with the massive difference in feel, then bring home the Martin SC-13E.
You won't be disappointed.