Music Man is one of the most well-respected brands in the music industry. Its StingRay bass is one of the most popular and coveted among bass players because of its quality sound, feel, playability and overall performance. The StingRay was the first among production line basses to have built-in active EQ.
Many well-known bassists have chosen the StingRay as their main axe at some point in their career for both recording and live performance. These include John Deacon of Queen, Flea of the Red Hot Chili Peppers, Cliff Williams and Mark Evans of AC/DC, Rex Brown of Pantera and Simon Gallup of The Cure, among many others.
The StingRay is a head-turner too, with its signature egg-shaped (some say teardrop-shaped) pickguard. Unfortunately, the Music Man StingRay commands a pretty penny that many musicians don't have.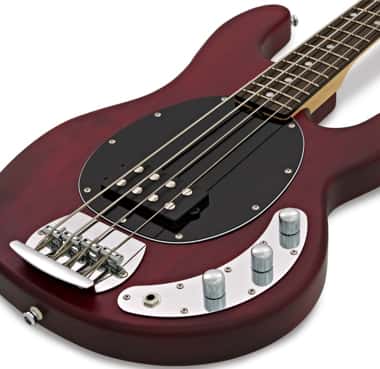 Enter Sterling, a sub-brand of Music Man that offers instruments priced for folks looking for a more affordable yet quality alternative. Sterling has its own version StingRay basses that beginners and players on a budget would love.
StingRay Ray4 Overview
| Ideal For | Beginner-Intermediate |
| --- | --- |
| Best Feature | Excellently made |
| Optional Colors | Yes |
| Price | $300 |
We're putting the spotlight on the Sterling by Music Man StingRay Ray4 Bass, which we consider to be one of the best bass guitars with excellent value for money. It currently retails for around $300, a price that's more than reasonable – you can even say cheap for a bass guitar – considering what it offers.
The Sterling Ray4 is so good that it impressed even those who own a Music Man StingRay bass, who say that the Ray4 was very similar to the StingRay in terms of playing feel and sound quality. Let's take a closer look at what the Ray4 has in store.
Sterling by Music Man StingRay Sub Ray4 Electric Bass Guitar Overview
Build and Design
The Sterling by Music Man StingRay Ray4 Bass is a full-size bass with a scale length of 34 inches.
The body of the Ray4 is made from basswood, a common tonewood of choice for entry-level bass guitars. The shape, with the double cutaway, is clearly patterned after the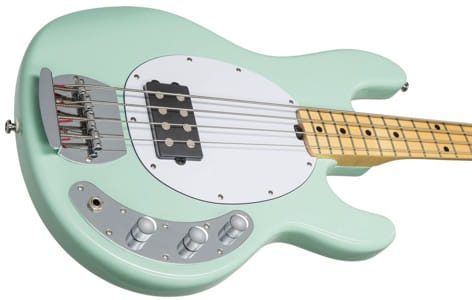 Music Man StingRay. It has of course that signature pickguard – no one will mistake it for anything other than a StingRay.
The Ray4 has the same simple, no-fuss uncluttered look about it, which many musicians love. Even the layout of the controls is done in the same classic style. The finish is neatly applied and makes the bass look super neat.
The Sterling by Music Man StingRay Ray4 Bass is available in several eye-catching finishes, so you can choose according to your preference or personality. Take your pick from the gloss finishes (Fiesta Red, Mint Green, Vintage Cream, Black) or the satin finishes (Walnut, Trans Blue, Ruby Red Burst, Vintage Sunburst).
The Black, Mint Green and Vintage Sunburst finishes have a hard maple fingerboard with black dot inlays while the Fiesta Red, Ruby Red Burst, Trans Blue, Vintage Cream and Walnut finishes have a jatoba fingerboard and white dot inlays (some have rosewood fretboards). The Ray4 also comes in a left-handed version in Black.
We seriously love them all, but we do have a soft spot for that Vintage Sunburst model, which looks just like the StingRay that John Deacon rocked during Queen live shows except for the different-colored pickguard (Deacon's bass had a white pickguard). Check out his 'Liar' solo on that bass during their 1977 Earl's Court concert to see the bass in action up close!
It is said that Deacon got his StingRay in the States during a tour and used it not only for live performances but also for recording the chart-topper 'Another One Bites the Dust,' which he wrote. The movie "Bohemian Rhapsody" got that bass guitar bit right – actor Joe Mazzello is seen playing the song with a StingRay.
Now, back to the StingRay's younger cousin, the Ray4. It has a hard maple neck that's firmly bolted on to the body with six bolts for maximum stability and resonance. Embossed on the neck plate is the guitar's serial number.
There's a standard truss rod for adjusting the neck. A small cutout at the pickguard gives easy access to the adjuster wheel. No need for Allen keys for making adjustments – a small screwdriver or any straight bar will do. The fingerboard has a 12-inch radius and 21 medium jumbo frets. Over at the headstock, the tuners are arranged in Ernie Ball's trademarked "3+1" tuning key configuration. This arrangement allows for a straight string pull and an easier time tuning the bass. A straight string pull from the bridge to the nut and tuners causes less friction on the nut, resulting in a more reliable and stable tuning.
The nut is slightly narrower than those on other bass guitars for easier playability, especially for learners and players with small hands. The nut measures 1.49 inches (38 millimeters), similar to that of a Fender Jazz bass.
The bass weighs 10 pounds and has a good, comfortable feel. It's just the right size and weight for most players – it's not too heavy that you'll get exhausted after a few minutes of playing standing up.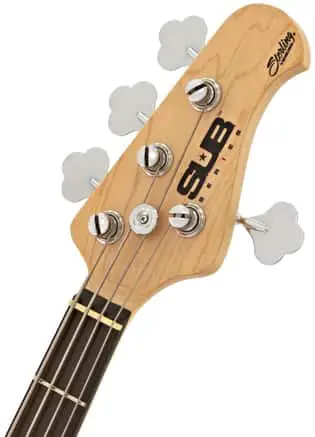 The Sterling StingRay is manufactured in Indonesia. Now don't let that fool you into thinking that the bass wouldn't be any good because it's not born in the USA. We've seen a lot of excellent electric guitars and basses roll out from across the globe. Case in point, the much-lauded Ibanez GSR series of basses are also made in Indonesia.
Music Man assures that all Sterling instruments get their final setup and inspection right in the United States and that each Ray4 bass undergoes a high standard dual-inspection process to ensure quality. We believe this to be true as the overall build and craftsmanship is top-notch. All it needs is a quick tuning adjustment (guitars going out of tune during transit is something to be expected) and you're good to go.
Hardware
The Sterling by Music Man Ray4 bass guitar rocks some pretty solid hardware. It boasts a heavy-duty fixed bridge, which is modeled after the bridge on the original StingRay. The bridge has four fully adjustable saddles, giving you total control over your intonation and the height of individual strings.
It also has open-gear tuning machines that get the job done and don't feel flimsy at all. They're easy to tighten and loosen and do well in keeping the bass in tune.
The control knobs are all neatly arranged on a boomerang-shaped chrome control plate, which adds to the guitar's refined look. The jack socket is also on the metal control plate.
Electronics
The Sterling Ray4 bass is equipped with active electronics. It has a powerful ceramic humbucking pickup designed in-house. The high-output H-1 humbucker sits at the bridge position and is wired directly to a custom-designed active preamp that has a 2-band EQ. The active circuitry is powered by a 9v battery, which can be found in the easy-access battery compartment at the back of the bass.
Mounted on the trademark chrome control plate are the controls for the master volume, treble and bass. Nothing special or revolutionary, but this simple layout is extremely efficient, making tone shaping a breeze.
You may be wondering, what makes it a great bass if it only has one humbucker, with no coil switching options?
Well, let us tell you that the single humbucker is the only pickup you'll ever need in this bass, and the volume and the treble and bass boost and cut controls the only control knobs that are necessary.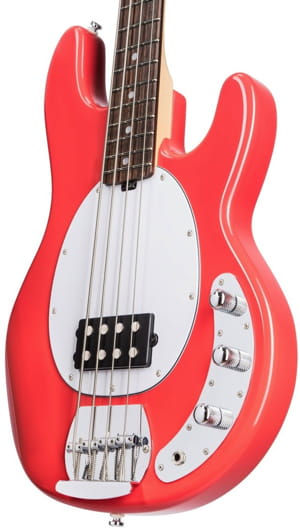 Besides, many bass players desire the simple setup that the Ray4 provides. By having only one humbucker, you eliminate the need for two or three more control knobs, which can make a guitar look and feel cluttered. It also reduces the time tweaking all those knobs and flipping those switches until you come up with the sound you're looking for.
This simple configuration is actually ideal for beginners. Without other pickups and knobs, they can focus on their playing and training their ear to hear and identify the nuances between bass and treble.
Even pro musicians look for down-to-basics instruments for practice, recording and performance purposes. A straightforward bass like the Sterling Ray4 helps them keep their sound consistent.
Sound
This Sterling by Music Man StingRay bass delivers a good tone, something you wouldn't normally expect from an entry-level instrument, but definitely something that would make you believe that yes, this is a Music Man bass.
The lone humbucker on the Sterling Ray4 provides plenty of range on its own. You'll see it offers plenty of tone variation, from those low dubs, chunky mid-range tones to high rasps. The Ray4 bass is great when you need to make those driving rhythms and it also performs well when playing precision pieces. There's enough definition and clarity to stand out.
Final Word
The Sterling by Music Man StingRay Ray4 bass brings the timeless and iconic StingRay build and sound quality in a more affordable package. It doesn't matter if you're a beginner learning your first chord progressions or a seasoned player looking for a basic bass to practice on – you'll love the Ray4's ease of use and overall performance.
As a beginner instrument, the Sterling by Music Man StingRay bass not only meets requirements but also exceeds expectations. It has excellent build quality, feel and performance, and a true Music Man quality at an accessible price point. Even after you've advanced as a bass player, you'll still find this bass valuable as a practice instrument, a backup or even your go-to axe for gigs. You won't regret getting this one.