As you become a more advanced guitar player, you'll surely begin to look for the best high-end acoustic guitar. You're now on the quest to get a guitar that equals your abilities and supports your dreams of going pro. You want a guitar that's made with higher-grade woods, is equipped with better acoustic tech and hardware and has been subjected to the strictest quality checks. A guitar that will be with you every step of the way as you become the musician you've always wanted to be. Here are 9 models you can definitely spend your hard-earned money on.
Also, check out our reviews of acoustic guitars under $2000 and acoustic guitars under $1500.
Our Top High End Acoustic Guitar Picks
| Image | Guitar | Summary | Price Check |
| --- | --- | --- | --- |
| | Gibson Hummingbird Acoustic Guitar | When you're up against the instantly recognizable Gibson Hummingbird, you should know that the fight is already over before it even begins. The Gibson Hummingbird Rosewood Avant Garde model for 2018 is slightly different however, but it is a Hummingbird. This slim body dreadnought with a cutaway definitely lives up to its world-renowned name. | |
| | Taylor 414ce Acoustic Guitar | Another high-end guitar that's worth the investment is the Taylor 414ce, a Grand Auditorium acoustic with a cutaway. The combination of the woods used in this guitar, along with its advanced internal bracing, gives it a great intonation and tonal clarity in addition to an impressive projection and sustain. It's a highly responsive and versatile guitar you definitely should consider. | |
| | Martin D-28 Acoustic Guitar | Now, this Martin isn't going to back off from Gibson's 'bird, as it, too, has a fierce reputation as a musician's favorite. If you are serious about your craft, the Martin D-28 can really take you to new heights. Featuring a solid Sitka spruce top, and solid East Indian rosewood back and sides, this is really the 'quintessential Martin acoustic.' | |
| | Taylor 814ce Acoustic Guitar | Boy, now this Taylor is really something that can take your breath away with its superior craftsmanship, playability and sound quality. The Taylor 814ce certainly feels and sounds like a luxury offering. It features a brand-new Taylor pickup and bracing design, giving the guitar greater sustain and tonal clarity. This Grand Auditorium guitar also has a Venetian cutaway. | |
| | Martin D-18 Acoustic Guitar | Another Martin in our list is the D-18, loved for its classic deep, rich dreadnought sound, which is further enhanced by the guitar's forward-shifted scalloped X-bracing. The D-18 always gets 5-star reviews, and for good reason. It's built to last and has that famed Martin tone that makes people want to learn to play the guitar in the first place. | |
| | Martin HD-28 Acoustic Guitar | The last Martin guitar on our list is one you definitely should not overlook. The Martin HD-28 is updated for 2018 with a new scalloped X-bracing in a forward-shifted pattern, which together with the classic dreadnought shape brings out more of the iconic Martin sound. We're loving the vintage-style touches too. | |
| | Taylor 714ce Acoustic Guitar | You have to forgive us for including yet another Taylor in this list of best high-end acoustics because Taylor guitars are just that good. The Taylor 714ce Grand Auditorium guitar has been given a redesign, with new bracing, aesthetics and materials used in its construction. Like the other Taylors mentioned here, the 714ce has the Expression System 2 pickup. | |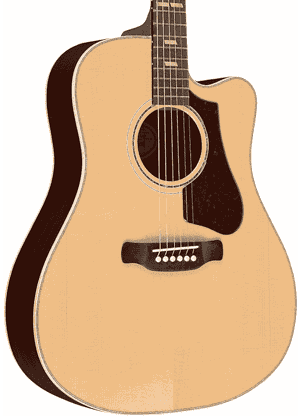 Buy From ZZSounds
The Gibson Hummingbird Rosewood Avant Garde acoustic guitar is a 2018 release and is the company's premier offering for those looking for a slim-body guitar with a cutaway. It sports the iconic Hummingbird square shoulders and is made using Gibson's time-tested techniques for building its iconic guitars by hand.
This model features a solid Sitka spruce top, rosewood back and sides, mahogany neck, Richlite fingerboard and bridge, mother-of-pearl inlays, Tusq nut and nickel-plated Mini Grover tuning machines.
All of the Avant Garde models in the lineup embody the basic building blocks upon which a Gibson acoustic guitar is made. In the Gibson Hummingbird Rosewood AG model, you will see artistic and first-rate craftsmanship, particularly in the hand-fitted dovetail neck joint, the nitrocellulose lacquer finish that's been hand-sprayed to perfection and the domed top and back.
The AG models are also given an Advanced Response neck profile, a flatter fretboard with softened edges and a slimmer body, all of which contribute to the guitar being comfortable and easy to play. This Gibson Hummingbird acoustic is also equipped with the highly acclaimed L.R. Baggs Element electronics system for studio- and stage-ready performance anytime. The guitar comes with a Gibson hardshell case.
Gibson Hummingbird Acoustic Guitar Overview
---
Taylor really does know what it's doing with its acoustic guitars. The company's instruments come up time and time again in lists of best acoustic guitars, from their entry-level offerings to the more high-end models. In the case of the latter we've selected Taylor 414ce, an acoustic-electric guitar in a Grand Auditorium body shape with a Venetian cutaway for easier access to the upper frets.
The 414ce features a solid top of Sitka spruce, a mahogany neck, ebony fretboard and solid ovangkol back and sides. Ovangkol, a hardwood that grows in tropical West Africa, has a similar tone characteristic with that of rosewood. This material gives the Taylor 414ce a strikingly exotic look, and it also seems to make the naturally bright sound of the guitar a little more rich. There is also a rosewood version, the Taylor 414ce-R, which uses Indian rosewood for its back and sides.
The Taylor 414ce is equipped the Expression System 2, a pickup design that boasts three pickup sensors that were calibrated individually and positioned in the guitar in such a way that it amplifies that guitar's unique voice in the most natural way possible. The sound is definitely spot on.
Taylor 414ce Acoustic Guitar Overview
---
When you are the guitar of choice of some of the most celebrated and revered musicians in the world such as Bob Dylan, Jimmy Page, Johnny Cash and Eric Clapton, among many others, you really have something to boast about. Such is the glory that the Martin D-28 enjoys.
The Martin D-28 has a solid Sitka spruce top, mahogany neck, ebony fingerboard and bridge, solid East Indian rosewood back and sides and mother-of-pearl fingerboard inlays.
The D-28 was introduced way back in 1931 and has undergone several changes to its design to improve its playability and sound quality. For instance, the 'reimagined' D-28 for 2017 now features a forward-shifted X-bracing pattern, which results in the guitar having a greater bass response. It also gives the guitar a 'mature' sound, like it's been played in even when it's fresh out of its case. Even with a more resonant bass, there is an impressive tonal balance, with highs clearly articulated.
The standard Martin D-28 we've listed here may only use the classic non-scalloped X-bracing, but that doesn't mean it has an inferior sound. Far from it, because this guitar already has a high-quality tone and booming projection from the get-go.
Martin D-28 Acoustic Guitar Overview
---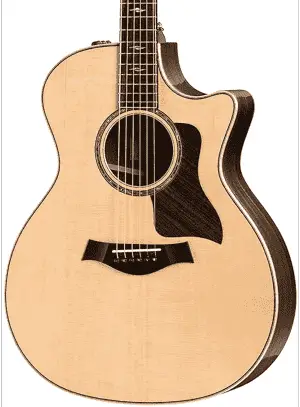 Buy from Zzsounds
If you can buy and play just one acoustic guitar your entire life, the Taylor 814ce is certainly worthy of being considered your 'only.' This guitar simply excels in any playing style you put it through, whether it's fingerpicking or strumming. This versatile guitar is also extremely easy to play, thanks to its low action and hand-friendly neck.
Part of Taylor's 800 Series of guitars, the 814ce Grand Auditorium guitar features a solid Sitka spruce top, solid Indian rosewood back and sides, West African ebony fretboard and bridge, rosewood-edged abalone rosette, mother-of-pearl fingerboard and peghead inlays, tropical mahogany NT neck and a rosewood pickguard. The Sitka spruce-Indian rosewood pairing results in a sound that can be described as warm with a distinct low end and pleasing high end.
We'd like to focus on one of the features that set this high-end model apart from the other acoustic-electric guitars in its price range: the V-Class bracing. This kind of angled bracing produces a louder sound with longer sustain and the best intonation possible.
Electronics-wise, the Taylor 814ce is fitted with the Expression System 2, which uses not one, but three piezo sensors behind the saddle for a superb naturally amplified voice.
Taylor 814ce Acoustic Guitar Overview
---
If you want to experience playing a classic, timeless Martin guitar, the D-28 is your best bet. Though it's priced lower than the Martin D-28, it's definitely not cheaper by way of quality. The D-18 has that deep, warm, full-bodied sound and the look of vintage Martins. Many even prefer the sound of the D-18 over that of the D-28!
The Martin D-18 boasts a solid Sitka spruce top for a crisp, rich and highly responsive tone that gets better as the wood ages. It also features genuine mahogany back and sides for superb clarity and just the right amount of punch. The warm Martin sound is projected more because of the guitar's forward-shifted scalloped X brace. With greater resonance and tonal clarity, the guitar is really something you would want to have for your own.
One of the most-liked things about the D-18 is the modern High Performance tapered neck with a modified low oval shape, which gives the guitar a slim and fast feel. Modern definitely meets vintage in the Martin D-18, which sports retro-style appointments such as open-geared tuners.
The Martin D-18 is one pro-level acoustic guitar you'll never want to put down. Satisfaction is absolutely guaranteed.
Martin D-18 Acoustic Guitar Overview
---
Fun fact: The 'H' in the HD-28 stands for herringbone, in reference to the herringbone binding. The Martin HD-28 actually shares similar specifications with the D-28.
Like the D-28, the Martin HD-28 also has a solid Sitka spruce top, low-profile neck, forward-shifted X bracing, East Indian rosewood back and sides and ebony fingerboard and bridge. The D-28 and the HD-28 are basically twins in terms of measurements, which means that holding the HD-28 feels the same as holding the D-28.
Martin began offering the HD-28 dreadnought in the mid-'70s to cater to musicians who wanted to have a D-28 that reflected the qualities of guitars produced during the '30s and '40s – often considered the 'Golden Era' of Martin's acoustic guitars.
Aside from the herringbone inlay, the Martin HD-28 also features a tortoiseshell patterned pickguard. In contrast, the D-28 sports simpler striped inlays and a plain black pickguard. The HD-28 has also been given a really nice aging toner top finish, which gives it an authentic vintage look.
As for the sound that comes out of this high-end acoustic, well, it's the classic Martin tone: a warm, deep tone with a rich bottom end, articulate highs and smooth midtones.
Martin HD-28 Acoustic Guitar Overview
---
We're loving the redesign done on the Taylor 714ce, so deciding to include it in our list of the best high-end acoustic guitars is a no-brainer. This Grand Auditorium acoustic feels right at home with different playing styles, whether you're into mellow fingerpicking or aggressive strumming.
This guitar has a soundboard made of Lutz spruce, which is a hybrid of Sitka and White spruce. This tonewood takes the best qualities of the two and blends with the powerful tonal output associated with Adirondack spruce. This is one of the reasons why the 714ce has an impressive sonic horsepower, characterized by a rich tone as well as plenty of projection.
Another reason why the Taylor 714ce is such a great guitar is that it also has V-Class bracing for optimum volume, sustain and intonation.
The Lutz spruce top is excellently paired with Indian rosewood, used for the back and sides of the guitar. The Taylor 714ce also features koa binding, a weathered brown pickguard, tropical mahogany neck, West African ebony fretboard and a Douglas fir herringbone rosette.
And as with the other Taylors in this list, the 714ce is fitted with the Expression System 2 with three pickup sensors.
Taylor 714ce Acoustic Guitar Overview
---
Tips when looking for the best high-end acoustic guitar for you
For serious musicians
All of the acoustic guitars in this list are priced upwards of $2000, putting them in the realm of high-end models. Their cost alone makes them prohibitive to most guitar players, but then again these guitars are not for everyone.
We don't mean this as a bad thing. If you have the money to get one (or more!) of these models – even if you're just starting out – by all means go splurge and enjoy your purchase. There's definitely a benefit to having a well-built guitar that only sounds better with time, like the solid-top guitars here. A great guitar is always a good investment.
If you want to purchase a high-end guitar, it means you are taking your music seriously and are ready to move up from the generic beginner- or intermediate-level guitar you've always had. You already know the kind of sound you want in a guitar, so it's time to take a step up and go for the guitar that you feel would fit your preferences now.
We've selected the guitars above based on how they cater to more experienced, discerning guitar players. We believe they fit the profile of a professional acoustic instrument to a T and would serve you well in a variety of situations such as composing, recording, teaching and performing.
Worth the money
Are these premium acoustic models really worth spending on? In a nutshell, absolutely – especially if playing guitar isn't just a hobby for you, but a profession and a veritable way of life. So, why buy a high-end guitar? What makes premium models a whole lot better than beginner guitars?
More expensive instruments translate to better-quality materials and a higher attention to detail. Quality craftsmanship translates to a more accurate pitch and consistent volume not only along the fretboard but across the entire guitar.
Higher-end guitars have better acoustic technology, such as bracing design. Bracing does a lot in affecting how a guitar projects sound, so you can expect premium dreadnought models to have a bigger sound than beginner dreadnoughts.
Upper-tier models also have a wider dynamic range and responsiveness due to the use of high-grade tonewoods. These guitars are capable of producing different sounds when different playing styles are employed.
They sound better as the years go by. High-end acoustic guitars have solid wood tops instead of laminate wood. Solid wood opens up with age, so it means guitars with a solid wood construction will have a more beautiful tone the more you play them.
Superb workmanship results in a praiseworthy instrument. Sharp fret ends and fretboard edges, a badly stained finish, a skewed neck joint, sloppy glue work and loose tuners are some of the signs of poor workmanship. You won't find these issues in a high-end guitar, which has a more solid construction and undergoes a more strict quality control process than other production models.
A high-end guitars is a thing of great beauty. The use of abalone and mother-of-pearl as inlays for the rosette and fretboard markers gives premium guitars a look worthy of their status and makes them more visually appealing for discerning players. This beats the usually painted-on or sticker inlays in cheaper guitar models.
Quality finishes make for a better guitar overall. Acoustic guitars on the higher end of the price scale are given finishes that enhance the natural beauty of the wood and protect it from the normal wear and tear. These thin finishes also preserve the guitar's tonal response.
When it comes to guitars, it's always recommended to go for the best that your money can buy. Of course, the guitar you choose should be one that really speaks to you, one that inspires you to keep playing and become better at your craft. With the right guitar, anything is possible!