It's tough choosing just three models to compete for the title of best bass guitar, but after a long period of contemplation we finally did it. We've selected the top three bass guitars that effortlessly exceeded our expectations in terms of build and sound quality considering their price, and we're happy to share them with you.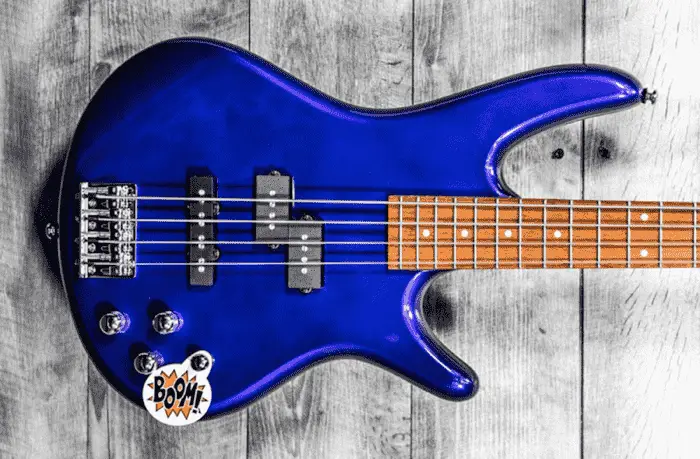 Our No. 1 pick as the best bass guitar is the Ibanez GSR200. It's the perfect bass for beginners and intermediate players on a budget, and a more than suitable practice or backup guitar for advanced musicians. It's hard to believe the GSR200 retails for just around $200, but it's true.
The attractive price tag is just one of the many things we love about the Ibanez GSR200. Of course, price alone doesn't make a guitar great. What makes the Ibanez GSR200 stand out is its ability to deliver an exceptional performance, taking into consideration that it belongs to the entry-level tier of bass guitars.
The GSR200, part of Ibanez's budget-friendly Gio Soundgear series, is more than just a beginner or intermediate model. Many advanced and even professional musicians swear by it as an excellent practice or backup bass, something you wouldn't be afraid to take along with you on the road.
This Ibanez four-string bass has an agathis body, making it lightweight, and an active preamp, adding to its tonal versatility. It does have its limitations in terms of tone when compared with pro-level basses, but it wouldn't be fair to compare them in the first place anyway.
Here's an overview of what the Ibanez GSR200 offers players looking for an affordable yet reliable bass guitar, and how it compares with the runners-up for this list.
Our Three Best Bass Guitar Picks
|   | Ibanez GSR200 | Yamaha TRBX304 | StingRay Sub Ray4 |
| --- | --- | --- | --- |
| | | | |
| Size | Full-size | Full-size | Full-size |
| Scale length | 34 inches | 34 inches | 34 inches |
| Body Wood | Agathis | Mahogany | Basswood |
| Neck Wood | Maple | Maple/Mahogany 5-piece | Maple |
| Fretboard Wood | Rosewood or Jatoba | Rosewood | Maple or Rosewood |
| Fretboard Radius | 305mm | 250mm | 305mm |
| Number of Frets | 22 medium | 24 medium | 21 medium jumbo |
| Neck Construction | Bolt-on | Bolt-on | Bolt-on |
| Pickups | Powersound P split-coil (neck), Powersound J single-coil (bridge) | M3 ceramic dual-coil (neck), M3 ceramic dual-coil (bridge) | H-1 ceramic humbucker |
| Controls | 2 volume, 1 tone, 1 EQ | Master Volume, 2-band EQ (bass and treble), Pickup Balancer, 5-position lever for Performance EQ | Master Volume, Treble, Bass |
| Color Options | Black, Transparent Red, Jewel Blue, Pearl White, Soda Blue | Pewter, Black, White, Mist Green, Candy Apple Red | Walnut, Trans Blue, Ruby Red Burst, Vintage Sunburst, Mint Green, Fiesta Red, Vintage Cream |
| Check the Price | | | |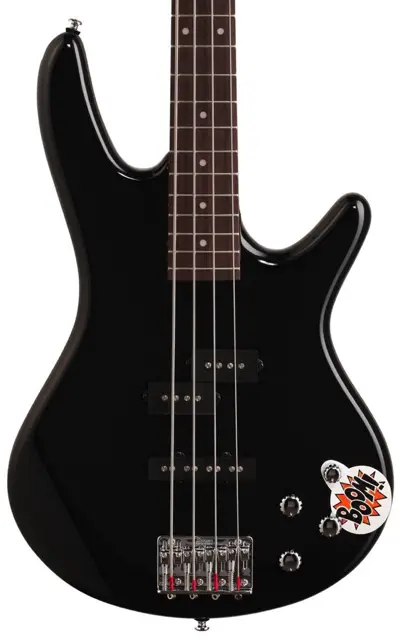 Part of the budget-friendly GSR or Gio Soundgear line, the Ibanez GSR200 offers the much-desired comfort, playability, tone and sleekness of the higher-end SR basses at an entry-level price. It's a fantastic bass for beginners that comes highly recommended by teachers and professional players alike.
There is nothing fancy or flashy about the GSR200 in terms of looks, but what it lacks in appearance it makes up for in functionality and playability. This full-scale bass guitar features a solid agathis body with double cutaways and contours that make for comfortable playing.
The use of agathis makes this bass lighter in weight than other basses. Weighing only 9 pounds, the GSR200 is easy to handle for beginners and portable for players on the go.
This Ibanez bass has a GSR4 neck. Its slim profile allows for fast and comfortable playing, especially for beginners and players with small hands.
The fingerboard on the GSR200 is made of rosewood, though some of the newer units make use of jatoba. The restrictions on the import of rosewood have made many instrument manufacturers turn to alternative woods such as jatoba and ovangkol to abide by trade regulations that aim to conserve wood species.
The Ibanez GSR200 has standard tuners and hardware, including a fixed B10 bridge. The bridge features fully adjustable roller saddles and holds tuning well. The control knobs can feel flimsy as they're made of plastic, but this is something that can be expected from an entry-level bass guitar. That being said, they're still pretty durable and will serve players well for a long time before needing to be replaced.
Noe for the electronics. When you're looking for good bass guitars in the $200 range, you will most likely find models with passive electronics, nothing more.
With the Ibanez GSR200 however, you'll get a nice bonus: an active EQ, which gives the guitar additional power at the low end while also adding to the richness of the sound. Ibanez calls this active bass boost feature the Phat II and it complements the passive pickups on the GSR200. The preamp is powered by a 9V battery.
The Ibanez GSR200 boasts a split-coil neck pickup and a single-coil bridge pickup. The Precision Bass-style pickup at the neck gives a good amount of punch and the pickup at the bridge adds some Jazz Bass-ish highs. This P/J pickup configuration delivers a balanced sound that makes for good ear training.
Each pickup has its own volume control knob. Players can also tweak their sound via the master tone control knob and the Phat II knob.
READ the Ibanez GSR200 FULL review here
This beginner-friendly bass delivers a versatile tone that finds home in most music genres. It isn't aimed toward a particular genre or playing style, so it's really good for those just getting started on bass. The sound quality is impressive for a guitar in this price category, making it a fantastic instrument not just for beginners but also for gigging bassists on a budget.
The Ibanez GSR200 is available in a variety of finishes, namely Black, Jewel Blue, Pearl White, Transparent Red and Soda Blue.
Ibanez GSR200 Electric Bass Guitar Overview
---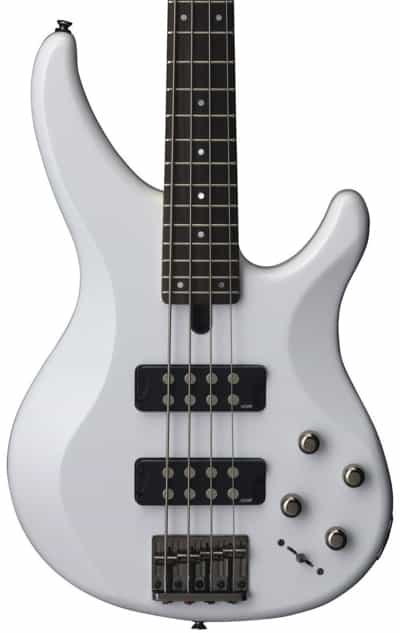 At the No. 2 spot is the Yamaha TRBX304, which for its average retail price of $350 is considered to be a mid-tier model. It's the not-too-expensive upgrade you're looking for when you're ready to step up from your starter guitar and have plans of gigging or recording in the future.
The Yamaha TRBX304 is a versatile player, capable of delivering a rock-solid performance and a good sound that fits in with most genres.
The Yamaha TRBX304 is part of the TRBX series, which promises to offer basses with the 'just right' features Goldilocks would love. For the TRBX lineup, Yamaha underlines a focus on sound, looks, feel, flexibility, playability and durability. It can be hard to find a good bass that has all of these at a price that working musicians can afford, so we're glad Yamaha came up with the TRBX range.
The TRBX304 is designed and built with performance in mind. It boasts a well-balanced mahogany body and a five-piece maple and mahogany neck, which adds greater stability and makes the bass more resistant to warping. The bass also has a rosewood fingerboard and a vintage-style bridge with fully adjustable saddles.
As for the electronics, the Yamaha TRBX304 has a pair of M3 ceramic humbuckers and a two-band Performance EQ active circuitry. The pickups have shaped cutouts on their edges, giving your thumb a more comfortable spot to rest on while playing.
READ the Yamaha TRBX304 FULL review here
Aside from the volume and EQ controls, there is also a five-way toggle switch that lets you select from presets easily. This neat feature lets you choose from Slap, Pick, Flat, Finger or Solo playing styles.
If the TRBX304 seems a bit heavy on the pocket for you, you can go for the Yamaha TRBX174. It's a more budget-friendly option but it has the quality you'd expect from a Yamaha instrument. It can be considered the entry-level version of the TRBX304, so if you're just getting started, the cheaper TRBX174 is worth checking out.
Yamaha TRBX304 Electric Bass Guitar Overview
---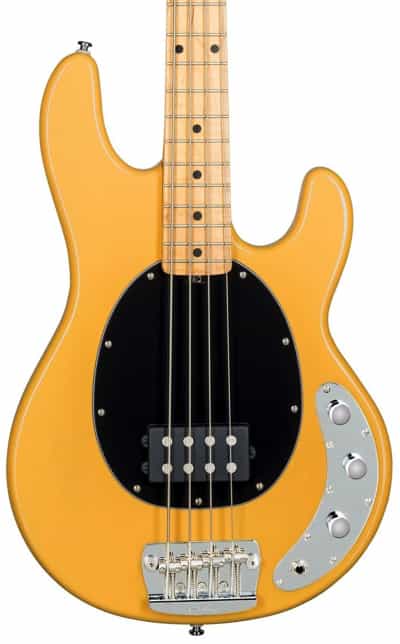 Our next pick is a Sterling by Music Man StingRay Bass, the Sub Ray4. If Ibanez has the budget GSR line, Ernie Ball Music Man has the Sterling range for players looking for affordable yet quality models. The Sub Ray4 is the budget-friendly version of the Music Man StingRay bass, which pioneered the use of onboard EQ controls on production line models.
Like the Ibanez GSR200, the Sterling StingRay Sub Ray4 bass is also made in Indonesia. Before making its way to stores, it first receives a final setup and inspection in the United States.
The Sterling by Music Man StingRay Sub Ray4 bass features a basswood body with a double cutaway. The maple neck is bolted on to the body with six bolts for the best stability and acoustic resonance – just like the original StingRay.
This bass guitar has a full 34-inch scale length and a maple or rosewood fingerboard with 21 medium jumbo frets and dot inlays. It's a nice and neat-looking bass with the iconic egg-shaped pickguard and a gloss finish.
The Ray4 has a single ceramic humbucking pickup at the bridge position. This high-output humbucker is wired to a custom-designed 9-volt active preamp that has a 2-band EQ. Tone shaping is done via the bass and treble knobs. The bass also has a master volume control knob.
It seems like a simple configuration, and it is – but this in no way means you won't get some pretty sweet sounds from the bass. The hum-canceling pickup does well on its own. Coupled with the 2-band EQ it becomes even more powerful.
READ the Sterling by Music Man StingRay Sub Ray4 bass FULL review here
This Sterling bass has a fixed heavy-duty bridge with fully adjustable saddles. It's sturdy and gives players total control over the height of their strings for a precise intonation.
Serious beginners would definitely enjoy learning on the Sterling by Music Man StingRay Sub Ray4 bass. Even experienced bassists would be glad to have it in their arsenal for practice, as a backup instrument or even as their main bass – that's how good it is.
Sterling by Music Man StingRay Sub Ray4 Electric Bass Guitar Overview
---
Choosing the Best Bass Guitar for You: Key Points to Consider
You can be the best bassist you can be with the best bass guitar, so what do you need to consider when choosing one?
-If you're interested in acquiring an acoustic bass guitar, then check out our reviews here.
Budget
First, of course, is how much you can and are willing to spend on the bass. Musicians are advised to buy the best instrument their money can buy. "Best" doesn't have to mean the most expensive model, but the one that will fit their playing style and personal preferences.
In this list we've included models from different price ranges, showing you that there are awesome guitars you can go for even if your budget is less than $1000.
Tonewood Combination
The kind of of woods used in a bass guitar shape the overall tone. When choosing the best bass guitar for your needs, consider not only the tonewood used in the body but also its quality and how it interacts with the neck wood, fretboard wood and even the strings. Keep in mind that the kind and quality of the tonewoods used in a bass guitar also affect its weight, appearance and price.
Different models of bass guitars have different tonewood combinations and therefore different tonal outputs. How a bass guitar sounds can be subjective especially when you consider pickups can work differently as well. For this reason, it's recommended to try out different bass guitar models or at least watch demo videos so you can determine which one produces the sound that you like.
Pickups
Bass guitars may have an active pickup, a passive pickup or both. Passive pickups were the first to be used in electric bass guitars. Passive pickups are known to produce a fat and punchy tone with a dynamic, warm and full sound. However, bass players don't have much control over it – you can only adjust the bass or treble.
On the other hand, active pickups tend to produce a bright, snappy and clear tone. Active pickups also come with a battery-powered preamp, giving them the ability to produce a higher output than their passive counterparts. With active pickups and a preamp, you can boost as well as vut certain frequencies. With better control over your tone, you can shape your sound as you see fit- just remember to bring spare 9-volt batteries with you to power up the preamp.
Neck Type
How the bass guitar neck attaches to the body is another factor you need to consider. A bass guitar may have a set neck, a bolt-on neck or a thru-body neck. A set neck is attached to the bass guitar body using a dovetail or mortise joint. This type of neck contributes to a better sustain and resonance in a bass guitar. However, adjusting it can be quite tricky.
Necks that are bolted onto the body of the bass guitar are called bolt-on necks. The bolts should be placed in such as way that they keep the neck stable and connect to the body without any shifting, no matter how minor. The tighter the connection is, the better the sustain and string vibration transfer will be, and the more stable the guitar is overall.
If the bass guitar has a thru-body neck, it means the neck essentially makes up the body, with wings attached on each side. The wings serve to form the upper and lower parts of the bass guitar. There are no joints and no bolts, just one continuous length of wood. A thru-body neck is usually made by a skilled luthier, which is why you would usually find this type of neck on high-end bass like the Gibson Thunderbird. A thru-body neck on a bass guitar results in an impressive sustain and response because there is nothing that will hinder string vibration.
Shape and Color
You are going to be playing it – and be seen playing it – so the bass guitar you choose should be the one that appeals to you visually. Bass guitars come in different iconic shapes – just take a look at the Rickenbacker 4003 – so you can take your pick of the one that calls out to you. Consider the color and finish as well – some bass players like a bright red color while others prefer a more vintage-looking sunburst finish.
Those are just some of the things to consider when choosing the best bass guitar that would meet your needs. There are other factors of course, such as scale length, the bridge and even the controls, but these can be considered later after you've decided on the basics. You can already narrow down your options based on these criteria, so good luck and we hope you find 'the one.'