After signing up for Flowkey and playing around with the app for the past two weeks, I've been pretty impressed with what is one of the top online tools for learning piano at the moment.
In this Flowkey review, I'll tell you all about the Flowkey app, its piano learning model and everything else I've learned along the way.
Getting Started
When you sign up, you'll do a quick questionnaire asking you whether you've ever played piano before and what your purpose is for learning the piano.
Flowkey is by far the simplest online piano learning app out there. Unlike some other apps, Flowkey only teaches piano – no guitar, no drums, just piano.
Inside the app, there are four options in the left sidebar. At the top is the song section teaching you how to play actual songs, followed by a search box to find your desired song, your favorites (simple enough) and then the piano lessons. That's it!
Midi/USB or Piano
To use the app and get feedback, you'll need a physical keyboard or a piano, or a portable USB keyboard you can plug into your laptop or the device you plan on using.
There is no option to play the app on your laptop or computer's keyboard like some other online piano lesson providers are offering.
There is a way around this if you don't want to fork out for more hardware or just want to test it all out before you commit. You can download a piano app onto your phone or, better, use your tablet as a piano. The downside is you'll get hammered with ads while you practice and are likely to get put off easily.

Installing the Flowkey App on your Device
Another peculiar feature Flowkey offers is that you can install the app on your device if you're not happy with using it in the browser. I was using Chrome on a Windows laptop. When I installed the Flowkey app, I then got a new pop-up window where I could control the app from.
To be honest with you, I couldn't quite work out what the point of this was as I found it just as easy to control the app within the browser. I even turned off my internet to see if it would work offline, but it didn't.
I could see a point to this if you could download the Flowkey app and use it offline ie. if you wanted to learn piano while on the go, but it does seem like a redundant feature as it at the moment.
Flowkey on Android and iOs
Flowkey has apps for both Android and iOs. I downloaded both versions and had a play around with them but found them to be both replicas of the website version. Again, you'll need an internet connection to get the apps to work (no offline usage).
I think the apps probably work best on iPads or other tablets where you can place the device in front of you on your piano or keyboard and follow along that way.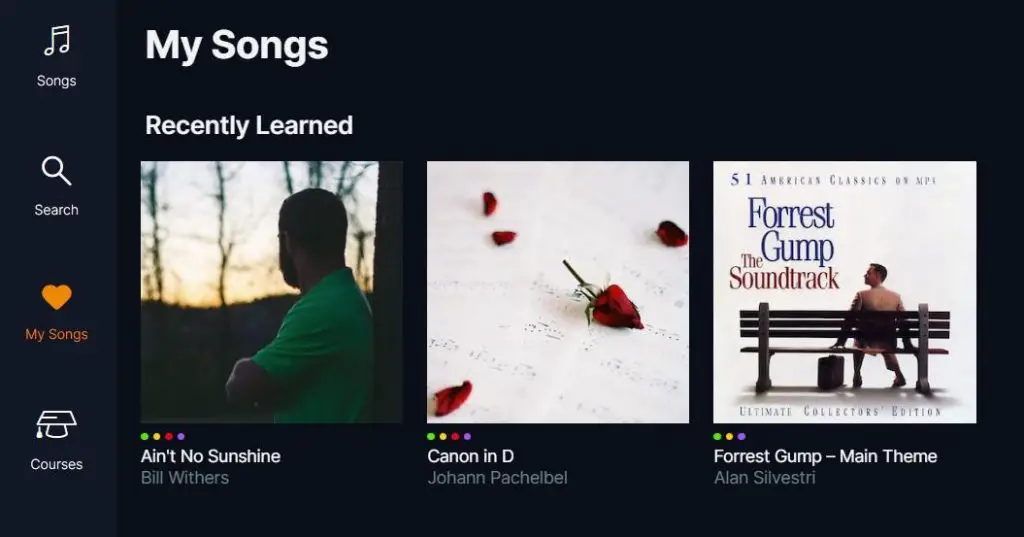 The Flowkey Song Catalog
The Flowkey back catalog of songs is definitely impressive although not the largest piano song collection out there. With over 1500 songs to choose from, it's pretty darn easy to find a genre or artist whose songs you'd like to learn.
One of the things I particularly liked about Flowkey's song archive is the flexibility it gives you while you're learning a new song. You can easily change the speed of the song by slowing it down to 50% or 75% and even put it in wait mode if you need more time.
Wait mode allows you to literally stop the song on every chord. These options are really great when you're a beginner and want to learn a new song from scratch.
Another cool feature you can use when you're struggling with a particular part of a song is that you can highlight that section and put it on a loop.
All you need to do is click on the circular arrows in the notes and the app will let you toggle between the part of the song you'd like to put on a loop and master. It's features like this that really give Flowkey the edge.
You can also choose between which version of the song you would like to learn: beginner, intermediate, advanced and pro. That said, not all songs give you the option to choose between different levels. For example, Nocturnes, Op 9 by Chopin is only available in advanced.
You can also find very similar features in Piano Marvel and Playground Sessions.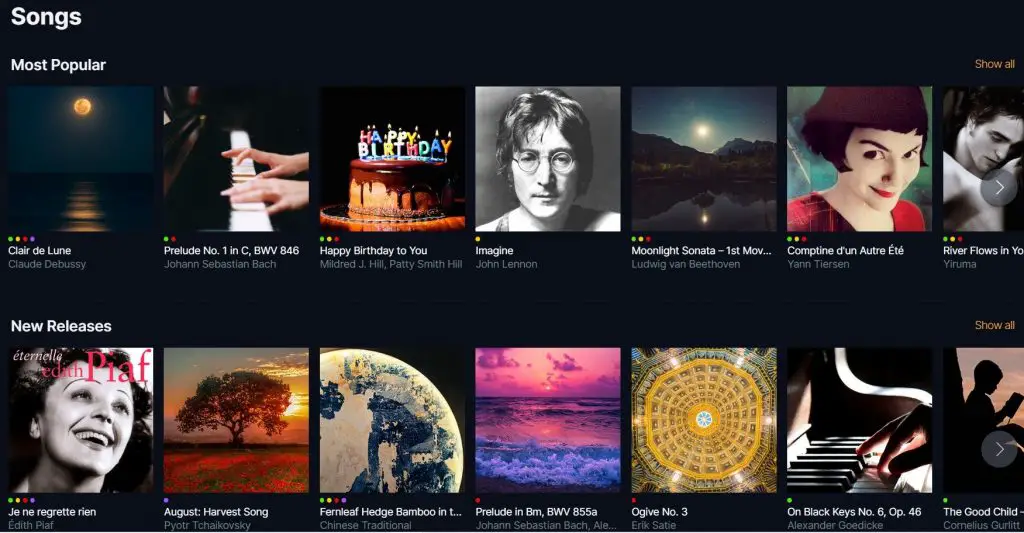 The different levels are clearly indicated by the dots between the song image and the name.
Learning and Teaching Method
In a nutshell, the Flowkey method for learning piano or keyboard is to show you how to play the piano and then let you have a go at it yourself. The beginner piano courses (see next section) start off really slowly and ease you in with a big focus on details. As you progress through the courses, the difficulty level naturally increases.
The one good thing Flowkey thought about was enabling learners to be able to slow the videos right down and home in on notes they are not able to get or hand movements they're struggling with. This enables you to learn piano at your own pace and is consistent even with their song catalog where you can practice specific songs you would like to learn.
Music reading and Sheet music
Flowkey pays a lot of attention to sheet music. It does a nice intro to it in the beginner courses where they start by showing you the pattern of the keys and their names before moving on to how that translates into sheet music.
The beginners' piano course starts by demonstrating how this is done with your right hand and shows you some basic piano tips and tricks on how to remember where everything is before trying to play a basic song – Aura Lee in this case.
For intermediate players, there is a full course on reading sheet music and how to do it.
Flowkey's Piano Lessons For Beginners
Flowkey is definitely beginner friendly. In fact, there is an 8 part purpose-built beginner piano course. It starts off by showing you how to sit in front of your piano (or keyboard), then moves on to teaching about the piano keys followed by some really basic note playing.
This stuff is about as basic as it gets but is super helpful for brand new players who know absolutely nothing about playing pianos or keyboards.
I think the beginning piano lessons may also be useful for people who have not played the piano for years (perhaps since childhood) and want to get back into it again and need a refresher.
Moving forward, Flowkey then gets you to practice with just your right hand in the C position starting with the "When the Saints Go Marching In". You start off by just watching the guy play and then you can join in. This is a really easy beginner song and helps you get used to some basic piano hand movements.
The course then moves on to reading sheet music and music theory, playing piano with just your left hand and getting the rhythm right. By the end of it, you should feel pretty comfortable playing basic notes and songs on the piano without having to had spent a bunch of time.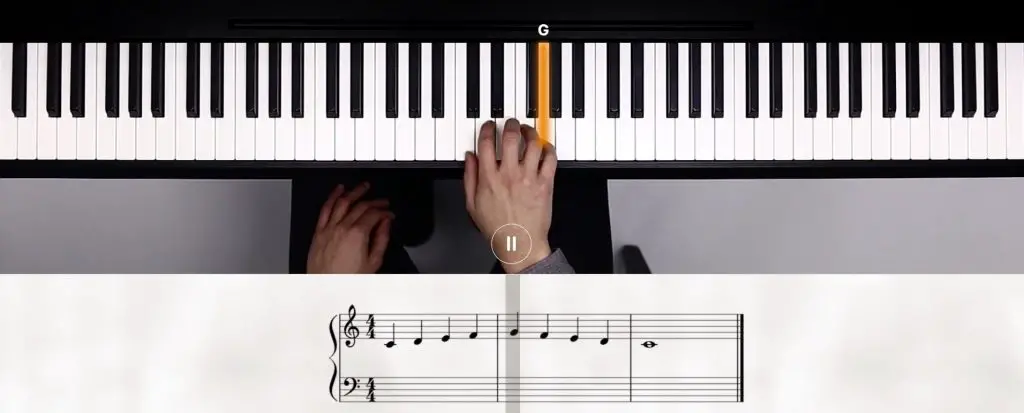 I personally found the beginner piano lessons really engaging and fun to play even though I have been playing piano for a while. It brought back fond memories.
How useful is Flowkey For Intermediate and Advanced Players?
As with most online courses, whether they be music-oriented or language learning, there does tend to be a focus on beginners and I wouldn't say Flowkey bucks the trend here.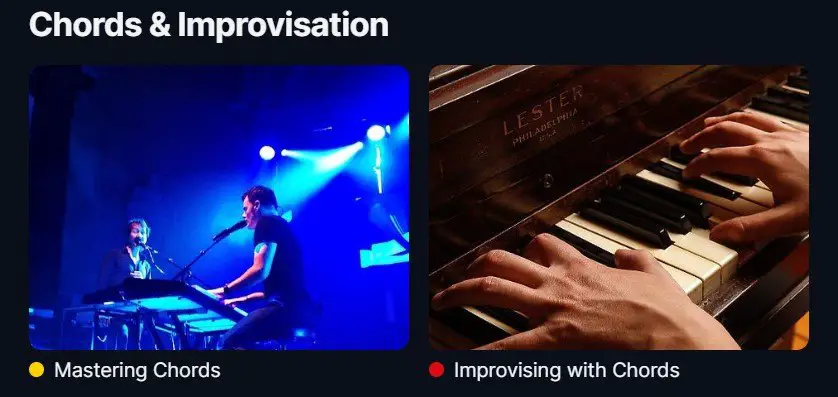 Once you have mastered all the basics including reading sheet music and playing scales, there are some more courses helping you improve your piano chord playing ability but not much beyond that.
The one advantage that Flowkey does have is that it has a vast song back catalog that you can work your way through to learn some pretty difficult songs like Waltz in C Sharp Minor. You also get clear instructions by watching the video guide and can even toggle the video speed if it's still too tricky.
I wouldn't say Flowkey wasn't for advanced players but it's definitely better for beginners. More advanced players might want to try Piano Marvel.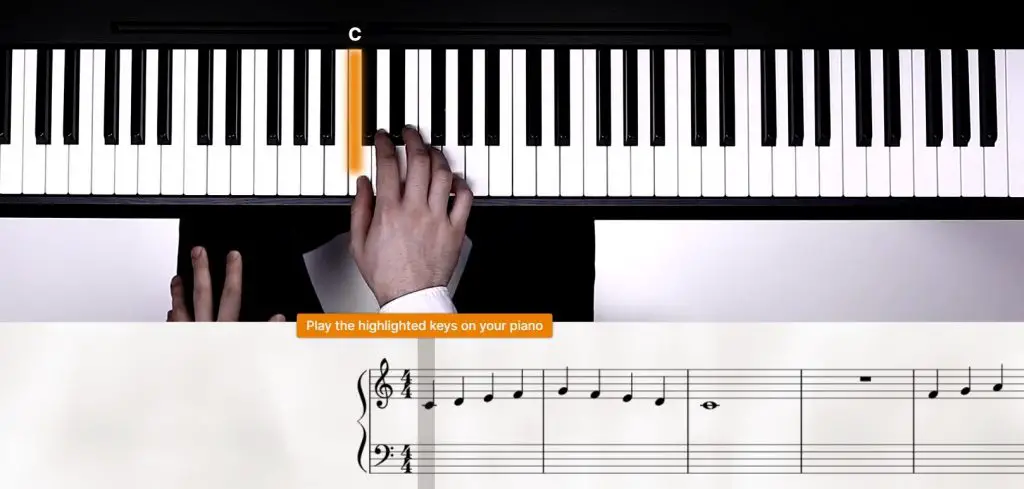 How Many Languages Is Flowkey Available In?
Flowplay is available in a total of ten languages (including 2 versions of written Chinese). I had a play around with the languages I know and the spoken accents seemed good (European Spanish) along with the written versions. You can tell they've put a lot of effort into localizing this product for everybody.
Beware that only about half of online piano lesson providers are actually offering their product in a language other than English.
How Does Flowkey Compare to Getting a Private Tutor?
Well, in one word – massively, especially when it comes to price. A piano teacher in New York could set you back anywhere from $60-$80 an hour and that's if you buy in bulk. Flowkey is a fraction of that – a mere $10-ish a month if you sign up for 12 months.
That said, Flowkey is aimed at self-learners, so you won't get the same motivation level you would get someone for one-to-one lessons. A private tutor may still be better for people that can't motivate themselves or stick to a learning plan. Also, in my opinion, kids might be better off learning piano with a teacher.
Does Flowkey Actually work?
In a word – yes! But, you need to put the time in. You definitely have enough tools at your disposal to take yourself from a person who knows nothing about the piano to a confident intermediate player.
You probably aren't going to be Mozart by the end of it, but you'll definitely be able to knock out a bunch of tunes and impress your buddies.
Not only that, the song archive is huge, so if you sign up for a year and complete all the beginner and intermediate courses before moving on to the song catalog, it will definitely keep you busy for some time and you will have ample practice material.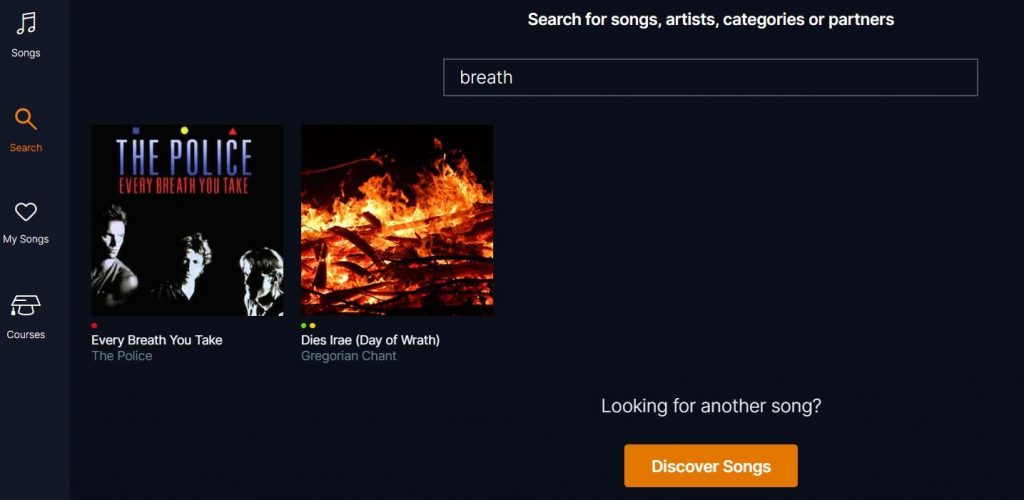 How Does Flowkey Compare to Other Online Piano Learning Platforms?
Of all the piano and keyboard learning software I have used, Flowkey is by far the simplest. This doesn't necessarily mean it's the worst or the best.
With software provided by Piano Marvel, you get a huge amount of piano lessons scattered across two quite confusing sections. You don't get that here.
With Playground Sessions, you might be asked to pay extra for songs. With Pianoforall, you have a ton of material to learn the piano that you might find difficult to get through.
That said, Flowkey could be considered fairly spartan in terms of quantity. It definitely doesn't have the most in-depth and thorough content of all the online piano courses out there but it does have everything you need to learn the piano well.
What sets Flowkey apart from its competitors?
I think the ease and simplicity of the Flowkey platform really make it an enjoyable way to learn the piano.
Of all the online piano learning websites I have used, Flowkey has got everything to the most basic and intuitive level.
You can easily log on to the platform and use it within the browser. You then choose whether you want to start learning songs or learning the piano basics or whatever level of the piano you're at.
With other platforms, you may need to download software or an app, work out where to begin etc. Flowkey doesn't make you go through this process. It's way simpler.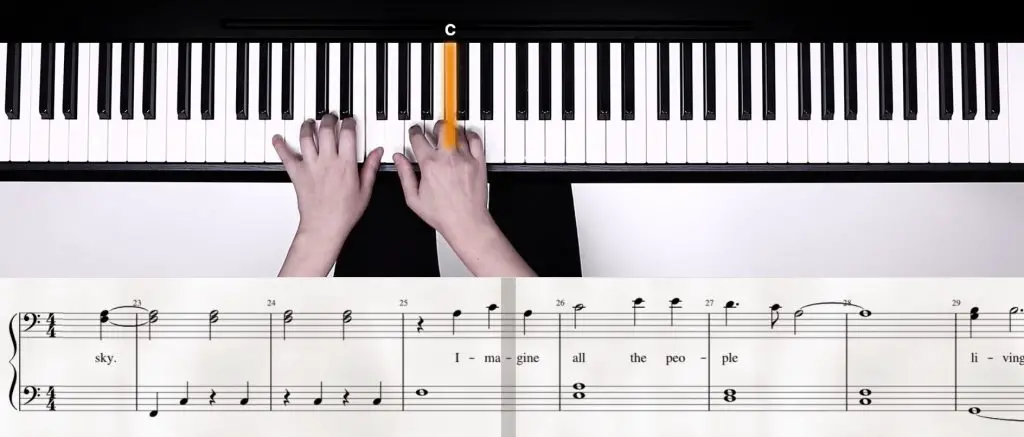 Community and Forum
As with most things with Flowkey, simplicity is key and there is no forum or community to join in with. If the community thing is important to you, then I suggest going with Piano Marvel or Playground Sessions.
That said, Flowkey does have a decent customer support.
Flowkey Support
You can contact Flowkey support by clicking on the wheel cog icon in the bottom left corner of the screen and clicking on "Support & Feedback". A chat box will pop up in the bottom right. Their human support says it takes a day for them to get back to you. They also use some AI software to try and auto-suggest an answer to your question.
I sent them a request over at 15:29 and got a response back at 11:28 the next morning. So not the fastest support but they do at least stick to what they promise – they'll get back to you within 24 hours which they did.
Pricing: Free and Paid versions
As you'd probably expect, the free version gives you limited access to Flowkey. You get access to 8 free songs and some courses and Flowkey says you also get access to all the apps "functionality", which I couldn't quite work out what it was referring to.
The paid version is basically everything. There is no paid and then "pay again for more songs" tier, something you will find with Playground Sessions.
You'll probably want to start out with some sort of free version, whether it be with or without a credit card just to wet your feet to see whether it's truly for you.
I went for the full paid version to test it out for this review.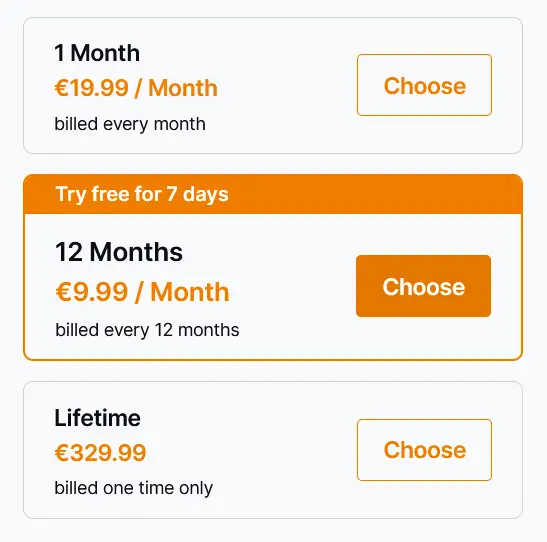 The prices are as follows. You pay $/€19.99 per month if you don't want to commit long-term. It's then $/€9.99 for annual payments or $/€329.99 for a lifetime subscription.
The amounts are the same whether you're charged in USD or EUR, all customers in Europe will be charged in Euros (including UK ones) and everyone else pays in Dollars.
It's worth noting that you can try it out for FREE with a 7-day trial if you sign up with a credit card for the annual subscription.
Flowkey Overview
That concludes this Flowkey review. You can always learn more about piano lessons in our piano lesson review section. Feel free to comment below as well.