Established in 1991, TrueFire has been in the guitar lesson game for longer than many young players have been alive – and years prior to the dawn of the internet as we know it. The platform prides itself on having one of the world's most vast and exhaustive catalogs of online guitar lessons, with 40,000+ lessons covering virtually every style and skill level – taught by over 200 instructors – plus 820+ courses and 30,000+ interactive tabs.
The TrueFire ethos appears to be: Go big or go home, and indeed, if you don't have your head and heart in the game, the sheer amount of content could be an overwhelming experience for a beginner.
Truefire Guitar Lessons Overview
Truefire's Beginner Lessons
TrueFire is a valuable resource for beginners who are willing to put in the time and effort to make progress. You should know this going in. A lackadaisical approach won't cut it here. Even though TrueFire assures you that everything will be dished out in bite-sized chunks – there are a billion chunks to swallow.
Unlike Guitar Tricks and some of the other sites, there's no clearly defined starting line for the absolute beginner. You're more or less on your own – which isn't necessarily a bad thing, since you can jump in exactly where you feel comfortable.
The Learning Path strategy is TrueFire's branded, accelerated, hands-on study plan. All course programs are based on video guitar lessons, supported by jam tracks, tabs, and notes from the instructor. Your skill level and musical preferences will be evaluated by the Course Recommendation Wizard, but you can skip it and explore on your own through your browser or within the TrueFire apps.
After choosing your preferred style from a modest range of popular genres, the Learning Path leads you on a course of universal fundamentals that include some key and often forgotten aspects of guitar such as How to Practice – something that new players should nail down early in their educations. And one of the cool features of these entry-level lessons is the ability to practice along with the instructor, which really serves to cement the foundations.
But let's say you're ready to make music now. Like I said, you're free to bounce around the paths, so if you've already got the basics, you can tackle chords, techniques, and songs. Motivated beginners who prefer flexibility will probably be happy with the Learning Path system.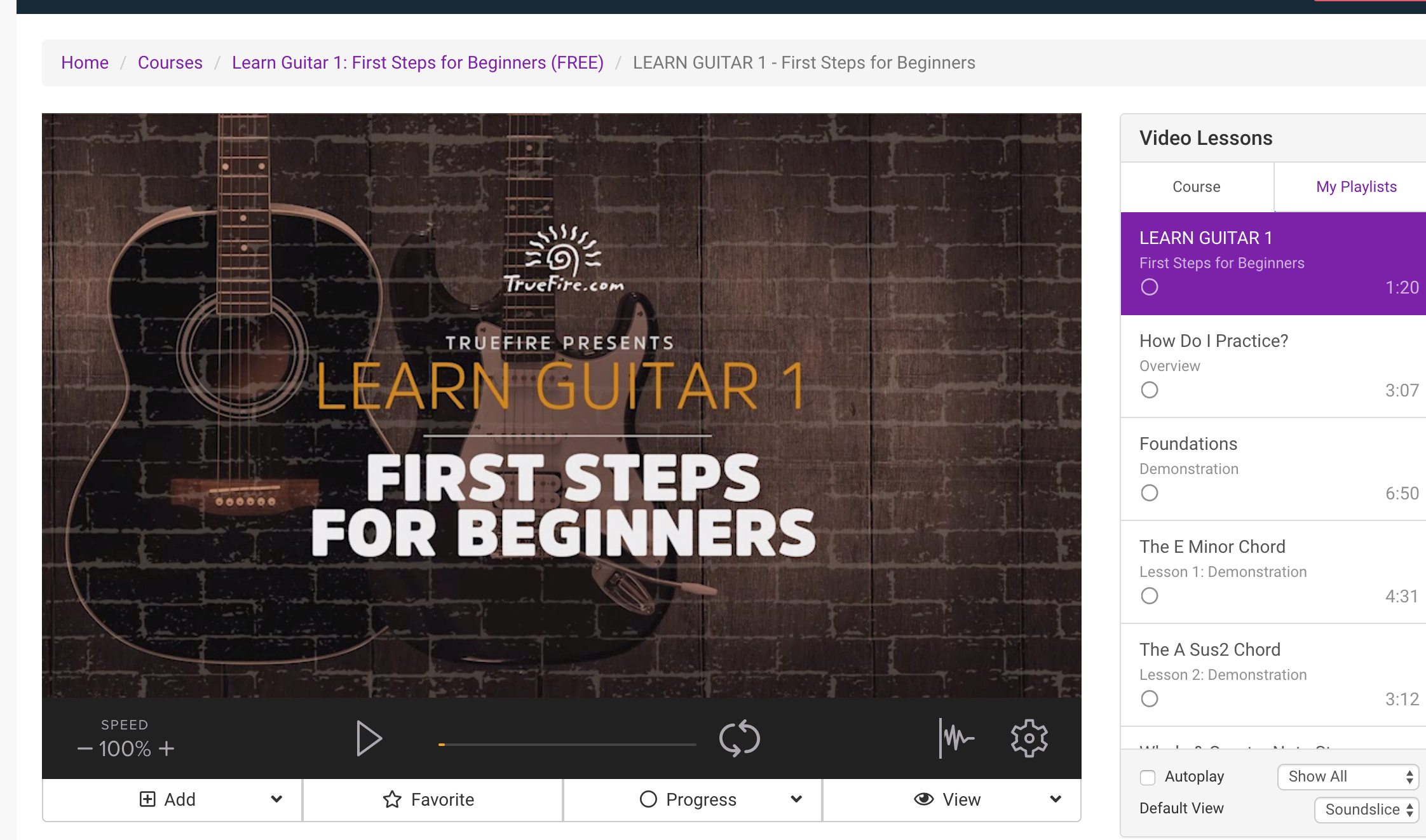 Intermediate and Advanced Lessons
If we're being brutally honest here, TrueFire's greatest strength is intermediate and advanced material.
Experienced players can leapfrog the first set of core courses on the Learning Path and make a beeline for Late Beginner to Intermediate courses and Late Intermediate to Advanced. A wide range of supplementary courses (not free) are available in addition to the core courses. For instance, you start with the core course: Play Country Guitar 4: Rhythm Approaches for Intermediate to late Intermediate students, and then onto 30 Modern Country Licks You MUST Know or Essentials: Country Soloing Styles for a deeper look.
Your progress is self-determined and you're under no obligation to bite on the supplementary courses.
TrueFire's Advanced program is really where the eye-popping starts to happen. Most Advanced lessons are performance studies designed to advance technical and creative skills for serious players. For example, Play Jazz Guitar 10: Advanced Soloing Principles is presented by Larry Carlton and Fareed Haque – among other pro players. And all across the style spectrum – from rock to country – you'll be brushing up on skills that separate the boys from the men, so to speak.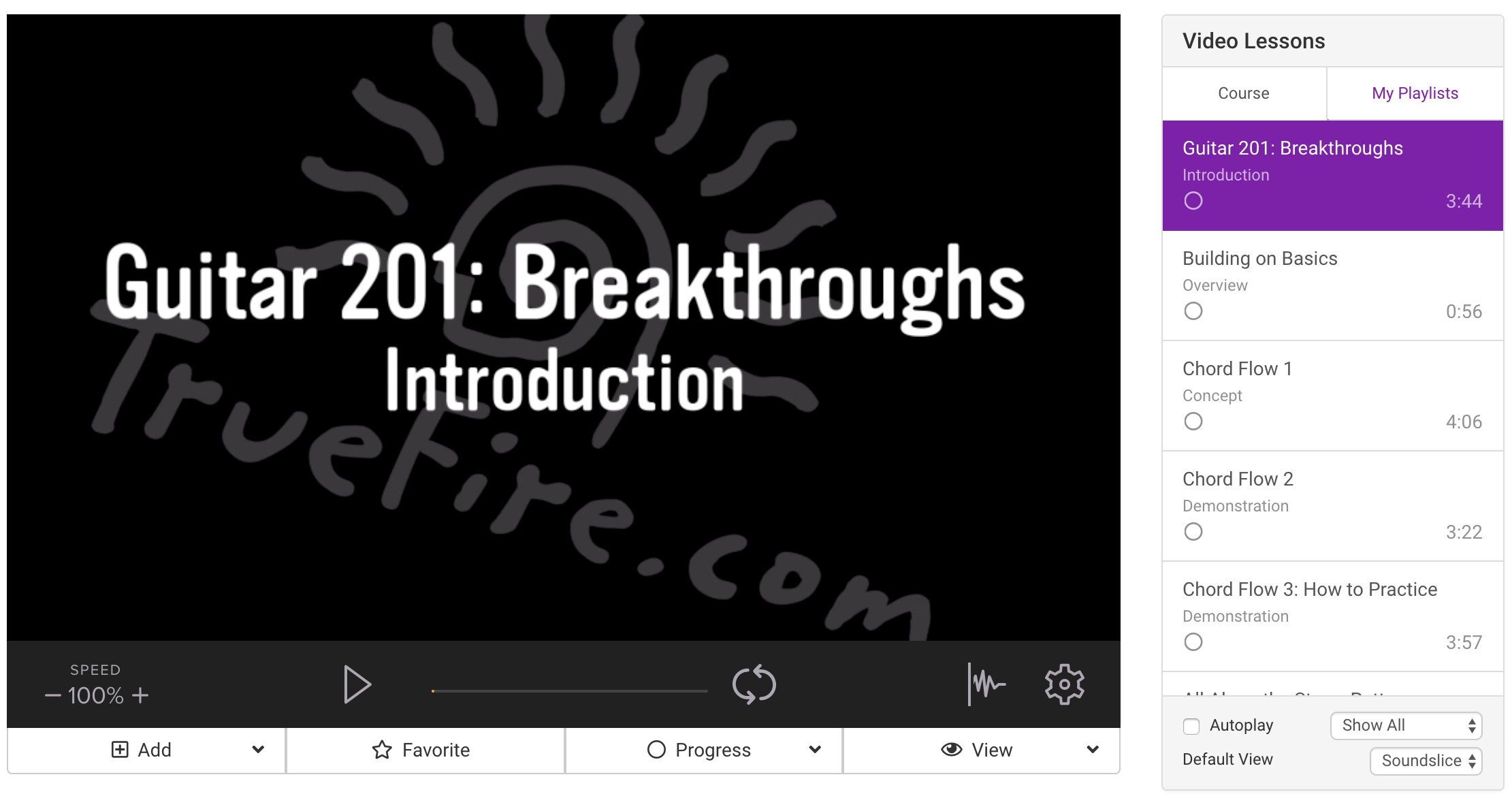 Truefire's Acoustic Guitar Lessons
There's plenty of action for acoustic guitar players with a curriculum that covers an impressive list of 75 topics – skills and techniques – with anywhere from 1 to 100 resources for the topic. For instance, there are 91 related lessons for Right-Hand Technique.
With that in mind, this might be a good time to break down your typical site navigation from the left sidebar. Let's say you're looking for strictly Acoustic lessons – skipping the Learning Path. From the home page, you click on Courses and scroll the dropdown to select Acoustic. You're directed to the main page, which features lessons sorted by Top Picks. On the left is a sidebar that contains hundreds, if not, thousands of links to resources.
At the top of the sidebar is Curriculum, covering everything from Alternate Tunings to Walking Bass. Below that, you'll find the Instrument menu, which just leads to more lessons. Then there's Style, Skill Level, Educator, and Series menus to sort through.
Truefire's Electric Guitar Lessons
As an experienced player, I believe all beginner guitarists should start on acoustic – for a number of reasons. First of all, learning on acoustic strips away the amp, the tone, and your pedals and all the cords and plugs that go along with a rig, and allows you to focus on the very fundamentals of playing: holding a pick, forming a chord, picking a note, strumming a rhythm. It's a very basic and primal way of approaching guitar.
Now, I say this because even though TrueFire producing some top-notch content, it's probably the last place I'd send someone who's at Day One of learning to play, because it's overwhelming. In fact, if this "someone" insisted on playing electric guitar only, I'd send 'em over to Fender Play or Guitar Tricks. The amount and technical difficulty of TrueFire's content is simply too much for an absolute beginner. These electric lessons are great – if you already know how to play.
Truefire's Private Lessons
If you're wondering where TrueFire really makes its money, look no further than their Individual and Ongoing Private Lessons, which offer personalized assessments, customized lesson plans, and access to TrueFire's comprehensive archive of streaming video lessons taught by a dynamic range of killer instructors.
These streaming lessons are not quite live face-to-face video – you pick a teacher from the bank of available instructors, make a brief statement of your objective, record a video of your playing, upload that video to get your one-on-one feedback. One might suspect they got this idea from ArtistWorks' Video Exchange system.
Likewise, be advised that Private Lessons are not included in the All Access membership, which we'll discuss in a moment. Pricewise, Andy Aledort's Total Guitar Master Class Level 1 is only $9.99 for 29 lessons – Level 4 is $99.99. So again, you can see that it's important to be invested in your progress, otherwise, you're wasting your money.
While it's not a perfect system, it does allow you to progress at your own rate.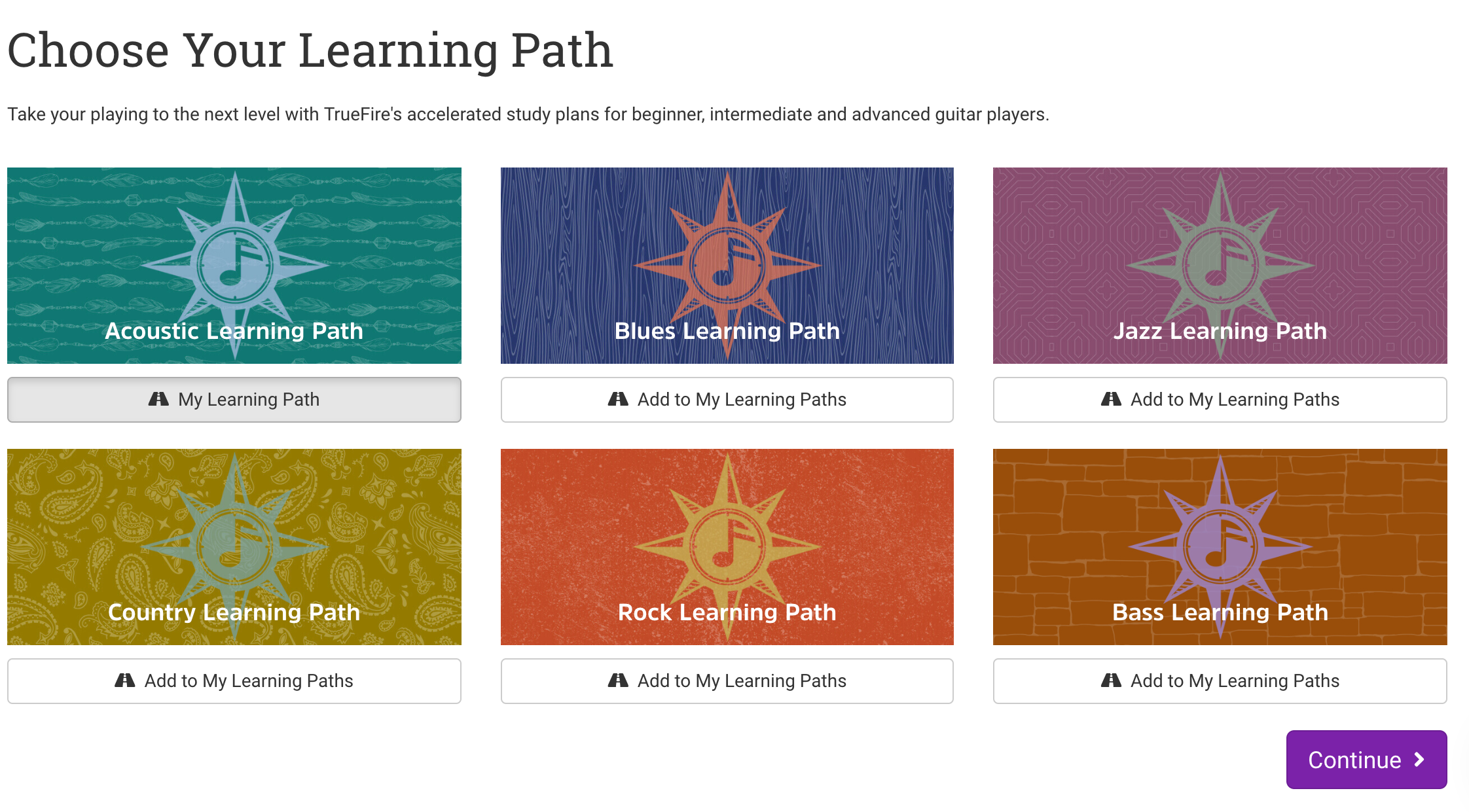 Truefire's Bass Lessons
Courses run from total beginner to advanced, with identical core lesson structures that you get on the guitar side. Some of the TrueFire's more notable bass teaching staff includes Stu Hamm and David Santos.
Overall, it's a solid program and certainly as good as any other platform that offers bass lessons. Experienced guitar players would also be wise to educate themselves about the art of bass guitar, and from what little I've seen of it, Stu Hamm's First Steps for Beginners looks like a winner.
Truefire's Ukulele lessons
TrueFire offers a very modest selection of ukulele lessons taught by Marcy Marxer. You'll probably start with Ukulele for Guitar Players – assuming you already know how to play guitar – because that's the drop-in beginner lesson. Quite frankly, Fender Play is a far better option for ukulele players.
Ease of Use
TrueFire's sleek design is deceptively simple and difficult at the same time. It's simple because everything starts with a dropdown menu. It's difficult because – as mentioned earlier, there's content everywhere – in the sidebar, on the main page, even in the footer.
TrueFire uses two different video players for lessons. One is very basic with simple controls, and used for older content. The second is the SoundSlice player that features more flexible controls, as well as interactive music notation and tabs, i.e. tablature moving in time with playback.
Song Library
TrueFire is one of the least song-oriented of the major platforms – only ArtistWorks cares less about learning and playing popular jams. Don't get me wrong – TrueFire has a ton of song lessons. However, most of the songs on TrueFire serve to accentuate the learning acumen with riffs and licks. With that in mind, if you're looking to learn Ozzy Osbourne tracks, don't get your hopes up when clicking on the Songs tab in the dropdown menu.
On the other hand, TrueFire offers an eclectic mix of familiar and obscure tunes – and hundreds of variations – but it's really interesting to see how those songs translate to the skill being taught.
Like all things TrueFire, the song lessons are exhaustive in content and presentation. For each song lesson, before you even click on the link, there's a breakdown of what's involved.
Style
The major styles are covered: Rock, Blues, Jazz, Acoustic, and Country. You'll use the supplementary courses to reach the sub-genres and niche styles like Gypsy Jazz and Surf. If it's related to the guitar, TrueFire probably has it.
Vibe
Whereas Fender Play has that casual, let's have fun vibe happening, and ArtistWorks has that disciplined, we're here to learn something feel – TrueFire is somewhere in the middle. Have fun, but learn something, too.
Tools and Mobile Apps
TrueFire offers a predictably above-average range of online tools like tuner, metronome, jam tracks, chord charts, metronome, etc.
The TrueFire core app works on iOS and Android, while a separate desktop app is available for Windows, MacOS, Some additional apps, such the as Licktionary, are currently only available on iOS.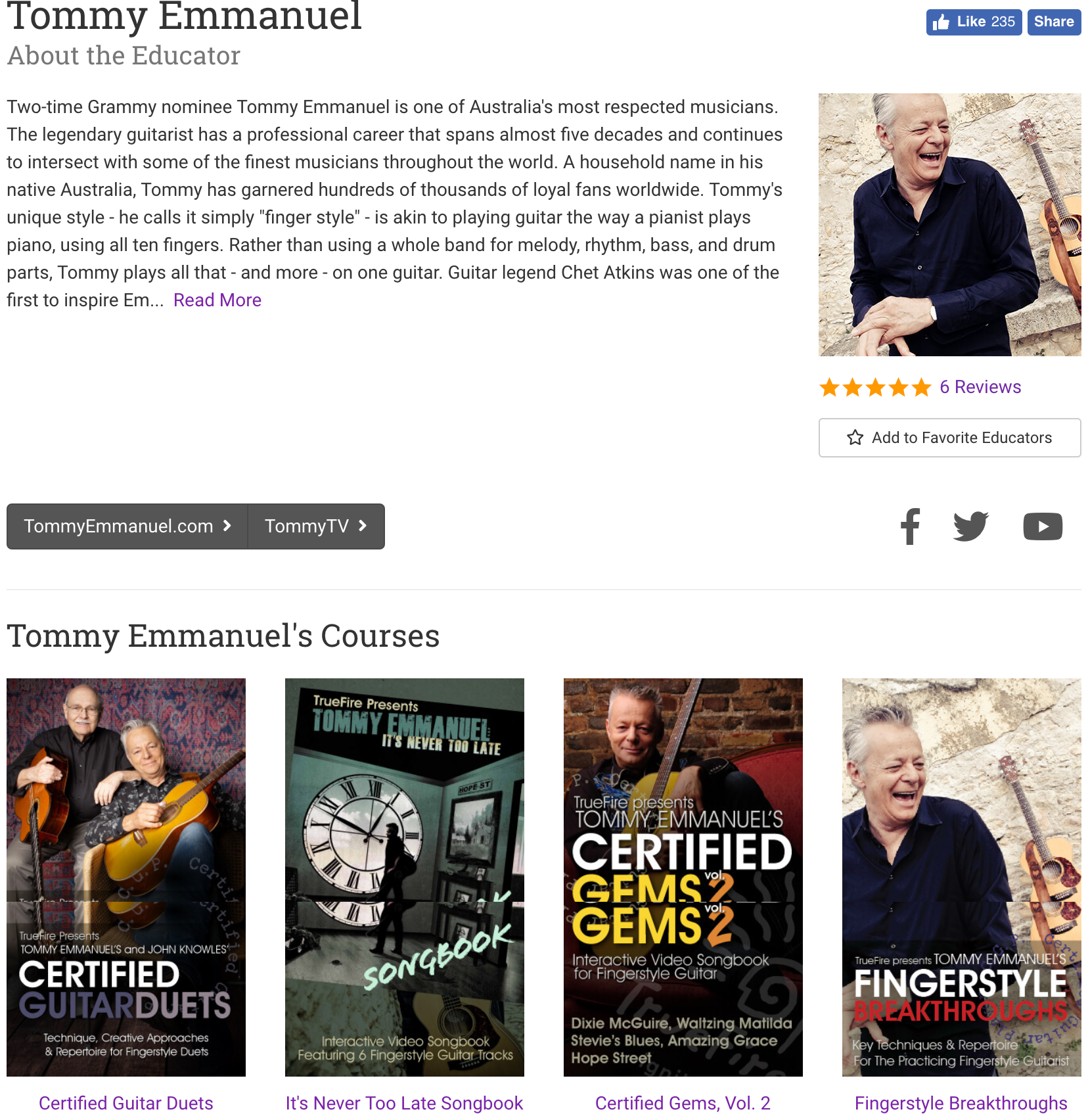 Truefire's Instructors
It's not at all surprising that TrueFire hosts more than 200 instructors – many of whom are household names in households where guitar is played. You get access to lessons from top names such as Robben Ford, Steve Vai, Larry Carlton, and Tommy Emmanuel. Generally speaking, the pedigree of instructors is as good as it gets – only JamPlay has a more subjectively impressive roster. Learning from award-winning performing artists isn't essential, but it's sure better than lessons from the guy next door.
Community/Forums
Because everybody has to be "engaged" in some kind of social media community these days, TrueFire offers a friendly and easy to access Student Forum. Of course, they have a blog and Facebook page with over 130,000 followers. They're very active on Twitter, and let me warn you – once they have your email address, like Guitar Tricks, they're going to use the hell out of it.
Free Trial Period
TrueFire has a couple of things going for it that other online platforms don't, starting with their 30-day All Access Trial, which doesn't require a credit card or automatically upgrade at the end of the trial. However, there's a limited amount of free material.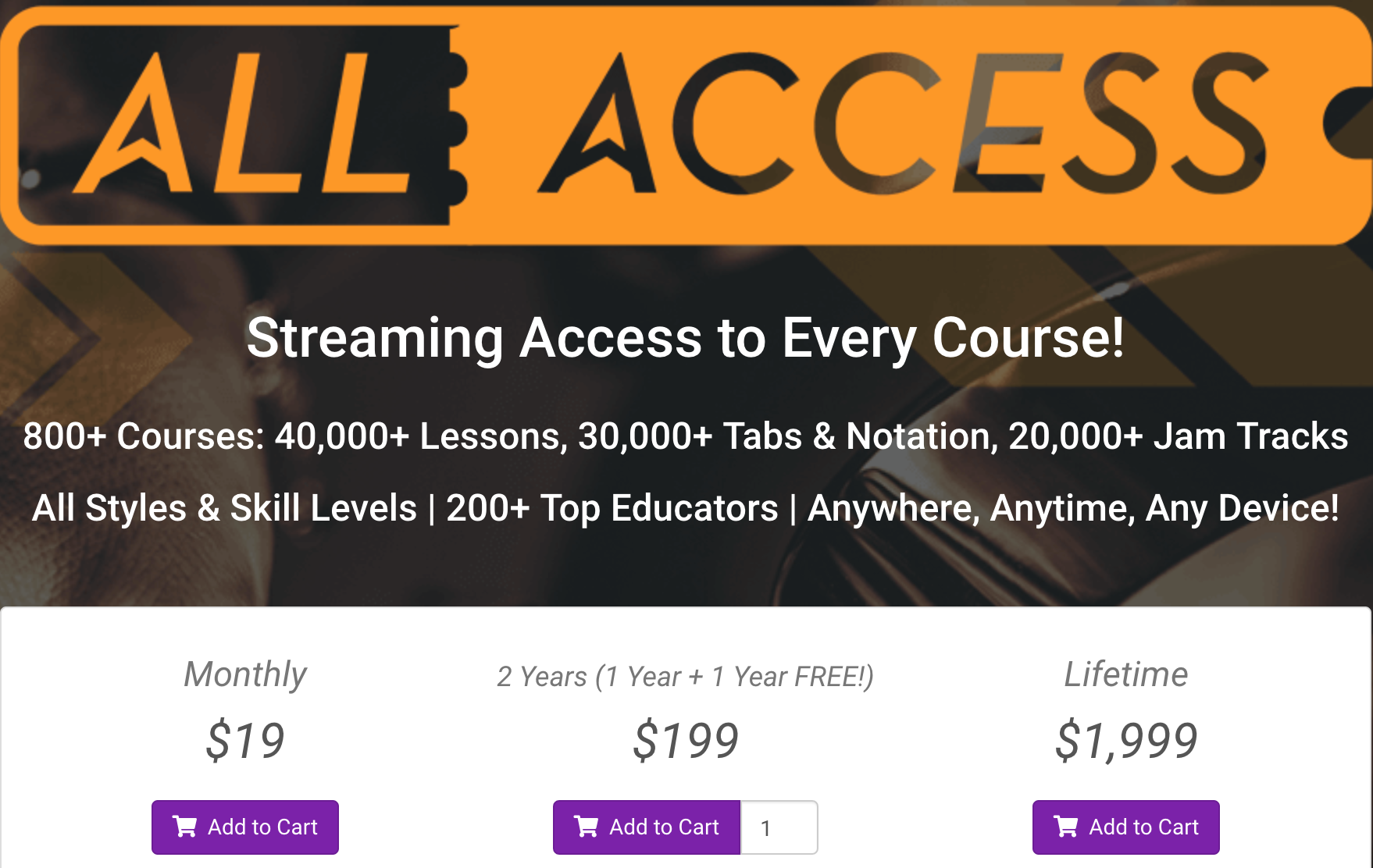 Value for Money / Cost
It's $19.95 for a month of access. Lifetime access will set you back a staggering $1,999.95.
Aside from guitar, TrueFire offers instruction in bass, banjo, dobro, drums, and ukulele. The core material is on par with Guitar Tricks, JamPlay, and many others.
They offer over 30,000 interactive tabs, but TrueFire lags behind the competition when it comes to extra features, many of which are subject to additional fees. On the other hand, a lot of sites offer freebies and perks for members, but TrueFire – in keeping with their More is More aesthetic, seems to take giveaways to the next level. Extra features not so much.
The monthly subscription is a solid value based on content alone. However, I'm afraid that you're going to need some discipline to push through it. And in that case, as long as you're disciplined and dedicated to progression. TrueFire may not be the best place to start, but it's certainly a great source of knowledge for intermediate and advanced players.
Niche Aspects
TrueFire has two exciting and unique features you won't find anywhere else. Or at least, you won't find anything exactly like 'em. First. TrueFire Live offers interactive sessions with artists, giving members an opportunity to ask questions. The sessions are broadcast live, but the library of past recordings is available 24/7, 365.
The other creative feature is In the Jam, an odd little learning tool that allows members to jam with those big name instructors, and an experience designed to develop improvisational skills. It's odd because in all my time writing about online guitar lessons, I've probably mentioned "improvisational skills" once or twice.
But again, these tracks cost extra.
How Does it Compare?
TrueFire is arguably among the top 5 online guitar lesson platforms in existence. But it's not the most beginner-friendly of the bunch, mainly because of content overload.
Truefire's Strong Points/Weak Points
The lack of real song lessons will be a bummer for players who want to form cover bands, and the constant nickel and diming for extra features is a real negative.
Conversely, the staggering amount of content is a strong point.
TrueFire's weak point is shared by a number of other platforms: they promise that everything is easy, you won't need to read music or pay attention to stuffy techniques – you're just going to play! Forget those pesky exercises!
Ask any player worth his guitar strap, those calloused fingertips didn't appear overnight. If you think you're going to Johnny Ramone your way through a guitar lesson with Tommy Emmanuel, you're in for a very rude wake-up call.
Update Frequency
TrueFire uploads new free streaming and premium content on a weekly basis.
Conclusion
TrueFire offers a fantastic substitute for real-time, in-person lessons. They have extreme amounts of content and phenomenal instructors. Their production values are consistently exceptional. They cover perhaps the widest range of styles and skill levels of any platform out there. There's absolutely no question that it's worth the $19.95 a month – if you're really invested in learning and improving on guitar. Everything else – the complaining about extras, the unfulfilled marketing promises – doesn't matter.
Meanwhile, the TrueFire Live and In the Jam features give the site somewhat of a leading edge.
However, it can't be recommended for absolute beginners. Intermediate and advanced players are going to get the most out of the service.