There's a Yamaha instrument for everyone, whether you're a keyboard player, a rhythm guitar player, a bass player, a pro guitarist with lots of money to spare or a beginner bassist looking for affordable gear.
Yamaha's musical instruments aren't just shelf-fillers either: they perform exceedingly well and offer really good value for money. No matter the price tier they come from, they exceed the quality expected of their category.
Yamaha TRBX304 Overview
| Ideal For | Beginner-Intermediate |
| --- | --- |
| Best Feature | Excellently made |
| Optional Colors | Yes |
| Price | $330-$350 |
This is one of the things we love about Yamaha's basses, particularly the TRBX304, which is considered to be one of the best basses you can get your hands on today. The TRBX304 retails for around $350 on average, putting it within the mid-tier price range.
The TRBX series was launched in 2013 and it continues to be a popular choice among bass players of all levels and budgets. Each model in the series offers a fantastic combination of good playing feel, great bass tone and a price tag that's close to unbelievable considering its features.
Back to the Yamaha TRBX304. For a price of $350 you may probably expect something pretty basic, or just a bit of a step up from an entry-level bass guitar. Well, with the TRBX304 you are indeed getting something that's more than just a beginner instrument, but it's a lot more than what most expect. It's a Yamaha after all.
Yamaha TRBX304 Electric Bass Guitar Overview
Build and Design
The Yamaha TRBX304 is a full-size four-string bass guitar. It has a solid mahogany body with a bolt-on five-piece maple and mahogany neck. This is one stable platform that means business.
Mahogany is a popular tonewood for bass guitar bodies because it produces a warm, full and smooth tone. Its sonic signature is highlighted by bold low frequencies and pronounced lower-mid frequencies. Mahogany guitar bodies deliver a punchy growl with a great sustain.
The precision fitted, bolt-on neck construction on the TRBX304 gives the bass a clear, punchy and resonant acoustic tone. It's pleasing to look at too, and you can see the stripes of mahogany at the back. Note that a five-piece neck is something you would usually find in electric guitars with a higher price tag.
As for the shape and style, this bass has a classic look but with a modern feel. The body of the TRBX304 is sculpted for greater player comfort. The body style is often described as an extended Strat, and it's very common among bass guitars.
The contouring certainly helps because there aren't any hard corners or edges digging into you when you hold the bass against your body. It weighs 9.1 pounds, so it's a bit lighter in weight compared with other full-sized mahogany bass guitars, which can give you some nasty aches and pains when you play them for long periods of time. The weight distribution is excellent, adding to ease of play.
The neck has a full-scale length of 34 inches. It's slim and allows for fast playing. The nut measures 38mm, a good, comfortable width for beginners and players with small hands. The strings are spaced 19mm apart, offering fantastic playability for slap and fingerstyle techniques. It's easy to get from string to string.
Topping the neck is a fingerboard made of rosewood. It has 24 medium frets, standard dot inlays and a 250mm radius. The fret ends can still be smoothed out according to your preference.
Over at the headstock you'll find two tuning pegs on each side. The headstock is tilted back, which is great because it keeps the tuning more stable and consistent. The angle of the headstock keeps the strings firmly in place in the string slots at the nut, eliminating the need for string trees or string retainers. The string pressure on the nut is said to result in greater sustain when the string is played open.
This Yamaha bass guitar has a good fit and finish. The frets are smooth and there are no sharp edges.
The TRBX304 is available in a number of eye-catching colors. Take your pick from Black, White, Pewter, Mist Green and Candy Apple Red. Each has a flat finish without embellishments, making the bass an excellent choice for those who like their bass to be as simple and neat-looking as possible.
Hardware
The Yamaha TRBX304 boasts a sturdy high-mass die-cast bridge. The vintage-style bridge has four fully adjustable saddles. The bridge is efficient in transferring the vibrations of the strings to the body, resulting in a full, rich tone.
Working in tandem with the saddles to keep the bass in tune are the four tuning machines, also die-cast. These hardware components do their job well and players won't have any problems with tuning stability. The guitar's standard jack socket is mounted on a metal plate, offering durability and ease of maintenance.
Electronics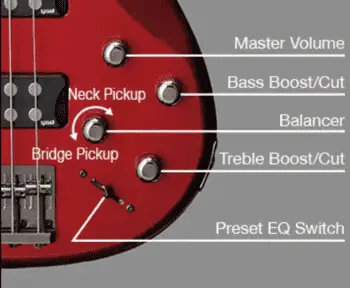 On the Yamaha TRBX304 you'll find two humbucking pickups at the neck and bridge positions. Both are M3 dual-coil pickups with large pole pieces and ceramic magnets to deliver the best definition and highest possible output.
The pickups are designed in-house by Yamaha Guitar Development and are great for getting that vintage, old-school bass sound. Their edges of the humbuckers have cutouts, designed for those who like to sit their thumb on top while playing.
There is a standard master volume control knob and a two-band active master EQ (bass and treble) so you can define and shape your tone. The bonus you'll get with the TRBX304 is a five-way toggle switch for the Performance EQ. The lever is a nifty feature as it makes setting up a particular tone that much easier.
There are five presets, which means you can choose from five different playing styles: Slap, Pick, Flat, Finger (for fingerstyle) and Solo. You can simply flick the switch to the playing style or tone you want. The presets work to adjust the two-band EQ instantly.
It's unusual to find this kind of feature on a bass guitar that costs under $400, which is why we think the Yamaha TRBX304 is a great candidate for the best bass for players on a budget.
The presets really come in handy for those who play live or make recordings because it shaves off time you would usually spend shaping and tweaking your tone. However, some players may find all the controls a bit too much. While there are some great bass tones you can get by using the Performance EQ switch, the rest of the controls may feel too complex to use for a complete beginner.
You've got the master volume of course, then blend for the pickups, bass and treble booster cut and the five-way selector. It can all seem too 'extra' on what is basically a beginner-intermediate instrument.
Some bassists may prefer just having a three-band EQ with bass, mid and treble controls instead of the five presets, but that would mean having to take a longer time shaping your tone the way you want or according to what a song calls for. You'll get used to it though, and in time you'll be glad for the quick and easy way to set up your bass tone.
The EQ switch is helpful for those who need to move between sounds quickly and who need their sound to be consistent. This is a big deal for those who are learning about bass tones and techniques and those who make recordings of different bass tracks.
Sound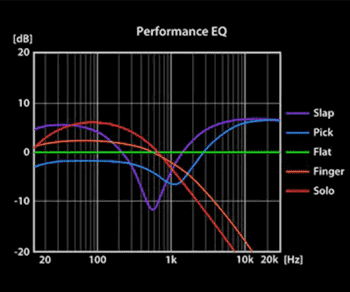 The Yamaha TRBX304 doesn't specialize in a particular sound, like a bluesy or jazzy tone. It's a neutral passive bass guitar that's good for a variety of styles, making it a great instrument for beginners, intermediate players, session musicians and anyone looking for a versatile bass guitar.
The pre-configured Performance settings provide players with some of the most widely used styles and bass tones. Each setting offers a noticeably distinct tone. For instance, the Slap mode gives you a tone that would definitely cut through loud treble frequencies and the Finger mode offers fantastic upper-mids for clarity and definition.
The Pick preset delivers a scoop at the higher mids and a nice bright clarity over at the top end. It's warm but with just the right bite to stand out. The Solo mode is similar to the Finger setting but the output is boosted, perfect for well, soloing. The Flat setting serves as a bypass mode or default setting.
The humbuckers deliver plenty of depth, and together with the two-band EQ and Performance switch, offer players a wide range of tones.
Final Word
The Yamaha TRBX304 offers a lot more than its price tag implies. This bass guitar is tonally well-rounded, it's comfortable and easy to play with its weight distribution, contouring and overall design, it's built well and most of all, the Performance EQ switch is a great feature to have. The price makes it more accessible to beginners and other players on a budget.
All in all, if you're looking for a versatile, comfortable and affordable bass guitar with a nicely balanced bass tone, check out the Yamaha TRBX304. It has some really good quality electronics, plus it allows you to explore a variety of tone options with the flick of a switch. It's definitely a must-have for bass players everywhere.