What factors do you consider when choosing the best concert ukulele? For us it's playability, construction, visual appeal, the quality of the sound and whether the price is reasonable considering the ukulele's overall package. If it's the same for you, then we hope this list helps you choose the best concert uke for you.
We took stock of what's currently in store for ukulele lovers looking for a concert-size instrument. Beginners have a special place in our hearts so we've included entry-level models as well. Here are our recommendations for the best concert ukulele for players young and old!
Our Top Concert Ukulele Picks
| Image | Ukulele | Summary | Price Check |
| --- | --- | --- | --- |
| | Luna Tattoo Concert Ukulele | The Luna Tattoo concert is ideal for musicians who not only want their uke to sound good but look fantastic as well. With its tribal design on the soundboard, mahogany body and neck with satin finish and rosewood fingerboard with mother-of-pearl shark's teeth inlays, the Luna Tattoo is something you'll be proud to brandish as your musical weapon of choice. | |
| | Kala KA-C Concert Ukulele | If you want a concert ukulele that sports a clean, classic look, consider the Kala KA-C. This uke features a mahogany body and neck, a rosewood fingerboard and bridge, cream body binding and a smooth satin finish. It is also an excellent option for beginner to intermediate ukulele players looking for a sturdy, reliable ukulele offered at a reasonable price. | |
| | FLEA Concert Ukulele | Now this is a flea you'll want to have in your home! The FLEA Ukulele is shaped like a flea and features a unique construction. The top is made of birch wood while the back and sides are made of injection-molded thermoplastic, making it sturdy and durable yet not sacrificing sound quality. It can stand up on its end too! | |
| | Oscar Schmidt OU5 Concert Ukulele | Oscar Schmidt ukuleles are expertly handcrafted and the OU5 is no exception. This concert ukulele boasts a select koa body, nyatoh neck, and a beautiful abalone rosette. The Oscar Schmidt OU5 is an ideal ukulele for beginners who are looking for an excellent instrument from the get-go. Seasoned players will love the looks and sound of this uke as well. | |
| | Cordoba 20CM Concert Ukulele | Because this is a list of the best concert ukuleles, we're including a model made by one of the most trusted brands in the industry. The Cordoba 20CM features a solid mahogany top, mahogany back and sides and rosewood fingerboard and bridge for optimum sound quality. It looks charming with its patterned rosette and bridge and natural satin finish. | |
| | Lanikai LU-21C Concert Ukulele | The Lanikai LU-21C is a highly recommended model for beginners looking for a concert-size uke. It's affordable, decently built, keeps the uke in tune with its geared tuners and most of all, delivers a good sound that will motivate you to keep on playing. This uke features a nato wood body construction with white binding and a rosewood fretboard. | |
| | Gretsch G9110 Concert Ukulele | There's something about the looks of a mahogany uke that makes you shiver in anticipation of how it sounds. Well you won't be disappointed with the Gretsch G9110, which features a mahogany body and neck and a beautiful vintage mahogany stain with an open pore finish. The finish preserves the mahogany's natural acoustic properties for the best concert uke sound. | |
| | Fender Zuma Concert Ukulele | The Fender Zuma Concert Ukulele was named after a beach in Malibu in Southern California. Fender designed this uke to be as enticing and alluring as its namesake beach and we think the company succeeded. With its sapele construction, abalone rosette, no-tie bridge, iconic Telecaster headstock and body and fingerboard binding, the Zuma uke looks as good as it sounds. | |
Luna instruments are popular among musicians because they're very comfortable to play, are artistically designed, sound as amazing as they look and best of all, are priced affordably. Luna provides a good balance between craftsmanship and accessibility so that players on a budget can still have an instrument that sounds and looks awesome.
The Luna Tattoo Concert Mahogany ukulele is just one of many Luna instruments that you'll find visually stunning and sonically pleasing. Like the other ukes in the Tattoo series, the Tattoo Concert Uke has a design inspired by traditional Hawaiian tattoos. Body ornamentation among Pacific Islanders is a source of pride, and many designs represent things in the natural world such as the sun, flora and fauna, rain and the sea.
This concert uke features a mahogany top, back and sides. The top is laser-etched with a wave design, with the soundhole sporting triangular rays that make it look like the sun. The neck is also made of mahogany and it's topped with a rosewood fingerboard for added contrast. The neck has a C-shaped profile to make playing more comfortable.
The fingerboard features mother-of-pearl inlays shaped like shark teeth. A satin natural finish completes the look.
Luna Tattoo Concert Ukulele Overview
---
The Kala KA-C ukulele is part of Kala's flagship Satin Mahogany lineup. It features a traditional, no-frills design so if you're not big on etchings and inlays, this is the concert ukulele for you.
The Kala KA-C Satin Mahogany Concert Ukulele sports a mahogany top, back and sides. The body has a cream binding highlighting its soft curves and a satin finish making it smooth to the touch. The neck is also made of mahogany and it's topped with a rosewood fingerboard with 18 frets and small dot fretboard markers.
It may look simple, but the sound produced by this little uke is nothing short of amazing. The mahogany body produces a warm and woody sound with a rich midrange tone – not too bright but just right.
The Kala KA-C measures 24.125 inches in total instrument length and it has a scale length of 14.875 inches. The concert size is often recommended for beginners who find soprano ukuleles too small. It's a little bit louder than a soprano too.
The Satin Mahogany Concert uke by Kala is available as part of a starter kit, which includes a gig bag, clip-on tuner, an instructional DVD and a polishing cloth.
Kala KA-C Concert Ukulele Overview
---
Fun fact: the word ukulele roughly translates in Hawaiian to "jumping flea," referring to how a player's fingers move.
Now we have another kind of flea: the Flea Ukulele by Magic Fluke. This uke features a unique hybrid construction – a combination of wood and injection-molded thermoplastic. The top or soundboard is made of birch wood, while the molded back and sides are made of resonant thermoplastic.
This combination of materials results in a rich and bright sound with a crisp and lively tone. It also makes the ukulele easy to clean and resilient to weather changes that can make solid-wood ukes expand and warp.
The flea-shaped body of the uke also has a flat bottom, allowing players to stand the uke up on its bottom on. The headstock also has a slotted design. Even with its unusual shape, the Flea Ukulele is comfortable to hold and play. The string spacing is wide enough for the chubbiest of fingers.
The Flea concert ukulele has a sturdy hard maple neck and it is topped with a polycarbonate fingerboard. The fingerboard features non-metal frets so it's easier on the fingers. The scale length measures 15.5 inches from the saddle to the nut.
FLEA Concert Ukulele Overview
---
The Oscar Schmidt OU5 ukulele comes from a long line of handcrafted-quality acoustic instruments that are offered at a reasonable price. Oscar Schmidt is actually Washburn's budget brand, the same way Epiphone is Gibson's. Even so, it offers instruments with an excellent build and amazing tone.
The OU5 concert ukulele by Oscar Schmidt ukulele sports a laminated select Hawaiian koa top, back and sides with cream binding, abalone purfling and a gloss finish that shows off the koa's beautiful grain. It also has an abalone rosette, an elegant detail that matches the purfling.
The neck of the Oscar Schmidt OU5 is also bound and is made of nyatoh, a hardwood that grows in the rainforests of Asia. This makes the neck sturdy and, coupled with the laminated body, adds durability and resilience. On the neck is a rosewood fingerboard.
Oscar Schmidt fitted the OU5 with quality Grover tuning machines. The chrome closed-gear tuners do their job well in holding the tuning after the strings have settled. Helping keep the uke strings stable and in tune are the rosewood bridge and an ABS saddle.
The OU5 produces a balanced sound with a bright and crisp tone expected from a koa-bodied uke.
Oscar Schmidt OU5 Concert Ukulele Overview
---
It looks like a traditional ukulele, but there's more to the story when it comes to the Cordoba 20CM. Cordoba initially made classical acoustic guitars before venturing to ukuleles. When the company first started building ukes in Portugal (where the ukulele originated), it incorporated a lot of the Portuguese ukulele building designs and traditions into its instruments.
So the Cordoba 20CM isn't just traditional in design, it's also traditional in make. This is a characteristic of Cordoba ukes that many players appreciate, because they know the company isn't just after making mass-production instruments with hardly any consideration for quality.
Just take a look at the specs of the Cordoba 20CM. It has a solid mahogany top with a fan bracing pattern, mahogany back and sides and a natural satin finish The solid top makes the sound more resonant, and the uke's tone will also improve with age.
The Cordoba 20CM has a mahogany neck, while its fingerboard and bridge are made of rosewood. The tuners are Cordoba nickel machines with classy pearl buttons. Around its soundhole is an exquisitely designed and applied maple and ebony rosette with a herringbone pattern. The bridge also sports a similar design. Lovely all over.
Cordoba 20CM Concert Ukulele Overview
---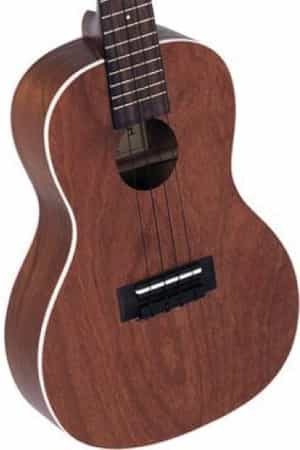 Buy from Zzsounds
Lanikai has been providing discerning musicians with ukuleles that meet their playing needs. The LU-21C is marketed as an entry-level model for beginners, and as such features a simple, classic design and a good sound quality at a low price.
By low we mean it costs less than $100. The ukulele bundle, which includes a gig bag, instructional DVD for beginners, a cleaning cloth and a clip-on tuner, is priced at about $90. It's a terrific value for ukulele newbies keen on getting started on a good instrument that doesn't cost a lot.
The Lanikai LU-21C concert ukulele features a nato top, back and sides. Nato is often called eastern mahogany because it shares similar visual and tonal qualities, even if it's actually from a different tree family. This makes nato a good, more affordable alternative to mahogany.
The LU-21C also features white binding on its body, adding a little more protection and durability to the uke while serving as a design element. The binding highlights the uke's curves and provides a nice contrast to the dark wood.
If you're a beginner and are looking for an affordable yet decent and reliable concert uke, consider getting this Lanikai ukulele bundle.
Lanikai LU-21C Concert Ukulele Overview
---
The Gretsch G9110 is part of the brand's Roots Collection, which feature best-selling models with a classic look. The G9110 is a concert uke that boasts a laminated mahogany top, back and sides.
The body has been given an open-pore semi-gloss finish, which lets the wood 'breathe' while offering protection from the elements. The open-pore finish also preserves the tonewood's natural acoustic properties, delivering the best and richest mahogany sound at the highest volume the uke has to offer.
The top of the ukulele also features a concentric ring design for its rosette. It's a simple but effective visual element that adds a touch of classic elegance to the uke.
The neck of the Gretsch G9110 is also made of mahogany and also sports an open-pore finish. It has a medium 'U' shape for optimum playing comfort. On top of it is a smooth and comfortable rosewood fingerboard with 16 frets and abalone dot position inlays. The headstock is of a classic 1920s design.
Other specs of the Gretsch G9110 concert ukulele include a rosewood bridge, bone nut and saddle, chrome hardware and friction tuners The friction tuning pegs are easy to adjust and hold tuning well.
Gretsch G9110 Concert Ukulele Overview
---
Part of the California Coast series, the Fender Zuma Concert Ukulele takes its name from a well-loved Malibu beach. It's available bundled with accessories including a standard gig bag and a chromatic clip-on tuner.
The Zuma concert uke features a laminated sapele top, back and sides for a rich sound and durable construction. Like the Gretsch 9110, the Fender Zuma also has an open-pore finish, but in satin. Enhancing its looks are cream binding on the top, back and fingerboard and an acrylic abalone rosette.
Another interesting design feature is a Telecaster-style headstock, which gives this little uke a classic Fender look. The neck of the Zuma is made of nato and has a satin finish. It has a rosewood fretboard with 16 frets and dot position inlays.
What sets the Fender Zuma apart from other concert ukuleles is its no-tie bridge, which offers players convenience when changing strings. Traditional bridges call for complex knotting when restringing – not so with Fender's slotted bridge, which only requires you to make a small knot at the end of the string. You can then just pull it through the bridge and move on to the next step – no more wrapping around tie blocks!
Fender Zuma Concert Ukulele Overview
---
The Best Concert Ukuleles and Their Construction
We would love nothing more than put more concert ukuleles on this list but we're sticking to what we believe are the best concert ukuleles overall. We've considered their build quality, sound and tone and of course, how much they can offer you at the price they're going for.
This is why the best concert ukuleles may not necessarily be the most expensive or the cheapest, and this is also why we've included models from different price tiers.
It can be hard to find a concert uke that possesses a good build, quality sound and an affordable price tag. Often, you would have to pay more for construction – the use of better-quality materials and the application of handcrafting techniques as well as the use of bindings and embellishments increases an instrument's build quality, but they also increase the price.
But there's a lot of value in a uke that's built well and looks good. Let's discuss this briefly.
Starting out
A simple ukulele construction is often recommended for beginners and those who are not sure yet if the ukulele is for them. No-frills models don't cost a lot, especially those that are made from laminate wood. As long as they have a decent build and good sound, they would be enough for people who don't really want to spend much on a ukulele at the beginning.
Still, the ukulele you choose should still be of good sound quality. Ukulele bodies, no matter how plain-looking, should produce a good tone. This will make beginners want to learn more, and would convince those unsure of playing that yes, the ukulele is a good instrument for them.
It's also important for even the simplest-looking of ukuleles to have a decent build because this not only affects how it sounds but also how it plays. If the tuners are loose, the frets uneven the neck bowed and the wood cracked, you will be very dissatisfied with the uke and you won't enjoy playing it at all. You are bound to return it to the shop (a hassle), replace it with another or drop the uke altogether.
If you're an aspiring ukulele player and you've decided that the concert size is for you, consider choosing from the best concert ukuleles in this list. They've been tested, reviewed and rated for their build, sound, value for money and overall quality, so you won't regret your purchase no matter which model you choose.
Advancing in your playing
As you go along your ukulele journey, you will no doubt encounter other ukulele models. You will also come to develop a keener sense of hearing and a preference for a certain sound – one that your own uke may not be able to produce because of its size or build. In addition, you may also feel the need to upgrade from your beginner instrument to something more fitting for your skill level, or something that looks nicer.
A ukulele that has a little more in terms of construction – solid wood top, better-quality tonewood, body binding, a beautiful rosette design, etchings, abalone fretboard inlays and other build and design elements do a lot in improving how a ukulele looks and sounds.
Intermediate ukulele players usually gravitate from their simple introductory instrument to a better one that reflects their personal preferences in terms of design, sound and playing style. And this is great, because a better ukulele has the power to do the following:
Sound better because of better-quality materials
Make you feel really good about playing ukulele
Motivate you to practice more because it looks more appealing to play
Give you confidence when you have to perform (recitals, gigs, busking, etc.)
Draw attention to your playing when you're jamming with friends or playing in public
Get people interested in your music
Inspire others to play ukulele too
A better-looking and better-sounding ukulele can do a lot for your playing, so it does make sense to upgrade from a starter uke (usually a soprano) to a better-quality instrument like the best concert ukuleles we've listed here.
So, should you pay more for construction and looks? If you have the money for it, why not? When it comes to buying ukuleles, our advice is to get the one that appeals to you – the best you are willing to spend money on. If it makes you happy and want to keep playing forever, go for it!