So you've decided to take the plunge and learn how to sing. And you've probably realized, as I did, you have a metric butt-tonne of options available. That's a technical term, by the way.
For many learners today, traditional face-to-face lessons are just too complicated. I mean, you have to actually leave the house (*gasps*), and travel halfway across town to your tutor for a half-hour lesson, then drive all the way back. Plus, you're locked into a weekly time slot, and if something else comes up that you need to tend to (as it inevitably does), then you miss out on a lesson for that week.
It's for that reason (and also probably because we seem to want to avoid social interaction), that online singing lessons exist. A catalog of high-quality, informative videos that you can watch at your own pace, and teach yourself to sing on your own time. What's not to love?
So, which is the best online singing lesson program? Well, we've checked out five of the most popular platforms in 2023, dug deep into their treasure troves, and uncovered the gems that make these five programs the best the internet has to offer.
Here's a table showing you a breakdown of what we consider to be the best online singing lessons in 2023.
|   | 30 Day Singer | Singorama | Masterclass | The Vocalist Studio | Roger Love |
| --- | --- | --- | --- | --- | --- |
| Free Trial | 14 days | 60-day money-back guarantee | No | No | Four free lessons |
| Mobile Friendly | Yes | Yes | Yes | Yes | Yes |
| Beginner Friendly | Yes | Yes | Yes | Technically yes, but it might be somewhat difficult | Yes |
| Levels | Beginner, Advanced, Tricks & Techniques | 6 | N/A | N/A | 3 |
| Number of Lessons | 300+ | 28 | 23 | 177 | 100+ |
| Live Lessons | Option for private lessons | No | No | Option for private lessons | Very limited |
| Styles | Classical, country, R&B, a capella, pop, Christmas songs | Ballad, rock, pop | Pop, rock | N/A | Rock, pop, country. R&B, gospel, musical theater |
| Best Known For | Huge lesson library, intuitive and user-friendly interface, excellent value | Low-cost solution | It's taught by Christina Aguilera! | The most in-depth online vocal lesson platform there is | Roger Love's experience in the industry |
| Community Support | Blogs, forum/discussion board | No community - moderately active blog | Some | No | No |
| Video Quality | Outstanding | No video | Amazing | Average | Average |
| Price | $29.99 per month | $67 one-off purchase | $180 - but you get access to the entire suite of Masterclass courses | $199, or $299 if you buy the book | Level 1 $197, Levels 1 and 2 $297 Levels 1, 2 & 3 $497. |
| Visit | | | | | |
I am seriously blown away by 30 Day Singer. It takes a lot to turn something as intimate and personal as private vocal lessons into an online platform and still keep it engaging, and 30 Day Singer has done exactly that.
It's all about the experience. I've spent time with several online lesson platforms. While some have an excellent repertoire of lessons, high-quality videos, or a celebrity tutor, none of them really hit the mark in terms of experience.
Here's what I'm talking about. When you first get into the program, it's very clear from a single glance where everything is. You click on the Beginner modules, and you get to choose from three professional, highly qualified vocal instructors. Try em all out, see who you like best, and go with them! I haven't seen any other program that does this, and I think it's extremely valuable. Why would you stick with an instructor you don't like? You wouldn't in the real world…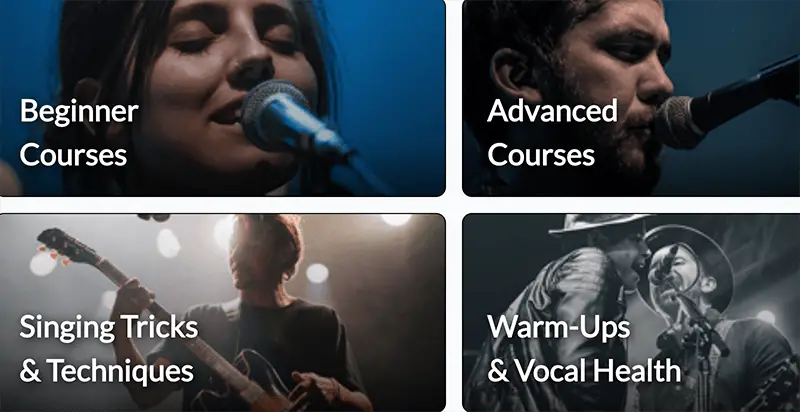 When you get into the Advanced courses, you'll meet three more instructors. All six are engaging, friendly, and knowledgeable.
In my opinion, this, as well as the Singing Tricks & Techniques module, is where 30 Day Singer really shows its stuff. Don't get me wrong, the Beginner module is fantastic, but it's a Beginner module, so it is necessarily limited in terms of scope. Once you've completed those 30 lessons, then you're into the good stuff.
These modules cover everything from vocal techniques such as belting, vibrato, and breath control, to tips on singing and playing piano at the same time. The range of genres is wide (pop, country, R&B, even Christmas songs…, and seriously well done. Where some other vocal programs I've seen dedicate just one lesson to each genre, 30 Day Singer has at least 5.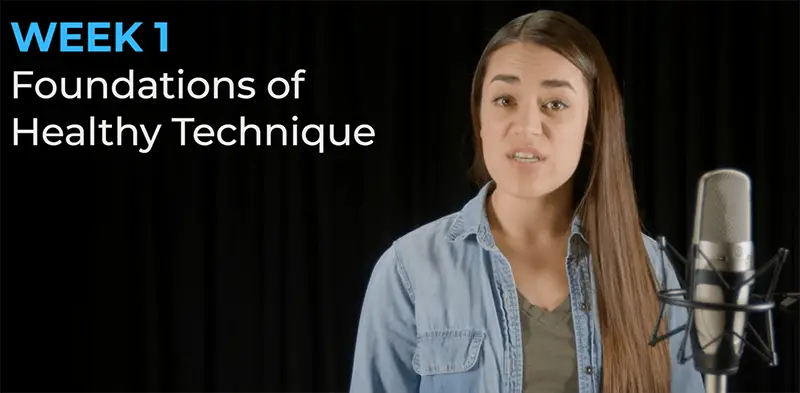 So, the lessons are fantastic, the interface is excellent, what more could you ask for? How about a discussion board where students can interact with each other and share tips and tricks? The instructors even get involved! If that's not enough attention for you, you can book one-on-one lessons with one of the teachers. This is a nice touch, I think, as although you can learn a lot from the videos, it's always good to have a professional actually hear you sing and give you a bit of feedback.
Surprisingly, 30 Day Singer is one of the most affordable lesson platforms available. Where other platforms (as you'll see) charge a couple hundred dollars for access, 30 Day Singer operates on a subscription model and costs just $29.99 a month. Considering that this gives you access to over 300 videos (with more being added regularly) from 6 world-class vocal instructors, it's hardly a huge outlay.
Plus, you can even get started with a 14-day free trial. And why wouldn't you? 30 Day Singer is for sure our favorite, but ultimately the best online singing lessons are the best ones for you, so you owe it to yourself to at least try it out…
30 Day Singer Singing Lessons Overview
---
Singorama is a low-cost solution to online singing lessons at only $67 for the entire course. For that $67, you get 28 audio lessons, 20 vocal exercises, and three completely original songs to learn. Plus, Singorama gives you 4 free eBooks, a metronome, a mini recording studio (software), and access to Jayde Musica, another online platform that teaches students to read musical notation.
That's quite a bit for $67! The website reckons the package is valued at $290. However, I wasn't able to verify this as it appears many of the included extras aren't available for purchase elsewhere. Still, it seems close enough.
There's gotta be a catch, right? Well, it turns out there's a few. The first and most significant is the fact that the lessons aren't delivered in a video format. Instead, Singorama opts for downloadable MP3s, claiming that "one of the best ways to learn about singing is to hear what both good and bad singing sounds like." A flimsy excuse if you ask me considering video lessons also allow you to hear what good and bad singing sounds like. Still, you've gotta keep costs down somehow if you want to provide such a budget-friendly product.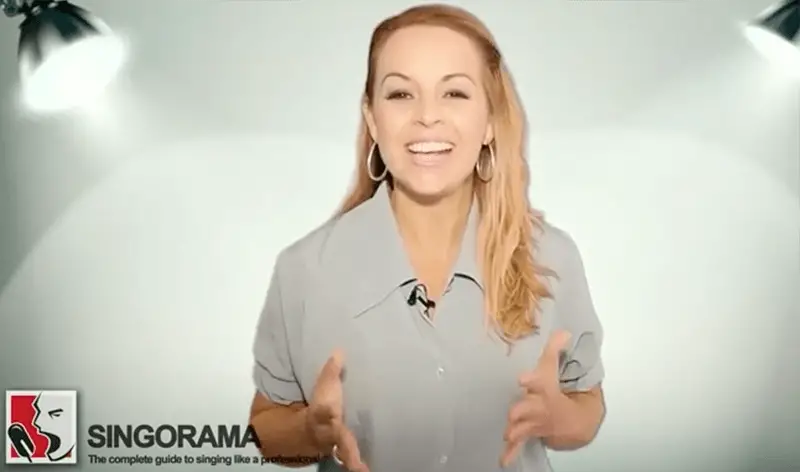 The lessons themselves aren't bad, they're about 20 minutes each, which, with a few pauses and practice runs, takes each session to around 30-45 minutes. In my experience, that's an ideal length for a singing lesson. The 28 MP3s are logically spread out too:
Getting Started as a Singer – 3 lessons
Vocal Technique – 5 lessons
The Technical Stuff – 3 lessons
Singing Style – 3 lessons
Learn Entire Songs – 5 lessons
Your Future as a Singer – 9 lessons
This makes it pretty easy to navigate, and the interface is clean and clear, if a little boring. If you're savvy, you'll have spotted the second catch. Out of the 28 total lessons, 9 of them don't even focus on teaching vocal techniques. Don't get me wrong, there's massive value in discussing things like performance anxiety and signing with a band. But when it makes up 32% of the course, I get a little nervous.
On the other hand, the 20 included vocal exercises are thoughtfully executed. You'll learn warm-up techniques like lip rolls and sirens, which you can use before every practice session. As you advance through the course, you'll be able to take advantage of the range extension and interval training exercises. These are fantastic. You learn about these concepts in lessons 8 through 11, and then have an additional 12 activities to really nail them.
Singorama offers quite a few little bonuses that nobody else does, such as the Jayde Musica access or the recording studio software that allows you to record your own voice and listen back. One of those bonuses, and one that I was pleasantly surprised with, sits right at the bottom of the exercises and is called "Melt Anxiety Away." It's a 20-minute guided meditation designed to calm the mind and body and get you prepared to sing in front of an audience.

As you can see, I kind of have mixed feelings about Singorama. Compared to some of the other programs out there, it offers very little insofar as the lessons themselves go. However, there's a tonne of value in the included extras, which are probably worth the $67 in themselves. If you're considering vocal lessons but not really sure if they are your thing, then Singorama presents a good jumping-off point. Minimal outlay upfront, and if you do decide to progress to a more in-depth program like The Vocalist Studio or 30 Day Singer, you still have access to the included software and vocal exercises.
Singorama Singing Lessons Overview
---
Yes, you read that right. Christina Aguilera Teaches Singing.
Unfortunately, the course isn't very accurately named. It should really be Christina Aguilera Shows You Some Singing Tips And Shares Her Experiences. Still, it has Christina Aguilera in it, so who am I to complain.
This program is part of the Masterclass suite, an online learning platform that features over 80 industry professionals teaching everything from beat-making to gardening. In the music section, you'll see some familiar faces alongside Christina's, such as Timbaland, Carlos Santana, and Usher. So, when you see all of those names side by side, you know it's going to be a professional experience.
And I'll give them that, it certainly is. The videos are well-produced and of super high quality, and the interface is clean, sleek, and easy to navigate. 5 stars to Masterclass on that one for sure.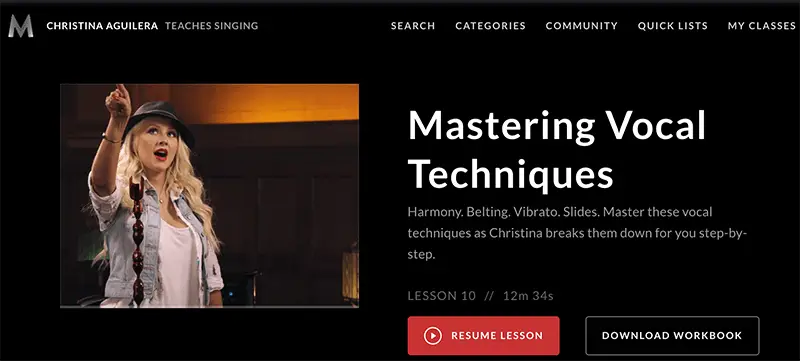 Getting into the lesson themselves, though, it's clear that this isn't going to be your be-all and end-all of online vocal lesson programs. There are 23 videos in total, which isn't bad, except they only average around 10 minutes each, and only about 15 of them are about singing. The rest are about Christina's experiences, mistakes, and inspiration. Look, these are great lessons in themselves and offer some fantastic insights, they just aren't teaching you how to sing any better.
A key point of difference with this program is that you get to learn how to sing some of Christina Aguilera's most famous songs, including:
Say Something
Beautiful
Fighter
Genie in a Bottle
These lessons generally show Christina actually teaching another student how to sing them. I thought this was a pretty cool touch as you get to see some real student-teacher interaction.
There's no trial period available with this one, unfortunately, which I thought was strange given it's such a big platform, and it costs $180 for an all-access pass. That's a pretty steep price if you're only interested in Christina's course. However, there are a tonne of other excellent courses on there. I won't go into them in this review, but just know I watched a few alongside this singing course (like the Timbaland one), and I was seriously impressed.
Like Singorama, this is probably a program that you'd start with to test the waters a little bit, get some inspiration, and see if singing lessons really are for you.
Masterclass: Christina Aguilera Teaches Singing Overview
---
4. The Vocalist Studio Online Singing Lessons
If you're the kind of person who really likes to know how things work, then The Vocalist Studio could be your guy.
The moment you open up the program, you'll see what I mean; it's incredibly deep. I'm not talking 30 Day Singer deep, I'm talking Mariana Trench deep. To be fair, 30 Day Singer does have more lessons, but they probably offer more breadth than depth. The Vocalist Studio doesn't offer any lessons on specific songs or styles, it just teaches you how to sing. And it does a damn good job of it.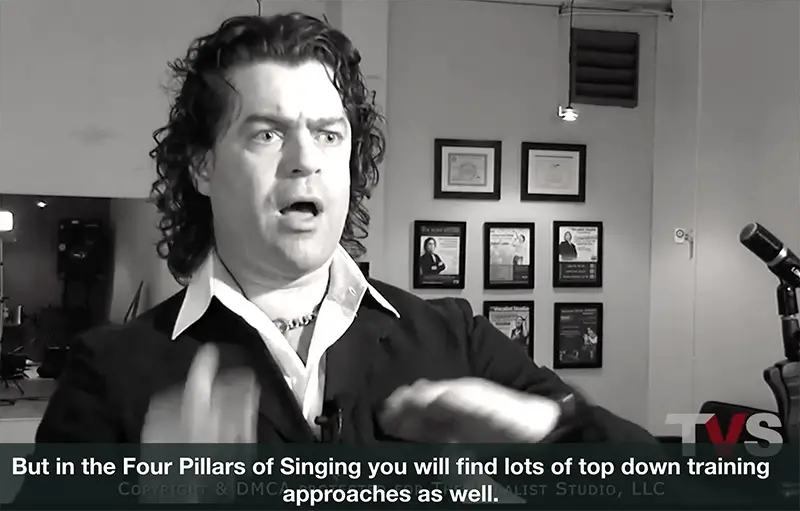 In fact, it gets quite technical, so if you weren't a fan of science class in school, then you might be a little turned off by some of the modules. For me, though, this was perfect. When I've done singing lessons in the past, I've sometimes struggled with conceptualizing what is meant by terms like head voice and belting. Especially in terms of where they take place and how they are supposed to feel. The Vocalist Studio took care of that challenge with ease.
The Vocalist Studio is created and taught by Robert Lunte, a vocal coach with over 20 years of teaching experience. This isn't merely a collection of ideas; this is a proprietary training methodology designed by Robert himself.
The program is not without its flaws. The main thing I struggled with was the layout of the course. Where other platforms like Roger Love's Singing Academy guided you nicely through levels of difficulty, TVS kind of just gives you everything in one go. Granted, there are a couple of recommendations as to workflow, such as the included training workflow guides. In all honesty, though, they are a bit confusing and difficult to find.
If you were to watch the lessons in the order they are presented, you'd probably lose momentum pretty quickly. Especially considering the first 8 modules are 'lectures' as opposed to 'training' videos.
When you purchase the course, you get the opportunity to book an onboarding call with Robert via Zoom, and I would highly recommend this. I'd even go as far as recommending you spend a bit of time browsing the interface before this session so you can ask any questions you might have about how to get started. Once you've got a solid plan for pace and order of lessons, then you're away laughing.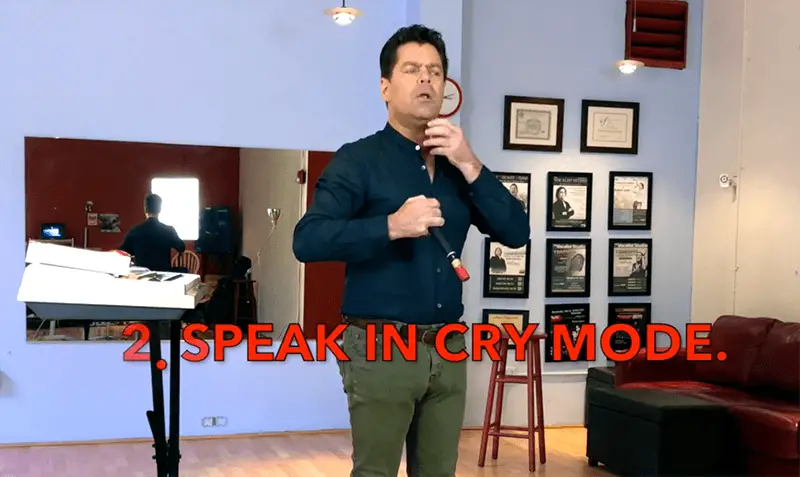 That call is only $40, which is pretty affordable considering you're paying $199 for the course. There's also a 616-page full-color book that accompanies the course (an extra $100), and it is excellent. Definitely recommended if you're a visual/reading learner.
Unlike many other platforms, there doesn't appear to be any form of community support, such as a forum or blog. There are no included tools like a metronome or recording software, either. What you do get though is a direct chat line to Robert himself, which I thought was a sweet personal touch. You can also book private lessons with Robert if you need some specific guidance.
So, should you choose The Vocalist Studio as your online singing lesson platform? If you're looking for a slick user experience with high definition videos and an easy to follow pathway, probably not. If you're confident in managing your own workflow, and you have a desire to learn the mechanics of singing and your voice, then TVS is a fantastic option.
The Vocalist Studio Singing Lessons Overview
---
5. Roger Love's Singing Academy
As I clicked on the link 'Sing Like a Star with Roger,' I thought to myself, "Who the heck is Roger Love?". Then I thought to myself, "Sounds like the name of a Smokie song."
Turns out, Roger Love should be asking who the heck I am. With more than 100 million CD sales under his name as a vocal producer, he's worked with some of the most prominent singers there is. From Demi Lovato to Selena Gomez. Okay, that's not a very big jump. How about Eminem, John Mayer, and Tool? Suffice to say, Roger Love knows how to teach singing.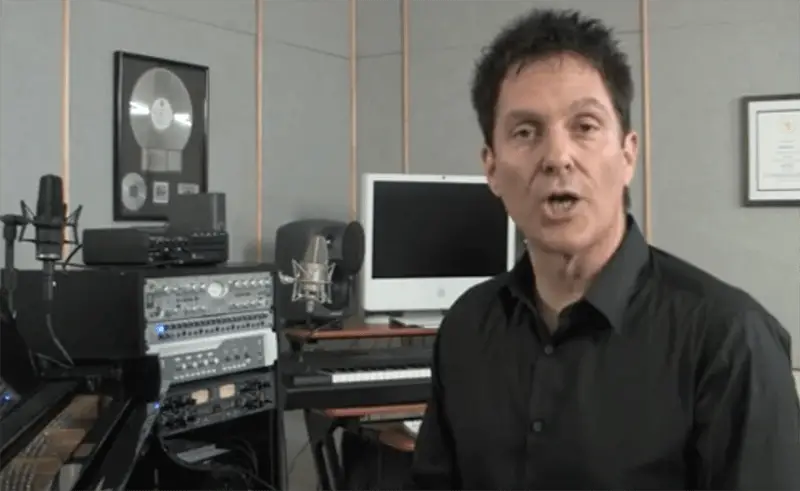 His online singing lesson program sits squarely in the middle of this review, but don't let that deter you, the academy offers everything you would expect. Over 100 lessons split up into 3 levels (aptly named Levels 1, 2, and 3), plus a selection of bonus exercises, tutorials, and warm-ups.
I found the layout reasonably straightforward. You jump into Level 1 and see 35 videos, separated into 5 weeks' worth of training. Easy. The video quality isn't quite as good as 30 Day Singer's (on par with The Vocalist Studio). Still, Roger does go as far as including both male and female versions for most of the lessons.
It isn't explicitly described, but it seems that Level 1 is all about the fundamentals of singing, such as chest and head voice, how vocal chords work, and an introduction to techniques like vibrato. Level 2 is where the real meat is in this lesson burger, diving further into specific techniques while teaching you how to sing in different genres, including rock, pop, and even musical theater.
You'd think then that Level 3 is all about advanced techniques. I did. I was mistaken. There is a little bit of that, but for the most part, this level takes a holistic approach, teaching students about mic technique, developing your own style, and working with a band. Valuable lessons, I thought, but maybe not what you're after as a beginner.
Luckily, you don't have to purchase all Levels in one go. Roger Love's Singing Academy offers three options to splash your cash on:
Level 1 – $197
Levels 1 & 2 – $297
All 3 levels – $497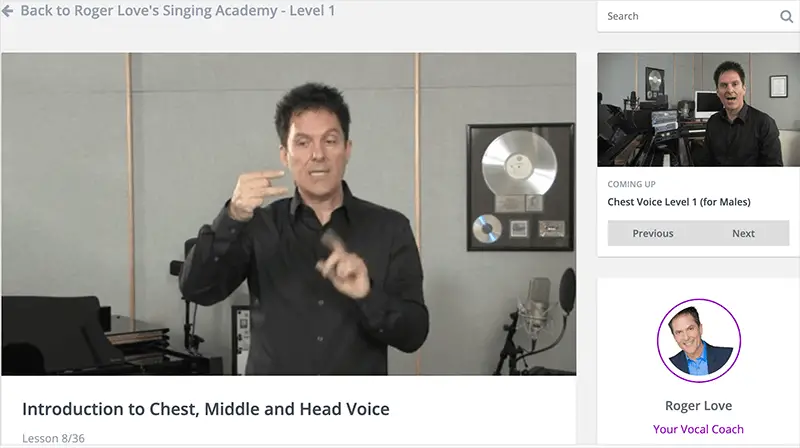 My recommendation would be to hit go on the middle option. It represents the best value ($4.24 per lesson), and that's where most of the good stuff is anyway. You can always upgrade to Level 3 at a later date.
As far as user experience is concerned, this platform represents a solid middle ground. It's not flashy, but it's not ugly. The lessons are reasonably well laid out, though I felt like some of the bonus videos could have been lessons themselves, so I was left confused about why these were in a separate section. There is a simple, easy to follow lesson structure though, which you would think would be a given but as I've found, is really more of a luxury.
If you want to get a feeling for the program yourself, you can access 4 free lessons yourself. This one's definitely one you should check out.
Roger Love's Singing Academy Overview
---
What are the Major Benefits of Singing Lessons Online?
There are three main benefits of choosing online singing lessons over traditional face-to-face ones:
Cost
Convenience
Compatibility
Cost
Music lessons are typically quite expensive, and singing is no exception. It's not unusual to pay upwards of $60 per hour for private lessons. That adds up pretty quickly if you go once a week – $240 a month…
As you've seen, you can pretty much get an entire online course for that price! So, when it comes to cost, traditional lessons definitely lose out.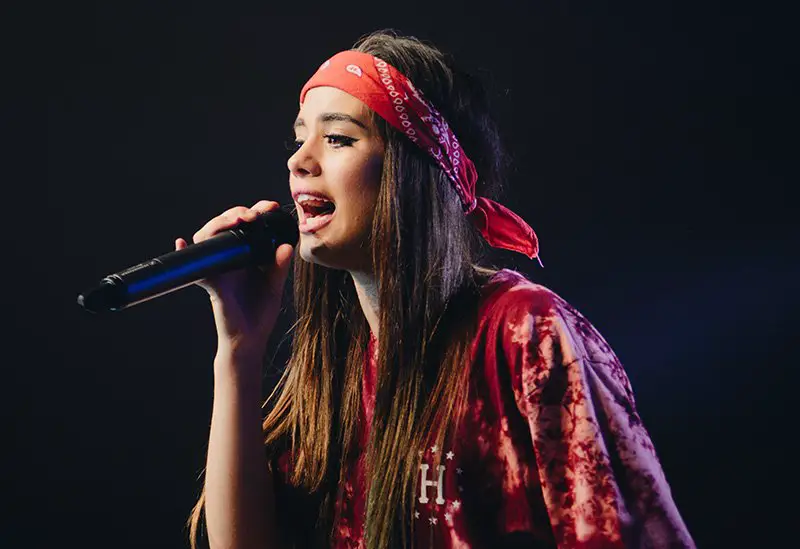 Convenience
The truth is, most face-to-face lessons are pretty inconvenient. Firstly, you have limited influence over your weekly time slot. Usually, it's entirely dependent on your instructor's availability, and even once you've agreed on a time that works, you're locked into it. That means you'll end up missing out on a lesson (and probably still having to pay for it), if and when something more important comes up.
The other inconvenience factor with traditional private lessons is travel times. If you live in a big, sprawling city like I do, chances are your vocal tutor won't be in the same suburb as you. In fact, if Murphy's law has anything to do with it, they'll be on the other side of town. Add 30 minutes travel time either way, and your 1-hour lesson just became 2.
With online lessons, an hour is an hour. You can do it from the comfort of your own home, whether that's in your living room, bedroom, or spare room.
Compatibility
This one's often overlooked, but in my experience, incredibly important. To get the most out of your lessons, you need to have a tutor that you look up to, is engaging, and that you can relate to. I had a vocal teacher once who was a really great guy and, by all means, a fantastic singer, but I could tell pretty early on that he didn't have a lot of experience teaching. After several lessons, I realized we just weren't gelling. He wasn't able to communicate on the level I needed, and I sought out another option.
This is difficult to do with in-person lessons. Of course, there's the interpersonal element; you don't want to tell them why you're leaving. It's like an awkward breakup. Plus, you feel like you need to give it a bit of time before you make that judgment. Then, when you find another teacher, you kind of have to start again.
With online singing lessons, you generally have the ability to test whether you'll gel with the instructor's style by activating a free trial. That's not the case for all platforms, though, but there are workarounds. For example, if you're considering going with Roger Love's or Robert Lunte's programs, you can find videos of each instructor on YouTube to get a feel for their characters and teaching styles.
What is the Average Cost of Online Singing Lessons?
This is a pretty tricky question to answer because, as you've seen, the cost of online singing
lessons varies significantly from program to program. The cost of a lesson platform is highly dependent on the quality of the service it offers, the number of lessons included, and any optional extras such as software or workbooks.
Most of the one-off purchase platforms we've reviewed here fall into the $200-300 bracket, but that ranges from the 177-lesson deep-dive methodology of The Vocalist Studio to the 23-video lightly-touches-on-each-subject approach of Christina Aguilera Teaches Singing.
Let's say you were to purchase either The Vocalist Studio or Roger Love's Singing Academy and complete the course over 12 months. Your average cost would be about $25 per month. That's pretty close to the $29.99 per month you'll pay for our top pick, 30 Day Singer.
Very roughly, then you can expect to pay around $25-30 a month for online singing lessons.
Conclusion
When all is said and done, there is no one best online singing lesson program for everyone. If there was, only one would exist!
In fact, as you grow and develop as a singer and encounter other musicians along the way, you'll begin to realize something: everyone has an opinion about something. Usually, they're pretty strong opinions too, and you'll find many musicians aren't afraid to offer theirs. This can make it hard to weed out all the crap you're fed as a novice who knows no better.
So, take the opinions you're offered on board, but allow yourself to find these things out for yourself. When someone tells you a 'fact,' do your own research. Check out the free trials that are available and see what's best for you. Form your own opinions, and don't be afraid to speak of them. But equally, be prepared to be proven wrong.
And, above all, take the opinions of others like a good shot of tequila – with a pinch of salt and hopefully you'll find the best online singing lessons for you.
Disclosure: We are a professional review site that receives compensation from the companies whose products we review.