Which model will be crowned the best acoustic guitar under $300 in 2023? We have to admit the competition's pretty tough, with guitar manufacturers coming up with great acoustic models for the budget-conscious player. We'll have to settle for a five-way tie among acoustic guitars from Yamaha, Fender and Ibanez.
You might be wondering: Can acoustic guitars in the $200-$300 range be any good? Don't they look flimsy and sound cheap? Well, you can put those doubts to rest because the guitars we've chosen are all top-notch, you'll be wondering why they aren't priced a lot higher.
Our Top Acoustic Guitars under $300
| Image | Guitar | Summary | Price Check |
| --- | --- | --- | --- |
| | Yamaha FG830 Acoustic Guitar | Specially designed for new guitar players on a modest budget, the Yamaha FG830 is nonetheless a quality guitar that can last you well beyond your beginner years. With its solid spruce top, rosewood back and sides, nato neck, rosewood fingerboard, scalloped bracing and wonderfully rich overtones, this is a lot of guitar for a small price. | |
| | Fender T-Bucket 300ce Acoustic Guitar | Another affordable and beginner-friendly guitar is the Fender T-Bucket 300ce. This is an acoustic-electric dreadnought with a cutaway, with a comfortable action and feel that new guitar players will surely love. This guitar doesn't only feel great, it looks and sounds appealing as well with an authentic Fender acoustic sound. A true-blue Fender for less! | |
| | Yamaha FS800 Acoustic Guitar | The Yamaha FS800 is a solid-top acoustic guitar that features scalloped bracing for a sturdier and more robust build and a more resonant sound. This acoustic guitar has a quality fit and finish you can expect from a Yamaha but not one in this price range. The FS800 certainly looks, feels and sounds like a more expensive instrument. | |
| | Yamaha FG820 Acoustic Guitar | The Yamaha FG820 dreadnought is yet another inexpensive offering from Yamaha. For a budget of $300, you get a quality acoustic that's big on resonance and has a rich and well-balanced tone. Featuring a solid spruce top with scalloped bracing and mahogany back and sides, the FG820 may be priced for beginners but it's actually for everyone to enjoy. | |
| | Ibanez AC240 Acoustic Guitar | Part of the Ibanez Artwood series of guitars, the AC240 is a blend of traditional and modern. This Grand Concert acoustic guitar has received a few modifications to make it more ideal for fingerstyle playing. For $300, this is truly one of the best acoustic guitars you can get. It exceeds expectations with regard to visual appeal, playability and tone. | |
Considered one of the best beginner guitars in the world, the Yamaha FG830 is more than just a starter guitar. Intermediate and even pro-level musicians will find this guitar to be a reliable backup for studio and live sessions as well as a handy instrument for the road.
The Yamaha FG830 belongs to the company's FG series and is an improved version of the Yamaha FG730. Among the improvements are rounded fretboard edges, a new scalloped bracing pattern and slimmer nato neck. The streamlined, fast neck and rounded fingerboard edges make the Yamaha FG830 comfortable and a breeze to play.
The new bracing pattern makes the solid Sitka spruce top more durable while giving the guitar a greater projection. The internal bracing also creates a punchier, fatter sound. And because the FG830 has a Traditional Western dreadnought body shape, it also has a boomy voice with pleasing low-end tones.
The sides and back of the FG830 are made of rosewood laminate, making the guitar look more sophisticated and adding to its durability. Rosewood also gives a warm sound and clear, balanced tone.
The Yamaha FG830 is an awesome all-around acoustic guitar for players of all levels.
READ our FULL Yamaha FG830 review here
Yamaha FG830 Acoustic Guitar Overview
---
The Fender T-Bucket 300ce is a stage-ready acoustic guitar with a rich and full sound and tons of visual appeal. This affordable Fender sports a laminated flame maple top, which has been reinforced with scalloped X-bracing. It also has laminated mahogany back and sides, a three-piece laminated mahogany neck, a rosewood fretboard with white dot inlays and a rosewood bridge with a compensated saddle.
The use of laminates makes the guitar durable and resilient. It's sturdy and can withstand normal wear and tear as well as the effects of fluctuations in humidity and temperature. The cutaway provides effortless access to the upper frets.
The scalloped bracing on the Fender T-Bucket 300ce effectively reinforces the crisp sound of the laminated top while letting it vibrate freely, resulting in an impressive projection and responsiveness. The mahogany laminates at the back and sides work to balance the sound from the top, tempering the brightness and giving the guitar a warm sound.
You can easily amplify the acoustic sound via the onboard Fishman Isys III pickup system, which features an active preamp with controls for tone (bass, mid, treble) and volume. The guitar also comes equipped with a chromatic tuner.
Fender T-Bucket 300ce Acoustic Guitar Overview
---
The Yamaha FS800 is an impressive acoustic guitar in a small package. This is a concert-sized guitar, which makes it a great option for young and petite guitar players. "FS" actually stands for Folk Small. The waist is narrower and it has a shorter length overall. It's more portable and lightweight than the larger-bodied dreadnought, so if you're looking for a small acoustic guitar under $300, consider this model.
The FS800 replaces the FS700, one of Yamaha's top-selling guitars. The main improvement is the bracing, which gives strength and sturdiness to the soundboard or the top of the guitar. Yamaha gave the FS800 scalloped bracing, which not only decreases the weight of the top but also makes it resonate more. The scalloped bracing also gives the guitar a greater projection and tonal balance across the low end and the high end.
The Yamaha FS800 has a solid Sitka spruce top, nato back and sides, rosewood fretboard and nato neck. The body has a gloss finish while the neck has a matte finish for a more natural playing feel. Adding to playing comfort are the rolled fretboard edges – something you don't usually find in a guitar that costs less than $300.
Yamaha FS800 Acoustic Guitar Overview
---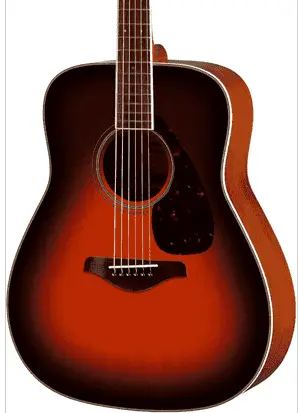 Buy from Zzsounds
The Yamaha FG820 is yet another fantastic guitar for beginners and just about anyone who loves playing the guitar. This model combines a superb build, awesome tone and easy playability in one affordable package.
The FG820, part of Yamaha's FG series introduced in 1966, has a Traditional Western body style. This dreadnought has a solid spruce top with a newly developed scalloped bracing for maximum resonance and projection. For the guitar's back and sides, Yamaha used mahogany for a warmer and stronger sound. The body has been given a nice, classy-looking gloss finish. The smooth, matte-finished nato neck is topped with a rosewood fingerboard.
Other features of the Yamaha FG820 include a 1.69-inch nut width, rosewood headstock overlay, urea nut and saddle, diecast tuning machines and a rosewood bridge.
The Yamaha FG820 is perfect not only for beginners but also for those who are looking for a durable, great-sounding guitar they can take anywhere. The sound is rich and clear, with just the right mix of warmth and brightness. It can sound even better with a new set of strings.
The guitar is available in a number of color variations, such as Autumn Burst, Black, Brown Sunburst and Natural.
Yamaha FG820 Acoustic Guitar Overview
---
A sturdy build, splendid tone and superb playability are just some of the qualities the Ibanez AC240 has that make it one of the best acoustic guitars under $300. Ibanez wanted to produce guitars that are made using traditional techniques but with modern appointments, and so we have the Artwood series.
The Ibanez AC240 is part of this lineup where traditional meets modern. This acoustic guitar has a Grand Concert body shape and features a solid mahogany top with X-bracing. A mahogany neck with a rosewood fretboard and laminated mahogany back and sides. The body (top, back, sides) and the neck of the guitar have an open pore natural finish, allowing you to see the beauty of the mahogany wood grain.
The neck of the AC240 measures 1.75 inches wide at the nut and widens as you go up toward the body, making this guitar ideal for fingerpicking.
The Ibanez AC240 also sports an abalone soundhole rosette, chrome Grover die-cast tuners with half moon-shaped knobs, a bone nut and a compensated bone saddle. The features are those you would more usually find on a guitar that costs a lot more.
Ibanez AC240 Acoustic Guitar Overview
---
Our buying tips for the best acoustic guitar under $300
For players of all skill levels
These acoustic guitar models under $300 put them in the realm of instruments for beginners with a little more cash to spare. After all, $300 isn't exactly loose change for many guitar players, especially beginners who may be testing the waters first before really diving in to the wonderful world of guitar.
But these acoustic guitars aren't just for newbies. Because of their quality build and remarkable sound quality, they can be a good fit for intermediate players who want to level up from their starter guitar. They can also serve advanced or pro musicians well as a backup or practice guitar.
If you have a budget of $300 for an acoustic guitar and would like to know what sort of guitars you can get for that amount, just check out this list. As you can see, $300 can get you far. You can have a solid-top guitar with built-in electronics, a great combination of tonewoods, a gorgeous finish, a fast and easy-to-play neck and other features you won't normally find in a guitar in the $200-$300 price tier.
The acoustic guitars in this list really are exceptional, and we hope you find the one that speaks to you. Depending on where you're coming from, $300 can either be on the low end of the scale or your maximum limit. Whichever is the case, know that none of your hard-earned cash will be wasted when you choose from this list.
Make music in no time
With these affordable acoustic guitar models, you can start learning to play right away. You won't be settling for any moderately priced guitar, either: all of the acoustic guitars on this list have received top ratings and positive reviews because of their specs, features and overall sound.
You can take your pick from full-sized dreadnoughts and small-bodied guitars purely acoustic models and acoustic-electric guitars. The quality of the guitars you can get for $300 or less is amazing, so you won't have to worry about being stuck with a dud.
There are, however, instances when you may have to tweak your guitar and make adjustments to make sure it plays smoothly and has the best sound.
The benefits of a proper guitar setup
Acoustic guitars, no matter how much they are priced, can benefit from a professional setup. The guitars on this list of below-$300 models are already the best in their price category but they will play and sound even better when a guitar technician or luthier is able to take a look at them and modify them according to the player's preferences.
A guitar setup is the process of making adjustments so that a guitar plays well, has the right intonation and the best sound possible and is comfortable to play. Acoustic guitars under $300 may already be playable out of the box, but the factory setup is general and done from a one-size-fits-all perspective.
In contrast, a professional setup would take into consideration your specific preferences, so that you would feel as if the guitar was made just for you.
A basic guitar setup involves making four adjustments to improve the playability of a guitar. These adjustments focus on the amount of relief in the neck, the string height or action at the nut, the string height at the saddle and the intonation. Setup work may also involve having the strings, tuners and other components replaced to make sure the guitar sounds and performs its best.
With a proper setup, your $300 acoustic guitar will definitely feel and sound like a more expensive instrument. It's really worth the time, investment and effort, so take your guitar to a professional as soon as you can.