A renewed interest in nylon-string instruments has made many people look for the best classical guitar. A classical guitar is a great first instrument for aspiring musicians because the nylon strings are easier on the fingers. Even professionals admire the raw beauty and warmth of the classical guitar tone.
It's a good thing that instrument companies continue to develop and improve their classical guitars for today's musicians. You will find a lot of reasonably priced nylon-string guitars in the market today. We've checked them out and have selected the very best classical guitars to make shopping easier for you.
Our Top Classical Guitar Picks
| Image | Guitar | Summary | Price Check |
| --- | --- | --- | --- |
| | Yamaha C40 Classical Guitar | Designed for beginners, the Yamaha C40 makes it easy for aspiring guitar players to get started. With a spruce top, meranti back and sides, nato neck, rosewood fingerboard and bridge, this classical guitar offers quality craftsmanship and a great tone. It's also lightweight but sturdily built, making it fantastic starter guitar for bigger kids, teens and adults. | |
| | Godin Multiac Classical Guitar | If you're looking for the best classical guitar that you can plug and play, the Godin Multiac Encore is the axe for you. This acoustic-electric classical guitar boasts a solid cedar top, two-chambered silver leaf maple body, a mahogany neck and a rosewood fingerboard. Its crystal-clear and beautiful tone can easily be amplified via the onboard custom EPM electronics. | |
| | Cordoba GK Studio Negra Classical Guitar | Another fantastic acoustic-electric classical guitar is the Cordoba GK Studio Negra, which is equipped with Fishman electronics for studio- and stage-ready play. This model is a flamenco guitar and has a slightly thinner body depth than a traditional Spanish guitar. It features a solid European spruce top and Indian rosewood back and sides for a bassier tone. | |
| | Epiphone PRO-1 Classical Guitar | Don't fancy electronics in your classical acoustic guitar? The Epiphone PRO-1 Classic is ready to step up. This model is also built with beginners in mind, boasting features that make it easy to play. Epiphone didn't sacrifice sound quality however, and made sure the PRO-1 Classic is built to a high standard using sturdy and tone-rich materials. | |
| | Alvarez AC65HCE Classical Guitar | If you can't decide between a nylon-string guitar and a steel-string guitar, why not get one that has elements of both? The Alvarez AC65HCE could just be the crossover guitar for you. It has the well-loved warmth of a classical guitar and the crispness of a steel-string acoustic guitar, and it's equipped with electronics. It has a built-in tuner too! | |
| | Cordoba Fusion Classical Guitar | The Cordoba Fusion Orchestra CE is another crossover-style guitar that has that steel-string feel but the nylon-string sound. This hybrid model also has Fishman electronics installed, making it easy for players to amplify their sound whenever they want. This is a great guitar for intermediate and advanced players as well as steel-string guitar players who want to play classical guitar. | |
| | La Patrie Presentation Classical Guitar | The La Patrie Presentation is our next top pick for the best classical guitar. This model has an all-solid wood body construction featuring a cedar top and rosewood back and sides. The neck is made of mahogany while the fingerboard and bridge are made of rosewood. The Presentation has very rich and warm sound, amplifiable via optional electronics. | |
| | Cordoba C12 Classical Guitar | The Cordoba C12 is a handmade instrument that has all the high-end and modern features that make it one of the best classical guitars in the world. It has a solid body construction with a lattice bracing, a raised fingerboard and decorative elements such as a hand-inlaid pearloid rosette with a vintage-style design. A rich tone complements its classic look. | |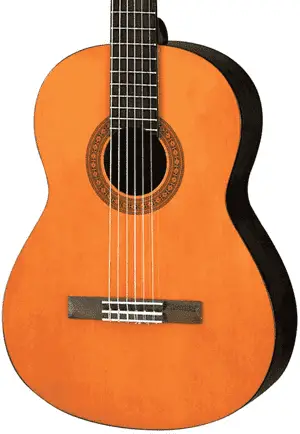 Buy from Zzsounds
It's not easy to find an affordable full-size entry-level classical guitar that won't start breaking off in pieces after a few months of use, which makes the Yamaha C40 a rare and precious find. This classical guitar is lightweight and very easy to play. It's priced below $150 but it is well-built and has a sound you won't believe comes from a starter instrument. The C40 has a warm, mellow and resonant tone with a good sustain.
The Yamaha C40 classical guitar is specially designed for people new to the guitar. While it's intended for beginners, it doesn't mean advanced players and even professionals won't enjoy playing it as well. If you already play the guitar and are looking for something you can bring along on road trips or play around a campfire, this model more than fits the bill because of its sturdy laminate construction.
The Yamaha C40 nylon-string guitar features a layered spruce top, a nato neck, a rosewood fingerboard and a rosewood bridge. The back and sides are made of meranti, a kind of wood that grows in Southeast Asia. Meranti is often used as a substitute for mahogany because it has a similar tonal quality.
Yamaha C40 Classical Guitar Overview
---
Godin guitars are well-loved for their outstanding craftsmanship and sound quality. And even if you're a total newbie in the world of guitars and haven't heard of the brand before, you would love the Godin Multiac Encore, a classical guitar equipped with electronics for easy amplification.
The Godin Multiac Nylon String guitar features a solid cedar top, a sturdy mahogany neck and a smooth rosewood fretboard. You may notice it looks different from other traditional classical guitars in terms of depth (the Multiac is a lot thinner) and the appearance of the soundhole. This is because the Multiac is actually a chambered guitar.
The Multiac has a two-chambered silver leaf maple body. This means that there are air pockets inside the guitar. This construction greatly reduces feedback, resulting in a clean, clear sound. This classical guitar is really meant to be plugged in, and the built-in electronics can help you do just that.
The Godin Dual Source pickup-preamp has two body sensors: an undersaddle transducer and an acoustic soundboard transducer as well as controls for volume, treble mid and bass. With the system, you can blend the sonic output of the two sensors together and shape your sound.
Godin Multiac Classical Guitar Overview
---
If you like the flamenco guitar sound, you'll love the Cordoba GK Studio Negra. This signature Gipsy Kings flamenco model is designed with gigging musicians in mind – but if you're a beginner, don't let that stop you from getting this nylon string guitar. It's an absolute treat!
The GK Studio Negra by Cordoba is built with a solid European spruce top and Indian rosewood back and sides. The rosewood body effectively brings out more bass and complements the trebles. It has a modern cutaway for easy and comfortable upper fret access while the lower bout features clear tap plates or golpeadores for full-on flamenco playing.
The Cordoba GK Studio Negra also features an Indian rosewood fingerboard and bridge. The body of this model differs from a traditional Spanish guitar in that it has a thinner body depth, nut width and neck. The neck has little or no relief, resulting in a lower string action and a snappy response for maximum playability.
This nylon string guitar is equipped with the Fishman Presys Blend System, which features a built-in tuner, an internal microphone, an undersaddle piezo pickup, a multi-band EQ and phase switch. The GK Studio Negra sounds impressive plugged or unplugged.
Cordoba GK Studio Negra Classical Guitar Overview
---
There may be a "pro" in its name but the Epiphone PRO-1 Classic is really designed for new guitar players. Playing this guitar does make you feel like a pro thanks to its well-thought-out features. Epiphone did a lot of R&D, tech innovations and consultations with professional guitar players to come up with instruments that are not only easy to play but sound amazing as well.
The Epiphone PRO-1 Classic has a laminated cedar top with proprietary bracing and a select mahogany body with a thinner body depth. It also has a mahogany "D"-shaped neck with an easy-to-play neck profile for comfortable and fatigue-free playing. It has a narrow nut width for a classical guitar – 1.75 inches, like a steel-string acoustic. This may put off players who want a wider neck for classical guitar playing.
The fingerboard is made from rosewood and is finished with Epiphone's PRO-Ease Lubricant, a special coating that provides a smoother playing surface. The strings are also coated with the same lubricant, making string friction and noise a thing of the past.
Other features that make the PRO-1 Classic ideal for beginners are JumboPRO frets, a shorter scale length and Epiphone Ultra-Light strings.
Epiphone PRO-1 Classical Guitar Overview
---
There are acoustic-electric guitars, and then you have classical acoustic-electric guitars. The Alvarez AC65HCE is a great example of the latter with its built-in L.R. Baggs StagePro EQ and Element Pickup. We're seeing a lot of these hybrid classical guitar models lately, and the AC65HCE certainly ranks as one of the best.
The Alvarez AC65HCE is part of the company's Artist Series of guitars. All of the models in this lineup are built from quality tonewoods and have a forward shifted X brace design, among other notable features.
This guitar has a solid cedar top and mahogany back sides. The neck is also made of mahogany and is topped with a rosewood fretboard. A narrower neck and radiused fretboard are other features that make the Alvarez AC65HCE a crossover guitar. It feels like a steel-string acoustic because of its neck but it has the sweet and warm sound of a classical guitar.
The onboard L.R. Baggs electronics make it easy for players to amplify their sound. The Element undersaddle pickup seamlessly captures the movement of guitar's soundboard and not just the string attack. The preamp has bass, mid and treble sliders, allowing for a wide tonal range.
Alvarez AC65HCE Classical Guitar Overview
---
Guitars in the Cordoba Fusion series have the qualities of both nylon-string and steel-string acoustic guitars. The Cordoba Fusion Orchestra CE is one such crossover guitar, like some other hybrid models in this list of best classical guitars. It has nylon strings and the sound of a traditional classical guitar but it also has features that make it feel like a steel-string guitar.
This makes the Cordoba Fusion Orchestra CE guitar an ideal choice for those who play steel-string acoustic and electric guitars because it has a familiar feel. The Cordoba Fusion classical guitar is also great for beginners who may want to play steel-string guitars later on as they wouldn't have to make major adjustments to their playing.
The Cordoba Fusion Orchestra CE features a solid Canadian cedar top and Indian rosewood back and sides. It combines a traditional Spanish fan bracing and Spanish heel with the C-shaped mahogany neck and thinner neck profile of a steel-string guitar. It also has a smaller nut width (1.89 inches) and a radiused ebony fingerboard.
This hybrid-style model comes equipped with a Fishman Presys Blend pickup with a 4-band EQ and phase switch as well as a digital tuner.
Cordoba Fusion Classical Guitar Overview
---
La Patrie is Godin's line of handcrafted classical guitars. The Presentation is one of the most popular models because of its exceptional build and sound quality as well as its playability and durability.
The La Patrie Presentation is made from high-quality tonewoods. Like other La Patrie models, it has a pressure-tested solid cedar top. The cedar used in the La Patrie guitar soundboards come from trees that have an average age of 800 years. This old cedar wood is strong yet flexible, which means that the top of the Presentation guitar is not only sturdy but also resonant.
The back and sides of the Presentation classical guitar are made of solid rosewood while the neck is made of Honduras mahogany. The nut width and string spacing conform to classical guitar standards, unlike crossovers with narrower necks. To make the guitar easier and more comfortable to play, Godin equipped the La Patrie Presentation with a new truss rod system that lets players reduce the neck profile easily.
The Presentation also has a rosewood fretboard and bridge, gold lyra-style tuners with pearloid buttons, a Tusq nut and saddle and a special semi-gloss satin finish. Players have the option to have electronics installed.
La Patrie Presentation Classical Guitar Overview
---
Our last top pick for this list of best classical guitars is the beautifully handmade Cordoba C12. Part of Cordoba's all-solid wood Luthier Series, this model which combines tasteful vintage-style appointments with a modern design. The top of this classical guitar is made of solid European spruce and has lattice bracing. The new bracing design results in greater projection and a more responsive soundboard, producing a rich tone with plenty of volume.
Aside from the lattice bracing, another special feature of the C12 is its raised ebony fingerboard, which makes it easier for players to access the upper frets.
The back and sides of the Cordoba C12 are also of solid wood construction and made of Indian rosewood, while the traditional-style neck with a Spanish heel neck joint is made of mahogany.
One of the notable decorative elements of this Cordoba classical guitar is a charming hand-inlaid pearloid rosette. The design of the rosette is inspired by weave pattern made in the 1920s by famed Madrid luthier Domingo Esteso.
Other aesthetic and premium features include a striking flamed maple center wedge at the back and matching maple binding, bone nut and saddle and Cordoba Premium gold tuners with black buttons.
Cordoba C12 Classical Guitar Overview
---
What to look for when buying the best classical guitar for you
Choosing the best classical guitar for your needs involves careful consideration of a number of factors, including purpose, materials and construction, sound quality and your budget.
It's important to take your time when making your selection. You need to be clear about what you will be using the guitar for, you need to determine your spending limit and you need to identify your absolute must-haves in a classical guitar.
Hopefully, the list above can help you narrow down your options. We've done our best to include models of all kinds, from purely acoustic classical guitars to hybrid models for beginners and pro musicians alike. We've also made sure to pick out the best classical guitars from different price tiers, so even if you're shopping on a moderate budget, you'll be sure to find a good fit.
Now, it's easy to get overwhelmed with all the things you need to think about when choosing a classical guitar that's right for your needs and preferences. To help you arrive at a sound decision, we've created a handy checklist of the most important points to consider.
Budget
The rule of thumb when buying a musical instrument is to buy the best that you can afford. If you're looking to purchase a classical guitar with electronics for recording or gigging, don't forget to allocate a certain amount for accessories such as an amp and cables.
Purpose
Are you looking for a starter classical guitar, a pro-level instrument or a backup? There are classical guitars that are specially designed for new guitar players and there are nylon-string models for advanced and professional musicians. These guitars would differ in construction and features, which would also dictate their price.
Those who are just starting out learning classical guitar may feel more inclined to go for beginner-friendly models, which are designed to be easy to play and are built simply to keep costs down. Many of these are well-made and have a great sound for their price.
Top wood construction
The top wood, or the soundboard, contributes significantly to how an acoustic guitar sounds and resonates. On acoustic guitars it can either have a solid wood or a laminate or layered wood construction.
A solid wood top is more responsive to string vibration than a laminate, which means classical guitars with say, a solid cedar top (like the Godin Multiac and the La Patrie Presentation) have a better projection and resonance than models with laminate tops. They also tend to be more expensive than those with layered tops.
However, laminate-wood tops like those found on the Yamaha C40 and Epiphone PRO-1 Classic do make these classical guitars strong, stable, more affordable and more resilient against changes in temperature and humidity.
Spruce or cedar?
Classical guitars usually have either a spruce or cedar top. Though there are different species of each kind of wood, they would generally have the same structural and tonal characteristics. Spruce is harder and less flexible, giving spruce-topped guitars a bright and crisp sound. Cedar, on the other hand, is softer and creates a warmer and more mellow tone.
How about hybrid classical guitars?
Hybrids or crossovers combine the features of nylon-string and steel-string acoustic guitars. They may have the body shape, nylon strings and mellow sound of a traditional classical guitar but the neck width and neck shape of a steel-string acoustic. Crossovers would also often have electronics installed so you can plug them into an amp or PA system.
Hybrid classical guitars are a good option for players who already play acoustic guitar. The familiar feel would make it easier for them to play a nylon-string guitar. Crossovers are also ideal for classical guitar players who may want to add steel-string guitars to their instrument arsenal later on. By starting out with a nylon-string guitar with the playing feel of a steel-string, they would not have to make any major adjustments to their playing.
Other features, such as the kind of tuners, type of nut and saddle, finish and rosette design, among others, can also affect your buying decision but these should only be secondary to the main points above. Of course, probably the most important things to consider are the sound and feel of the guitar. However, these are subjective and what may sound and feel great to you may not be another person's choice.
Our advice would be to narrow down your options based on the main considerations we've listed above. You can then try these models out in music stores or know more about them via demo videos and guitar reviews. It may take some time to find the one that has the right look, sound and price, but the effort will be worth it in the end once you find the best classical guitar for your needs.