|   | UkeLikeThePros | Ukulele Buddy | Rocket Ukulele | ArtistWorks | Ukulele Underground | UkuleleTricks |
| --- | --- | --- | --- | --- | --- | --- |
| Free Trial | 7 Days | No | No | No | 2 Weeks | Kind of - Free Lessons |
| Money Back Guarantee | Yes | Yes, 1-year money back guarantee. Lifetime membership. | Yes | No | Yes - 30-day MBG on year subscription; monthly subscription can be cancelled at anytime. | Yes |
| Mobile Friendly | Yes | Yes | Yes | Yes | Yes | Yes |
| Beginner Friendly | Yes | Yes | Yes | Yes | Yes | Yes |
| Levels | Beginner - Advanced | Beginner - Advanced | Beginner - Advanced | Beginner - Advanced | Beginner - Advanced | Beginner - Advanced |
| Number of Lessons | 19 courses with around 20 lessons in each | Approx. 85, 7 minute video lessons | 100+ | Approx. 180 video lessons | 153 video lessons | 765 Free lessons. Free Beginners Guide |
| Free Lessons and Content | Yes | Yes | No | No | Yes | Yes |
| Live Courses | No - online video | No - DVD/Online | No - online video | No - online video | No - online video | No - online video |
| Musical Styles | Fingerstyle, pop, classical, pop, rock, blues, reggae, Rasgueado | Pop, Hawaiian, soul, classical, Reggae, blues, rock, folk | Jazz, R&B, Rock, Pop, Country, Gospel, Classics | Focuses more on basic techniques and theory than specific styles | Pop, Rock, Country, Classics, Hawaiian, Reggae, instrumental | Focuses more on basic techniques and theory than specific styles |
| Known for | Huge lesson library, intuitive and user-friendly interface, excellent value | Brief, easy, FUN lessons | Fast results, Popular Song Tutorials | Variety of instrument lessons available | Fun and easy to understand | Free introductory lessons |
| Community Support | Blogs, community forum, online store, jam sessions! | Customer support, FAQ | Yes - RU Blog and online forums, FAQ | Yes -Video Exchange, AW blog, FAQ | Yes - UU Blog, customer support, FAQ | Yes - blog, customer support, FAQ |
| Video Quality | Excellent | Very Good | Very Good | Very Good | Very Good | Very Good |
| Price | Standard - $12.99 per month Premium - $19.99 per month | $97 DVD $67 Online | $79.97 membership never expires | $105 - $279 - Discount Code Available | $30-30 day trial $21.95 monthly $159 - annual | $19-$97 depending on lesson |
| Bonus Items | Yes | Yes | Yes | Yes | Yes - vague as to what you get | Yes |
| Misc | Online jammin parties plus a free guitar course | N/A | N/A | Offers lessons for other instruments | Large number of free lessons | Features free lesson videos and tools such as tuners, and printable lesson worksheets |
| Visit | | | | | | |
It's easy to see the appeal of learning to play the ukulele. They are super fun, conveniently portable, and pretty damn affordable too. Compare that the cost of a drum kit, for example, and you'll get what I mean.
Plus, the uke is an incredibly easy instrument to learn. That's not to say you don't need to put in the hard yards, but the learning curve is a lot less steep than learning say, the guitar or the piano.
And that's a big part of why online ukulele lessons are so popular.
But with such a wide variety of choice in online learning platforms, how do you know which is the best place to start? You certainly don't want to go and sign up for all of them to figure that out, right?
Well, we've done exactly that: tried and tested the six best online ukulele lesson programs on the market right now.
Now, the results are in…
Hands down, Uke Like The Pros is my favorite online ukulele lesson program. There's a reason it's not called Uke Like The Beginners, or even Uke Like The Okayish Ukulele Players.
This platform offers incredible value. The premium membership option costs just $19.99 per month, and gives you access to 19 in-depth courses, each of which includes about 20 videos. The lessons are informative, well-taught, and in stunning HD. Well, most of them. A couple of the courses appear to be a little bit older as evidenced by the not-so-hi-def-ness, and the instructor's haircut.
Regardless, the videos are fantastic, and there's plenty to be learned.
READ the UkeLikeThePros FULL review here.
You start with the expected Beginner modules, which explain core concepts such as types and parts of the uke, how to hold one, and how they are tuned. You'll then move into lessons about specific chords, and rhythmic patterns.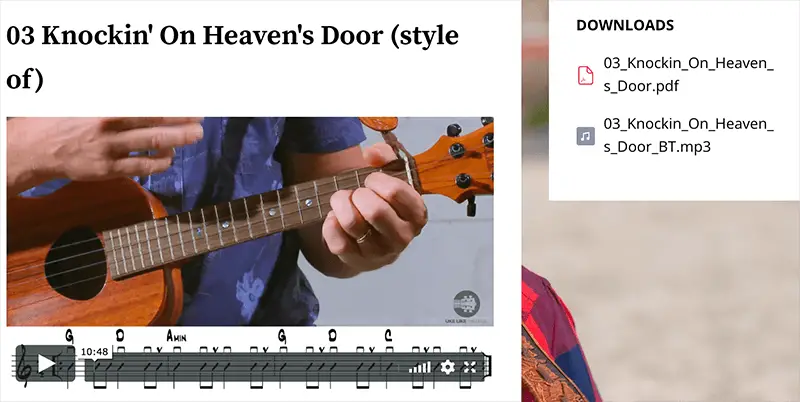 I really liked how the lessons on rhythm are actually integrated into the same lessons where you learn chords. For example, you'll learn a C chord, and in the same lesson, learn about half notes. This, I thought, was a cool way to keep things interesting, as it can get a bit boring when you focus on theoretical components for too long.
The more advanced modules were my favorite, especially the ones that covered techniques like fingerstyle ukulele. The course on chord progressions was a nice touch, too, as it gives students the necessary tools to go and write their own tunes! There's even a course on music reading, which is really helpful for students who have progressed through the beginner modules and are looking to learn some songs! Something that really sets Uke Like The Pros apart from the rest is its community. Most online lesson platforms have some form of community portal, typically some time of forum.
The thing is, they are often pretty dead, with little to no communication going on between course users. That's not the case here. Last time I was on, there were at least five posts made in the last three hours, with users contributing videos of themselves practicing new songs, sharing ideas, and giving each other feedback. There was even an online jam session set up, which I didn't get to attend, but looked sick.

Uke Like The Pros even has an online store. I don't mean a store where you go to buy more modules, I mean a store where you can actually buy ukuleles. They have an incredible range, too, hand-picking the best KoAloha ukuleles and guitarleles from their Hawaiian factory.
So, once you've mastered the standard ukulele, consider jumping online and buying a guitarlele or baritone ukulele. They even have lesson modules that teach you how to play these two distinct types of uke.
Aside from actual instruments, you can also purchase Uke Like The Pros books if you're into physical media. A number of these books cover stuff that isn't in the online courses either, such as "Disney Hits for Ukulele" and "The First 50 Songs You Should Play On Ukulele". Plus, you can stock up on strings, and purchase other accessories like straps and cases.
All in all, you can see why Uke Like The Pros is our favorite. It just has so much to offer, and for only $19.99 a month, you can't go wrong. Plus, there's a 7-day free trial, so sign up, give it a whirl, and if it's not for you, you know what to do!
Uke Like The Pros Online Ukulele Lessons Overview
---
Ukulele Buddy advertises itself as "The Easy Way to Learn Ukulele." It approaches its lessons based on a simple 3-fold premise. Ukulele Buddy says that its customers should expect: 1. To have FUN. 2. To easily learn songs they love, and 3. Learn skills that will enable them to play with other musicians. Ukulele Buddy states that it is the only 100% video-based lesson suite, promising that students can learn to play their favorite songs by following along with three 7-minute step-by-step video lessons per week. That's a total time investment of only 21 minutes a week, which is pretty amazing in itself, and it puts learning the ukulele in reach of just about anyone.
READ the Ukulele Buddy FULL review here.
Lessons are beginner friendly, with the non-musician in mind. However, they also incorporate material for intermediate and advanced players. Currently, the basic content includes over 80, 7-minute instructional videos, approximately 10-hours' worth. Lessons feature everything from traditional Hawaiian flavor to pop, rock, blues and folk music. So, you're sure to find something you'll want to learn to play. Purchase of the Ukulele Buddy membership offers bonus items in the form of digital books and booklets aimed at honing specific skills and techniques in addition to their standard lesson content. Lessons can be purchased in two formats: DVD or online. Online lessons are compatible with all iOS and Android mobile devices and they offer very good video quality depending on your computer/device and the speed of your WiFi connection.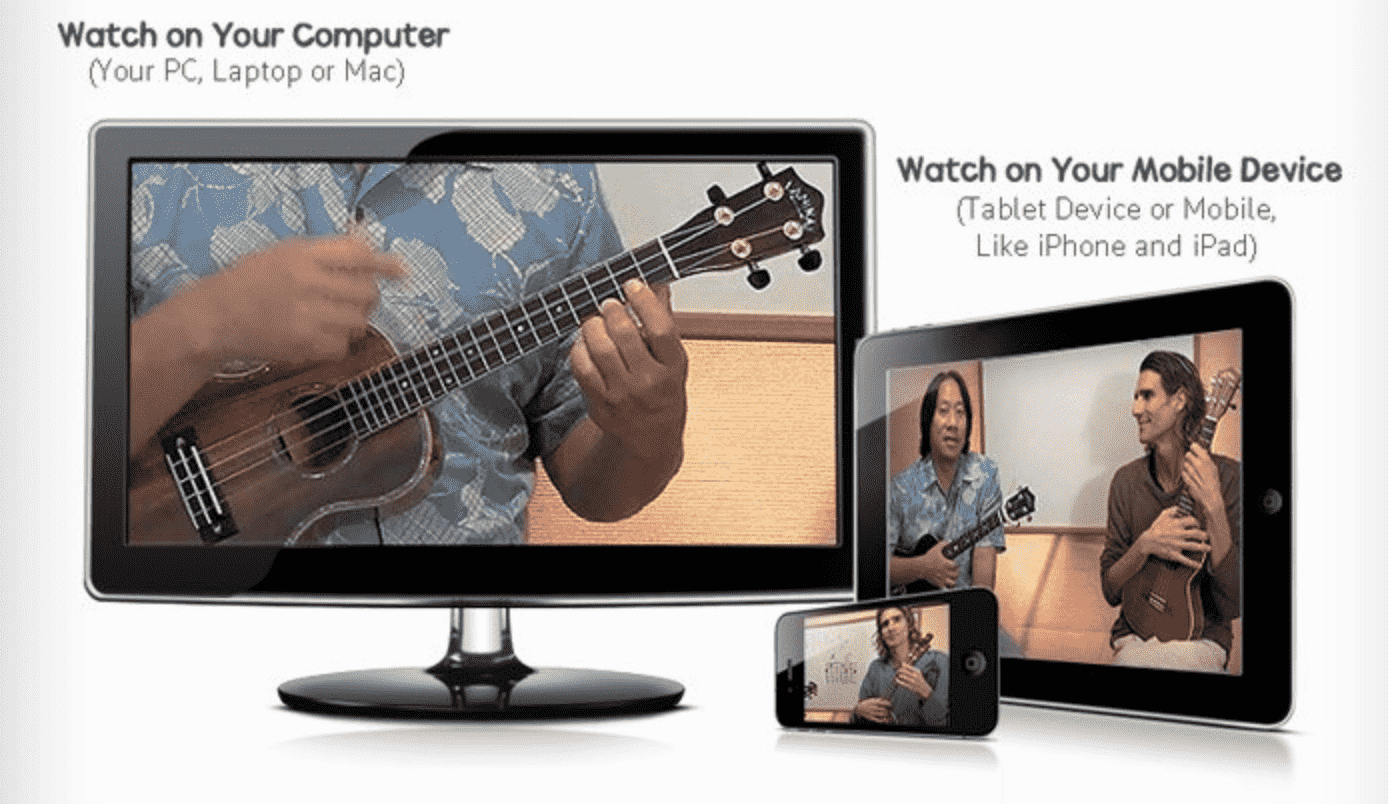 When it comes to cost, Ukulele Buddy compared to the price point of other courses is mid-range at $97 for physical DVDs and the completely online version going for $67, a $30 discount over the DVD version. The average traditional 1-hour ukulele lesson can cost in the neighborhood of $60 making Ukulele Buddy a bargain. Not sure you'll like Ukulele Buddy? Fear not, unlike any other online ukulele lesson site, Ukulele Buddy offers a 1-year money back 100% satisfaction guarantee.
If learning to play the ukulele is your thing, you've got about 20 minutes a week and your budget can stretch to about $100, then Ukulele Buddy can get you playing in no time. Ukulele Buddy offers some of the best online ukulele lessons on the market at the moment, so you wouldn't go amiss by checking this one out.
Ukulelebuddy Online Ukulele Lessons Overview
---
Intuitive… Revolutionary… Fail proof. These are some of the adjectives used to describe the next contender for cyber-based ukulele instruction… Rocket Ukulele.
Rocket Ukulele boasts that you can become a ukulele superstar in just 30 days using their online program. When they say superstar, they aren't kidding. Unlike other ukulele courses, once a student has the basics, the advanced lessons boldly shift focus beyond learning to strum a few basic chords or pluck out a couple simple songs. Students are encouraged to develop into true ukulele artists, with enough skill and proficiency to embark on a career as a musician upon completion of the program.
READ the Rocket Ukulele FULL review here.
Rocket Ukulele advertises the use of specialized instructional techniques it claims reduces the learning curve by approximately 10%. The Rocket Ukulele approach includes teaching students to read and write musical notation and tap into basic musical instincts while developing the skill of playing by ear.
Don't have the time to commit to working through a series of structured lessons? Is there a song that you just have to really want to learn? No problem, Rocket Ukulele can help. With a substantial list of popular song tutorials, you can jump right in to learning your favorite tunes. What could be cooler than that, right? Other bonus materials include: ukulele learning forums, tools, software, and resources from sheet music, to tablature, and audio files.
Similar to other ukulele lesson sites, students using Rocket Ukulele will have access to learning a variety of musical styles ranging from classical Hawaiian to jazz, R&B, rock, pop, country, and gospel.
The Rocket Ukulele system offers students the ability to: work at their own pace without feeling rushed, ability to avoid the embarrassment of making mistakes, and does away with boring, repetitive practice. Subscribers to Rocket Ukulele can also participate in a thriving online community dedicated to ukulele aficionados where they can learn and share their experiences to broaden their knowledge base.
When it comes to the bottom line, Rocket Ukulele is moderately priced at $79.97. Once on board, subscribers are awarded a lifetime membership that never expires. This also entitles them to access additional content as resources become available. This gives Rocket Ukulele an advantage over other lesson providers whose content is more or less static or is updated less frequently.
If the flexibility of learning the ukulele from top to bottom with a full range of tools, resources, and community support is what you are looking for, then you can't go wrong with Rocket Ukulele. It enables you to learn your favorite popular songs quickly, through step-by-step focused tutorials that are suited you as a learner. With its comprehensive resources, lifetime membership, and reasonable price, we think Rocket Ukulele has some of the best online ukulele lessons and tutorials of any of the providers on our list and comes highly recommended – definitely worth checking out.
Rocket Ukulele Online Ukulele Lessons Overview
---
Artistworks is another option among purveyors of online ukulele instruction. While incorporating some of the technology and features available through other providers, the Artist Works lesson format seems more traditional. Also, it relies heavily on what could be termed the cult of personality, for those that prefer to "connect" with a real person instead of simply cueing up a random video or accessing an app. In this way, and quite possibly for this exact reason, Artist Works' ukulele instructors Craig Chee and Sarah Maisel are prominently featured with a three and a half minute video delivering personal background about their ukulele journey, while highlighting notable features of the Artist Works method.
Two factors set Artist Works apart from its competitors. First, in addition to the ukulele, Artist Works offers lessons for a variety of other instruments. Second, Artist Works' most distinctive feature is the ability for students to upload videos of themselves playing the ukulele through the Video Exchange Learning® service. Student videos are viewed, critiqued, and a video response with targeted feedback on the student's progress is returned to the student.
Ukulele lessons are divided up into four categories: beginner, intermediate, advanced, and several duets by Chee and Maisel. In total there are 189 lessons: 58 beginner, 88 Intermediate, 30 Advanced, and 13 duets. Lesson content appears to focus on basic techniques and musical theory as it applies to specific songs. In that way, Artist Works is somewhat limited compared to other courses that offer song specific tutorials across multiple genres and allow students to quickly learn the songs they want.

Each level includes the same basic package: Unlimited lesson access, Video Exchange access, video submissions, and a Music Theory Workshop. Successive levels permit expanded access to the video library. The 6 and 12 month plans go even further by granting access to backing tracks, a live monthly broadcast, and other bonus content.
Artist Works, has three price points: three months for $105, six months for $179, or twelve month access for $279. Artist Works does not offer a free trial period, neither does it have a money back guarantee, which may discourage some potential subscribers. Cost ranks highest of the reviewed ukulele lesson websites, but considering all that is included with the subscription, plus personal interactions via video with the instructors, many may feel that the cost is justified.
Artist Works offers numerous self-paced lessons to build solid musical background along more traditional lines, the versatility of lessons for other instruments, plus the ability to connect with your teacher via video. However, it is the most expensive site of the sites we have reviewed, not to mention the fact that it does not offer any free content. That said, Artist Works ukulele course comes highly recommended for the serious learner with time to put in to learning the ukulele thoroughly.
Artistworks Online Ukulele Lessons Overview
---
5. Ukulele Underground Online Ukulele Lessons
In the search of the best online ukulele lessons, Ukulele Underground has to be on the list….
At first glance, the Ukulele Underground main page features three simple tabs, "Songs," "Courses" and "Testimonials." After only a few clicks, however, it's plain to see that Ukulele Underground contains a phenomenal number of ukulele lessons and resources. Content is broken down by level: beginner, intermediate, and advanced.
The SONGS tab features 400 videos; 403 to be exact. Students can learn specific songs, techniques, and style. SONGS are aimed toward students with some background on the ukulele, but is laid out well and is easy to navigate, so potentially anyone can benefit from the content. SONG videos typically start off with a presentation of the song as played by the instructor. Beneath the video window is a description of the song: skill level, genre, musical key. Below that are chord diagrams along with a step-by-step breakdown of the song: notes, and strumming patterns with close-up images of the finger placements. There are also additional links to other resources to assist student players in learning the song.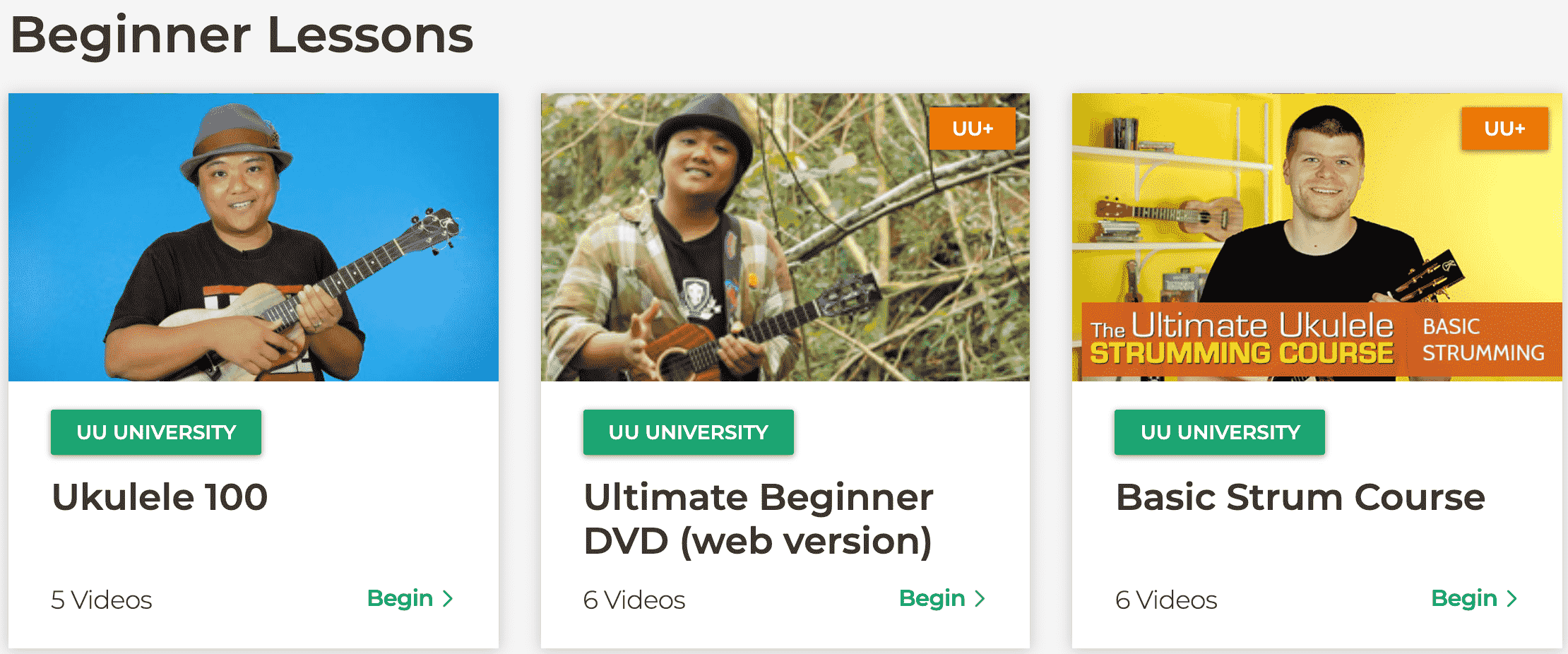 The COURSES tab follows the same format as the SONGS one, offering content by skill level totaling another 363 lesson videos. COURSES are well-suited for the absolute beginner starting with Ukulele 100, the most basic jumping off point for anyone wanting to learn the ukulele, but COURSES also include a wealth of content for the intermediate and advanced player.
Together the SONGS and COURSES sections offer a whopping 765 video lessons. Videos range from two or three minutes to some edging up to one-hour in length. The truly amazing part is that there is quite a lot that can be accessed for FREE by anyone visiting the site – even without a subscription! For those that like hunting for freebies or who don't want to make a financial commitment, Ukulele Underground has you covered. The amount of free material is vast, in fact, it begs the question, what more could you possibly get by purchasing a subscription?
The SIGN-UP page answers that question. The $30-30 day subscription grants access to all Ukulele Underground content. If you choose a monthly subscription, you'll pay $21.95, which includes a free two-week trial, all Ukulele Underground content, access to the Improvement System lessons, Ukulele Underground University, a sorted song library as well as jam tracks to play along with. The monthly plan can be canceled at any time without obligation. The annual membership goes for $159.95 and includes everything offered by the two lower-cost plans, plus it includes what it vaguely terms as "additional resources," as well as a 30-day money back guarantee.
So, if you're looking for a competent ukulele lesson site that offers a staggering amount of online content and resources, then Ukulele Underground has you covered. On top of this, it has the option of variable price points, a money back guarantee with a flexible cancellation policy. Ukulele Underground is a great option for most ukulele levels.
Ukulele Underground Online Ukulele Lessons Overview
---
6. Ukulele Tricks Online Ukulele Lessons
The final candidate for online ukulele instruction comes from Ukulele Tricks. Ukulele Tricks, like other sites, proclaims that by using their patented lesson program just about anybody can learn to successfully play music with the ukulele. Like other sites, Ukulele Tricks relies heavily on a video interface, but they also encourage users to search out other resources such as books on learning the ukulele available through their Amazon.com link.
The LESSONS tab on the main page is a great resource that caters to beginning players. It covers the rudiments of ukulele playing under the heading "How to Play the Ukulele." Featured along with this is a link to nearly 50 FREE lessons covering a variety of beginner topics. Also featured in the LESSONS section are useful book titles that a novice player can take advantage of to broaden their ukulele knowledge. Free lessons include an explanation about each lesson topic and at least one instructional video as well as chord diagrams. The content is organized and easy to follow.
The PRODUCTS tab, puts students in touch with seven different course topics that take the beginning ukulele player to the next level by focusing on different playing techniques. For each of the course subjects, there are short videos showcasing each lesson or technique. One neat feature is that Ukulele Tricks builds in a lot of flexibility allowing students to pick and choose from among their product offerings to find the lessons that they want to enroll in. You can sign up for one or more courses, which is good for learning at your own pace. Ukulele Tricks' straightforward approach tends to focus more on basic techniques and theory than specific musical styles. However, the PRODUCTS section does offer technique based lessons on bluegrass and jazz.
The SONGS section lets students select from 34 different songs divided up by level of difficulty (beginner and intermediate) as well as across genres and by specific ukulele techniques such as fingerpicking for example. The lessons for these songs are free. They provide a video of the song being played, tunings, and lyrics (when applicable), as well as the chord structure. However, they do not provide a chord diagram which can be found elsewhere on the site in the chord library.
That said, the TOOLS tab connects students with necessary items such as a tuner and the aforementioned chord library. The BLOG section keeps users connected with the most up-to-date ukulele news, tips and tricks, as their name suggests, regarding all manner of ukulele related information.
The Ukulele Tricks method is all about flexibility. Variable pricing allows subscribers to pay for the courses they want. Fees range from $19, the lowest cost of the 5 sites reviewed, up to $97, which is in line with other moderately priced online ukulele lesson providers.
Ukulele Tricks offers the aspiring ukulele player a wide range of good resources, flexibility and affordability. It is a good place to start your ukulele journey.
Ukulele Tricks Online Ukulele Lessons Overview
---
What Kind Of Lessons Are Best For You?
So, there you have it, the six best online ukulele lesson programs that money can buy. Which one is best for you, though?
Well, the answer to that really depends on what you're wanting to get out of learning the ukulele, as well as your learning preferences.
For example if you want to focus more on basic techniques and theory as opposed to specific styles, Artist Works might be a good choice. You'll also enjoy this program if you're keen to have the ability to submit videos of yourself playing and get feedback. This is a brilliant substitute for in-person lessons.
If on the other hand, you want to learn some popular songs, Rocket Ukulele might be your guy. According to their site, you can become a ukulele star in just 30 days if you learn from their program. So if you're in a rush, that might be a good option for you.
It can be tough to find time to learn and practice an instrument, especially for busy professionals. If that's you, and you don't have a heap of time to dedicate to learning to play the uke, then Ukulele Buddy could be a good choice. Their lessons are only 7-minutes long, and you only need to get through three of them a week, on their recommendation.
If you're looking for a platform for your child to learn ukulele from, then you should consider Ukulele Underground. Their lessons are super fun, and easy to understand. Plus, they have a flexible cancellation policy – we all know how fickle kids can be!
For the best of the best in online ukulele lessons, though, you can't look past Uke Like The Pros. It's our absolute favorite program, with hundreds of HD video lessons, a highly engaged community of learners, and a fun, easy to navigate user interface. Plus, they have an online store where you can buy ukuleles and accessories!
Conclusion
Whichever you choose, the important thing is that you just keep practicing. Learning an instrument is not an overnight activity. You need to create a routine, whether that's a lesson a day, or one a week. Whatever works for you.
Don't forget too that your lessons are separate to regular practice. Though you might choose to focus on one new lesson or module per week, this is the time where you sit down and absorb a new technique, or learn how a new song is played. You also need to be putting time into practicing those techniques, outside of your regular lessons. Most instructors recommend practicing in short bursts every day, rather than one big session a week. Half an hour a day is a good place to aim for.
Though you can quite easily pick up a uke, learn four easy chords, and be strumming away into the night, it takes a bit more hard work and dedication than that to become a true pro. A decent online lesson platform helps, too.