The best cheap ukulele models are by no means substandard. There are many budget ukuleles that offer the same quality as that of mid-priced ukes. We actually like these cheap ukes because they give us plenty of options, no matter how limited our budget is.
If you want to learn to play ukulele, you can certainly take the plunge with these low-cost ukulele models from trusted brands. We've picked out the very best for you to make your search faster. Choosing from these means you won't accidentally end up with a ukulele that only sounds good on paper. Enjoy!
Our Top Cheap Ukulele Picks
| Image | Ukulele | Summary | Price Check |
| --- | --- | --- | --- |
| | Kala KA-S Ukulele | The Kala KA-S is a soprano ukulele that boasts a mahogany body and neck, a walnut fingerboard, cream body binding and a smooth satin finish. Together with other models in the flagship Satin Mahogany line, the KA-S is regarded as an industry standard when it comes to quality affordable ukes. You won't regret 'going cheap' with this ukulele. | |
| | Epiphone Les Paul Ukulele | A Les Paul ukulele? Why yes! Thanks to Epiphone, you can now have your very own Les Paul, albeit in ukulele form. Sporting the iconic looks of the legendary Les Paul Standard guitar, the Epiphone Les Paul Ukulele Outfit is just wonderful to behold. It's equipped with electronics as well so you can plug it in whenever you need to. | |
| | Kmise Ukulele | One of the cheapest, best-value ukuleles you can find that won't give you headaches is the Kmise Ukulele. We're looking at the soprano uke, which you can get for about $50 bundled with a gig bag, strap, electronic tuner, an extra set of strings and a handy instruction booklet. The uke is made of mahogany and is perfect for beginners. | |
| | Makala MK-C Ukulele | The Makala MK-C is a concert ukulele that players of all skill levels will find comfortable and enjoyable to play. Part of Makala's Classic line of entry-level ukuleles, the MK-C is also great for travel with its sturdy construction. Perfect for beginners as it's available bundled with a tuner, gig bag, extra strings, polishing cloth, instructional DVD and online lessons. | |
| | Kala KA-TG Ukulele | For larger-fingered players looking for the best cheap ukulele, here's the Kala KA-TG. This is a tenor ukulele that features a mahogany body and neck with a high gloss finish and cream binding, giving the uke an understated, quiet elegance. The gloss also gives a smoother playing feel and a sturdier construction. Great for beginners and accomplished ukulele players alike! | |
| | Luna TT Ukulele | This beautifully designed ukulele from Luna not only looks great hanging on your wall rack. It's also fun to play and produces a wonderfully rich and full tenor ukulele sound. The Luna Tattoo Tenor, or Luna TT features a laser-etched tattoo design on its soundboard and a mahogany construction. Highly recommended for those looking for a cheap but quality ukulele. | |
| | Aklot Ukulele | Another ukulele that can give higher-priced models a run for their money is the Aklot concert ukulele, which retails at about $60 bundled with a bunch of accessories and free online lessons. This ukulele is definitely one of the best in its price range - you'll likely find yourself buying another for a loved one or yourself. We kid you not. | |
Among cheapest ukulele models on the market, Kala ukuleles are probably the ones that command the highest tag price. Considering Kala ukes are some of the most beautifully crafted and awesome-sounding ukuleles out there, you can really say that Kalas are priced way lower than they should be.
Take the Kala KA-S. This soprano ukulele features a mahogany body with cream binding, a mahogany neck, a walnut fingerboard and a sleek satin finish. Those are specs you would usually find in ukuleles at the $150-$200 price point. And yet for about $100 you not only get the Kala KA-S ukulele but also a hard case, a polishing cloth and a tuner. Now that's cheap for a quality ukulele bundle!
Let's take a closer look at the other specs of the Kala KA-S. This soprano-size uke is just 20.875 inches long, has a scale length of 13.625 inches and a nut width of 1.375 inches. It may be tiny but it packs a pretty good punch. Each bright, sweet note is articulated clearly, and the uke stays in tune well, resulting in an overall pleasing tone that would make you wonder why this uke costs just $100.
Kala KA-S Ukulele Overview
---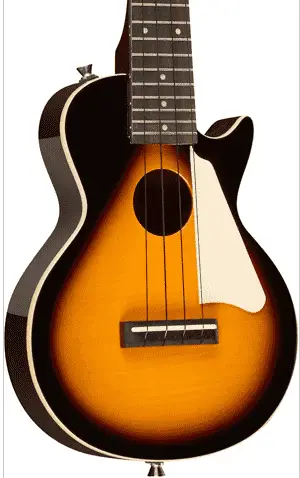 Buy from Zzsounds
The Epiphone Les Paul Ukulele is probably one of the most eye-catching cheap ukuleles you'll find. This ukulele is just like a traditional Les Paul Standard, only that well, it's not an electric guitar. But wait, the Les Paul uke is fitted with electronics, making it an acoustic-electric uke.
The Les Paul Acoustic/Electric Ukulele Outfit, like the Les Paul Standard, features a solid mahogany body with a cutaway and a laminated triple A-grade flame maple top. The neck is also made of mahogany while the 19-fret fingerboard is made of a durable poplar composite material.
The neck has a SlimTaper profile with a 'D' shape for maximum playing comfort. It's also bolted onto the body of the uke so you can be sure it's as stable as could be.
The Epiphone Les Paul Ukulele has a concert-size scale length of 15 inches. It also has a rosewood bridge, a PVC saddle, nickel hardware and black nylon strings.
For the electronics you've got a piezo film undersaddle pickup. It's a passive system so there's no preamp or digital tuner built in. Still, this is a pretty sweet electro-acoustic uke that will guarantee you hours of ukulele playing fun.
Epiphone Les Paul Ukulele Overview
---
Eager to get started playing ukulele but don't have enough cash for that mahogany uke you've been pining for? Well if you have $50 you can get the Kmise soprano mahogany ukulele. Not only that, you can also get a gig bag, digital tuner, ukulele strap, extra ukulele strings and a booklet for beginners along with the ukulele. Now that's great value! Imagine having everything you'll need in one package for half the price of most beginner ukes.
But is the Kmise uke any good? For its price, yes! The mahogany body and neck not only makes the uke look good, it also contributes to a rich sound and amazing tone. The walnut fretboard and bridge provide a nice contrast for that classic look.
The Kmise soprano ukulele also has pure copper gear for its tuning pegs, unlike other budget ukes that only have brass-plated zinc alloy for their tuners. The gears keep the tuning stable, especially after the initial period of string stretching.
The Kmise uke also has a specially designed bridge that lets players change strings easily if they break or are in need of replacement. Overall this ukulele is easy to play, looks cool and sounds great.
Kmise Ukulele Overview
---
Just as Epiphone is to Gibson, Makala is to Kala. Epiphone offers awesome guitars at a more affordable price and Makala does the same with ukuleles. The Makala MK-C, part of the brand's Classic line of entry-level offerings, is a concert ukulele that beginners and seasoned players will surely love.
The Makala MK-C concert uke features a mahogany body and neck with a satin finish that makes playing a breeze and gives the ukulele a minimalist, rustic appeal. The vintage look is enhanced by the ukulele's light-colored walnut fingerboard with 18 frets.
The MK-C has a scale length of 14.875 inches and an overall length of 24.125 inches. It's a comfortable size for players young and old who may find soprano ukuleles too small for their hands.
A Makala Classic ukulele is ideal for players on a budget or for anyone who's looking for a low-cost yet quality alternative to more expensive ukes. You can even get more out of your money when you buy the Makala MK-C bundle, which includes the ukulele, a ukulele strap, a clip-on chromatic tuner, an instructional DVD, a polishing cloth, extra strings, two months of online lessons and a gig bag.
Makala MK-C Ukulele Overview
---
Tenor ukuleles are usually more expensive than their smaller-bodied siblings but here's a fantastic tenor ukulele that won't break the bank. The Kala KA-TG boasts a mahogany body and neck construction with an elegant gloss natural finish and cream binding that add to the uke's aesthetic appeal.
The Kala KA-TG has a rosewood fingerboard with 18 frets. This ukulele has a comfortable 17-inch scale length with an overall instrument length of 26.125 inches. It feels good in the hands and cradled against the body when playing.
Sound-wise, the KA-TG delivers a rich and full sound expected of that of a tenor ukulele made of mahogany. While the mahogany used on this uke is laminate, it does make the KA-TG more resilient against sudden drops or spikes in temperature and humidity. With a more durable body, the Kala KA-TG is a perfect ukulele to travel with.
The craftsmanship and overall performance of the KA-TG are excellent for its price of under $150, and it can compete with other ukes on a higher price tier. The Kala KA-TG has a solid playing feel and a great sound that would make you want to play as often as you possibly can.
Kala KA-TG Ukulele Overview
---
Seeing the Luna ukulele evokes a feeling of being on a tropical island with the sun warming your face and the waves crashing on the beach. It's the perfect setting to play your favorite ukulele tunes, and even if you're actually in a small, chilly apartment in the middle of Russia, just seeing this ukulele will instantly make you feel good. Playing it will make you feel even better.
The Luna Tattoo Tenor, shortened to Luna TT, is a tenor ukulele that features a mahogany body and neck and a laser-etched Polynesian tattoo design on its soundboard. The artwork, which is primarily based on waves, is designed by Luna Artist Alex Morgan, who also created the artwork for Luna's first Henna guitar.
The fingerboard of the Luna TT is made of rosewood and it features stylized 'shark teeth' for fret markers.
Like other ukuleles made of laminate wood, the Luna TT is less temperamental to temperature and humidity changes, making it a great instrument to bring with you on trips to the beach, your favorite mountain hideaway or just about anywhere you want to go. The included gig bag makes the uke all the more easy to travel with!
Luna TT Ukulele Overview
---
It doesn't sound as fancy and as cultured as a Luna or a Kala ukulele, but the Aklot ukulele is definitely one of the best cheap ukuleles you can get your hands on.
The top of the Aklot AKC23 concert ukulele is made of solid mahogany, which delivers a warm, pure, full and rich ukulele sound with a good sustain. The sound will also improve with age the more the ukulele is played. If you're a beginner you can be sure that this uke will sound better the same way you play better.
The sides and back are made of laminate mahogany for added resilience while the neck is made of okoume wood. The fretboard is rosewood.
A nice design element is the soundhole rosette, which is laser-engraved with a simple but elegant pattern. The rosewood bridge is also worth mentioning as well because it is shaped like a dove/pigeon with its wings outstretched.
For about $60 you get not only the ukulele but also an instruction booklet for beginners, online lessons and a full set of accessories comprising a gig bag, spare strings, a clip-on tuner, ukulele picks, a strap, a cleaning cloth and even a service card.
Aklot Ukulele Overview
---
Finding the Best Cheap Ukuleles: A Primer
Cheap ukuleles are the best! Well not all cheap ukes obviously, but those we've hand-picked and put on our list definitely are some of the best models we've ever come across. Many musicians look for low-cost or budget instruments that can serve as beater guitars and ukuleles, while others go for cheap instruments simply because those are all they can afford at the moment.
With the quality of the ukuleles on our list, you won't have to worry about ending up with a cheaply priced, cheaply made instrument. You can rest assured that the ukes above are cheaply priced for their value and the kind of performance they deliver so you can buy with confidence.
The best cheap ukulele models we've included in our list would suit beginners to more skilled ukulele players. These ukes are great for a lot of people and a lot of situations, such as the following:
Cheap ukuleles are ideal for aspiring musicians on a tight budget
Having a limited budget isn't a problem if you consider the cheap ukuleles we've mentioned. When choosing a cheap ukulele, you shouldn't just look at the price and go for the one with the lowest price tag.
You also need to consider how much value it gives you in terms of construction, sound quality, playability and overall performance. The cheap ukes on this list certainly deliver on those fronts.
Budget ukes are recommended for players with GAS (Gear Acquisition Syndrome)
If you already play the ukulele, you know how hard it can be to say no to a new one, especially one of a different size or construction. For instance, if you have a soprano ukulele with a spruce top, you'd want to try out a soprano with a mahogany top, or a concert with a spruce top, or a tenor with a mahogany body and so on.
With the number of different ukulele models on the market, GAS or Gear Acquisition Syndrome is a common affliction among ukulele players. A cheap ukulele will satisfy your hunger for just one more uke.
Cheap ukes make great gifts and giveaways
If you're looking for a nice token or gift for a friend who helped you out with something, or if you're looking for wedding souvenirs for your flower girls and ring bearers, a good ukulele would make a nice gift. You have several to choose from depending on your budget.
If you don't want to spend too much because you're buying several (for nephews and nieces, for instance), go for the cheap ukulele starter kits. If you want to make the gift a little bit more special, go for the ones from Luna, Kala and Epiphone. We guarantee you can't go wrong with any of the ukes on this list.
A good budget ukulele is great for kids and adults testing the waters
Cheap but quality ukuleles are suitable for those who are not really sure the ukulele is for them. This goes not only for adults, but also for kids who are just starting to explore the world of musical instruments. If you find the ukulele is not for you, you can give it away to someone who may be more inclined to playing four strings.
If, however you find that the uke is the perfect instrument for you, then you can continue practicing. As you learn more about the ukulele, you'll also have a better idea of what you want your next ukulele to be.
You can practice your mod skills on a cheap uke
When you do your research on cheap ukuleles, you'll find that there are parts or features that may need improvement. The strings, fretboard, tuning pegs, finish, saddle are just some components that benefit from modifications and/or upgrades.
If you like tinkering with your ukes and like to modify them to be the best-sounding and best-looking ukes they can be, then cheap ukes are for you. They make good platforms for mods – you can turn a $60 uke into one that sounds several hundred dollars more.
Budget ukes make fantastic travel companions
Most budget ukuleles have a laminate construction. Their sound may not be as rich and full as that of ukes with solid tops, but they are generally less susceptible to drops in humidity levels and spikes in temperature. This quality makes them good travel companions because you won't have to worry too much about the wood warping during transit.
And because they're cheap, you won't feel too bad when they get banged around when you go from one place to another. Still, we advise you to get a good case for your uke to keep it secure and protected from the elements.
It's always good to have a spare
Wouldn't it be great to have a uke in every room in your house? One or two in bedroom, another in the living room, then in the kitchen and even in the bathroom so you can strum away while you're doing your business. Why settle for just one uke when you can have several spares?
With cheaply priced ukuleles, you can definitely have ukes everywhere you want. It would help motivate you to practice because there's always one within reach. And well, it's always good to have a spare cheap uke handy, especially if you have friends or kids, or friends with kids coming over.
As you can see, cheap ukes are great for a lot of things, not just saving money. We hope this helps you find the one that would meet your needs and budget. Have fun!