Get your young 'un on the right track with the best electric guitar for kids. We've selected six top models that meet the needs of young players, particularly playing comfort. Whether the child you're getting a guitar for is just starting out or has been playing for a few years, you'll surely find a great new kids' electric guitar right here.
It's awesome that guitar companies such as Ibanez and Epiphone have come up with fantastic electric guitars that kids and even small-bodied grownups would enjoy playing. We definitely had fun picking out the best for you to choose from.

Our Top Electric Guitar Picks for Kids
| Image | Guitar | Description | Price Check |
| --- | --- | --- | --- |
| | Squier Classic Vibe 50s Telecaster Electric Guitar | Getting the Squier Classic Vibe '50s Telecaster is a fine way to motivate a child to start or get better at playing electric guitar. With its classic looks and sound, this Squier Tele is sure to win the favor of any guitar-playing youngster. It's equipped with two custom vintage-style single-coil Telecaster pickups and easy-to-sue volume, tone and pickup switching controls. | |
| | Ibanez GRGM21 GIO Mikro Electric Guitar | Looking for something smaller? Check out the Ibanez GRGM21 GIO Mikro. It has a compact 22.2-inch scale, making it more kid-friendly than most electric guitars. The Mikro may look like a toy at first glance, but this little 3/4-size guitar is a serious instrument that's built to the same standards as the full-size guitars in the Ibanez lineup. | |
| | Epiphone Les Paul Junior Electric Guitar | If your kid is wanting a Les Paul but you're aiming for Less Poor, consider the Epiphone Les Paul Junior. This entry-level model was designed to be a more affordable alternative to the iconic Les Paul Standard. It may not be as fully featured as the classic model, but it sure does have the Les Paul sound, look and feel. | |
| | Squier Mini Strat Electric Guitar | One look at the Squier Mini Strat and you'll already know it's a terrific electric guitar for kids. Like the Ibanez Mikro, it also has a 3/4-size body. Its scale length is just a teeny bit longer at 22.75 inches, which is still considered short scale. The Mini Strat boasts a set of three single-coil Stratocaster pickups. Sweet! | |
| | Epiphone Les Paul Express Electric Guitar | Epiphone has its own compact electric guitar too! Meet the Epiphone Les Paul Express. It has a 22-inch scale length, which is nearly 3 inches shorter than that of a full-size Les Paul - perfect for kids and adults with a limited reach. The Les Paul Express is equipped with two humbucking pickups that give the guitar a big, full-sized voice. | |
| | Mitchell MM100 Electric Guitar | Our last pick as the best electric guitar for kids is the Mitchell MM100. This is a short-scale guitar with a 22.5-inch scale length. The MM100 may be a mini guitar, but it can be a monster plugged in. With two high-output humbuckers onboard, the Mitchell MM100 is a must-have for kids who really want to rock it out. | |
The Squier Classic Vibe '50s Telecaster is modeled after the original Telecaster produced by Fender in the '50s, thus the name. It has an all-pine body with a semi-transparent gloss polyester finish. We're loving the Butterscotch Blonde variant, though the guitar is also available in a Vintage Blonde finish. The pine body delivers a nicely balanced response.
The one-piece neck is made of maple and also has a vintage-tint gloss polyester finish. Its modern "C" shape makes playing more comfortable. Sound-wise, it offers a bright, lively tone with lots of sustain. Topping the neck is a maple fingerboard with 21 medium jumbo frets and black dot position inlays.
Capturing the sound of the guitar to reproduce the classic Tele tone are two custom vintage-style single-coil Tele pickups at the neck and bridge. Kids will have no problem switching between pickups or using both through the three-position blade. There are also easy-to-use master volume and master tone controls.
The Classic Vibe Telecaster '50s also has vintage-style tuning machines as well as a vintage-style string-through-body Telecaster bridge for optimum tuning stability. The bridge has three brass barrel saddles that add to the twangy tones. There's definitely that classic vibe in this one.
Squier Classic Vibe 50s Telecaster Electric Guitar Overview
---
It's easy to see why the Ibanez GRGM21 GIO Mikro is considered one of the best electric guitars for kids and players with small hands. It is a 3/4 size guitar with a short 22.2-inch scale length, making it more compact than full-sized guitars. Being smaller, it is lighter and more comfortable to hold and play for kids, adult beginners and small-handed guitarists.
The Ibanez GRGM21 GIO Mikro has a poplar body and a maple neck with a 24-fret fingerboard. In the past, rosewood and treated New Zealand pine were used for the fretboards; since 2021 the newest guitars out of the manufacturing facility now have jatoba wood. Most retailers still carry Mikro models that have New Zealand pine fretboards.
The GRGM21 GIO Mikro has sharktooth inlays for the Black, White and Black Night variants and dot inlays for the Jewel Blue, Metallic Purple and Walnut Sunburst variants.
For its electronics, the GRGM21 GIO Mikro has a pair of high-output Infinity R humbucking pickups, which are just perfect for shredding. Young rockers will also find it easy to choose between pickups via the three-way level pickup selector. Master tone and volume control knobs allow for more tone tweaking.
Ibanez GRGM21 GIO Mikro Electric Guitar Overview
---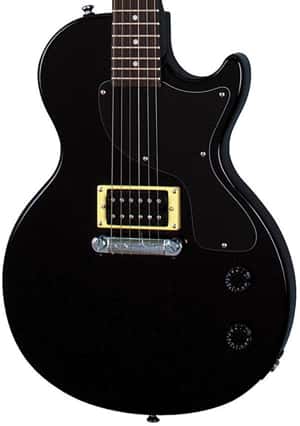 Buy from Zzsounds
The Epiphone Les Paul Junior isn't a 'junior' in the sense that it's a smaller version of the much-loved Les Paul guitar. The size is the same actually, only that the Junior doesn't have the same upscale components.
The Les Paul Junior was introduced back in 1954 as a pocket-friendly, full-size electric guitar for beginners. It quickly became a favorite, not only among beginners and young players but also among well-known musicians such as Keith Richards and John Lennon.
The Les Paul Junior has undergone several changes over the years but what hasn't changed is its appeal. For this list of best electric guitars for kids, we're choosing the Les Paul Junior Special. It has the same Les Paul shape and its body and neck are made of mahogany, delivering maximum resonance and sustain. The neck has a comfy-in-the-hands 1960's SlimTaper profile and it's topped with a rosewood fretboard with dot inlays and 22 medium jumbo frets.
The Les Paul Special electric guitar has an Epiphone 700T high-output humbucking pickup at the bridge position and controls for the master volume and master tone. It also has a LockTone Tune-o-Matic bridge and stopbar tailpiece for easier string changing and added sustain.
Epiphone Les Paul Junior Electric Guitar Overview
---
Ibanez has a Mikro, Squier has a Mini Strat. This little electric guitar is a downsized version of the Bullet Strat and is more than suitable for children. It's available bundled with an amp, a clip-on tuner, an instrument cable, a guitar strap, picks, a cleaning cloth and an instructional DVD so beginners can get started on playing right away.
The Mini Strat by Squier has a kid-friendly 3/4 body size and a short 22.75-inch scale length. The latest updates to the model include a thinner laminated hardwood body and a more comfortable, slimmer neck profile. The C-shaped maple neck is topped with a 20-fret laminated hardwood fingerboard. The medium frets and pearloid dot position inlays on the fingerboard assist in making learning to play a whole lot easier.
The Squier Mini Strat sports standard single-coil Stratocaster pickups at the neck, bridge and middle positions for a clear, rich and crisp tone. A five-position blade lets players choose which pickups or pickup combinations to use, while master volume and tone controls allow for tone shaping.
Other specs include a vintage-style six-saddle hardtail Stratocaster bridge, white plastic control knobs, improved tuning machines, chrome hardware and a one-ply white pickguard.
Squier Mini Strat Electric Guitar Overview
---
Make way for the Epiphone Les Paul Express! This guitar has a 22-inch scale length, making it a good choice for young players and guitarists with small hands. The guitar's mahogany body also has a cutaway, which together with the SlimTaper neck profile makes holding and playing the guitar easy as pie.
The Epiphone Les Paul Express doesn't only look like a downsized vintage Les Paul; it's got the classic Les Paul tone as well. Epiphone did make some changes to make the specs of the Express work together seamlessly. For instance, while the body of the Express is made of mahogany like other Les Pauls, its bolt-on neck is made using hard maple, not mahogany.
A guitar with a shorter scale would have a looser string tension, so a wood with a brighter tone, like hard maple, would make up for it. Epiphone also outfitted the Express with 650R and 700T humbucker pickups with Alnico magnets to provide the classic bite and crunch that Les Pauls are known for. All in all you get a full, well-rounded, powerful and versatile tone. It's not an exact replication of that of the full-sized Les Pauls of old, but it's definitely close!
Epiphone Les Paul Express Electric Guitar Overview
---
With a short-scale, double cutaway body and rosewood fretboard, the Mitchell MM100 electric guitar lets those little fingers fly across the fretboard at warp speed. But this little guitar certainly offers a lot more than its size implies.
The Mitchell MM100 Mini Double Cutaway guitar boasts a solid basswood body and a bolt-on, one-piece C-shaped maple neck. It has a Superstrat-style body shape with its horns and cutaways, making it a good pocket-friendly alternative to a 'real' Stratocaster for kids. This 3/4 size guitar has a 22.5-inch scale length, perfect for young and small-handed players.
The fingerboard is made of Indian rosewood (select hardwood in some guitars) and has 24 medium jumbo frets, offering just the right fret spacing for young fingers just learning to play.
The headstock is of a distinctive shape as well, and there you'll find high-ratio tuning machines. The tuners work well with the Tune-o-Matic-style bridge to maintain proper intonation.
At the neck and bridge you'll find high-output ceramic humbuckers, which are wired to a three-way pickup selector switch. There are master controls for the volume and tone. The Mitchell MM100 is a no-nonsense, get-down-to-business electric guitar kids of all ages will surely enjoy playing.
Mitchell MM100 Electric Guitar Overview
---
Getting Children into the Guitar with the Best Electric Guitar
Learning to play guitar is beneficial for children. Most children start at the ages of 7 or 8, or as soon as they have the mental and physical maturity to focus on lessons. Some children start at a younger age, around 4 or 5. It really doesn't matter as long as the child is able to absorb the knowledge and practice the skills needed to play guitar. And you know children – they absorb like a sponge!
No matter the age of the child, there's a guitar suited for them. We've listed some of the best models children can grow up with. The full-size guitars are best for pre-teens and adolescents while the 3/4-size models would suit younger kids. But why get an electric guitar in the first place?
If you've been contemplating on buying a guitar for your child, niece, nephew, godchild or grandchild, here are some of the reasons why you're on the right track.
It's easy to play
Guitars are easy to learn, especially for children. Many children find electric guitars easier to play than acoustic guitars because of the lower action. Because the strings on an electric guitar are closer to the fingerboard, it requires less pressure to fret notes. For young fingers just beginning to play, this is a plus that would make learning guitar more enjoyable.
Electric guitars also have a smaller body, a thinner neck and strings with a lighter gauge. While weight can be an issue for smaller children, this can easily be resolved by choosing a smaller-sized electric guitar and making sure the child is seated comfortably when playing.
The expense is worth it
Being able to play an instrument gives children confidence. It helps them express themselves. You'll really see a child bloom when he or she starts playing.
Sure, buying an electric guitar also means buying an amp, an instrument cable, headphones (for quiet practice), a guitar strap, a guitar case and a guitar stand, but those expenses are quickly forgotten when you see a child's face light up when they see their new guitar. Plus, admit it – but you'd rather see your child practice an instrument than play games on their smartphone or game console all day.
There are plenty of resources for learning
There are many ways for kids to learn guitar. You can sign them up for group or private music classes, teach them yourself or let them watch video lessons online. There are also many free online resources you can download and print, such as tabs and chord charts, so the child will have a handy reference. Explore your options and see which methods work for your child best.
Buying Tips
When buying an electric guitar for a child, consider the following:
The child's size and reach
Playing comfort is important. If a guitar is too big for a child, he or she may have difficulty fretting chords or hitting notes at the end of the fretboard., so it's best to choose a smaller-sized guitar, or a guitar with a short scale length. But if your child feels comfortable playing a full-size guitar, then go for it!
The child's musical interests
What does your child like listening to? Or what songs is he or she familiar with? Those are probably the first things he or she would like to learn to play. The guitar you choose should then be suited for that music style or genre. A child who grew up listening to heavy metal may want to have a guitar that's capable of producing the same sounds, like the Ibanez Mikro and Mitchell MM100.
The guitar color or style that the child would find appealing
Children don't really care about the technical specs of their electric guitar, but they do care about how it looks like. For this reason, consider what color or design would be appealing to them when choosing an electric guitar.
Many electric guitars for kids, like the Ibanez Mikro, offer several color and finish options. Why is this important? Because if children actually like the appearance of their guitar (for example, if it comes in their favorite color), they are more likely to pick it up and practice.
Those are just some of the things to consider when buying a guitar for a young player. We hope the information on this page makes your search for the best electric guitar for your child easier. Just remember, the best guitar is the one your child would actually want to play and keep on playing.