With nearly 7,000 lessons covering guitarists of all skill levels in just about any style, JamPlay is the reigning King of Content when it comes to online instruction. Absolute beginners can build their callouses with 654 lessons spanning 21 courses. It can't be over-emphasized – JamPlay is all about content.
However, two unique features separate JamPlay from the pack of competitors. First, task-based Live Courses including full tablature, real-time interaction with instructors, and guided homework each week. Second, a Daily Live Q&A with instant access to expert teachers – streaming all day, every day, anytime.
Generally speaking, JamPlay may be the only other site to rival Guitar Tricks in terms of content, style, and ease of navigation.
Jamplay Guitar Lessons Overview
Beginner Lessons
JamPlay's beginner program appears to cover all the bases, adding structure to the guiding hand of motivation. Offering tons of easy-to-follow lessons, total beginners would be wise to jump in at Phase 1, which covers a range of foundational skills for either electric or acoustic guitar. Although this system gives you the flexibility to decide which course and instructor appeals to you, without a set entry point, some beginners could be overwhelmed by the gravity of content available.
For instance, the basic electric guitar foundation course is stretched out over 68 lessons. The acoustic course spans 67 lessons and – if my math is correct – over 20 hours of instruction. Fortunately, there is a certain amount of hand-holding involved, evidenced in the Just for Kids course, a 19-lesson series for young people.
Beginners can rest assured that the video player and lesson formats are super simple to navigate, and the support system – from tabs to the vibrant community of instructors – should be there when you need it most.
Intermediate and Advanced Lessons
Despite having an air of accommodation to beginners, JamPlay seems to be geared toward experienced players.
While beginners are spoiled for choice with foundation courses, experienced guitarists will be excited by the assortment of full songs and lessons found in Phases 2 through 4. The second phase is where you'll determine your playing style.
If you're into Metal, there's a 27-lesson course from Glen Drover of Megadeth, which covers speed picking, dexterity, and alternate tunings. Next, you'll cover full songs in Phase 3. Advanced players may want to skip to Phase 4, which looks at songwriting. Not unlike Phase 1, the songwriting course allows players a wide variety of choices to develop their foundations in composition.
Acoustic and Electric Lessons
One thing JamPlay does well is presenting a clearly defined approach to acoustic and electric lessons. Click on the Teachers tab and you'll be presented with dueling rosters of instructors – Acoustic teachers on the left, Electric on the right. This is pretty cool because it takes the guesswork out of your lesson plan. You're not going to click on a song lesson and wonder what's going to pop up – which is somewhat of a gamble on other sites.
Another interesting angle is found in the song lessons category. Certain songs offer instruction for both acoustic and electric guitar – for instance, Eric Clapton's "I've Got a Rock n' Roll Heart". But user beware: the Clapton lesson is 75 minutes long.

Bass Lessons
For some reason, bass lessons are not included in the standard JamPlay package. But if you sign up for the bass courses, you'll find lessons from guys like Billy Sheehan and David Ellefson (Megadeth). Perhaps you'll notice at this point that although JamPlay provides equal measure to all styles, there's a certain emphasis on Metal, which may or may not be your thing.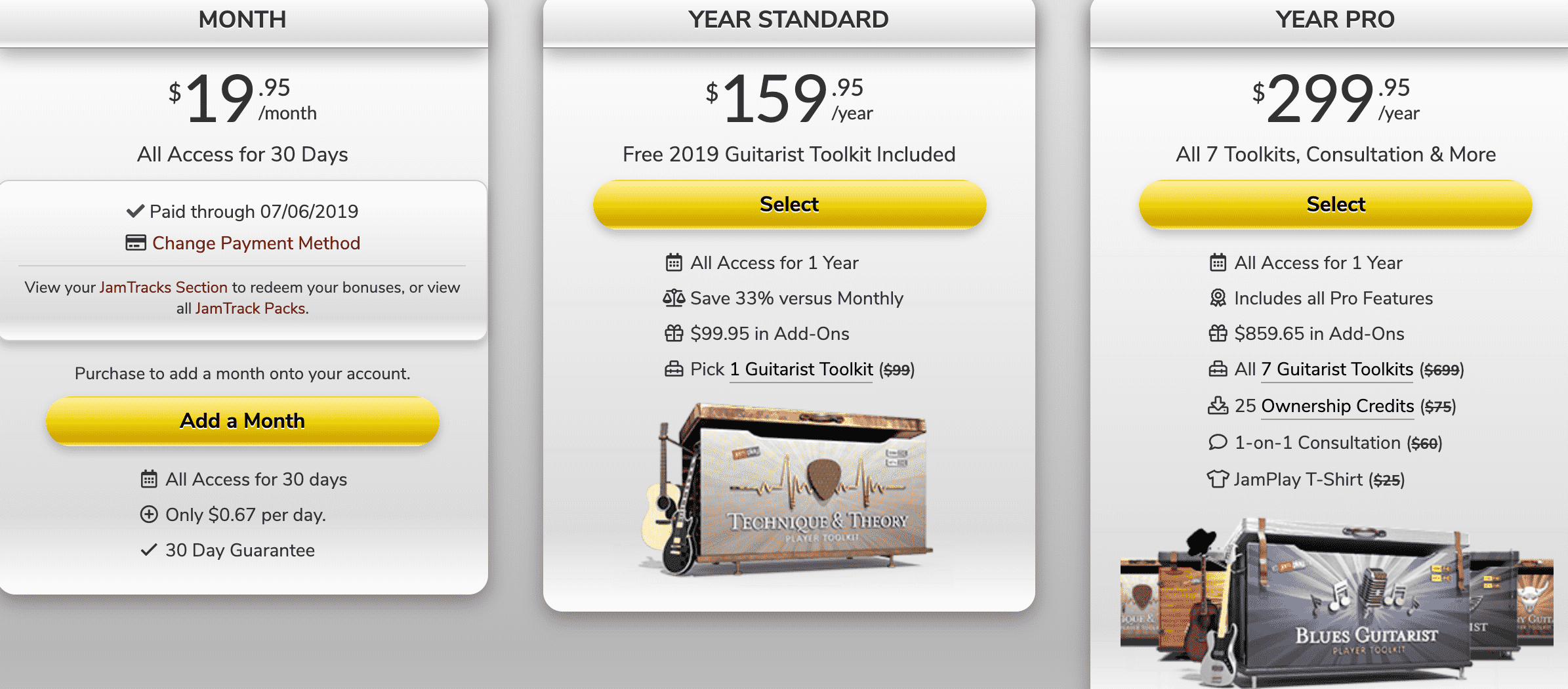 Ukulele lessons
Not available. Go directly to Fender Play.
Ease of Use
As a whole, the JamPlay website is favorably structured and the user interface is easy to navigate. All content is accessed from the dropdown menu – courses, lessons, techniques, and songs. Your personal dashboard keeps track of your progress and features a newsfeed of upcoming live events and discussions from around the JamPlay community.
On the main lesson page, the video player sits front and center. The Scene Selection sidebar allows you to access individual song sections, along with a list of subsequent lessons on the left. There's another toolbar at the bottom of the lesson page allowing access to supplemental tabs and notation, as well as a download option to download a lesson.

The video player's toolbar includes speed adjustment and A/B switching. The high-definition video lessons feature three main angles: instructor view, student view, and right hand close-ups. Meanwhile, from the toolbar you can dial in a range of tools like the chord database with nearly a million voicings.
After signing up, you will be presented with a chance to submit an About Me form – which basically says who you are and what you want to do on guitar. Once you complete your profile, you're ready to start learning.
Complete beginners should navigate to Phase 1 under the Lessons tab, for videos of the fundamentals of guitar – from how to tune the instrument, right up to playing your first note.
For more advanced players, head to Phase 2 and investigate completely different styles of guitar, while simultaneously sniffing around Phase 3 to start learning a couple of songs from the library.

Songs
JamPlay's selection of songs is somewhat of a conundrum. In comparison to some technique-based platforms, JamPlay has a broad variety of song lessons for both electric and acoustic guitar, covering a variety of styles and genres, featuring a modest jumble of artists. Compared to Guitar Tricks, you may find the selection a little…wanting.
They've got Clapton and Hendrix, Nickelback and System of a Down, but the in-between artists, particularly notable guitar players like Joe Satriani, are conspicuously absent.
Suffice to say, if you're interested in song-based learning, this is the one area that JamPlay doesn't dominate in terms of content.
Style
Predictably, JamPlay covers a wide range of styles beyond Rock, Blues, Country and Jazz.
Tools and Mobile Apps
JamPlay absolutely crushes it in the mobile app department, allowing complete mobility for lessons with iOS and Android – plus an app for Amazon Kindle – something of a rarity among the competition. Note that, even if they don't offer an app for your specific device, JamPlay is compatible with every imaginable computer system.
I'm not happy about it, but JamPlay also offers a selection of "fun" training games, revolving around fretboard memorization and whatnot. These games are designed to advance your knowledge of music theory, but they feel like a distraction from the overall aesthetic.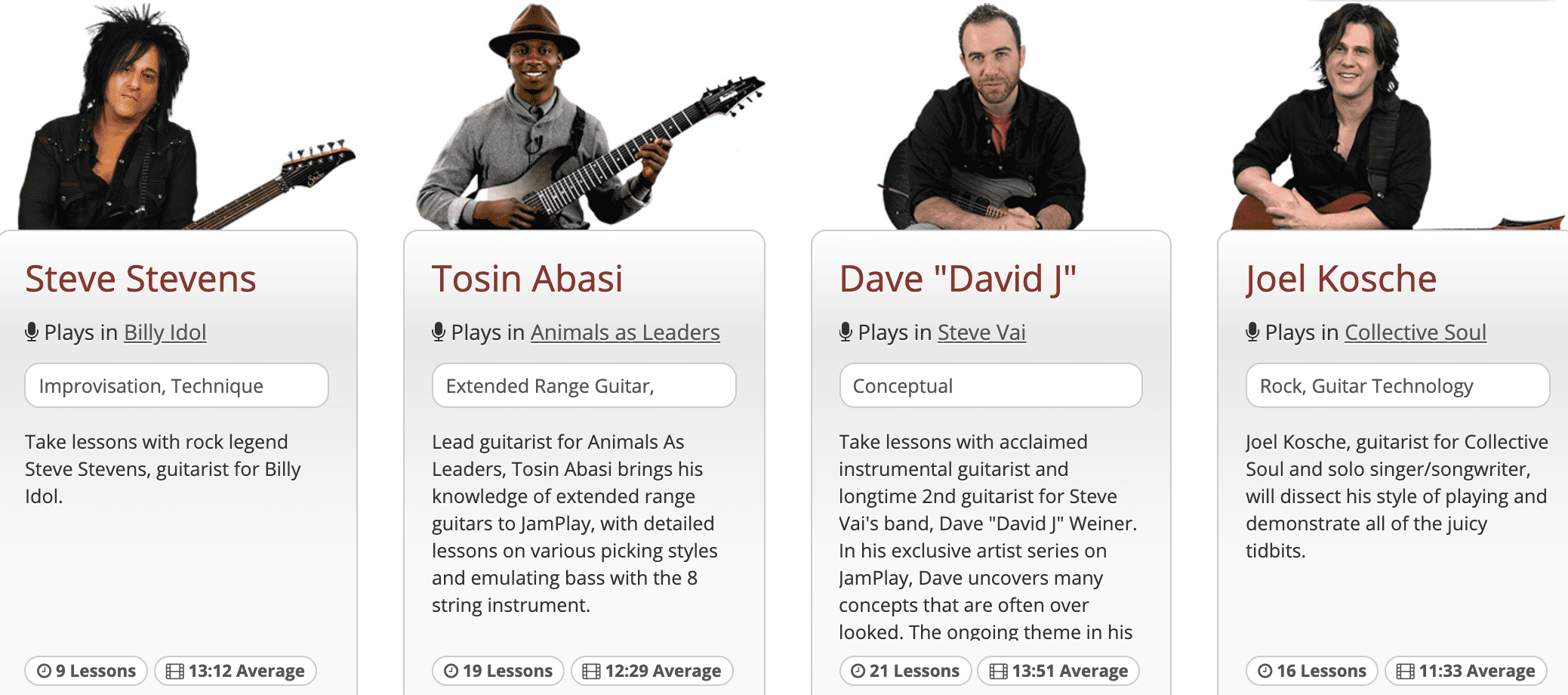 Instructors
At the last count, JamPlay had 103 instructors with a diverse range of expertise. You'll find courses and lessons from the likes of Phil Keaggy, Kaki King, and Steve Vai. You'll notice that Metal is definitely "in the house", with lessons from a dizzying array of prominent shredders. But all other styles are well-represented.
One of the neat features offered by JamPlay is a live Q&A with instructors – which stream for up to eight hours per day.

Community/Forums
The JamPlay community appears to be vibrant and full of activity. There's JamChat, an instant messenger/chat room running through a pop-up window.
The JamPlay Facebook page has 300,000 followers firing off regular updates and tips from the instructors.
Free Trial Period
Jamplay NOW offers a free trial which you can claim here. The only downside is that you will need to put in your credit card details to claim it. If you're not happy, you can cancel any time without being charged.
Value for Money / Cost
If you don't bother with the free trial, the regular monthly fee is $19.95 and you get all Master and Live Courses, the Lesson Archives, the Song Library, and a significant number of extras. Again, JamPlay rules with content – 10+ hours of new lessons are uploaded on a monthly basis.
The Yearly Standard membership includes all of the above features and throws in the Guitarist Toolkit – containing supplemental lessons, jam tracks, tabs, and Guitar Pro (GPX) format files for $159.95. Splurge on the Yearly Pro Plan ($299.95) and get seven Toolkits plus personal consultations with instructors.
Bassists can purchase a bass subscription for the same price ($19.95 for 30 days) or $159.95 for the year.
You can't argue with the amount of content. Therefore, the value is here.
Free Lessons
JamPlay puts out a bunch of free guitar lessons, in addition to the free trial membership. These freebies include series introductions, chord and scales lessons, technique exercise and a modest selection of song lessons.


Niche Aspects
Aside from the Live Courses, JamPlay doesn't appear to have a strong niche appeal, and that's primarily a form of function. They're a considered alternative to Guitar Tricks, and the platforms are quite similar in many respects. However, one special feature of JamPlay is the Artist Series, where some of JamPlay's more distinguished instructors give in-depth instruction in their respective styles. For instance, Steve Stevens has a series that covers all the riffs and tricks he used in Billy Idol hits.
The Artist Series also features "In The Style Of…" lessons that focus on a selected artist. For example, in one series, The Style of Jimi Hendrix, instructor Brendan Burns demonstrates the stylistic characteristic of the iconic guitarist – covering somewhat esoteric concepts as the Hendrix Comping Formula.
Go deeper into the Artist Series for a series of live courses – streaming webcam lessons that cover a certain technique and/or style, with tablature and homework assignments to supplement the lesson plan. Some newer live courses include Playing Over Chords and Learning to Loop. The archive is always available, so you don't have to worry about joining late or missing a lesson.

How Does it Compare?
Since it's been established that JamPlay is one of the few platforms in league with Guitar Tricks, the comparisons can begin and end there. Of course, nothing is perfect, but more songs from a broader range of artists would be a good place to start.
In some ways, it's unfortunate and unfair to compare JamPlay exclusively to Guitar Tricks, but if you make a quick scan of the reviews, you'll see a recurring pattern. And that's because JamPlay – which has been around since 2006 – appears to be playing catch up with its older and more popular cousin. Make no mistake, we're talking about two websites that essentially do the same thing, with a similar look and feel, featuring a very comparable vibe and value.
Aside from some of the quirks of the aforementioned features, JamPlay and Guitar Tricks are essentially the same vehicle taking slightly different routes to a shared destination. Thus, while I'm still inclined to say Guitar Tricks maintains a slight advantage over JamPlay, I'm reticent to pinpoint one overwhelming reason.
So, how does JamPlay compare to Fender Play? There's no comparison. What about TrueFire? Well, they both have a ton of content and big name instructors. ArtistWorks? There's a shared interest and emphasis on some of the more technical aspects of guitar.
Strong Points/Weak Points
There are two functional qualities about JamPlay that grabbed my attention. First, its very basic presentation allows you to navigate around the site with ease. The dropdown menu contains the all action, and the lack of a sidebar presents a kind of all-business attitude – the decluttered environment creates a beneficial learning environment. Meanwhile, there's something here for all of us – from "I've Never Touched a Guitar" beginners to professional guitarists.
The quality of content makes all the difference here. And although it's not the most eloquent way of saying it, JamPlay inspires confidence with a streamlined and seamless approach to learning. You get the idea they're on the ball, and that's exactly what you want from any sort of instruction. Exuding competence is an attractive quality, and if I were in the market for online guitar lessons, JamPlay might be getting my money.
Update Frequency
As previously mentioned, new lessons are posted on roughly a monthly basis. You'll want to stay tuned to the website for updates. Live course updates occur on a daily basis, so technically, JamPlay never stops updating.
Conclusion
After a fairly exhaustive review of the major online guitar lesson platforms, JamPlay is safely in the top 2. It's Guitar Tricks or JamPlay – take your pick. So you get a massive amount of content, excellent Live Courses suitable for players of all abilities, taught by an impressive line-up of famous guitarists who are eager to share their secrets.
JamPlay succeeds in simplicity and variety of content. Perhaps they're still working on finding the perfect balance between having fun and doing the dirty work, and that's why I wouldn't recommend the site to Fresh Off the Couch beginners. Like TrueFire, there's not enough hand-holding to justify throwing a beginner off the deep end. Everybody else, however, will find that using JamPlay is a thoroughly rewarding experience – and well worth the price.