There comes a time in every guitarist's life when they would be in search of the best electric guitar, one that would feel like a natural part of their body when they play.
If you feel you're ready for a new and better axe or are keen on starting your musical journey with an awesome electric guitar, check out the models we've reviewed below. All of these electric guitars have become fast favorites since they were released to the music-loving public. We're sure you'll find one or two that would meet all of your requirements and fit your budget.
Our Top Electric Guitar Picks
| Image | Guitar | Summary | Price Check |
| --- | --- | --- | --- |
| | Epiphone Les Paul Custom Pro Electric Guitar | Look at this snazzy thing. The Epiphone Les Paul Custom PRO is one electric guitar you'd be proud to tote on stage with its sleek looks. Taking from the original Les Paul Custom - AKA the "Tuxedo" Les Paul - the Epiphone Les Paul Custom PRO is now packed with modern upgrades including a more slender neck and a modified stopbar design. | |
| | Ibanez Artcore AF75 Electric Guitar | Another hollow body guitar to whet your appetite! The Ibanez Artcore AF75 isn't as "old" as the other models here but it has earned a huge following because of its affordability, quality workmanship and versatile sound. Suitable for a variety of music styles, the Ibanez AF75 Artcore is also perfect for beginners eager to get started on a moderate budget. | |
| | PRS SE Standard 24 Electric Guitar | The PRS SE Standard 24 is a great first or backup electric guitar. This is a reliable workhorse that more than delivers in design, build, playing comfort and overall sonic performance. It can also be your only electric guitar, but chances are you'll want another one along the way and give in to another model - or another SE Standard 24. | |
| | PRS McCarty 594 Electric Guitar | The PRS McCarty 594 is a vintage-inspired electric guitar with plenty of premium appointments such as a . It's part of the Core Electric Series, the company's lineup of high-end guitars. This means that the McCarty 594 has all the bells and whistles you can expect from a premium instrument. For pro musicians, this is an investment worth every penny. | |
| | Schecter PT Electric Guitar | Simple and straightforward - this is an apt description for the Schecter PT, a modern-day version of the guitar that Schecter custom-made for The Who's Pete Townshend. The Schecter PT has a no-frills yet tasteful look with a vintage vibe. An alder and maple tonewood combination delivers a bright and even tone, and you'll find the price too hard to resist. | |
| | Gibson Les Paul Standard Electric Guitar | This iconic instrument is regarded by many as one of the best electric guitars in the world because of its looks, sound and feel. The 2019 Gibson Les Paul Standard features a figured maple top, mahogany back and neck, rosewood fingerboard with cryogenically treated frets, calibrated BurstBucker Pro humbuckers and an asymmetrical Slim Taper neck shape for total playing comfort. | |
| | Gibson ES-335 Figured Electric Guitar | The Gibson ES-335 thinline archtop semi-acoustic electric guitar is a popular choice among blues, rock and jazz musicians because of its warm tone and near-zero feedback. The 2019 Gibson ES-335 Figured model features a thermally engineered chambered maple center block, a hand-wired MTC Premiere control assembly, an ABR-1 bridge with titanium saddles and all-new MHS II humbucking pickups. | |
First introduced in 1954, the Les Paul Custom was Epiphone's response to the request of Les Paul (the legendary musician and guitar builder, and the reason why we have Les Paul guitars today) to have a Les Paul (the guitar) with a custom color finish that would blend well with a tux.
The Les Paul Custom then became known as the "tuxedo" Les Paul with its Ebony and Alpine White color finishes, accentuated with shiny gold hardware. The Custom PRO features a classic gold LockTone Tune-O-Matic bridge and a gold stopbar tailpiece. You'll find more gold in the headstock with the gold Grover tuners. It also features a fully bound body, headstock and neck, as well as pearloid fretboard inlays.
The Epiphone Les Paul Custom PRO has a maple solid mahogany body and neck, just like Les Paul's personal LP Custom. The neck is hand-fitted with a glued-in joint for optimum contact, giving the guitar maximum resonance.
The new Epiphone Les Paul Custom PRO also has a Slim Taper D-profile neck. It also now has ProBucker pickups that feature a 4-wire design with coil splitting. Each ProBucker pickup features coil splitting with a push/pull control at each volume knob.
Epiphone Les Paul Custom PRO Electric Guitar Overview
---
Compared with many of the guitar models on this list that have been around for half a century, the Ibanez Artcore AF75 is still a baby. Ibanez introduced its Artcore line of semi and full hollow body electric guitars only in 2002. Nevertheless, the Artcore guitars have amassed a massive fan base because of their tuning stability, rich tone, impressive sustain and overall quality. Plus, they're also extremely affordable considering their features.
The Ibanez Artcore AF75 is a full hollow-body model that features a maple body and an Artcore AF mahogany set-in neck. The maple body creates a bright tone with good projection and sustain. The neck is topped with a smooth-playing, warm-sounding rosewood fretboard with 20 medium frets, acrylic block inlays and binding.
The AF75 also has an ART-1 bridge and a VT60 tailpiece for increased resonance, improved tuning stability, greater sustain and an enhanced tone. It is also equipped with Classic Elite humbucking pickups at the neck and bridge, producing a rich and nuanced tone with just the right low-end heft. Tone shaping is an easy affair with the Sure Grip III control knobs, which are designed for non-slip, precise control.
Ibanez Artcore AF75 Electric Guitar Overview
---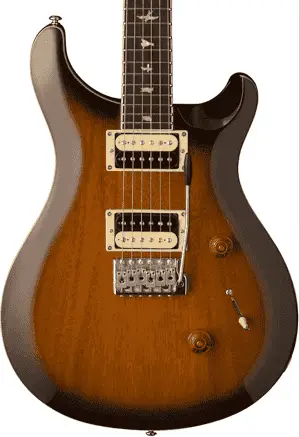 Buy from Zzsounds
There aren't that many entry-level to mid-priced electric guitars that can meet the demands of heavy use and/or meet the standards of professional musicians, which makes the PRS SE Standard 24 pretty special. Its tag price is friendly enough for beginners and intermediate players yet it's packed with features that make it a favorite among pro-level guitarists.
The 2018 SE Standard 24 from Paul Reed Smith is a faithful recreation of the foundational design of the Custom 24, the company's flagship model, with its all-mahogany construction. Together with the maple set neck and rosewood fingerboard, the body produces a warm, woody tone with a focused midrange.
The fingerboard has 24 frets and features classic bird inlays. For 2018, PRS gave the fingerboard a nice creme binding for a high-end look.
The new Wide Thin neck makes playing easy and comfortable even if you've been at it for hours. The carved cutaway adds to the ease of playing.
The 2018 PRS SE Standard 24 also comes equipped with versatile 81/15 "S" pickups that offer a wide range of tones and make the guitar ideal for any music style. It also has a PRS-designed molded tremolo and tuning machines.
PRS SE Standard 24 Electric Guitar Overview
---
Paul Reed Smith's offering to pro musicians with exacting standards, the PRS McCarty 594 takes its name from two things. The first is its scale length of 24.594 inches and the second is that it's a 1959-spec guitar with four knobs. According to Paul Reed Smith, this vintage-inspired instrument aims to recreate the most desired classic Gibson tone, that of a '59 Sunburst.
The PRS McCarty 594 features a double cutaway body style. It has an African mahogany body with a figured maple 10-Top and gloss nitrocellulose finish. The neck is mahogany and is topped with a bound dark rosewood fretboard with a 10-inch radius and iconic bird inlays. The neck sports a new Pattern Vintage neck shape, which is as wide as the standard Pattern neck profile but with just a little extra thickness and a slightly asymmetric carve.
Aside from the body construction, the new PRS McCarty 594 owes its warm, clear tone to 58/15 LT (low turn) pickups. The guitar is also equipped with tweaked Phase III locking tuners, two volume knobs and two push/pull tone control knobs. The volume controls are positioned in such a way that players can adjust both knobs simultaneously.
PRS McCarty 594 Electric Guitar Overview
---
Here's a Telecaster-style guitar without the Tele price! The Schecter PT is modeled after the guitar that Schecter built for Pete Townshend, the legendary songwriter and lead guitarist of The Who.
The Schecter PT has an alder body with creme binding and a single-cutaway contour that provides easy access to the upper frets. Alder creates a full-bodied tone characterized by highly focused lows and meaty mids. It's not as bright-sounding as a maple-bodied guitar but many players like it that way.
The Schecter PT also has a maple bolt-on neck with a comfy thin C shape. The fingerboard is also made of maple and features 22 XJ frets and classic dot inlays. Other features include Grover Rotomatic tuners for superior tuning stability, black hardware and a PT-H string-through-body bridge for maximum sustain and a smoother transmission of sound.
This vintage-inspired flattop is equipped with Schecter SuperRock II humbucking pickups at the neck and bridge for a punchy and power-packed output. Each humbucker features Alnico V pole pieces that effectively push the mids out when it's time to take the lead. A push/pull tone control easily lets you go into single-coil mode.
Schecter PT Electric Guitar Overview
---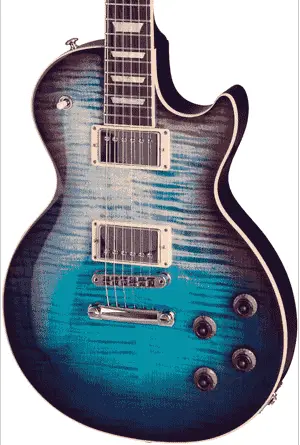 Buy From ZZSounds
The Gibson Les Paul guitar lineup has influenced generations of people to take up the guitar. Some of the most famous guitarists in the world have wielded a Les Paul, including Slash, Jimmy Page, Eric Clapton and of course, the man himself, Mr. Lester William Polsfuss AKA Les Paul.
The 2019 Gibson Les Paul Standard sports a mahogany back with an artisan-grade AAA figured maple top and a mahogany neck with Ultra-Modern weight relief. This chambering technique is provides a solid core through the center of the guitar, retaining the classic Les Paul sound and making the guitar less prone to feedback. The Ultra Modern weight-relieved body also makes playing long sets a breeze. The neck has an asymmetrical Slim Taper neck profile for increased playability and comfort.
The Les Paul Standard 2019 also has a rosewood fingerboard with 22 cryogenically treated frets, a Burstbucker Pro Rhythm neck pickup and a Burstbucker Pro Lead bridge pickup, as well as the HP-4 High Performance DIP Switch Circuit, which features four push/pull pots for optimum tone shaping.
For 2019, Gibson also brought back some of its best-selling finishes. The new Gibson Les Paul Standard is available in Seafoam Green and Blueberry Burst.
Gibson Les Paul Standard Electric Guitar Overview
---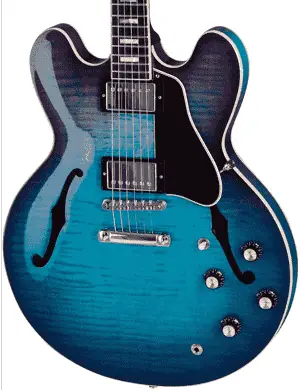 Buy From ZZSounds
This legendary thinline electric guitar has been in continuous production since 1958 and has been updated for 2019. The new Gibson ES-335 Figured has the classic semi-hollow body construction with a chambered maple center block with a three-ply AAA-grade figured maple/poplar/maple top and back. Its bracing is made of quarter-sawn Adirondack spruce. The center block and bracing are both thermally engineered.
The quarter-sawn mahogany neck has a rounded "C" neck shape and it's topped with a smooth 22-fret A-grade dark rosewood fretboard with small block pearloid inlays. The 2019 Gibson ES-335 Figured also features an ABR-1 bridge with titanium saddles for added sustain and clarity and Memphis Historic Spec II humbuckers. In addition, this classic axe now has MTC Premiere Controls.
The construction allows the soundwaves to resonate freely within the body's hollow airspace as well as around the violin-style F-holes and throughout the solid glue joints. Everything – from the body wood and construction to the neck wood and pitch – contributes to the tone of the 2019 Gibson ES-335 Figured guitar. This model boasts impressive depth and sustain in addition to an exceptional resonance that you can feel through the guitar's body.
Gibson ES-335 Figured Electric Guitar Overview
---
How to Pick the Best Electric Guitar for your needs
Choosing the best electric guitar for your needs is much like choosing a car. There's a whole lot of them that you like but you know that many of your choices aren't really a perfect fit for what you require right now. You can also only buy one at a time, unless you have deep pockets.
If you're looking for an electric guitar for kids, then check out our reviews here.
'Best' doesn't mean expensive
For beginners, the dilemma is real. How can one find a good electric guitar at a price that won't make you sacrifice your life's savings? Well, reading guitar reviews like the ones we have here is a great start. You will find a lot of awesome models at a price you would no doubt find agreeable.
The Ibanez Artcore AF75, PRS SE Standard 24 and Schecter PT, for example, are priced below $600 and have been highly rated. They're not exactly cheap money-wise, but they're definitely worth a lot more. Getting one of those from the get-go will make playing guitar a lifetime passion. "Cheap" guitars may seem more affordable at first, but many of these are poorly made and can be more costly in the long run because of constant repairs and replacements.
This is why we advise really thinking about what you want in a guitar and spending your money on the best model you can afford. The best electric guitar is not necessarily the most expensive, but the one that ticks all or most of your boxes.
Who or what inspires you?
If you are decided on learning to play electric guitar, think about why you want to do so in the first place. More often than not it's because you are inspired by guitar players from bands whose music you like. It's a good idea to start from there when you're looking for the right instrument.
Consider what your favorite genres or music styles are and who your favorite musicians are. It's always more fulfilling to learn guitar on an instrument that produces the sound you like or is the same or are similar to what your favorite guitarist plays. It can help you envision yourself more as a musician.
Top picks for picky pros
Seasoned musicians can also find it difficult to choose their next guitar, primarily because they've developed a preference for a certain sound. The sound they like may be due to a particular tonewood combination, set of pickups or strings or any other guitar configuration.
Indeed, pros can be picky. Of course, they've heard, played and tried out innumerable electric guitars over the years and often have a high standard when it comes to the build, tone, playability and overall quality of the instrument. Many professional guitar players already consider themselves collectors, taking pride in what they have in their guitar arsenal.
With guitar companies continually coming up with new models or refreshed versions of their bestsellers, guitar players can feel both excited and overwhelmed to try out and buy the latest shredders and jazz boxes. Will these really be better than their vintage archtop or not? Are the new humbuckers any good? Will the new version of an old favorite be a good buy? – And the list goes on.
Advanced musicians can be hard to please, which is why we picked out only the best pro-level instruments to include here. The PRS McCarty 594, Gibson ES-335 Figured or the Gibson Les Paul Standard can be your next guitar!
If you already have several guitars in your collection and are on the hunt for the best electric guitar to add to your rack, we hope you find the one you are looking for in the list above. We've included models from different price ranges so you can easily narrow down your options according to budget.
This page is a great place to start your search whether it's a practice or backup instrument you're wanting or something more equipped for recording and gigging, so feel free to browse around!