The best electric guitars in 2018 reviewed and compiled right here!
Welcome to our electric guitar page where we've compiled THE most comprehensive list of the best electric guitars out there on the market today. We've divided the electric guitars into categories based on price and type to allow you to search more easily and enjoyably! Also, at the bottom of the page, you'll find our handy reference notes for anyone wishing to learn more about electric guitars. So without further ado, please read on and find the best electric guitar for you!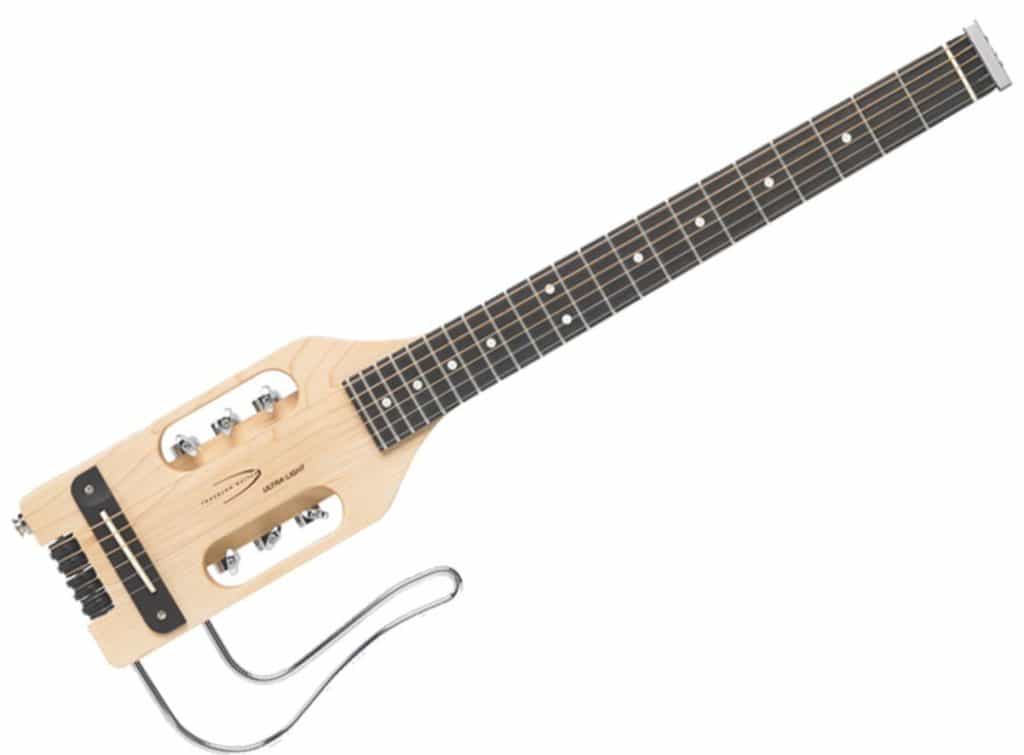 Another offering from Traveler Guitar is this ultra-light, ultra-compact electric guitar that measures just 28 inches long and weighs just 3 pounds and 2 ounces. Still, it's a full-scale (24.75 inches) electric guitar and it features a high-output dual-rail humbucker pickup. It's currently Traveler's smallest and lightest full-scale electric travel guitar.
Like the Speedster, the Ultra-Light guitar also uses the proprietary in-body tuning system, eliminating the need for a headstock. As a result, this guitar is 28 percent shorter and 68 percent lighter than full-size electrics. What adds to this guitar's portability is the detachable lap rest. Placed in its gig bag the guitar can be easily and safely stowed in an airline overhead compartment when needed.
Perfect for on-the-go players looking for the smallest and lightest electric guitar with a full scale

Detachable lap rest and overall construction make the guitar extremely portable

Impressive compact design and construction
Awkward weight distribution - the detachable lap rest still lacks the upper guitar body support, affecting the player's posture

Hard to stay in tune

Sound is good enough for practice and some live gigs and busking, but not for professional work
Best electric bass guitars

Those looking for an exceptional electric bass guitar that doesn't break the bank will do well to consider the Yamaha TRBX174. This bass guitar represents a price breakthrough in the best-selling TRBX range. This bass has the quality you would expect from a Yamaha but without the price tag usually associated with a big-name brand.
Even based on looks alone the $200 price seems unbelievable. The bass guitar's mahogany body and vintage-style bridge make the guitar look like a more expensive model. It's very versatile, making great for different playing styles and genres.
Plays and sounds as great as it looks

Low price point for an exceptionally good bass guitar

Comfortable and fast to play
Minor manufacturing defects reported

The Yamaha TRBX174 faces some tough competition in the form of this electric bass. The Squier by Fender Vintage Modified Jaguar Special Short Scale Bass features solid agathis body, maple C-shape neck, rosewood fretboard, fixed bridge, single-coil Jazz Bass pickup and a split single-coil Precision Bass pickup. What gives this bass a competitive edge is its classic Fender looks, along with quality construction.
The Squier by Fender Vintage Modified Jaguar Special Short Scale Bass has a sleek offset-waist body and a super-slim fast-action 30-inch scale neck. This electric bass guitar isn't just for beginners; it's for everyone who wants a decently priced short-scale instrument of high quality.
Smooth playability and superior tone

Great intonation out of the box

Low action for playing comfort
Some minor imperfections in terms of body and finish
Best electric guitar for beginners

This guitar package is perfect for beginners–it has all the accessories need to get playing right away, including a Fender Frontman 15-watt amplifier and cable. The included guitar is an Affinity Series Strat HSS guitar equipped with a standard humbucker bridge pickup and standard single-coil Strat middle and neck pickups. This Strat has a C-shaped satin finished neck with 21 medium jumbo frets and 9.5 fingerboard radius, making it comfortable for beginners.
The package also comes with a gig bag, instructional DVD, guitar picks and a guitar strap. The neck is a rock-solid maple bolt-on, while the fretboard is rosewood. The Frontman amp features normal and drive channels as well as an adjustable gain control, allowing guitarists to tailor their sound according to genre, whether it's metal, blues or everything in between. Of course, there's still no beating that clean Fender tone.
Easy to play and holds tune well

Accessories are perfect for players just starting out

Good value for the money
Tuners are not that great

Professional setup recommended for minor adjustments and proper tuning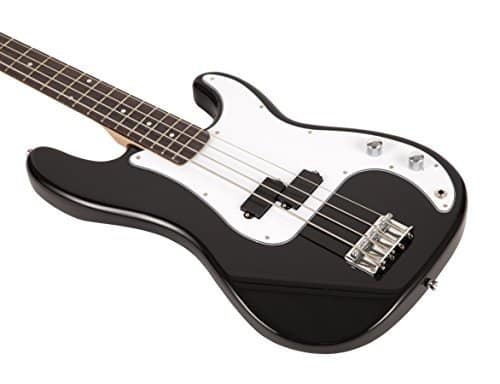 For those who want to pick up the electric guitar but are hesitant to spend a lot of money, this RockJam electric guitar kit is one purchase you won't regret making. The full-size black RockJam electric guitar is surprisingly good for a learner instrument. Included in the kit are spare strings, a guitar strap, guitar picks, a 20-watt amplifier with headphone output and overdrive boost function, a cable, gig bag, a guitar capo and last but not the least a sturdy and portable guitar stand. All of those for just around $130!
The guitar itself, while inexpensive, isn't cheap: it has three single-coil pickups, two tone controls, a volume control and a five-way pickup selector switch. It's lightweight, with a maple neck and rosewood fretboard.
Guitar holds tune well

Excellent quality for the price

A complete package for beginners

Lightweight, perfect for young players
Some reports of faulty amps and the need for a power adapter - contacting the manufacturer/vendor about a replacement amp is recommended
Best Lap & Pedal Steel Guitars

Playing a lap steel guitar can be an enjoyable and exhilarating challenge with the Vorson LT2308 VS 8-String Lap Steel Guitar. This instrument features VSY-03 active electronics as well as tone circuit and speed knobs. This is a professional-quality 8-string lap steel guitar that can take you from your practice room to a recording studio, stage or wherever you choose to play.
With its eight strings, the LT2308 lap steel guitar provides players with a wider range across the strings, allowing for variations when playing scales, arpeggios and runs. This guitar features a solid mahogany body, quilted maple top and matching headstock and 30-fret rosewood neck. This lap steel guitar is powered by Vorson's exclusive VSY-03 active electronics and EQ that's coupled to a custom-designed Master 100 pickup. The bridge, nut, fretboard and pickup are all specially designed for 8-string spacing, which means no string cramping.
Well-spaced string placement for easy playability

Excellent build quality

Package comes with a cable, tone bar and premium padded gig bag
A bit on the expensive side at around $500
Electric Guitar Consumer Info
So you've decided you want to rock it out or belt out some blues with an electric guitar, but you're bombarded with hundreds of choices and don't know where to start. We're here to help! Here's all you need to know about electric guitars and how to choose the right one for you.
How to choose the right electric guitar for you
Like choosing other instruments, when it comes to choosing an electric guitar, the most important aspects to consider are playability and comfort. There's nothing like holding one in your hands to see if it's a good fit, so it's highly recommended to try out different kinds of electric guitars. Head over to music stores, shop around and try as many electric guitar models as you can before you decide. Be sure to check out musical instrument online stores specializing in electric guitars as well.
Aside from comfort and playability, there are no hard and fast rules for choosing what would be the best guitar for you–after all, there are different strokes for different folks. Your eyes, hands and ears will tell you which electric guitar is "the one." Use these pointers as your buying guide:
Looks – if you like how something looks, you'll feel more motivated to play. An electric guitar that appeals to you aesthetics-wise is bound not to leave your side, and if you're a beginner this is a good thing because you'll find yourself constantly playing even beyond practice hours.
Sound – there are many kinds of electric guitars and each has its own special sound or effects. You can watch videos of guitar demos to hear what they sound like. It also helps if you also have an idea of who you want to sound like. If your favorite guitarist is more of the "clean" or no effects type, there are many straight-up electric guitars out there, such as the Fender Stratocaster. On the other hand, if you're all for the fuzz and wah effects, a popular choice is the Gibson Les Paul. Do your research and see which electric guitars can make the sound or playing style you're going for.
Comfortable action – action refers to the distance between the strings and the fretboard. An electric guitar should make it easy on your fingers and hands to hit chords. If there's a guitar you're bent on buying but the action is a bit high, you can pay have it professionally adjusted. There's a cost to that however, so it would be best if you find a guitar that's comfortable to play from the get-go.
Manageable weight – weight is also something you need to consider when choosing an electric guitar. It shouldn't be too heavy for you, especially if you're planning on eventually playing it at gigs or busking.
Accessories – along with the guitar itself, you have to consider the accessories for playing it: tuner, cord, picks, strings, strap, amp, gig bag. Some beginner kits would have all of these included, but take note that not all of the items in the kit may be of the best quality and you would often have to upgrade somewhere down the line.
Amp – the amp deserves special consideration since it's essential in playing an electric guitar. The amp affects the guitar's sound, so when choosing an electric guitar you have to choose the right amp for it as well. These two should work and sound well together. It's best if you can get an amp with a line-in or aux so you can play along with your favorite songs, a headphone jack so you can play without disturbing your housemates and neighbors, a built-in tuner and some bonus effects.
What materials are used to make electric guitars?
As with acoustic guitars, there are many kinds of raw materials that go into the construction of electric guitars. For the solid body of electrics, well-seasoned hardwoods such as mahogany, ash, maple, alder and walnut are the most common. Some electric guitar bodies are made using plexiglass and other materials.
Wood is also used for the electric guitar neck. Some of the most popular wood types for the neck are ebony, rosewood and maple. Other materials used to make electric guitars are glue for holding the pieces together, nitrocellulose lacquer for the finish and chrome for the hardware such as tuning pegs.
What is a good size and shape for an electric guitar?
Electric guitars come in various body shapes and sizes. What's interesting about electric guitars is they don't really need a body to make sounds, unlike acoustic guitars. The sound of an electric guitar is caused by the strings vibrating to produce a current, which is then picked up by magnets. This means that the way a guitar is shaped is not relevant to how it sounds.
Though you can play an electric guitar with just a neck with strings and a pickup, the body can be there to provide support for your hands and strap–the body is basically a counterweight. What really matters in an electric guitar are the neck joint, strings, bridge, pickups and scale length, which we'll discuss later.
Ultimately, a good size and shape for an electric guitar is one that you feel comfortable playing. There are some guitar body shapes that are meant more for appearances and not comfort, like the Gibson Flying V. If you're a beginner, it's best to go with a shape and weight that you can play without straining yourself.
As for electric guitar size, there are five main types: 1/4, 1/2, 3/4, 7/8 and 4/4.
The 1/4 size is the smallest with an overall length of 28.875 inches to 31.5 inches. Next is the 1/2 size, which measures 32-35 inches. These first two sizes are generally more suitable for small children. You can also find travel electric guitars in these sizes but these have some limitations because of the scale size.
The 3/4 size has an overall length of 34-37.25 inches, while the 7/8 size measures 36.75-38 inches. The 4/4 guitar is the full size guitar, and it has an overall length of 38-40 inches. The 3/4 and 7/8 sizes are ideal for children and adults with small hands and bodies, while the full-size electric guitar is good for adults and older kids.
Young or petite players would find smaller, short-scale thinline electric guitars lighter and more playable, while others might prefer a full-size electric guitar. Either way, it's recommended to consider a model that curves to fit the size and shape of your torso, one that doesn't make it hard for you to carry and hold it when playing for hours at a time.
Which electric guitar brands are most respected?
There are many guitar brands all over the world but only a few have earned the loyalty and respect of musicians everywhere. Some guitarists have even developed a fierce loyalty for a particular brand or guitar model, not even bothering to try out offerings from other companies. If you're looking for a good electric guitar, you can start by looking at the models from the following brands.
Gibson
Founded in 1894 by Orville Gibson in Michigan, the brand is often credited as having invented archtop guitars by making the same kind of arched, carved tops used on violins.
The height-adjustable bridge and the adjustable truss rod, two of the most significant innovations in guitars, were also developed by Gibson, particularly by employee Ted McHugh. Up to now, all Gibson guitars have truss rods that are based on McHugh's design. Gibson's first electric guitar was called the EH-150, introduced in 1935.
Fender
Another respected and highly popular brand, Fender was founded by Clarence Leonidas 'Leo" Fender in California in 1946. It was in 1950 when Fender introduced the Esquire, a single and dual pickup solid body electric guitar. The first batch of 50 didn't have a truss rod. Fender received orders for the guitar, but before production began, the guitar was modified with an adjustable neck. It was renamed the Broadcaster, then renamed again the following year to the Telecaster.
PRS
PRS was founded by Paul Reed Smith in 1985 in Maryland. Before establishing PRS Guitars, Paul was already making guitars. In 1976 when he was 20 years of age, Paul built a guitar for rock musician Peter Frampton. PRS eventually bought the guitar back, and you can now see Frampton's '76 PRS at the company's museum in its factory in Maryland.
Ibanez
Ibanez is based in Nagoya in Japan. It was founded by Hoshino Gakki way back in 1908. The company actually began as a sheet music store before it became a distributor of music products. In the late 1920s, the company started selling guitars with imported classical guitars originally produced by renowned Spanish guitar maker Salvador Ibáñez.
In the 1930s the company began to make its own guitars, adopting the guitar builder's name. Though its early guitars were of original design, they were of low quality. Eventually Ibanez shifted to making high-quality replicas of guitars from American brands before finally making its own designs, such as the solid body Artists guitar.
ESP
Another Japan-based company, ESP was established in 1975 by Hisatake Shibuya in Tokyo. ESP stands for Electric Sound Products–the company was initially a maker of replacement parts and components for electric guitars and bass guitars. ESP also customizes guitars.
When American hard rock guitarist George Lynch went to Tokyo for a tour in 1986, he found out about ESP when he looked around for a replacement part. He also learned that the company customizes guitars, so he had one made for him: the ESP Kamikaze. Lynch has become one of the company's signature artists.
Gretsch
Founded by Friedrich Gretsch in Brooklyn in 1883, Gretsch is perhaps the oldest guitar brand that's still up and kicking today. Friedrich established his shop initially to make drums, tambourines and banjos and it quickly made profit. Friedrich was only 39 when he died in 1895, leaving the business in the young but capable hands of his son Fred, who was only 15 years old at that time.
Fred ran the family business and soon became of the leading manufacturers and importers of musical instruments in the United States. It was in 1939 when Gretsch introduced its first electric guitar, the Electromatic.
Which electric guitar is best for beginners?
There are many guitar models that are suitable for beginners. Two of the most highly recommended are the Epiphone Les Paul Special-II and the Squier Stratocaster (short-scale) from Fender.
Epiphone offers the Les Paul Player Pack, which features the Les Paul Special II-LE guitar that has two classic humbucker pickups and comes with a 10-watt Electar guitar amp. The package also includes a guitar strap, gig bag, medium picks and a chromatic tuner that can be clipped on the headstock. A great bonus for beginners are the free downloadable guitar lessons covering various genres, from folk, rock and blues to country, metal, hard rock and everything in between.
Fender's offering for beginners, the Squier Strat Pack comes with everything newbies need. The included guitar is a short-scale 24-inch lightweight Stratocaster, which provides a comfortable playing feel–great for players with smaller hands. The package comes with the Squier Frontman 10G amp with a headphone jack as well as an aux input to let beginners play along with their favorite songs and/or backing tracks. The kit also comes with a cable, picks and guitar strap.
What is a good fretboard material for an electric guitar?
Unlike the guitar body, the fretboard or the fingerboard can have an impact on how an electric guitar sounds. The following fretboard materials are ideal for electric guitars:
Ebony – generally the darkest fretboard wood, ebony is favored by guitarists for its clear and crisp attack. Whether it's a very well-defined and tight low-end or a bright and sharp top end you want to hear, ebony is the fretboard material for you.
Maple – similar to ebony in sound brightness, definition and crispness, maple is the material of choice among guitarists who want a brighter tone.
Rosewood – the most common fretboard material, rosewood gives electric guitars a warm and rich tone–not for guitarists who want a crisp attack at the high end.
Granadillo – granadillo from Cuba is similar to rosewood but with a more orange-y color. You'll find this wood on some Gibson guitars.
Richlite – Richlite isn't wood–it's a material made from resin-infused paper. Richlite is stain-, heat- and scratch-resistant and it doesn't expand, contract or warp in any way. Richlite fretboards are extremely durable too, unlike those made from wood. Neck bow issues and loose frets are less likely to happen on guitars with this material.
Where are electric guitars usually made?
Electric guitars are usually made in the factories or workshops where the company, custom shop or guitar maker is based. Some U.S. companies also produce guitars offshore in countries such as China, Indonesia, Malaysia, South Korea, Canada and Mexico. There are companies that have the parts made elsewhere then assemble the guitar in their home factories.
For example, Gibson's Epiphone-branded products are made in China, like the Epiphone Les Paul Standard. It's the same for Fender's Squier brand (and some Fender-branded products). Fender also has a factory in Mexico.
Is the neck material important?
As mentioned earlier, you can play an electric guitar without a body, but you can't play it without a neck. When it comes to electric guitars, the neck is the star. It plays the main role in electric guitar tone because most of the strings' vibration is supported by the neck, making the neck material important. The neck's density, shape and construction, resonance, thickness and headstock influence the tone of the electric guitar.
What is a hollow body electric guitar?
A hollow body electric guitar is a guitar that has a hollow body much like an acoustic guitar. It has a greater resonance and produces full, rich tones with a deep bass response. Hollow body guitars usually feature an archtop. Because of these qualities, hollow body guitars are usually favored by jazz guitarists.
What is a semi-hollow body electric guitar?
Similar to the hollow body, the semi-hollow body electric guitar also has good resonance. Construction-wise, it has a solid center wood block to increase sustain, cut down on feedback and add stability. Semi-hollow electric guitars are a favorite among blues players but they can be great for different genres, from jazz to punk rock.
What is a solid body electric guitar?
The most common electric guitar body type is the solid body, called such because it's made from a single, solid slab of wood. Solid body guitars don't have as much resonance as hollow-body models. However, they can be fitted with multiple pickups and a variety of electronic options.
What are lap and pedal steel guitars?
The lap steel guitar is called such because it is typically placed on the lap for playing. A seated player can also place the instrument on a small table or stool in front. The strings of the lap steel guitar are not pressed to a fret–a metal slide called a tone bar or steel is used to change the guitar's pitch. Because this method of playing restricts the number of chords that can be played, music for this guitar often has a restricted set of harmonies, another single part or melodies.
There are three main lap steel guitar types: lap slide guitars, resonator guitars and electric lap steel guitars. Electric lap steel guitars were initially marketed as electric Hawaiian guitars. Electric lap steel guitars usually have six to ten strings.
A pedal steel guitar is also played using a bar that slides up and down the strings to change the pitch. The bar, which is made of stainless steel, is what gives pedal steel guitars their silky tone. These guitars are not strummed–players wear picks on their right thumb, index and middle fingers and pluck the strings in groups of three. The pedal steel guitar lets players access many different chords and scales via pedals and knee levers that are controlled using the feet and the sides of the player's knees. The right foot controls the volume.
What are electric guitar pickup configurations?
The pickup on an electric guitar is what creates the sound–technically, pickups are a type of transducer, which means they convert one type of energy to another. Pickups translate the guitar strings' vibration into a signal that can be run through an amp and speakers. The two main pickup types are single-coil (S) and humbucker (H).
Most electric guitars are equipped with two or three pickups although some models may only have one, or more than three. A combination of pickups is called a pickup configuration, and this has an impact on the tone and sound of the guitar. The configuration is notated by using S and H and is written in order from bridge to neck pickup.
The most popular pickup configuration include S-S (Fender Telecaster), S-S-S (Fender Stratocaster), H-H (Gibson Les Paul), H-S-S (Fender HM Strat), H-S-H (superstrats). Less common configurations are S (Fender Esquire), H (Gibson ES-165 Herb Ellis), H-S (Squier '51), H-H-H (Ibanez PGM200). There are also rare pickup configurations that are used by a few particular models.
What is scale length?
The scale length refers to the measurement of the distance between the guitar's nut and bridge saddles. It is calculated by measuring the distance from the front edge of the nut to the center of the 12th fret, then doubling that figure.
The scale length has an impact on the guitar's tone. A guitar with a longer scale, which has a greater spacing, yields a tighter low E and greater chime and shimmer. Electric guitars with a shorter scale produce more closely packed harmonics and more thickness and warmth tone-wise.
What is a good guitar bridge type for me?
Electric guitar bridges have a significant impact on the sound the instruments make. There are several types of them, each with its own effect, so choosing the best one for you would depend on the kind of music you plan on playing the most. Here's a look at the four major types of electric guitar bridges.
Fixed bridge – also called a hard-tail bridge, this is the simplest electric guitar bridge type on modern guitars. It's basically just a metal plate bolted on the guitar body and needs minimal attention once it's set up properly. At the top of the plate are six adjustable string saddles, which are used to set up the guitar's string height and intonation. A fixed bridge It holds a tune well because of its simplicity and it's also the easiest to maintain, making it a good choice for new guitar players.
Tune-O-Matic – by nature, this is a fixed bridge but it's done a bit differently. Aside from the string saddles, this bridge also has two main adjustment posts that can adjust the entire bridge height. This bridge design is lauded for its great sustain and tuning ability. This is also a good choice for beginners as it requires no further tweaking and tinkering one properly set up.
Synchronized tremolo – similar to a fixed bridge but is operated using a tremolo bar that decreases and increases string tension. The problem with this design is that prolonged use of the tremolo bar (or whammy bar) will result in the guitar going out of tune constantly, requiring frequent tune-ups. This bridge design involves a bit of a learning curve to master.
Floyd Rose – an upgraded and more complex version of the synchronized tremolo. This bridge system addresses some of the issues of the synchronized tremolo design through its locking nut and locking bridge mechanisms, which make the guitar stay in tune for a longer period. This bridge system is generally not recommended for beginners because of its complexity and maintenance.
The bridge type to get would depend on the guitar as well as the genre or style you want to play. A fixed bridge is good for beginners–you can always upgrade to a Floyd Rose later on, anyway.