Can you have a Fender even if you're just a beginner guitar player? The answer is a resounding YES.
Many people think that a Fender (or other big-name brand) guitar is better suited for professionals. And that a Fender guitar is extremely expensive for beginners. Well, they couldn't be more wrong.
Take the Fender FA-100. It's a dreadnought acoustic that's highly recommended for those learning to play the guitar. Even if you take the "Fender" from its name away, this guitar still delivers. For just $150, you get a well-built guitar with great playability and tone, along with all the accessories you'll need to get started.
The FA-100 is so affordable you wouldn't think it's from Fender. If you're interested in learning to play the guitar, the FA-100 could get you started on your musical journey straightaway.
Here's a look at what it offers.
Specs and Features
The Fender FA-100 acoustic guitar has a 25.3-inch scale length. This full-size dreadnought has a laminated spruce top, rosewood fingerboard, basswood back and sides, C-shaped maple neck and a rosewood bridge with synthetic bone compensated saddle and die-cast chrome sealed tuning machines. The nut is made of synthetic bone and measures 1.65 inches. The guitar comes with Fender Dura-Tone coated phosphor bronze strings.
Spruce is commonly used as the tonewood for acoustic guitar tops because of its strength. It also gives a bright sound and dynamic range, and it is perfectly suitable for any acoustic playing style because of its responsiveness. The X bracing underneath the top adds to the guitar's stability and projection. A sturdy guitar is just what you'll need to power through hours upon hours of practice.
The 20-fret rosewood fingerboard and the rosewood bridge give the guitar a striking appearance. The dark wood provides a good contrast against the lighter-colored spruce. But it's not all about the looks, however. Rosewood is known for providing excellent tonal quality and a smooth feel when playing. It's also mighty strong, which aids in keeping the strings in tune.
The Fender FA-100 has a low string height, which means the strings are very close to the fretboard. This contributes to the guitar's easy and fast playability. Your fingers won't have to press down so hard on the fretboard when playing chords, which can be painful when you're a beginner. This low action lets you play comfortably for hours.
Fretting will be an effortless and more enjoyable affair, which greatly helps in keeping you motivated to improve your guitar playing skills. And if you need to make some changes to the neck and string action, it's easy with the hex adjustable truss rod.
The body of the Fender FA-100 sports a shiny polyurethane gloss. A concentric ring pattern for the rosette, black pickguard as well as pearloid dots on the fretboard add a nice classic touch. It's available in Natural, Natural Satin, Black and Sunburst finishes. Nothing flashy, but that doesn't mean the guitar won't blow you away.
The FA-100 Acoustic Pack comes with medium picks, an extra set of strings and a padded nylon gig bag for safe storage and transport. Fender also included a electronic clip-on tuner and a Fender strap to make holding the guitar easier when standing. The strap buttons are already installed so you just need to clip the strap on.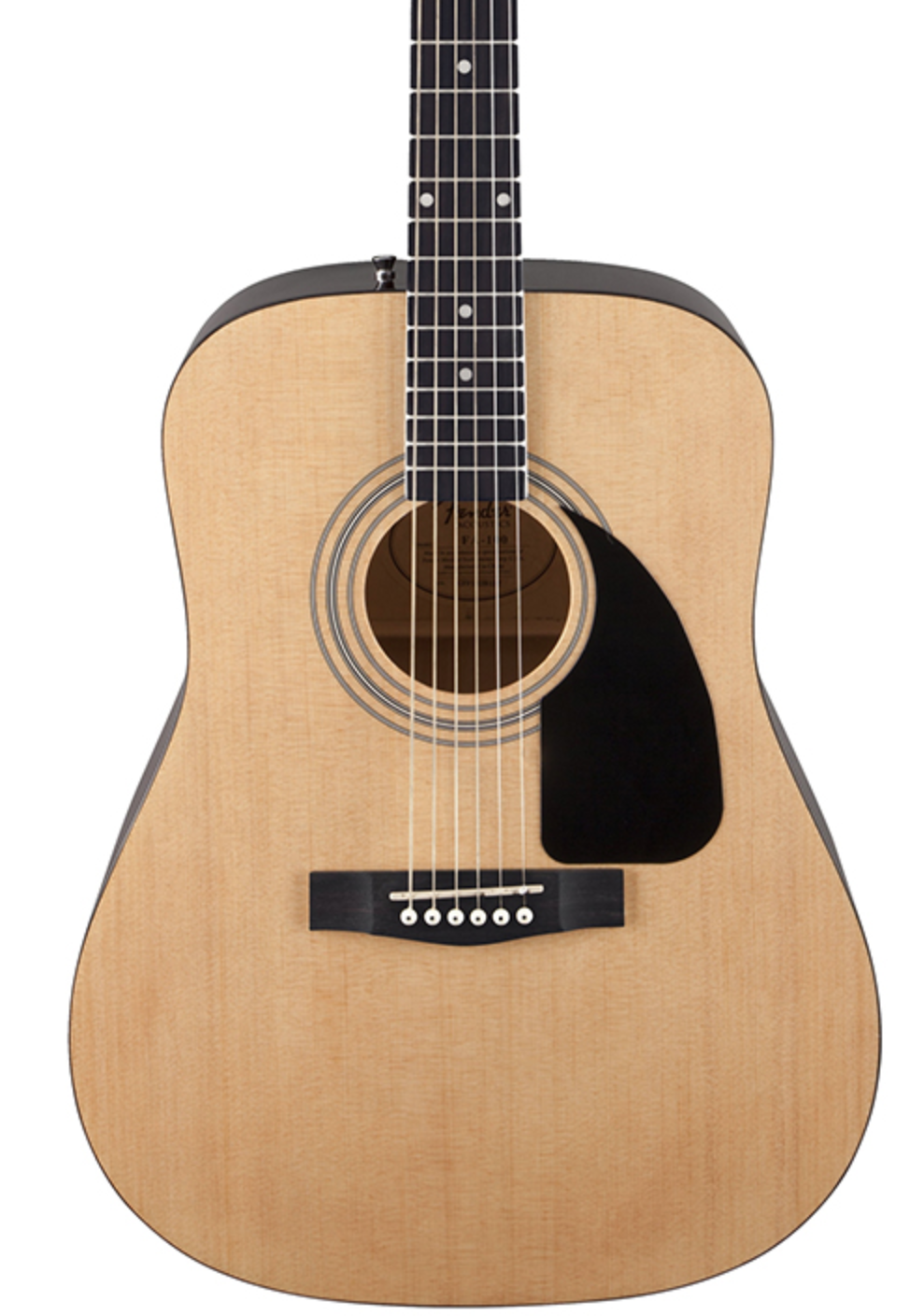 Sound Quality
The physical setup of the FA-100 is crucial in how it sounds. Because it's sturdily built using quality materials, after being properly tuned it manages to stay that way for a longer time than other entry-level guitars. The combination of spruce and rosewood gives the guitar a great sound with a bright, warm and resonantly rich tone.
There is very good projection thanks to the tonewoods and the X bracing. Notes and melodies are also articulated clearly, helping beginners develop an accurate "ear," which makes the learning process faster. It actually sounds like a more expensive guitar. It can get a little buzzy around the higher frets, so a little truss rod adjustment is in order if you encounter this issue. No biggie for beginners, really.
The overall tone of the FA-100 is just right for an acoustic guitar, leaning toward a mid-to-low sound. For an acoustic in its price range, it's definitely impressive. It has a nice full sound when strummed and it also does well in articulating individual notes. The sound quality and sustain may not be that incredible (the guitar's got a laminate top after all), but as a beginner instrument it gets the job done.
The responsive spruce top makes the guitar suitable for beginners trying out different acoustic playing styles. Whether you're learning hard strumming patterns, developing speed for flatpicking or concentrating really hard on songs that require delicate fingerpicking, this guitar's got your back.
Why buy the Fender FA-100?
Budget acoustic guitars for beginners would often have a reputation for breaking easily, constantly going out of tune, sounding muddy or all of the above. The Fender FA-100 breaks away from that mold with quality that rivals that of guitars twice its price.
The Fender FA-100 is one of, if not the best option for budget- and quality-conscious beginners.
It's not easy finding an acoustic guitar that offers the kind of quality the Fender FA-100 has for $150. This is what makes the FA-100 a keeper and a good starter guitar. Of course there are lots of other guitars out there that are better-sounding than this model, but again for that price the FA-100 can't be beat.
The Fender FA-100 would also appeal to intermediate or professional guitar players. These are the ones who may already have a number of guitars in their arsenal but would still appreciate having an all-around acoustic they can fiddle with at home or take to the beach without worrying about cosmetic damage. The FA-100 fits the bill as it's not expensive but still sounds good. Fender wouldn't have it otherwise.
Here's our tip for beginners: learn to play the guitar with the FA-100, hone your skills and develop your playing style. You'll know when you're ready to buy your next guitar, one that will be a better fit for the musician you've become.