Disclosure: We are a professional review site that may receive compensation from the companies whose products we review.
GuitarTricks is undoubtedly one of the most famous guitar lesson platforms on the internet. With seven years of history and 2.8 million registered users, it's a standout choice for beginner and intermediate players looking to sharpen their skills.
But since GuitarTricks first launched, a flood of competitors has entered the market. I'll break down each feature of GuitarTricks in depth, explaining how every platform stacks up and showing what sets GuitarTricks apart from the rest.
Guitartricks Guitar Lessons Overview
Beginner Lessons
The beginner curriculum is built for players with absolutely zero prior experience on the instrument. it's perfect for anybody who's been meaning to pick up guitar but has never gotten around to it. If you're not even sure how to get comfortable sitting with a guitar or how to hold a pick, GuitarTricks' beginner system is where you should start.
From those first steps, you'll progress through the platform's "Core Learning System." It's a comprehensive curriculum designed to take completely new players through a set of lessons on fundamental guitar techniques, guitar care, and simple, easy songs.
Each lesson consists of a series of videos, each one focusing on a small topic: for example, learning how to hold the guitar or picking a basic melody on two strings. Usually, these videos stretch only 3-5 minutes long, although there can be anywhere from 10 to 30 or more videos in a lesson sequence.
Lisa McCormick taught the entire beginner sequence, including both of the "Guitar Fundamentals" tracks. I liked how she focused on building melodies and chords from the very beginning of the sequence, and using those tools as a portal to explore more "dry" techniques. This ordering kept the program engaging without ignoring basic music theory.
I also love how it reduces the bar to entry for players who have no prior experience. Lots of platforms offer 20-30 minute lessons for brand new players, which can discourage them and make it difficult to continue. Lisa's videos were always short and easy to digest.
That extra focus on the beginner guitarist is one of the reasons why I consider GuitarTricks the best platform for completely new players. To grow effectively without burning out or sacrificing theory, it's important to find a platform that's tailored to your needs. GuitarTricks is among the top guitar lesson providers for beginners in that regard.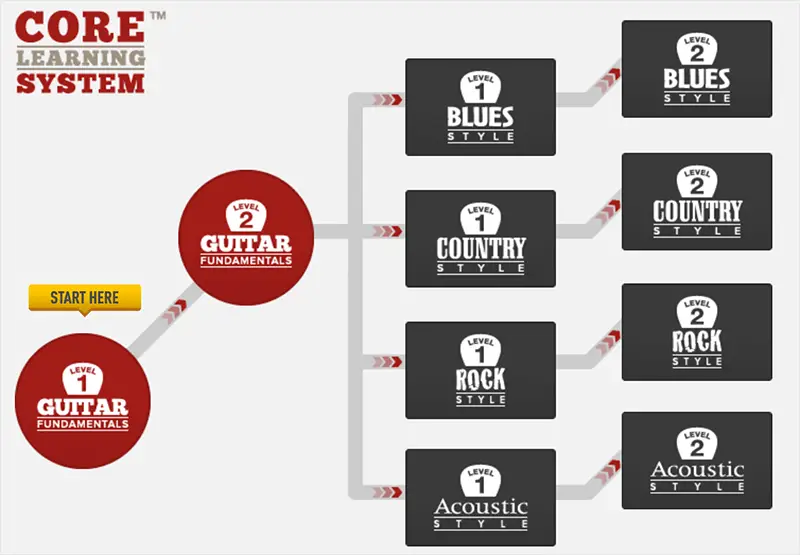 Intermediate and Advanced Lessons
After the beginner portion of the Core Learning System, GuitarTricks continues with a set of advanced genre pathways. These lesson collections help you make deeper progress on a specific genre that you'd like to focus on.
The four main tracks cover rock, blues, country, and acoustic guitar. You can pick any one of these sequences to emphasize, or work your way through all four over time. By the end of a track, you should be able to play standard songs in that genre and keep up with other players in a basic jam session.
These intermediate lessons provide a great bridge from the beginner lessons to the more complex, difficult material in some of the end lessons and songs. I enjoyed the pacing, because each lesson series felt smooth and well-organized.
However, the advanced lessons do falter a tad if you want to play outside of the genre tracks. While many of the genre-specific lessons do provide advanced tips, I had trouble finding a comprehensive advanced curriculum on the GuitarTricks platform.
When I wanted to study improvisation and jazz guitar, I found only one set of lessons dealing specifically with jazz lead guitar. Even out of these lessons (totalling 15 videos), only a couple touched on forming improvised lines and building your vocabulary for solos.

Within the lessons themselves, the licks sounded focused and competent — I added a couple to my own repertoire, and any guitarist playing these might be able to get along at a jam session. Thankfully, they're still easy enough for beginners to pick up without a ton of previous experience in jazz.
However, I thought some of the instruction around them was lacking. The lessons didn't offer a coherent way to put them together into solos, or use the licks over different keys. Beyond that, the lessons didn't give players a lot of help for transcribing their own solos or building new licks on their own.
These are both essential skills to get jazz guitarists developing beyond the given lessons — so I was a bit disappointed to not see these skills covered. A more cohesive advanced curriculum might have provided the missing context and given players more tools to continue progressing once they finished all of the videos.
One exception to this rule is the metal genre. The lessons for metal were more in-depth than some of the other genres, and they covered topics like sweep picking which are absolutely essential. Rhythm guitar is also very important for metal, and the lessons with Dave Celentano and Don Madison were outstanding introductions to some advanced metal rhythm techniques.
Genre Lessons
Beyond the lessons on the beginner and intermediate tracks, the platform branches out into a series of 12 different genres. Each one offers its own lesson plan to teach you the fundamentals of the guitar style and easy ways to play guitar in that vein.
I enjoyed the basic courses across rock, blues, acoustic, and country guitar. By the end of the rock course, for example, I learned some basic lead lines and had a good grasp on playing rhythm with power chords. Anders Mouridsen's lessons here were great — he focused a lot on incorporating styles like metal, southern rock, and punk along with more traditional rock 'n roll playing.
In particular, the country sequence was a great primer on basic techniques and lead guitar skills. J.D. Jarrell covers most of the country genre lessons. I found his lessons informative and straight to the point, and his teaching style was calm and relaxed.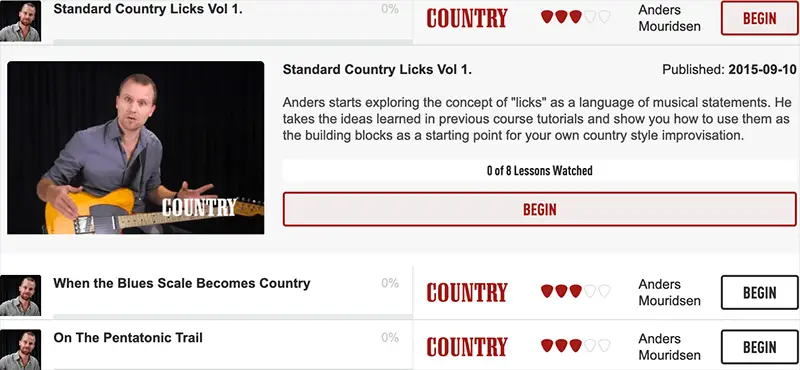 However, some of these lessons overlapped with Anders Mouridsen's country lessons in the intermediate country track sequences. There were multiple sequences on chicken picking and lots of work on bending and pentatonic licks, for example.
While having the extra lessons was helpful to nail these concepts, I would've liked to see J.D. Jarrell's lessons branch out to cover more new ground. Because I found his teaching very easy to follow along with, I would've definitely taken any new courses he put out.
Beyond the genre-specific lessons, one other interesting feature is the "Artist Studies" on the platform. These lesson courses examine the signature techniques of dozens of different players, in styles from rock to blues and jazz. If you've ever wanted to sound like AC/DC, Keith Richards, The Edge, or Wes Montgomery, these artist studies are your chance to emulate them.
Skills and Technique
Out of the different pieces of the GuitarTricks curriculum, I found the Skills and Technique lessons very helpful, but also frustrating in a few respects.
Without paying close attention to music theory and mechanical skills, many players hit a "ceiling" and struggle to progress through intermediate to advanced levels. I appreciated the extra focus on technique and mechanical skills as a way to counteract these plateaus.
In fact, as I progressed throughout the GuitarTricks curriculum I found the skills and technique lessons were a necessary complement to the genre lesson tracks. The guitar fundamentals courses gave me a basic overview of chords, major and minor scales, and music notation.
But, I felt there was a slight gap between the end of the fundamentals courses and the start of the intermediate tracks. The specific skill lessons helped me bridge that gap, with courses on different guitar tone tips, bending techniques, and basic theory skills.

In particular, Anders Mouridsen's course on "Tools of Emotion" was a special option that I enjoyed. Rather than focusing on just one mechanical skill, he covered lots of different techniques and tones that you can use to add emotion to your playing. The course taught me how to bend with perfect intonation, how to harness vibrato for emotion, and which pickups to use for different emotions in my playing.
As someone who spends lots of time chasing the "perfect" tone, it was just the course I needed. The technique tips immediately improved my playing, and the broader tone tips gave me some tools that I can use to spice up my sound on stage and when I want to record.
However, I did find the organization to be a bit lacking. Instead of finding skill lessons right next to the genre tracks, I had to navigate to a separate portion of the site to get into the skill lessons. Putting these lessons in a more prominent location next to the genre lessons would've made them feel more integrated, and not like a secondary resource.
Many of the skill lessons were also directly tied to specific genres in the main courses. For example, there was an entire section within the skill lessons devoted to country guitar bending techniques. Moving this into the regular country guitar track or advertising the extra technique lessons there would have helped me find out all of the country resources on the platform. As it stood, I had to spend extra time clicking back and forth to find all of the lessons contained under a given genre.

Song Library
While the standard lesson tracks are great for beginners who need some structure, the song library is one of the main strengths of the GuitarTricks platform. The software offers hundreds of songs in every genre and skill level imaginable — so no matter what you like to play, you're sure to find a set of cool tunes in the library!
The core of the library focuses on famous artists from the history of the electric guitar. Rock, blues, and pop are represented well here, with lots of artists from the 60s all the way through the 1990s and 2000s.
The breadth of songs was outstanding, with both famous and lesser-known tunes spanning rock, blues, acoustic, country, jazz, metal, and more. There were a lot of tracks by famous artists like the Beatles, Ed Sheeran, Coldplay, and Bob Dylan — but you could also find some songs by lesser-known artists like The Meters or The Yardbirds, and even some classical tunes by Beethoven, Paganini, and Chopin.
GuitarTricks releases new track breakdowns on a regular basis, usually daily or weekly. These still tend to focus on older guitar-based songs, rather than brand-new releases which don't incorporate guitars as much. However, there are some songs by artists like Rihanna and Sia on the platform, which were perfect for players who want to copy fresher songs.
I particularly loved how the instructors took care to break down every single feature of each song, and create their own solo versions. While playing tracks with bandmates is fun, many players need to be able to play a song on just one guitar. For songs where the full arrangement needed two or more guitars, most instructors offered a solo version as well.

The lesson for the track "Band on the Run" was a perfect example. Originally written by Paul McCartney, it's a complex song which moves through three distinct sections as it progresses. It's a tough song to play accurately, even with multiple guitars — so I was excited to see how the GuitarTricks instructors tackled it.
The song lesson contained 14 (!) different videos breaking it into four different guitar parts. The rhythm and lead licks stayed separated into different parts, which helped keep things clean and organized.
I also appreciated how Mike Olekshy, the instructor, combined multiple sections into a one-guitar track at the end of the lesson. The solo version switched between some of the other parts as the song progressed (moving from "guitar 1" to "guitar 2," then back to "guitar 1" and finally to "guitar 3"). Because I had already learned each of these parts, it was a breeze to put them together into one track like this.
Having both of these versions helped me maximize my knowledge of each song without sacrificing playability. When I wanted to cover every aspect of a song, I could look through the detailed lessons and break down each passage. If I just wanted to switch up my practice routine or learn a melody and some chords, I could watch the solo lesson video for a quicker experience.

Instructors
Across the entire system, GuitarTricks offers dozens of different instructors to help you get the most out of each video. The site's lineup includes instructors with decades of experience across different genres of music.
Lots of teachers have played music professionally, and many of them have gone on large tours across different states and countries. Out of all the instructors, I particularly enjoyed the teaching styles of Anders Mouridsen and Ben Lindholm.
Mouridsen has one of the most impressive resumes on the site — he's worked with artists ranging from John Fogerty (of Creedence Clearwater Revival) to Pink and Taylor Swift. Over the course of his career, he's performed on songs and albums nominated for Grammy awards and played live on national television.
His courses, like the "Tools of Emotion" course I mentioned above, focused on some broader themes that I thought gave me valuable perspective. He had a knack for conveying the essence of big concepts like "playing with emotion" and emulating the styles of specific players. While not all of his courses were perfect (like the David Gilmour artist study), on the whole I really enjoyed his approach to the guitar and found him both knowledgeable and approachable.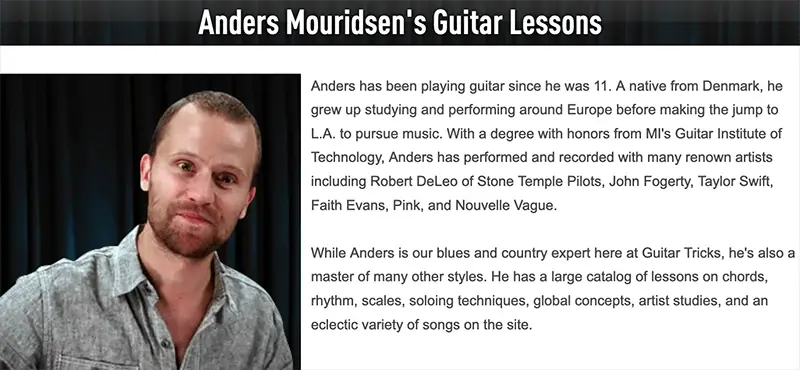 Ben Lindholm was another outstanding instructor. His course on tapping was informative and broke down a complex concept into a structure that was simple and easy to understand. I've always struggled to tap effectively, and his course showed me the role of both hands in a fresh light.
Beyond those two instructors, I also appreciated some of the many country courses offered by J.D. Jarrell. His country lessons were welcoming and easy to follow, and they cut straight to the point. I appreciated how they stayed focused and informative, even as he moved from beginner lessons to intermediate and advanced country topics like bending, double stops, and more.
Each course is taught with one instructor, so you get a seamless, consistent experience from start to finish. This system also keeps the structure of each course cohesive; each one is written by one instructor with a focused vision.
However, the platform is large enough that you can find instructors with pretty much any teaching style you want. Whether you prefer simple, bite-size lessons or teachers with a lot of music theory knowledge, you'll be able to find them.
Lesson Structure
Most GuitarTricks lessons range from 5 to 10 minutes long, with a couple covering longer explanations of a concept and some short, 3-minute clips. I like the average lesson length for most situations, but there are a few areas where the structure could help out players a bit more.
At the start of the curriculum, most of the lessons are fairly short. Videos over 10 minutes long aren't very common, and a lot of the clips are under 5 minutes as well. In fact, almost all of Lisa McCormick's beginner lessons in the first couple sequences ran just three or four minutes long.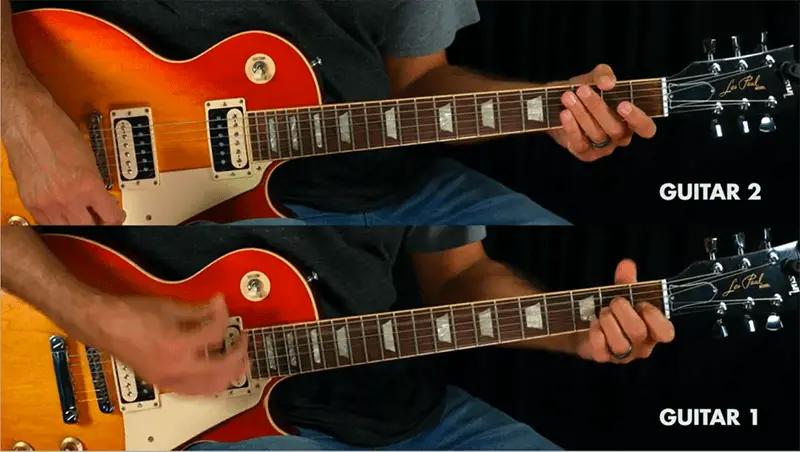 For the first few sequences, I thought the shorter videos worked well. Shorter lessons are much easier to digest than long 30-minute videos, and they often help new players progress quickly. They're also more exciting — I love how the quick video lessons give me tools to improve my own playing without dragging on or getting bogged down in unrelated topics.
As I moved through the curriculum into more advanced lessons, the videos started to get longer as well. Instead of 3-5 minutes on average, lots of lessons grew to 5-8 minutes, and a couple even cracked 10 minutes in length. Beyond the "guitar fundamentals" courses and the genre-specific tracks, the lessons covered more depth in each one.
Overall, I thought these mid-length lessons offered enough depth to keep me engaged, without bogging down and collapsing into long, winding tangents. As a player with a shorter attention span, I appreciated how GuitarTricks kept everything very focused and collected. Structuring everything in bite-size pieces made it easier for me to pick out each concept individually, while still preserving a good overall feel.
That said, sometimes I did find myself wishing for a more comprehensive, in-depth look that covered all aspects of a topic. The 5-6 minute video lessons were great for specifics and small focused tips, but most of them covered just one or two licks or gave a brief exposition of a deep concept.
If you want a more comprehensive perspective on topics like music theory, improvisation, and advanced rhythm playing, in-depth lessons are your best bet. By laying out each concept in greater detail, they give players a stronger foundation and more tools to apply a given concept in their own playing. Of course, they're not quite as fun to watch — so it's important to strike the right balance!
Overall, I thought GuitarTricks offered enough of these longer lessons to keep advanced players happy, although there were a few opportunities where they could've gone more in depth to help explain all the aspects of a given concept.
The "Artist Study" courses were a major missed opportunity here. These courses ranged from 8-15 videos or so, with most of the lessons clocking in between 5-10 minutes long. On most of the courses, I enjoyed the teaching style — for example the David Gilmour artist study with Anders Mouridsen was clear, focused, and helped me integrate his concepts into my playing.
But while the extra-short videos gave me a few riffs I could use to sound like David Gilmour, they didn't provide a comprehensive overview of his style, or really walk me through the different playing styles he used at different points in his career. I think these issues might have been remedied with a few longer lesson videos to dig deeper and provide more overall structure.

User Interface
As I touched on above, the user interface is a big selling point for GuitarTricks. Many other online guitar platforms seem cluttered and a bit ugly, without a lot of care put into organizing and streamlining the interface for new players. Worse, some platforms don't provide any content to enrich the lesson videos themselves or help users follow along with the presentations.
I liked how GuitarTricks' user interface was clear and intuitive. There was a lot of information on each video, but I felt that it was presented as clearly as could be. The video screen was prominent in the top left corner, and it often included multiple camera angles so I could see both of the instructor's hands as well as a broad overview shot.
Along with the video itself, I thought the tabs accompanying it were a major bonus. When I missed a note or couldn't quite grasp what the instructor was saying, the tabs made it easy to follow along and keep pace with the lesson.

Overall, these tabs had a noticeable impact on the feel of the lessons. Because I didn't need to constantly rewind each video to grab every note, I felt a lot less stressed and made much more progress without getting bogged down.
Some past YouTube guitar lessons I've taken have suffered from this problem without tabs: instead of progressing smoothly, I felt stuck and lost interest in the material because I needed to constantly rewind the video. Having the tabs there to look at and download made for a much better learning experience, right out of the gate.
Beneath the video player, you'll also find a detailed map tracing where you are on the site. This helped me stay focused on the lesson at hand without getting lost in a "rabbit hole" down the sitemap.
Extra Features
Along with the core curriculum, song library, and advanced lesson packages, the GuitarTricks platform includes a host of extra features. While these might not be the first thing you think of when you search for an online learning platform, they round out the user experience and set GuitarTricks apart from its competitors.

The "collections" tab is one great extra feature that's perfect for inexperienced players. If you want to focus on a specific style of guitar or learn tunes from classic eras in music history, these collections are the best place to start.
They include lots of different lessons and song tutorials, organized into different collections based on a common theme. These themes range from British Invasion songs to 80s classics and famous movie and TV themes.
If you want a more theory-intensive collection, there are also groups of songs based around specific triads, chord inversions, and other basic techniques.
For working outside of structured lessons, the "toolbox" page was another great resource. This section of the website compiled a series of tools that guitar players often need, ranging from small accessories and minigames to major practice aids.
The smaller tools included a tuner, metronome, and fretboard diagram with every note name laid out. While these aren't revolutionary, I found that they saved me a lot of time in between lessons and jam sessions. The included backing tracks were helpful to play over, although they could sound a bit robotic at times. However, I felt they were a great way to practice my improvisational skills in a low-pressure setting.

Value
For $20 a month, I think GuitarTricks is certainly one of the best values for students looking to learn guitar. You'd be hard-pressed to secure a good teacher for one lesson in-person at that price — and with so much content on the site, a GuitarTricks subscription will get you a lot further than a traditional teacher for the money. Obviously, you won't get the same kind of personal one-to-one experience that a private tutor would offer but you will be exposed to so many more teachers of higher quality that this really is a no brainer for the budget conscious learner.
If you've never played guitar before, getting access to over 11,000 videos is the perfect way to get off the ground. With GuitarTricks, I think you can progress more quickly and spend less money than you would with a classic lesson once every week and also have the advantage of being able to dip back into the content as well as replay and review it whenever you need to.
However, if you've been playing for a year or two, you might not get as much out of the platform. The lessons aren't very organized beyond the first genre tracks, and there's no standard "curriculum" for players who have already passed beyond the intermediate lesson sequences.
If you need to sharpen advanced techniques and want to get better at concepts like improvisation, an in-person teacher might be more flexible and keep you more organized towards your goals. For such a low price, GuitarTricks might be a good supplementary option, but I wouldn't feel as confident relying on it alone for an advanced guitar curriculum. If a one-to-one teacher is out of your budget, then Jamplay might be a better option.

Bottom Line
Overall, GuitarTricks is one of the biggest names in the online guitar world. It's clearly earned its success — and with one of the largest user bases anywhere at 2.8 million registered users, it's poised to maintain a strong following in the years to come.
I think GuitarTricks is one of the top online lesson sites for beginners who are looking to pick up the guitar for the first time. Its Core Learning System is clear and streamlined, while still providing outstanding depth. Overall, the curriculum strikes a good balance between depth and pace, with thoughtful instructors that get the most out of every minute.
Outside of the structured tracks, GuitarTricks provides one of the best song libraries on the internet and a solid set of genre- and skill-specific lessons. These features increase the value of the overall package, and make the platform a good fit for more experienced players as well as brand-new guitarists.