It's not every day you get to have singing lessons with a superstar, especially one as awarded as Christina Aguilera. Ranked as one of Rolling Stone's 100 Greatest Singers of All Time, she's definitely got talent, and this really comes through in her Masterclass.
Add to that the fact that you'll have access to over 80 more Masterclass courses from celebrities such as Ru Paul and Neil deGrasse Tyson, and you soon realize that this platform represents incredible value.
That said, the Christina Aguilera Teaches Singing course offers a fairly basic overview of singing techniques. In fact, it's really more of a collection of tips than it is a singing lesson platform. So, if you're looking for a genuine replacement for a vocal coach, this probably isn't it.
If you're keen to learn just how Christina does her thing, in glorious high-def video, read on…
Masterclass: Christina Aguilera Teaches Singing Overview
What's Included?
You get 23 video lessons with Christina; unfortunately, they only average around ten minutes. I personally felt like these 'lessons' were more like 'concept overviews' in which she took you through the fundamentals of singing as opposed to a deep dive on each idea.
Each of the videos has a discussion board similar to YouTube, and I found many of the comments from other users reflected a similar sentiment.
That said, it's important to remember what the Masterclass platform is about, which is bringing together a bunch of professionals to share with you some of their experience, thinking, and strategies. With that in mind, it makes sense that this course takes less of a hand-holding approach, and hence you really have to find your own gems in each video.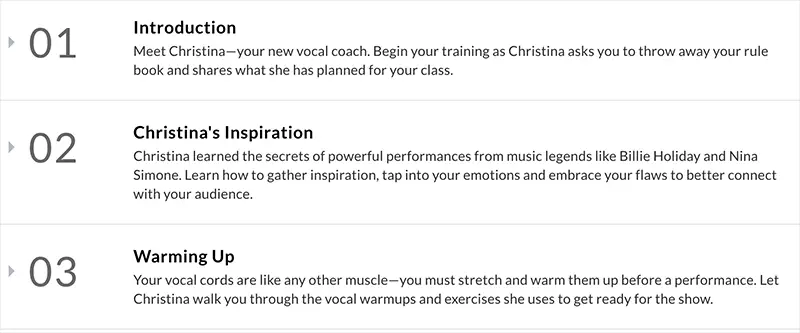 The Courses
Christina's course spans 23 lessons, which total about three and a half hours. The face to face lessons I've done in the past have usually been half an hour, once a week. So that's the equivalent of 7 weeks of lessons. Hardly enough to turn you into a superstar, but a decent introduction to the world of singing nonetheless.
Masterclass doesn't divide the lessons up into categories like some other platforms do, though to be fair at only 23 videos, there's not a whole lot to divvy up. That said, the course does appear to progress through three sections.
The first few videos discuss Christina's inspiration, warm-up techniques, and perfecting your voice. From there, you'll learn about singing in pop and rock genres (which is kind of where her music intersects), before moving into concepts such as range, texture, and tone.
The final few videos are less about singing techniques in themselves and more about everything around singing, covering concepts like performance anxiety, self-expression, and mic technique.
I felt that the course progressed nicely, and that the lessons were well laid out and flowed into each other nicely. I would have expected more 'singing lessons' though, especially considering the course is entitled "Christina Aguilera Teaches Singing." In fact, only 13 of the 23 lessons are about vocal techniques, the remainder being about Christina's journey, mistakes, and inspiration, as well as some helpful advice about being an artist.
User Interface
Compared to some of the other online singing lesson platforms I've seen, this one blew me away. That said, it is Masterclass; they have a certain reputation for this.
The interface feels professional, it's expertly developed, smart, neat, and well laid out. Plus, all of the videos come in Full HD, which is more than can be said for many other platforms. I would have liked to have seen a bit more attention paid to how the lessons were divided up though. From a user experience point of view, I would have found it helpful to separate the 'advice' videos from the 'technique' modules. That would definitely make the course more user-friendly for students who are returning and reviewing techniques.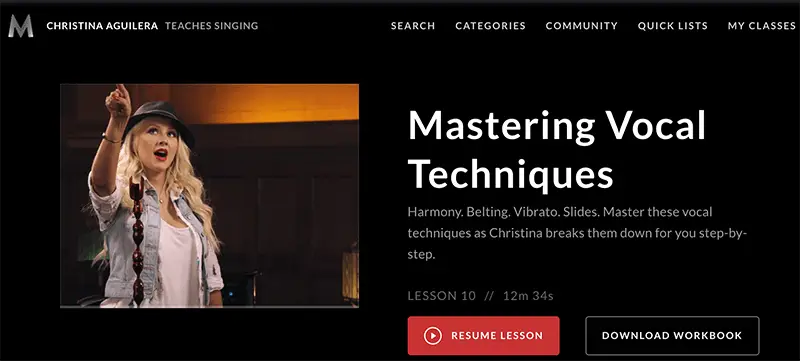 Songs & Styles
As far as style is concerned, you really only get to learn about rock and pop. Even then, the course is pretty limited when it comes to introducing genre, so if you're looking for deep learning on individual genres, look elsewhere.
If you're keen to learn some Christina Aguilera songs, though, you're in the right place. The Masterclass covers four of her most popular tracks:
Say Something
Beautiful
Fighter
Genie in a Bottle
What I thought was really cool about the way this course approaches teaching these songs is the videos are actually of Christina coaching another student. So, you get to see a 'real person' learning and getting one on one feedback from Christina. Sweet!
Tools & Support
Most lessons I've had experience with provide some form of a workbook, but often they are pretty poorly put together. My first guitar teacher used to scribble notes on A4 printer paper with a pencil.
With Christina Aguilera's Masterclass, you get a 46-page full-color PDF Class Workbook. It's got space for your own notes on each page, and a bunch of cutesy motivational quotes from Christina too. Jokes aside, though, the PDF is very well designed, and provides some more in-depth explanations of the concepts she discusses in the videos.
As with all of the Masterclass modules, you have access to a Community section as well, which is kind of like a class message board. I thought this was a pretty cool initiative as it encourages learners to communicate, ask questions, and provide advice to each other. It seems there is some prompting from Masterclass' end in starting threads as well.

Value For Money/Cost
An all-access pass to Masterclass costs $180, so it isn't cheap if you're only buying it for Christina's singing course. In fact, for 23 ten-minute videos, it's really not worth it all, especially since half of them don't even discuss vocal techniques.
But, and it's a big but, that's not the only course you get access to. Masterclass has over 80 instructors, from Carlos Santana to Hans Zimmer to Timbaland. I just watched the Timbaland one too, and it's sick.
So, if you only want to learn how to sing, then Christina Aguilera Teaches Singing probably isn't worth the money. If you want to know if you might want to learn to sing, it presents a decent jumping-off point, plus you get the rest of the Masterclass courses.
Trial Period
Unfortunately, Masterclass doesn't offer any form of trial period currently.
Niche Aspects
Well, the fact that the course is taught by Christina Aguilera is pretty damn niche.
How Does It Compare?
Like I've said a few times already, this program doesn't really live up to the expectation set by some of the other lesson offerings such as Roger Love's Signing Academy or 30 Day Singer. Granted, it's the only online singing program I've seen that's taught by such a high-profile celebrity. Short of that it really offers more entertainment than educational value.
Conclusion – Who Is Christina Aguilera Teaches Singing For?
If you're already considering signing up to Masterclass, then this is for sure one to add to the 'to watch' list.
Just be aware that this isn't the be-all and end-all of vocal coaching platforms. In fact, once you're through with Christina's course, you'll be left wanting more. If you are, that'll show you that you're serious about learning to sing, and you'll be ready to upgrade to a more serious lesson plan like 30 Day Singer.