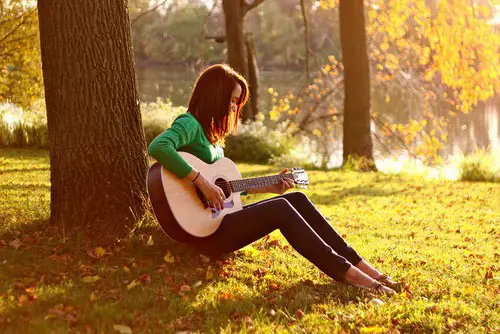 5 Tips For Buying Your First Acoustic Guitar Buying your first guitar involves taking several factors into consideration, such as the kind of music...
5 Tips For Buying Your First Acoustic Guitar
Buying your first guitar involves taking several factors into consideration, such as the kind of music you want to play and your budget. To help you avoid making a hasty decision and purchasing the first guitar you come across (and probably regretting it a few days later), here are our tips for buying your first guitar. If you're thirsty for more info, then be sure to check out our comprehensive acoustic guitar buying guide for the latest in buyer info.
Get the right sound
What music style do you enjoy listening to? More often than not this is also the kind of music you want to play, so get the type of guitar that fits your musical taste. If you like classical, Spanish or flamenco music, nylon-string classical guitars are your best bet. If you're a fan of folk, slow rock, country and pop music, you'd better go with an acoustic guitar. If you like to rock it out with music from the Foo Fighters or AC/DC, there's no harm in starting out with an electric guitar.
Get the right size
Guitars come in all shapes, weights and sizes. For instance, electric guitars may be smaller than acoustic guitars but they're generally heavier. We recommend heading over to a music store to try out different guitar sizes and see which one you feel most comfortable with. Don't rush–really get a feel of the guitar. Trust us, you'll know which one is right.
Get the one you're attracted to
For us, guitars aren't all about the sound–they're about the looks too. If you have a guitar that pleases you appearance-wise, the likelier you are to spend more time practicing or have it always by your side. The better you get at playing, the more you'll want to be seen with the guitar you fell in love with the first moment you saw it.
Get the right string action
String action refers to the measurement of the space between the guitar strings to the top or surface of the fret. If the action is too high, the guitar will be difficult to play and it can get very painful for beginner fingers. Look for a guitar with a low action of about 1-2.7 millimeters for electric and acoustic guitars and 3-3.6 millimeters for nylon-string classical guitars.
If the guitar you really want to buy is a bit high on the action, you can have it adjusted or set up professionally. A proper setup would also include sanding down sharp fret edges, a proper tuning and checking the machine heads. You'll have to pay a little extra though, but the entire process does make your first guitar more playable so you'll enjoy it more.
Compare guitars in your budget range
Your first guitar is an investment you shouldn't take lightly. While you may find plenty of guitars for sale at extraordinarily low prices, be warned that not all of these are of good quality–some can hardly stay in tune, others break easily. If you're a beginner, it's important to have a good, sturdy and reliable guitar right from the start.
When it comes to buying guitars, you get what you pay for. However, there are decent guitars and even beginner kits in the below-$100 range if that's what you can afford at the moment. We recommend reading guitar reviews and watching product demos online to see which guitars in your budget range perform best. You can always move up when you're ready!
Those are our top five tips for buying Guitar No. 1. Remember, take your time in choosing so you'll have a more enjoyable time playing! Once you have figured out which axe you want, be sure to check out Guitar Secret's free online guitar lessons which will come in handy for any new guitarist.