Probably the most widely praised online singing lessons platform out there, 30 Day Singer sets expectations high. And I have to say, it damn well delivers.
I've spent a fair bit of time with different singing lessons, both in-person and online, and nothing else comes close to what 30 Day Singer offers. Except, of course, for the intimacy and student-specific feedback enabled by one-on-one lessons, but 30 Day Singer has a way around that. More on that later…
This has to be one of THE best singing programs on the market as of 2021. It is especially helpful for beginners just starting out who want to go through the basics and improve their singing voice. I tried it for two weeks and could easily see the improvements by the end of it – and I am no Tom Jones.
Let me share with you why I'm so buzzed about this program.
30 Day Singer Singing Lessons Overview
What's Included?
For starters, you get access to well over 300 lessons in Full HD video from a variety of instructors with years and years of experience.
Take Camille van Niekerk for example, a Southern Californian vocal coach with a background in musical theater, having performed roles such as Belle in Beauty & the Beast. Or, Jon Statham (not related to Jason, one assumes), a singer and music producer from Nashville with more experience under his belt than I have watching Transporter movies.
Beyond that, they are ridiculously well-laid out, which, as you'll know if you've read any of my other online singing lessons reviews, is surprisingly hard to come by.
The Courses
When you first get into the 30 Day Singer platform, you'll see the lesson modules are divided up into four sections:
Beginner
Advanced
Singing tricks & techniques
Warm-ups & vocal health
Simple. Straightforward. Unquestionably logical. I'm sold already.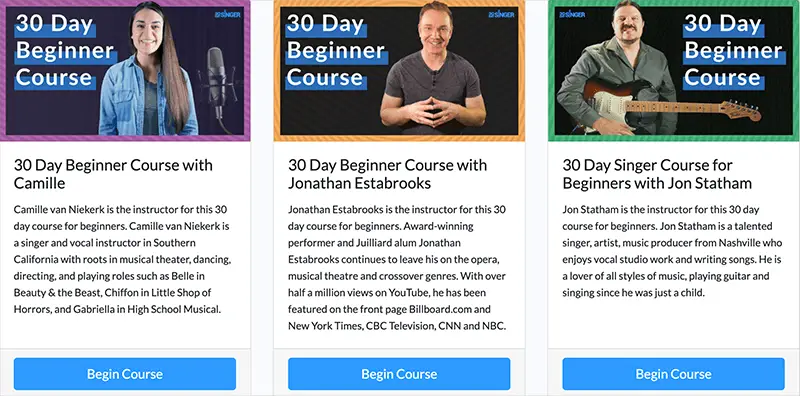 Beginner
This is where I started, and I guess where you should too. Even if you've had some vocal lessons in the past, it's a great way to get a handle for what 30 Day Singer is all about. Plus, it's where the name comes from (there are 30 lessons), so it would be rude not to…
The beginner section allows you to choose between 3 instructors, the two already mentioned and Jonathan Estabrooks, an award-winning performer, and Juilliard alumnus. I told you they were experienced.
From there, the course is divided into 4 sections, about a week long each. The first week is naturally about the foundations of healthy vocal techniques such as posture, breathing, and best warm-up practices. In Week 2, you'll learn about registers, tone, and range extension, before moving into style and extended techniques such as vibrato, belting and runs, in Week 3.
The final week is all about putting it together, covering topics such as live performance, confidence, and growing as an artist.
Obviously, you're not going to go from a complete beginner to an instructor-level singer in 30 days, but you'll be a damn sight closer than you were at the start. Plus, you'll have the necessary tools in your chest to move on to the Advanced level courses.
Advanced
While the Beginner lessons are very regimented and designed to be watched in order, the advanced lessons take a different approach. The 100-something lessons are split into 18 modules which cover topics such as:
Genre – pop, a capella, country, classical, even Christmas songs
Techniques – belting, runs, embellishments
Tutorials – how to sing and play piano or ukulele at the same time
I really admire the logic behind this layout. Keep it straightforward and linear for the beginners, and once the students have progressed through the first 4 weeks, let them choose their focus. If you want to work on specific genres, go for it. Want to be a pop star? Done. There are even lessons on range extension (lower and higher).
Once you get to this stage, you'll be introduced to three more instructors. Don't worry, I won't subject you to their full range of credentials, just know that they are highly qualified.
Most of these modules are only 5 or 6 lessons long, but don't worry, there are plenty more under the Singing Tricks & Techniques header.


Singing Tricks & Techniques
If I'm frank, I'm not entirely sure what the difference is between this section and the Advanced lessons.
There are modules here about range extension, tone, vibrato, belting, and phrasings, many of which are discussed in some capacity in other videos. Regardless, they are just as impressive, and up the lesson count significantly.
Warm-Ups And Vocal Health
When I clicked into this section, I was expecting maybe ten warm-up exercises. I was wrong. In fact, it's more like a hundred. 30 Day Singer doesn't do anything by half; that's for sure…
There are beginner and advanced warm-ups, daily routines, and guides for avoiding bad techniques and removing vocal strain. I'm really impressed by 30 Day Singer's commitment to vocal health, to be honest. It can be super easy for inexperienced vocalists to hurt themselves, so its great to see such attention to detail here.
User Interface
You've probably already guessed that I'm a massive fan of 30 Day Singer's interface. The lessons are well laid out (for the most part), they are fun, they are professional, and the video quality is fantastic.
The only thing I could mention for improvement is better division of the Advanced and Tricks/Techniques modules. I would have separated these out under more appropriate headers such as genre, advanced techniques, singing and playing an instrument, etc. That's just the perfectionist in me, though.
Songs & Styles
Pretty much any style you can imagine is covered here, even Christmas songs! Oh, except for extreme metal, but I don't really think that's their forte.
As far as songs go, I couldn't find any lessons that taught any specific songs, which I guess means you can bring your favorite tunes to the table and practice with those!
Tools & Support
Like many other online singing lessons I've seen, 30 Day Singer has a forum/discussion board where students can discuss any difficulties they are having and receive support from their peers. What was particularly cool was that the instructors regularly get involved and answer student questions.
There's also a blog section that teaches vocal tips such as 'how to sing with more emotion.'
Plus, if you feel you're not quite getting it or you want to ensure you're on the right track (or you're just feeling a little lonely), you can book one-on-one lessons with any of the instructors!

Value For Money/Cost
Unlike most other platforms that charge a flat fee for access, 30 Day Singer operates on a subscription model. That makes it pretty affordable at only $29.99 a month.
Trial Period
As if the low monthly cost wasn't enough to convince you, 30 Day Singer also offers a 14-day free trial.
Niche Aspects
To be honest, I don't really think 30 Day Singer does anything particularly out of the box. It just does everything you expect but better than everybody else.
How Does It Compare?
I'd suggest the above pretty much answers that question for you! The videos are seriously high quality, they are well presented (by all instructors) and easily digestible.
The interface is amazing, and for the most part, very well laid out. There is one other platform out there that compares in terms of the amount of content available, which is The Vocalist Studio. TVS is a very intense program, though, and definitely not as user-friendly as 30 Day Singer.
Conclusion – Who Is 30 Day Singer For?
30 Day Singer is the online signing lesson program to get. It's affordable, it's suitable for beginners and experienced vocalists alike, and it's super professional. Everything you're looking for in an online singing lesson platform.
Disclosure: We are a professional review site that receives compensation from the companies whose products we review.