Disclosure: We are a professional review site that may receive compensation from the companies whose products we review.
We have carefully reviewed and tested numerous sites purportedly offering the best online guitar lessons in 2023 and have managed to sift them down to just six for you to take a look at and possibly try yourself. Take a good look at the six online guitar courses we have reviewed below and make the most of some of the free trials we have found for you before you dive in with two feet. So, without further ado, here are what we consider to be the best online guitar lessons that the internet has to offer.
Online Guitar Lessons Summary
|   | Guitartricks | Jamplay | Truefire | FenderPlay | Artistworks | Jamorama |
| --- | --- | --- | --- | --- | --- | --- |
| Free Trial | 14 Days / 60 Days | 30 Days | 30 Days | 14 Days | No | No - but some limited access to content |
| Mobile Friendly | Yes (iOS and Android) | Yes (iOS, Android, Amazon) | Yes (iOS and Android) | Yes (iOS and Android) | No | Not really |
| Beginner Friendly | Yes | Somewhat | Somewhat | Yes | Yes | Yes |
| Levels | Beginner to Experienced | Beginner to Advanced | Beginner to Advanced | Beginner to Intermediate | Beginner to Advanced | Beginner to Intermediate |
| Types of Instrument | Guitar Only | Guitar and Bass | Guitar, Banjo, Bass, Ukelele, Dobro, Harmonica, and Drums | Guitar, Bass, and Ukelele | Guitar, Bass, Piano, Mandolin, Banjo and More | Guitar (focus on Acoustic Guitar) |
| No of Lessons | 11,000+ 700+ songs | 6,000+ Lessons 600+ Jam Tracks | 820+ Courses 40,000+ Lessons | 500+ (N/A) | 50,000+ Lessons | 275+ Lessons |
| Live Courses | One-on-one with instructor | Yes | Video messaging private lessons | No | Video Exchange | No |
| Styles | Primary focus on Blues, Country, and Rock, with sections for Acoustic, Bluegrass, Classical, Funk and Soul, Jazz, Metal, Rockabilly, Surf and World | Blues, Fingerstyle, Metal, Hawaiian Slack Key, Bluegrass, Rock, Celtic, Classical, Country, Jazz, Surf, Funk, Flamenco, Folk, R&B and Soul, Reggae, Brazilian, Gospel, Pop, Acoustic Rock | Blues, Blues Rock, Jazz, Jazz Blues, Rock, Hard Rock/Metal, Country, Acoustic, Singer-Songwriter, Fingerstyle, Classical, Funk, R&B/Soul, Americana, Rockabilly, Flamenco, and World | Rock, Blues, Folk, Funk, Country and Pop | All (with emphasis on Rock, Blues, Jazz, Fingerstyle, and Classical) | Acoustic Rock |
| Best Known For | Massive song library, super easy to use, excellent value | Live courses with well-known instructors; massive library of resources | Comprehensive amount of content; lifetime membership plan; 30,000+ Interactive Tabs | Ease-of-use and the overall Fender aesthetic | As close as it gets to having a famous player as your personal instructor | Great for beginners; community support and social interaction |
| Community Support | Strong | Very active | Developed and active | On the main Fender forum | Exceptionally active | Exceptionally active |
| Video Quality | Good | Above average | Above average | Above average | Very good | Fair |
| Price | $19.95 / $179.00 | $19.95 / $159.99 / $299.95 (Pro) | $19 / $99 / $1,999 (Lifetime) | $9.99 / $89.99 | 3 Month Plan $35/mo. 6 Months $30/mo. 12 Months $23.25/mo. | $99.99 (Lifetime) |
| Visit | | | | | | |
With over 3 million users, GuitarTricks is one of the most popular online guitar lesson tools around. If you're looking to pick up the guitar, you've probably heard of GuitarTricks — but does it live up to the hype?
Unlike some other online learning programs, GuitarTricks provides a comprehensive curriculum designed to take you to high intermediate proficiency from scratch. Whether you've tried to start playing guitar before or you've never picked up the instrument in your life, it's built to give you a solid foundation and develop your skills naturally.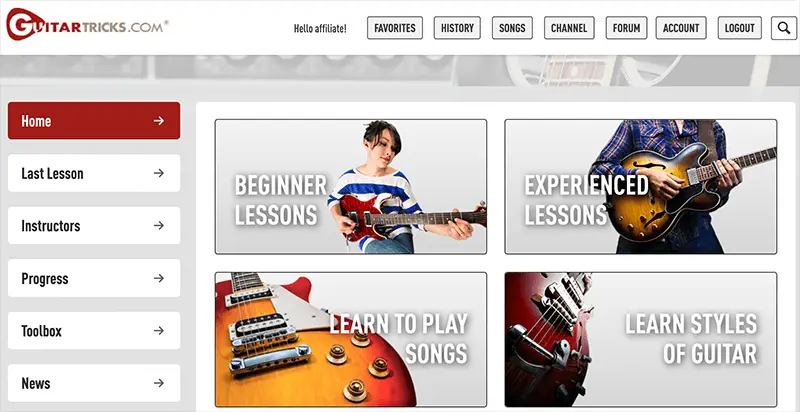 You'll find that approach reflected in many of the beginner lessons, which focus on small, approachable videos that are easy for new electric guitar players to digest. Each set of videos is organized under a set of tutorials, which keeps things organized and helps you track your progress on a larger scale.
The interface itself is clear and informative, with lots of different tools to help you get the most out of each video. Every lesson comes with music sheets in tab and standard notation, displayed right next to the presenter. The multi-camera setups also help keep things clear: at any time during a lesson, you can see close-up angles of the instructor's fretboard and picking hand.
Even when you're in a lesson, you can still scroll down to see the context of a specific video and where you are on the site as a whole. This is a perfect way to stay grounded at all times: no matter what you're learning, you know exactly how it fits into the larger curriculum and how much progress you're making.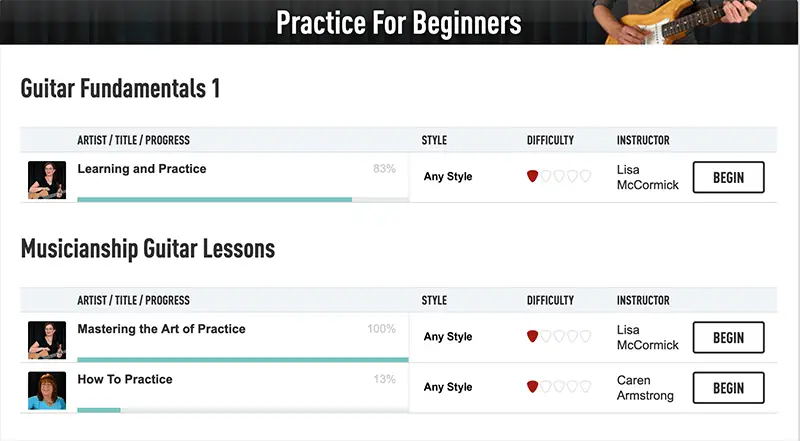 I love GuitarTricks' offerings for beginner players. If you're starting at square one, this is one of the best programs on the web to get you up to speed. Everything is arranged clearly and presented carefully, which makes it great for new players who might not be sure where to start.
The first few lesson sequences are very intuitive, and spend a lot of time helping you get comfortable holding and fretting the guitar. These techniques are essential to build a strong foundation on the instrument, so it's a major plus to see those techniques incorporated right at the very start of the learning program.
The progression into the second fundamentals course is also very smooth. If you've picked up guitar before but haven't touched it in a while, this is probably where you'll want to start. This sequence teaches you power chords, basic scales, and introductory music theory — helping you play songs and laying the foundation for more advanced techniques down the line.
READ our FULL Guitartricks review here
From there, the curriculum splits into four sequences: blues, country, rock, and acoustic. Each track offers two large courses, each organized into six or seven chapters to help you build lots of different skills.
The first of these courses focuses mostly on fundamentals of the genre, while the second course goes a bit more in-depth to give you specific techniques, licks, and forms to practice. By the end of each course, you'll know enough to play basic rhythm and lead licks along with a song in that genre. You can also start practicing specific songs to build up your skills even further.
While these tracks are thoughtful and crafted well, it is a bit disappointing not to see other styles represented in the Core Learning System as well. If you want to play genres like jazz, funk, bluegrass, metal, or even surf guitar, you'll need to go to the separate "learn styles of guitar" page.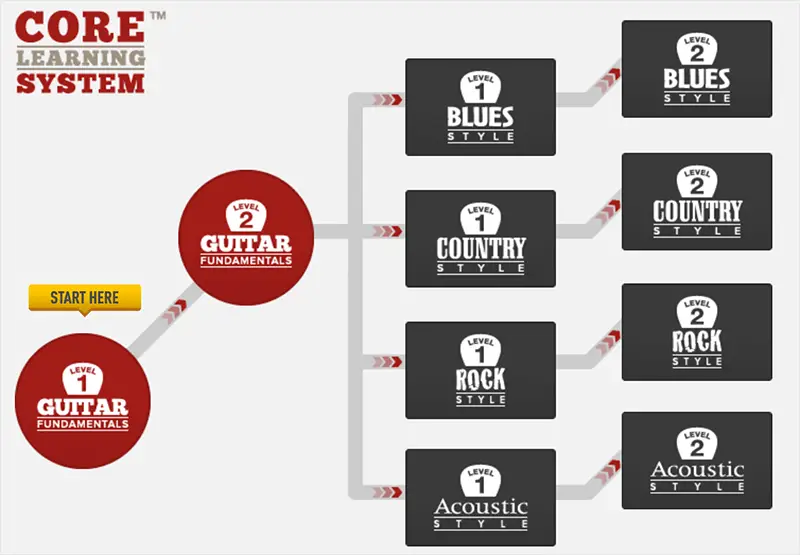 While you can find some lessons on many other genres there, these sequences aren't as in-depth or as comprehensive as the four tracks found in the core program. They do provide a good foundation for each of the styles, which you can then use to learn songs on the platform and elsewhere.
Because they're not integrated into the main sequence, it might also be tough to gauge when you should start taking them. Thankfully, GT offers a difficulty measure giving you a rough estimate of how difficult a lesson is before you begin.
While these other styles might not be a big deal for you if you only want to play blues guitar, rock, country, or acoustic guitar, it is a slight drawback from the overall cohesiveness of the GuitarTricks system. Fully integrating these other genres into the tracks on the main lesson sequence would accommodate more types of players without any hassle to get to their preferred genre lessons.
If you want a change of pace from dedicated genre lessons, you can also head over to GuitarTricks' extensive song library. With hundreds of songs broken down and catalogued, this is a major strength of the platform.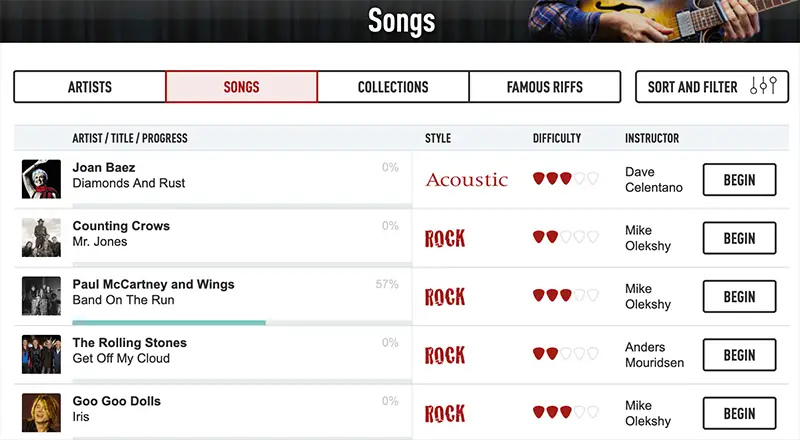 The tutorials are clear and insightful, helping you play every guitar part of a given song from start to finish. The library includes over 700 tracks, and you can break them down by artist, genre, or difficulty to help you find the perfect song to learn.
The GT team is always adding more song tutorials, which is a major bonus for users thinking about a long-term subscription. Even if you exhaust the main sequences, there's always something new on the platform for you to check out.
Together with the outstanding beginner curriculum and thoughtful user interface, this song library makes GuitarTricks one of the best values in the world of online guitar lessons. It's truly got something for everyone, no matter your style or skill level, and it's one of the few online platforms that I'd trust to help you develop good technique and style from scratch.
Guitartricks Guitar Lessons Overview
Since its founding in 2014, JamPlay has amassed one of the largest, most comprehensive libraries of lessons online. Whether you're a completely new player or a more experienced guitarist, JamPlay is a fantastic option to help build your skills.
JamPlay's interface starts with a series of beginner courses for acoustic guitar, electric guitar, or electric bass. These are aimed at players with no prior experience on the instrument, and they offer a low-pressure look at guitar fundamentals to set the stage for more advanced techniques.
The user interface for these lessons is informative, if a bit complex. You get four different camera angles to show you a full picture of the instructor's guitar, and a helpful layout showing you where you are in the larger course. However, there aren't tabs displayed next to the instructor, and with four cameras the screen can feel a bit crowded at times.
To get the most out of JamPlay, I'd recommend pulling up the accompanying lesson materials in a window next to the video. This way, you can read the tabs as you follow along with the lesson, and not get left behind if you can't quite nail a specific lick.
After these introductory lessons, you can branch out into specific sequences in over a dozen genres like blues, rock, and jazz. You can also switch to the "skills" courses to develop chops like your speed, precision, or studio knowledge.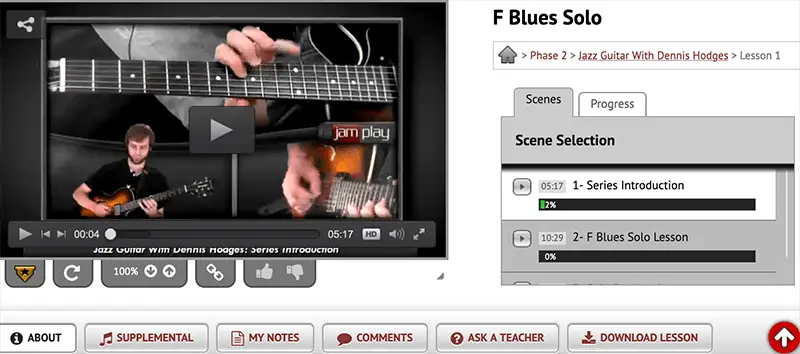 The array of different courses is outstanding, with multiple different options in almost every genre. JamPlay's courses are more detailed and more interesting than a lot of their competitors — they go into plenty of detail to help you make rapid progress without confusion.
I also enjoy the explicit emphasis on developing technique and building musicianship skills. While these sequences aren't as exciting as learning new genres and shredding solos, they're crucial building blocks for any aspiring player. Offering straightforward, no-nonsense courses on these skills is a great way to promote learning them and help players develop a solid foundation.

Finally, JamPlay offers a series of lessons focused on songwriting after you've completed genre-specific lessons. Songwriting lessons are rare on other platforms, and many players regard songwriting as something mysterious and spontaneous.
However, practicing your songwriting can be one of the best strategies for improving your overall skills. Writing songs helps you learn to pick out melodies in pieces of music, arrange chords that sound good together, and craft dynamic, thoughtful solos.
Any aspiring guitarist can benefit from developing these skills through songwriting, and I love that JamPlay focuses on them much more than some other platforms. With over 40 hours of content devoted just to writing songs on guitar, you're sure to get a lot out of these tutorials.

The songwriting sequences also demonstrate a trend that you find across a lot of content on the site. Compared to other platforms like GuitarTricks, JamPlay's videos tend to be much longer — many videos average 20-30 minutes long, compared to the 5-10 minute bites you'll get on many other lesson sites.
This is a great thing if you're looking for more in-depth lessons that resemble an in-person session with a traditional guitar teacher. And with ten or more videos in each sequence, JamPlay offers a lot more overall content than competitors. I love that the instructors give you far more techniques and styles to explore, and you can always keep coming back for regular new lessons.
READ our FULL Jamplay review here
However, compared to some other models, it can be a bit tough to find your footing in the JamPlay system. There's no one "track" for all players to follow, unlike many other platforms. And while that's a great thing for players looking to explore, it does force you to chart your own course through all of the sequences.
If you just want a system with one course that you can follow straight from beginner to advanced, then JamPlay might not be the best choice for you. If you enjoy the extra content, though, you can also use the "Progress Report" feature to keep yourself organized as you work through all of the courses.
The Progress Report shows you all of the videos that you've watched, and collects the lessons that you've started but never finished. You can also create your own playlists of lessons to watch, and move lessons around on a to-do list.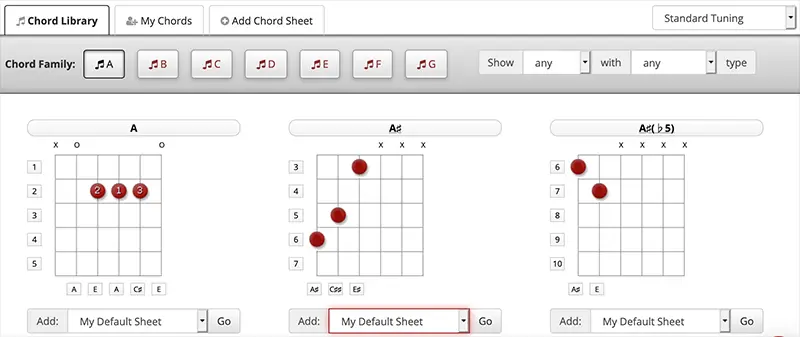 I love how open-ended the Progress Report software is — you're free to tinker with it as much as you like, and make new playlists organized by genre, technique, skill level, or just whatever interests you at the time. It's a great tool to stay focused and add a sense of purpose to your practice, without cutting out all of the great content that JamPlay offers.
Like some other sites, JamPlay also features a separate library of song tutorials — but unlike most competitors, this library is one of the most comprehensive on the web. It's got hundreds of different songs from artists in all genres, decades, and skill levels. You can also check out the separate library on licks and riffs for some quick inspiration if you ever feel stuck in a rut.
I like to use the library to help cement concepts I've just learned, or take a break from a dry technical lesson with a more engaging song choice. The lessons are organized clearly and concisely, and sometimes even include multiple versions to account for different skill levels.

JamPlay also hosts some famous instructors from across the guitar world, like Ariel Posen and Yvette Young. Their masterclasses are a great way to explore unique styles and examine what makes each player unique. Sometimes, you'll even find live broadcasts from the JamPlay team, which mimic the style of an in-person masterclass from the comfort of your home.
Overall, JamPlay offers a rich library of content, with plenty of lessons to satisfy players across all genres and skill levels. Whether you're a completely new player or an intermediate guitarist looking to sharpen your chops, it's hard to top the breadth and depth that JamPlay offers.
Jamplay Guitar Lessons Overview
Guitar Player Magazine calls TrueFire "the planet's largest and most comprehensive selection of online guitar lessons", and with 40,000+ lessons covering virtually every style and skill level – plus 820+ courses and 30,000+ interactive tabs – it's really hard to argue that claim.
There's a lot of stuff on the home page, which isn't always a great sign. As other reviewers have noted, perhaps TrueFire has too much content, which may or may not be an overwhelming experience for a beginner.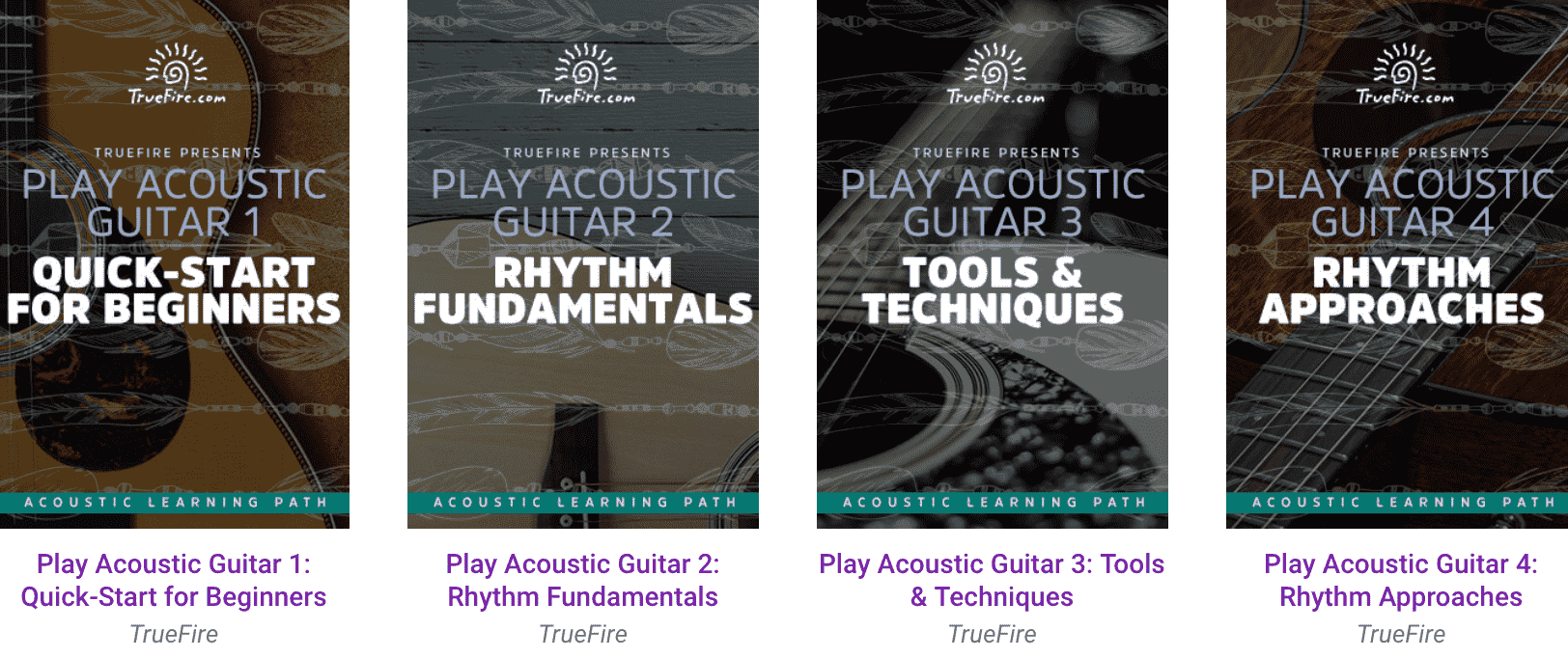 TrueFire employs the Learning Path strategy – their branded, accelerated, hands-on study plan. The Course Recommendation Wizard will evaluate your playing ability and preferences, but you can skip it and explore on your own through your browser and within the TrueFire app which is available on Android and iOS. All course programs come with video guitar lessons, tab charts, jam tracks as well as text commentary from the instructor.
For $19.95 a month, you'll get access to that boatload of content. For a whopping one-time fee of $1,999, you'll get lifetime access. You might need a lifetime to exhaust all the content.
In addition to guitar, TrueFire offers instruction in bass, banjo, ukulele, and dobro. Believe it or not, they also offer drum lessons. And they really seem to be pushing the pricey Individual and Ongoing Private Lessons, which offer personalized assessments, customized lesson plans, access to TrueFire's complete library of streaming video lessons.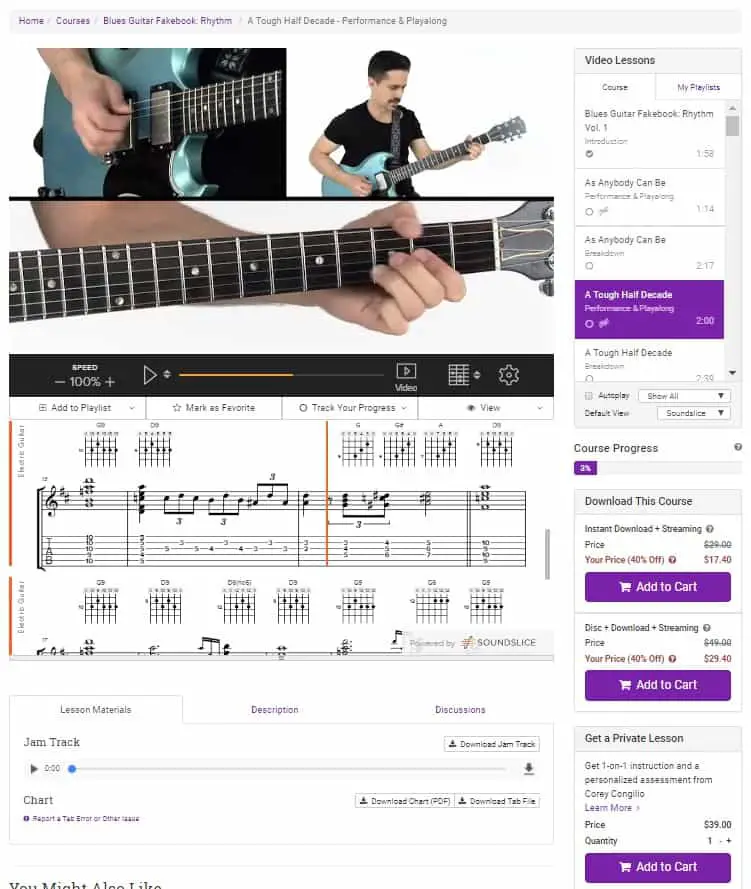 The problem with TrueFire (and certain other platforms) is they make some quite outlandish promises.
It doesn't seem possible for anybody other than some one-in-a-million prodigy to simply pick up a guitar, watch a few lessons, and blaze through "Enter Sandman" without knowing just a little bit about chords and scales – to say nothing of boring exercises. As the popular meme says, "That's just not how any of this works." And if any player thinks they're going to get better without practice, they're in for a rude awakening. In this light, perhaps TrueFire is making promises it can't keep.
READ our FULL Truefire review here
For example, if you look at TrueFire's catalog of lessons, do you really think learning guitar is going to be so easy that you'll be able to follow Robben Ford, Tommy Emmanuel, or Steve Vai, if you haven't struggled through at least a little bit of theory?
On the other hand, TrueFire has a couple of things going for it that other online platforms don't, starting with their 30-day All Access Trial, which doesn't require a credit card or automatically upgrade at the end of the trial. However, there's a limited amount of free material. Meanwhile, the Private Lesson program offers access to a dynamic range of killer instructors.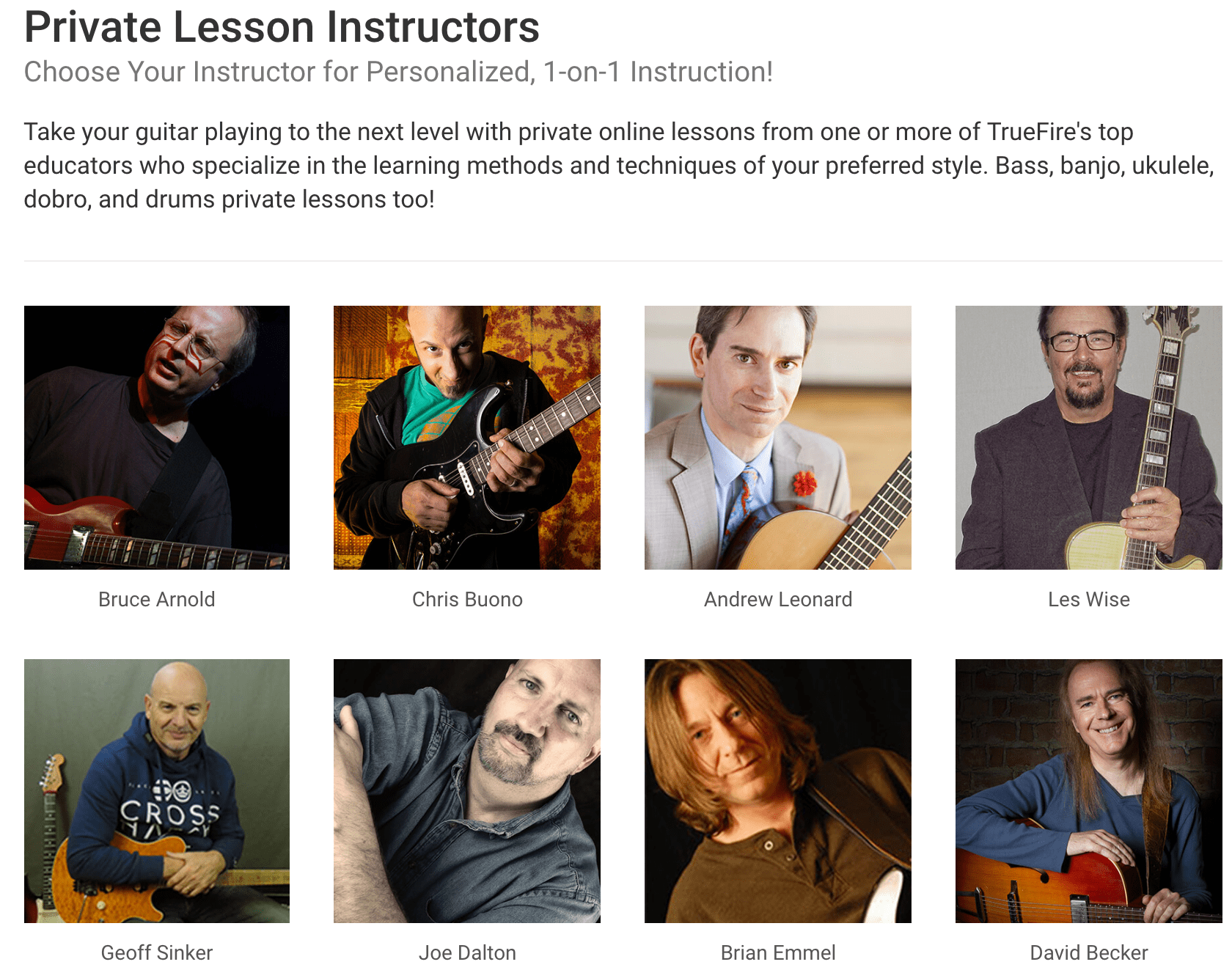 Likewise, be advised that private lessons are not included in the All Access membership. Some people might balk at the prices. For example, you'll pay $39 for a one-time private lesson with top Jazz player, Doug Munro. Honestly, that's probably a pretty good deal – and supporting great instructors like Doug Munro. Without them, we're stuck with fly-by-night YouTube clips.
Overall, the monthly subscription is probably a solid value buy, as long as you're disciplined and dedicated to progression. That said, casual beginners would be better off getting a foundation somewhere else, and then coming back to TrueFire.
Truefire Guitar Lessons Overview
As Fender guitars have always been accessible to the everyman, likewise, the online lesson platform is designed for anybody and everybody who wants to play a song on guitar – now – as opposed to learning chord progressions or general music theory. Once Fender Play gets you acquainted with the fundamentals of guitar technique, i.e. fretting a note and plucking the string, you'll be theoretically be playing the riff from "When I Come Around" in roughly 7 minutes.
Fender Play's free 14-day trial is the gateway plan into Monthly ($9.99 per month) and Annual ($89.99 per year) subscription options. The app is available on desktop, iPhone, iPad, and Android. Guitar, Ukulele and Bass lessons are included with all subscriptions.

You get access to their song and skill lessons in the following categories: Basics, Chords, Exercises, Glossary, Technique, Theory, and Tone.
Adopting an alternative approach to levels of playing, hundreds of instructional videos and exercises guide new players down a Learning Path drawn from their musical preferences. The Fender Play path covers the basics of skills and techniques in your desired genre, again, with the motivation of playing popular songs, which are integrated into steps along the path.
Designed with the complete beginner in mind, Fender Play focuses on fundamentals such as "What is a Pivot Finger?" and "First Time Chords: C & G", coaching players through the process of building dexterity and muscle memory. Having said all that, Fender Play does offer intermediate and advanced exercises, lessons, and tutorials – they're just not advertised on the front page.
There are different courses for Rock, Blues, Folk, Funk, Country and Pop, but you're not required to stick with a particular path. If you find the early stuff too easy, simply pop over to a different level and find something that interests you.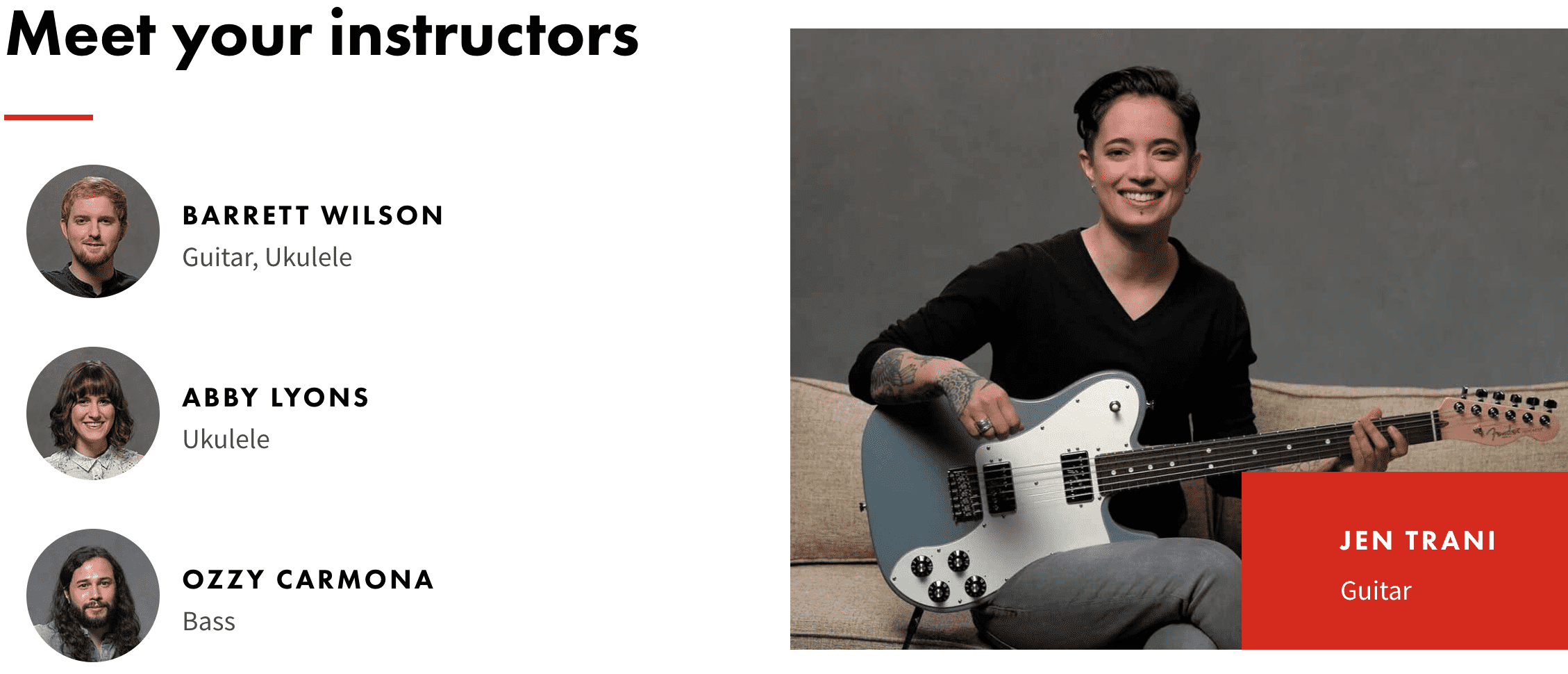 A variety of expert instructors teach lessons in split-screen and from a unique player-perspective angle. Each lesson features simple, step-by-step instruction along with tips and tricks. Unlike many online guitar platforms, Fender Play does not have a dedicated community support forum, although you can search the main Fender forums for topics of interest.
READ our FULL Fender Play review here
Users should also get a heads up about the administrative differences between signing up for Fender Play from the website (fender.com/play) vs. from the app. Long story short, if you signed up from the website, that's where you'll manage your subscription (billing, renewal, cancelation). If you subscribed from the app, you will manage your subscription through your iTunes or Google Play account settings.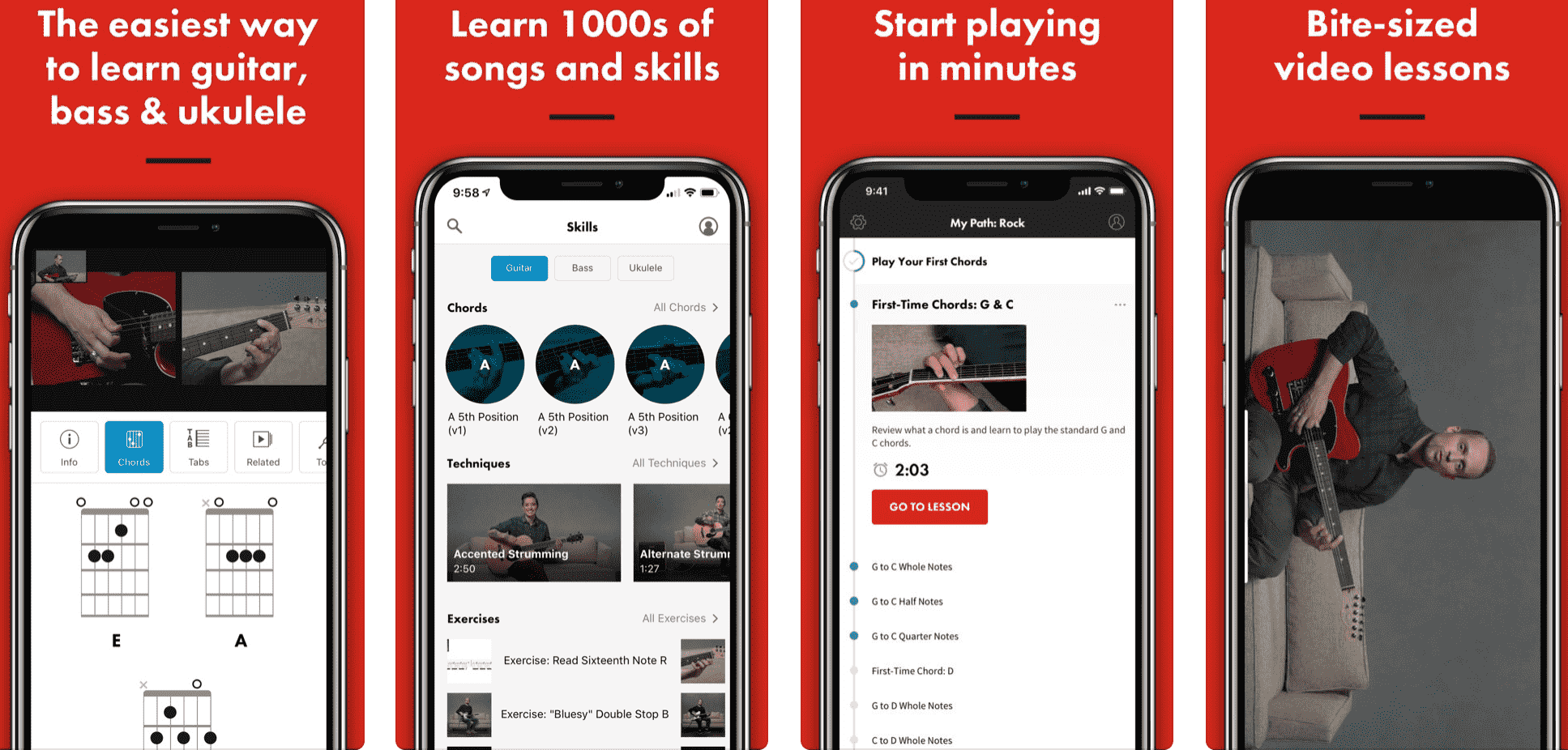 Given Fender's elite status in the world of modern guitar, it's fair to assume that Fender Play would match the same standard of quality found in their instruments – and it does. The website interface is eye-catchingly minimal. The app is easy to install and use. Multi-angle 4K video lessons support the cohesive aesthetic corresponding to the Fender brand. Like holding a genuine Stratocaster in your hands, Fender Play has that classic, unmistakable vibe of the real deal.
Overall, Fender Play is great for complete beginners but not very challenging for intermediate to advanced players. If you're just starting out, have limited aspirations for playing guitar – and a fetish for all things Fender – the branded online platform may be great value. Otherwise, you're better off looking elsewhere.
Fender Play Guitar Lessons Overview
A few rhetorical questions for you. Answer as you please.
Do you live and breathe guitar? Do you have the discipline and desire to become an accomplished guitar player? Are you seeking the type of guitar lessons that will push you to greater heights?
Arrive at the landing page for ArtistWorks and it should be obvious – this is serious. Take a quick peek at the list of 9 master instructors – and it should click. "Oh…this is for players who aren't messing around." And if the roster of course tutors isn't convincing, just navigate to the pricing plan – ArtistWorks is by no means a bargain basement learning platform.

ArtistWorks offers instruction for all styles of guitar music – focusing on blues, country, jazz, classical, fingerstyle and more. It's more of an "academy" that caters to a wide range of instruments, including piano, percussion, brass, and woodwinds. Guitar is only one flavor on the menu.
ArtistWorks' Video Exchange® Learning Platform is designed to provide a comprehensive music education – without the hand-holding – by elevating sophistication through simplicity. There's no toolkit or fancy web apps. You won't be asked to self-evaluate your playing abilities. The presentation is academic: Here's the lesson, here's your world-class instructor, and here's what it's going to cost you. And honestly, that's extremely refreshing in the guitar lesson world.
There are two basic features to ArtistWorks lessons: professional video lesson and the Video Exchange. First, access the library of lessons from the course tutor. For further instruction, film yourself playing with the lesson and upload the video to the Video Exchange for the instructor to provide feedback.
Here's the problematic part. Every video exchange between teacher and student is linked together on the site and viewable by all other members, which could be a red flag for a player with performance anxiety. Do you really want a bunch of people to see you fumbling through a string-skipping exercise?
READ our FULL Artistworks guitar lessons review here
Compared to some of its competitors, ArtistWorks feels like an exclusive boarding school for gifted students, with tuition fees to match the institution's prestige. After all, nobody really values anything that's free. The price tag should encourage students to squeeze every last penny out of their guitar lesson dollar.
There's no ArtistWorks free trial, so you'll be forced to trust the skimpy free sample lessons on the website to see the format and how it works. The Basic 3 Month plan for $35 a month gets you unlimited access to the video library, and 5 video exchanges per month. The Basic 6 Month plan for $30 per month gets you 12 video exchanges and 25 bonus jam tracks.
If you know that ArtistWorks is THE site for you, the Unlimited 12 Month plan seems like the true value deal. For $279 per year, you get unlimited access to lessons, the full Video Exchange archive, unlimited submissions to your instructor, as well as bonus content and more backing tracks.
Generally speaking, ArtistWorks is slanted towards complete beginners, but many lessons focus on fundamental skills that will improve your playing in the long run. In other words, you'll be learning the proper way of doing things, as opposed to the quick, easy, and convenient shortcuts and whatnot.

ArtistWorks' faculty can't be overstated or underestimated – just have a look at a few names – all of whom are considered virtuosos: Paul Gilbert (Electric Rock Guitar), Martin Taylor (Electric Fingerstyle Jazz), Chuck Loeb (Electric Jazz Improv Guitar), Nathan East (Electric Multi-Style Bass), and John Patitucci (Jazz Electric Bass, Acoustic Upright Jazz Bass).
You're in master class territory, but don't be daunted or discouraged by the heavyweight names and bone-dry lessons titles. ArtistWorks is a great site for the determined beginning guitarist with ambitions for proficiency.
In other words, if you just want to strum out a couple of jams, head over to Fender Play or Jamorama. If you want to learn the instrument with the intention of writing and performing original material, ArtistWorks is likely to be a more suitable online option.
Artistworks Guitar Lessons Overview
To be frank, by branding themselves as "The Social Network for Guitar Students", Jamorama tells you almost everything you need to know about the platform. Look no further than the landing page. If you believe that "Learning guitar is better with community" you're more likely to be interested in a kind of Facebook for guitar – that just happens to have monetized beginner and intermediate lesson plans.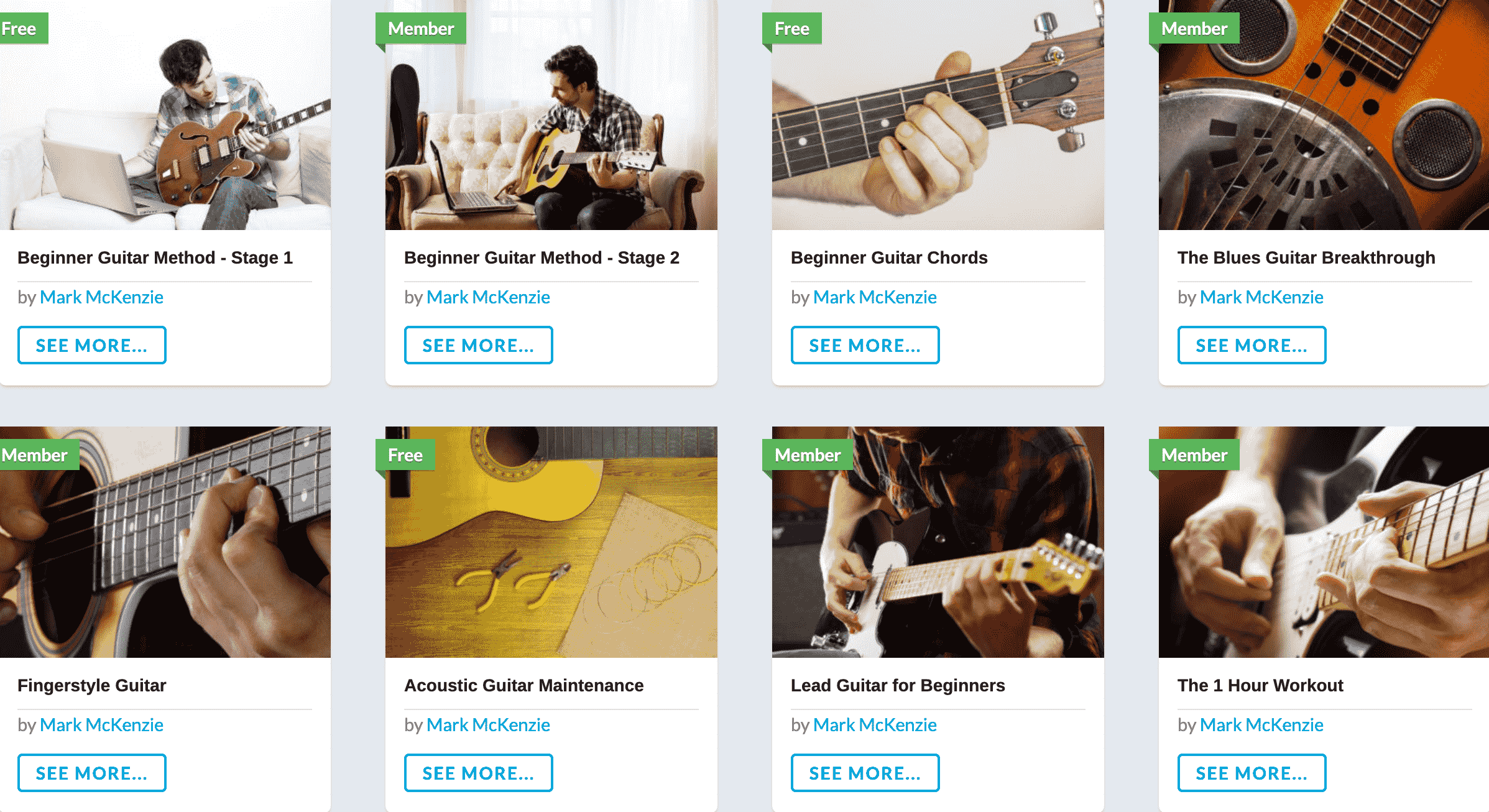 Supporting the primary functions of a social network, Jamorama members create their profiles, add friends, write status updates, like admin posts, receive notifications, share photos, join groups and chat with sympathetic guitar students. Meanwhile, "integrated gamification" – otherwise known as a point system – is designed to keep students on a social learning path.
As other reviewers have pointed out, the learning path moves at a glacial pace, starting with a five-week introductory course taught by Mark McKenzie, Jamorama's congenial Head Guitar Instructor, covering the absolute Ground Zero of guitar fundamentals. By Week 5, you'll be slow-strumming a two-chord progression and maybe – maybe – scraping through the main riff of "Pretty Woman". While everybody learns at an individual pace, that doesn't seem very challenging. However, that's most likely the point.
You can see one of Mark's jam-alongs here:
Let's try to stay positive here and talk about the good stuff. Straight away, the site looks really nice. It's easy to navigate. Jamorama is almost exclusively geared toward the total novice on acoustic guitar – early lessons tackle simple chords and basic guitar maintenance. The vibrant and bustling community aspect is a unique and compelling support system for beginners. There's no way you're going to be overwhelmed by the amount of content. The blog features some very entertaining content that mostly talks about playing guitar, which a lot of guitar players like to do.
The Basic membership is free, but you'll pay in order to access courses, lessons, and jam tracks. If this sort of thing appeals to you, then $99.95 for a lifetime membership may be money well spent.
Breaking from the traditional review format, let's save everybody some time and break down exactly what you get:
| Basic Free Membership | Lifetime Pro Membership |
| --- | --- |
| Social Network Access with Personal Profile | All the benefits of Basic Free Membership |
| Access to Discussion Forums | Beginner Guitar Method - Stage 2 Course |
| "Gamefied" Learning with Achievement Points and Badge | The Blues Breakthrough Course |
| Access to the Blog | Fingerstyle Guitar Course |
| Beginner Guitar Method - Stage 1 Course | Lead Guitar for Beginners Course |
| Beginner Guitar Chords Course | The 1-Hour Workout Course Speed Picking Course |
| Acoustic Guitar Maintenance Course | Guitar Theory Made Even Easier Course |
| | Access to Supplementary Learning Materials/Printouts |
| | Access to Course Jam Tracks |
The bottom line here is very clear. If you're a beginning guitarist in the earliest stages of development, looking for a fun, socially interactive way of learning guitar at a very leisurely pace, then Jamorama may be what you're looking for. Everybody else, however, can take a pass.
Jamorama Guitar Lessons Overview
What are the Major Benefits of Guitar Lessons Online?
Considering the depth of educational options on the Internet, benefits abound in the world of online guitar lessons. First, the absolute convenience of round-the-clock access to knowledge is self-evident. You get libraries of content, plus tools and resources at your fingertips. Meanwhile, in many cases, you'll be able to hire a virtual instructor – if you feel that's necessary. All you need – besides a desire to play guitar – is an internet-ready electronic device that's connected to the web and a guitar – oh, and a method of payment.
Another benefit of online lessons is the flexibility and freedom to learn at your own pace, while reaching for structure and support – if you need it. A good guitar lesson platform has an open-door policy, with teachers giving lessons and then hanging out in the background, saying, "We're here if you need us." For people who need a more traditional learning background with a student-teacher environment, many online guitar lesson platforms are more than happy to play the role of caring and invested tutor.
Online Lessons Vs. One-on-one Instruction
By design, online lessons eliminate any social anxiety that may arise from one-on-one instruction. Sure, there's a human being on the other end of the video monitor, but you can put them on pause anytime you like. That's not possible in real life.
One of my dear friends, who happens to be a guitar teacher and a monster player, once told me that more than half of his students spend more time listening to him play than actually trying to learn what he's doing. Also – this is really important – you need to like the person who's doing the teaching – and that's where online lessons really excel. Every platform has a directory of qualified and capable instructors to choose from. So-n-so's mannerisms don't do it for you? Find another tutor.
Online lessons theoretically never end. That is to say, you could live several lifetimes and not cover every available resource, whereas live instruction reaches a point where a teacher may have run out of things to teach you. Of course, most experienced tutors will have a solid course of instruction, you'll need a football team worth of players to match what you can get online – at a fraction of the cost. And even though I hate to badmouth teachers, potentially taking money out of their pockets, in today's current climate, you're going to want to see some dramatic results for $25 an hour.
Prior to the internet, we had two choices: take lessons from a teacher or go it alone. That system worked for a long time. Things are different now.
What's the Best Online Guitar Course for Me?
It's up to you to first decide what you want to do on guitar – and then proceed accordingly. Then it's important that you do a little investigation. The best course is going to cater specifically to your aims. And fortunately, there are various types of affordable (and some, not-so affordable) lessons that have already aligned with your ambitions.
If you're just looking to have some fun and maybe develop a new hobby or pastime, Fender Play is geared toward the casual beginner. If you have ambitions of proficiency, ArtistWorks might be right up your alley. Even if you haven't decided what you want to do on guitar, Guitar Tricks is great for helping you visualize the possibilities – while learning how to play some of your favorite songs.
Another issue to consider when evaluating online guitar lessons is where you are in terms of development. Absolute beginners should stick to the tried and true platforms – the hand-holders, for lack of a better term – while intermediate to advanced guitarists might want to rock up on JamPlay or TrueFire, whose content is exhaustive and constantly growing.
What is the Average Cost of Online Guitar Lessons?
It's hard to quantify the average cost of online guitar lessons because each platform has its own quirks and tics – plus there are promo codes and special offers. Roughly speaking – emphasis on "roughly" – the average cost of online guitar lessons is 20 bucks a month, although you can save some money by going with a yearly vs. monthly subscription. And let us take our benchmark – Guitar Tricks – as an example. The month-to-month plan is 20 bucks, all in. The yearly plan saves you about 60 bucks a year, so you pay $15 a month – and they throw in a bunch of "free gifts". (P.S. TrueFire and JamPlay have similar offers.)
Are Online Lessons a Good Way of Learning Guitar?
In a word, yes. Online lessons a fantastic way of learning guitar. I'm now a couple of decades into my life as a guitarist and I'm still finding new things that I want to play. Guess where I find them? Online. Now, I'm not taking lessons per se, but I am basing my own instruction off what I find available on certain websites. If I were to start taking lessons, I'd almost certainly take them online. And it gives me a twinge of envy to look back on my own guitar evolution and think back to how much faster I would have progressed if I'd had the internet and online lessons at my disposal.
Generally speaking, there's really no downside to online lessons – unless of course, you absolutely need to have an instructor sitting across from you. Some people prefer that method and there's nothing wrong with it.
Conclusion
If there could be one universal truth about learning to play guitar, at some point in every aspiring guitar player's life, they will be forced to confront their ambitions. You will knowingly or unknowingly decide what – exactly – you want to do on guitar. And your decision doesn't really matter, whether you want to strum along to a few Dead jams or become the latest and greatest fingerboard hotshot. Everything follows from that singular ambition – that simple question: What do you want out of your guitar experience?
Unfortunately, once you've decided to learn guitar, you have a bunch of other decisions to make, first and foremost, how are you going to learn? It used to be that guitar players had two distinct choices: Take lessons vs. self-taught. Nowadays, online lessons form the foundation of a third choice – a hybrid of self-education through online learning platforms such as Guitar Tricks and JamPlay.
There's a misguided idea that self-taught players are giving themselves a "free education". First of all, there's nothing free in this world. In many cases, the self-taught acquisition of skill is simply the cheaper version. More importantly, self-taught players incur a price in the form of time – something that none of us have in abundance.
There's no hard and fast rule that everybody is required to check out online lessons. There's nothing stopping you from getting all your instruction from free YouTube videos. However, every guitarist – from total beginners to life-long masters – with a vested interest in getting better, shouldn't pass up a fantastic opportunity to take advantage of the infinite library of knowledge that's literally at our fingertips.