Pianu was surprising to me when I first opened it; before even registering for the course, I was already playing the piano. The interface is immediately pleasing to the eyes and smooth to react with any tool you may be using to play the notes. Even the main page of the website shows off its click-and-play aspect of the academy to show that you don't even need a piano to get started; how inviting! Now that you can't use the excuse of not owning a piano, let's jump right into how the lessons work:
Pianu Online Piano Lessons Overview
Courses
The courses are all laid out in a very linear fashion and it provides a really interactive interface to work with. There is also a badge system that leads you from one lesson to the next by giving you small achievement titles as rewards for doing things such as learning a certain amount of songs or getting past a certain unit.
Fundamentals
Getting started on the first few concepts isn't unlike many other piano lesson courses. This course spends the intro and lessons 1-3 just getting familiar with the keyboard and then already has some beginner ukulele songs to choose from. There are always songs to play along with every third or fourth lesson to keep a nice rotation of different aspects of music for a more interesting experience. Pianu keeps a nice pattern of single-note exercises, a sheet music lesson, a chord lesson and finally some play-alongs.
I think this is a very effective way to keep interest as well as build an even musical foundation for someone to develop the skill of piano playing. I would suggest that the beginner's lessons end at lesson 7, with the one-octave scale.
Intermediate
It's at this point in Pianu that things become a little more comprehensive. You start learning the building blocks of rhythm and 7th chords to begin having more complexities in your sound. Your song choice becomes a little different as well by adding jazz and blues into the mix of repertoire. This is always my favorite section of a piano lesson platform, as this is where the paths of musicality and choice begin to develop.
After touching base on this genre, you are introduced to more creative rhythms, different meters, as well as how to feel and read them on the musical staff. For instance, this section offers the Game of Thrones theme, which exposes you to the 6/8 meter and dotted rhythms that primarily make up the popular triumphant fanfare. The last portion of the intermediate lessons of Pianu has you looking primarily at key signatures and accidentals as well as adding arpeggios into your belt of musical tools. We ultimately close out the section with song choices at Unit 5 that incorporates arpeggios, which includes an easy version of Queen's Bohemian Rhapsody!
Advanced
Starting at lesson 17, this would be considered the very short 'Advanced' portion of this program. You begin to learn more scales with more frequent use of black keys as well as how to become fluent with your chord progressions by using inversions and voice leading to add more musicality in your playing. Once you reach lesson 20, you've become a "Pianu Master" as the program oddly finales with a lesson in flat-note scales. This brings the entire course to an end in terms of the musical lessons available to you. I find myself yearning for Pianu to go much more in depth than it does; the curriculum seems so short lived compared to the expansive library of songs.

Songs
When you browse the song library, you are going to be shocked with how many new and popular songs can be picked to learn. Almost everything you hear on the radio today, as well as back in the day, is available for you to learn. The difficulty level of each of the songs should be able to help guide you in the direction of what is doable for your skill level. As useful as that may seem, I find it a downside to the program because programs like Playground Sessions have libraries that have all the songs available for all skill levels by having different arrangements of every single song.
The song learning process on Pianu is pretty well laid out. The sheet music is visible above the virtual piano on the screen and non-musical note blocks come down towards the piano in a style very reminiscent of Guitar Hero. This design can get anyone plucking the right keys on the piano while exposing them to the corresponding notation on the musical staff but also gives the song learning process a very rudimentary feel.
Mobile
There is no app for Pianu and must be used through a browser. Even though the website works fine on a browser, you are limited to what your device can connect to unless you want to do your lessons on a touch-screen. There could be some improvement on this because the song library can could be so useful in mobile situations.

Value
This is one of the cheaper monthly payment options out of all the online piano lesson platforms we have reviewed at only $14 per month – getting cheaper the longer you commit for. For this price, you can get the foundation you need to be a pianist that has the ability to play a lot of songs that everyone knows as well as access to a very easy-to-use program. This ends up being of great value if you are looking for something that is convenient to get involved with and isn't a huge commitment.
Strong/Weak Points
I would say there are just as many strong points as there are weak points in this program. There is a great amount of quality music to choose from in a library that is always being updated with new songs. However, the program could benefit from having a more successful mobile version of the service as there is not currently much to work with. Pianu also is one of the cheapest courses available to you, but rides on a somewhat gimmicky design and sacrifices the depth of instruction at only 20 lessons.
On a separate note, I also think that the 'click and play' or 'touch and play' aspect of the program is somewhat useless unless you are really just getting into something musical for the first time. There isn't a way for someone to develop muscle memory and musicality on a QWERTY keyboard after the first lesson or two; there needs to be a keyboard present for real success!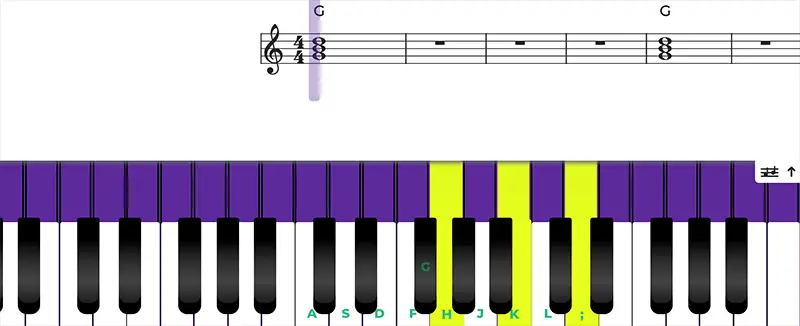 Conclusion
I can't exactly say that this program has blown me away, but it didn't disappoint either. I would recommend this product for someone who isn't really serious about playing the piano but wants to develop the skill on a recreational level. It gives a nice foundation to learn from and the song choice is sure to please anyone who wants to play some hits on the piano to impress friends. Even though Pianu doesn't support the more experienced players, it can give anybody who is just learning a push in the right direction.