Looking for a great beginner instrument that lets you get started playing bass on a small budget? The Yamaha TRBX174 is the bass guitar you're looking for. The TRBX174 offers everything a beginner could need – and then some.
Yamaha can always be relied upon to provide good quality instruments at an affordable price. There's been quite a lot of buzz about its TRBX series, which offers plenty of options for players with different needs and budgets.
Yamaha TRBX174 Overview
| Ideal For | Beginners |
| --- | --- |
| Best Feature | Great value |
| Optional Colors | Yes |
| Price | $200 |
The Yamaha TRBX174 bass carries the lowest price tag among all TRBX models. TRBX is Yamaha's series of bass guitars that offer players performance-ready instruments that exceed expectations in terms of comfort, playability, durability, looks, sound and feel. Designed by the Yamaha Guitar Development team, the basses in this series promise to give players the freedom not only to innovate and create but also push the boundaries.
It may sound like just another marketing spiel, but we were intrigued enough to really see what the TRBX is all about. We've already taken a look at the lineup and picked out the Yamaha TRBX304 as one of the best bass guitars you can own today based on its features, price and overall performance.
During our search for the best basses out there, another Yamaha model stood out: the Yamaha TRBX174. Its retail price – roughly $200 on average – puts it squarely in the entry-level category, but we were blown away by how well it performs despite being a basic beginner's bass guitar.
The Yamaha TRBX174 can be considered the cheaper or the stripped-down version of the TRBX304, which sells for about $350. It's the perfect bass to learn on if you're eager to start playing but don't have that much money yet. Here's a closer look at this pocket-friendly bass.
Yamaha TRBX174 Electric Bass Guitar
Build and Design
The Yamaha TRBX174 has a simple appeal. There's nothing fancy in its design, but what it lacks in appearance, it makes up for with its functionality, playability and performance. And for $200, one shouldn't really expect much in terms of embellishments anyway. Many musicians actually prefer a simple look to a flashy one. The sleekness and neatness of it actually makes it appealing and attractive.
The TRBX174 bass is a full-sized one with a scale length of 34 inches, just like the TRBX304. It has a double cutaway for easy and unhindered access to the upper frets. There are 24 frets in total.
The Yamaha TRBX174 shares the same body shape with the other models in the TRBX series. The style, simple as it may be, looks and feels well-balanced. It's a neat-looking bass with a body made of mahogany.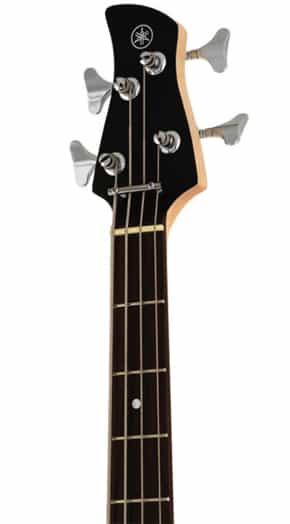 Some TRBX174 basses have bodies made of alder, a widely available tonewood and a lightweight one at that. Alder is known to have a resonant, balanced and full-bodied tone, with a slight emphasis on the upper midrange because of its dense grain. It also has a sharp attack and excellent sustain.
There is another version that has a thin veneer top made of exotic mango wood, the TRBX174EW (EW stands for exotic wood). The body is made of mahogany. There is a matching mango wood veneer headstock, giving the TRBX174EW a distinct look.
The headstock is not angled or tilted back, so on the front there is a string retainer bar pulling the strings down over the guitar's nut.
The shape and weight (less than 9 pounds) of the bass make it comfortable to play sitting down or standing up. This is an important factor when you're out looking for your first bass because comfortability can make or break your learning sessions. A bass that's too heavy can make playing a frustrating, not to mention painful affair and you may not enjoy learning as well as you should.
The TRBX174 has a sturdy bolt-on neck made of maple. The neck feels great and comfortable to hold, and it lets you play fast.
Topping the neck is a rosewood fretboard with dot inlays and a 250mm radius. Some have fretboards made of sonokeling, which is similar to rosewood (it actually shares the same botanic name) in terms of feel and tonal attributes but is more widely available where the bass is made: Indonesia. Trade regulations have limited the importation of rosewood to other countries, which is why guitar manufacturers have started using alternative tonewoods for their instruments.
Yamaha uses sonokeling not only for its bass but also for its electric guitars such as the Pacifica PAC012, an entry-level model like the TRBX174. The use of sonokeling in these guitars helps keep costs down, which we're pretty sure makes a lot of budget-conscious beginners happy.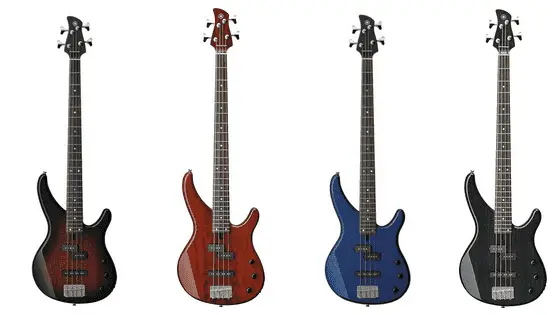 Both the regular and exotic wood versions of the TRBX174 have a gloss polyurethane finish on the body and a silky smooth satin polyurethane finish at the neck.
The nut measures 40mm wide, which would do just fine for beginners. It doesn't feel as narrow as a 38mm nut, which can make you feel the strings are too close to each other when fretting notes. It's also not as wide as a 42mm nut, which can make you feel like you'll need a bigger hand. A 40mm nut width is a good middle ground and it makes the neck easy to grip.
The fit and finish of the TRBX174 is commendable considering it's a production model. As we've said before, it looks really neat and clean. Some fret ends may feel a bit sharp to the touch, but it's nothing a good filing can't fix.
As for the finishes, there are four colors to choose from: Black, Old Violin Sunburst, Red Metallic and Dark Blue Metallic.
Hardware
The Yamaha TRBX174 features chrome hardware. It's equipped with a vintage-style bridge with four fully adjustable saddle. It feels solid and durable.
There's a set of die-cast tuners on the headstock. The standard covered tuners do their job well, though it may be a good idea to upgrade them down the line.
The control knobs are made of hard plastic, another cost-cutting measure that we really don't mind. The quality is good and the knobs work perfectly anyway. If for you they look and feel too plasticky, you can always upgrade to more classy-looking knobs.
Electronics
The Yamaha TRBX174 is fitted with two passive ceramic pickups designed by Yamaha. The pickups are in the P/J configuration, which means there's a "J" or Jazz Bass style pickup and a "P" or Precision Bass style pickup. To elaborate, there's a split single-coil pickup in the neck position like a Fender Precision bass and single-coil pickup at the bridge like a Fender Jazz bass.
This pickup configuration is good for newbies because it allows them to explore the myriad of tones you can make on a bass guitar. In doing so, you get to discover which types of tones work best with a particular song or genre and also which ones you like the most. This does a lot in helping beginners decide the kinds of songs they want to focus on in the future.
There's no pickup selector switch in the TRBX174, though you do get a master tone control knob and two volume controls, one for each pickup. The control knobs are enough to adjust the mix according to your preference or what a song calls for.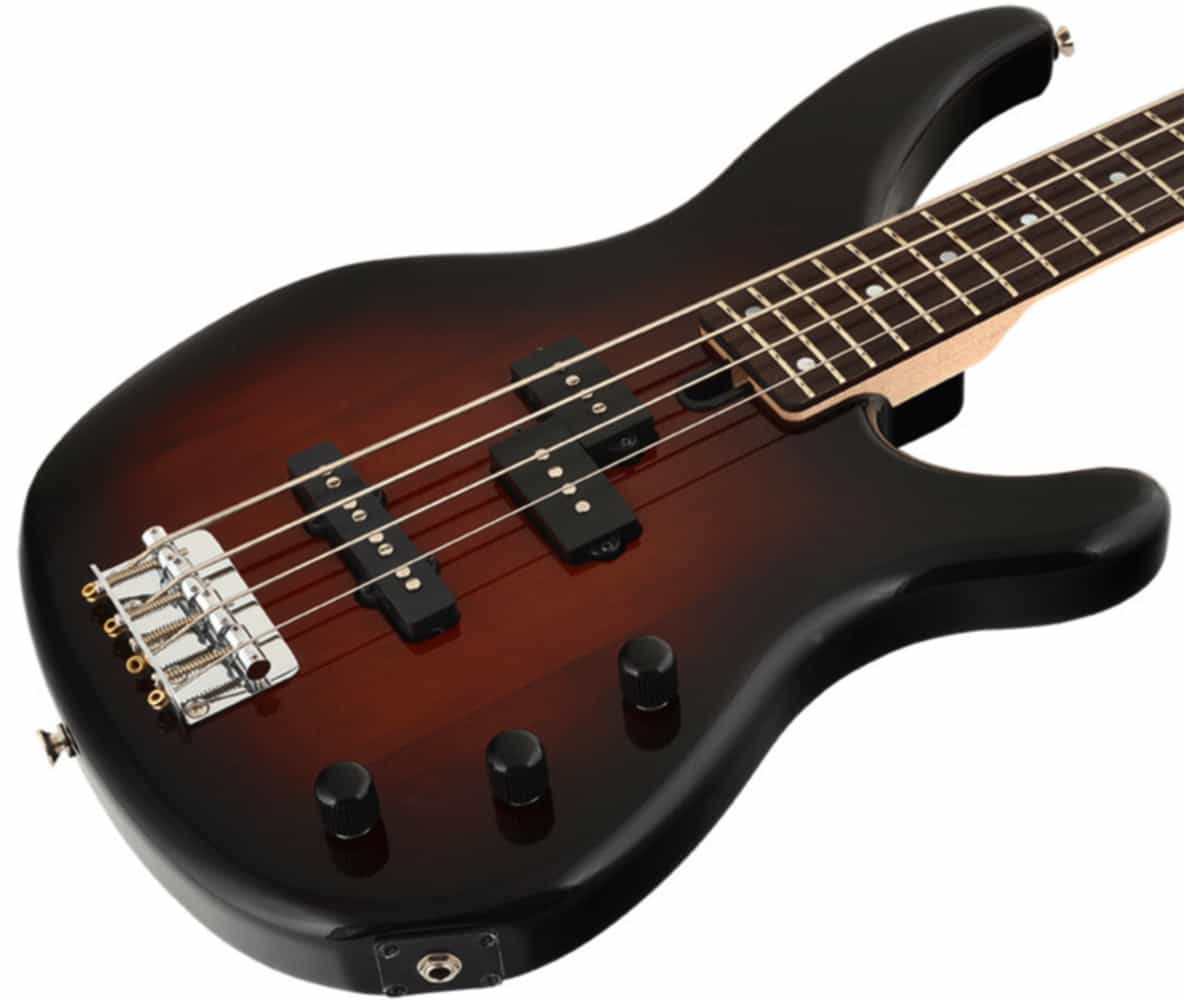 Sound
The TRBX174 bass has a decent sound quality. The stock pickups on the Yamaha TRBX174 offer a good range of tones, from crisp trebles, to punchy mids, to smooth lows. They deliver sounds clearly, have a decent output and you can really get those beefy sounds. The P bass-style pickup delivers an impressive deep bass sound and the J bass-style pickup also does well in delivering bright tones at the higher ranges.
The tone is pretty versatile so you can explore different genres. The full, even tone provides a good foundation for beginners still training their ear. All in all we say the sound quality is impressive for a bass in the $200 price range.
Final Word
With these features, it's easy to see why the Yamaha TRBX174 is hailed as one of the best beginner bass guitars on the planet. For those who are just beginning to discover the wonders of playing bass, the TRBX174 is a great guitar for showing you the way. It sounds good, is easy to play, it's lightweight and comfortable to hold and it has everything a beginner needs in a starter bass.
Even if you're already well on your way to establishing a career in music, a basic bass like the TRBX174 would still have a place in your life. It's a great practice or backup instrument, something you can take along with you when jamming or something you can play in times when it wouldn't be advisable or practical to take out your more expensive gear.
This Yamaha bass is indeed incredible, but it's not perfect for every situation and it does have some limitations. It's not ideal for professional recording or live performances where a precise, completely controllable tone is required. The TRBX174 is simply not built for those tasks. It's good for beginners, practice, jamming or some recording work where you need a decent-sounding bass track.
If you take into consideration its features and its price, this bass is actually more than enough. You may not get the best with the Yamaha TRBX174 – it is a beginner bass after all, not a premium-quality model – but you certainly get more than its price implies.