Playground Sessions Online Piano Lessons Full Review
Many reviews come in saying that Playground Sessions is the hottest piece of software out there for digital piano lessons, and for good reason. This program was co-created by the music producing legend Quincy Jones, is hosted in part by Harry Connick Jr. as well as many other renowned players, and has a very advanced a smooth-running program.
This software is no joke! The goal in this program is for beginners to really be able to start playing within a couple of lessons, possibly even some of their favorite songs, and to expand the knowledge and repertoire of those who already have experience playing. Before we jump into how the lessons work, lets cover the medium in which all the lessons will take place.
Playground Sessions Online Piano Lessons Overview
Courses
There are some basics to be covered so you understand how in-depth these features really are. All of the lessons in Playground Sessions take place in the bootcamp section of the software. This section contains many lessons for the user to go through with a huge array of tools to work with. The dashboard in the bootcamp has options to slow down, zoom in, record, adjust metronome settings, toggle the lesson's backing track, separate the left and right hand notes, and so much more.
Not only that, all your progress is tracked with accuracy tests at the end of lessons and logged into a progress report so that you can see on a graph how well you're doing. I haven't seen a program yet that has this feature! Every bootcamp lesson and song lesson will have a video, a midi keyboard visual, and musical notes that are all in coordination with one another. You can click and drag these windows to whatever position you want them in to help accommodate you to your lesson.
Intro
Initial lessons get you on the piano playing pretty much immediately. You start out with just the first five notes of the C scale, playing melodies on a backing track with sheet music to go along with it. I found this first lesson to be really fun and it leads well into your first free song. I chose Lean On Me by Bill Withers and the arrangement that came with the song as a rookie is obviously watered-down but can definitely get a beginner playing the song!
Along with the many tools you're given, you also have the option of having either the finger numbers or the note names above the notes on the staff as training wheels before you really learn how to read the staff by yourself. This is convenient and can get a novice looking at sheet music and playing very quickly! The lessons in the beginner's section of the bootcamp lessons are in a linear fashion but give a nice mix of technique, repertoire, and theory to prepare you for future lessons.
Intermediate
The intermediate lessons continue to build on concepts learned in the introductory lessons, but add a lot more rhythms between both hands and color tones to add on top of the chords. This is when things actually start becoming musical for you as a player and at this point in the software, there are a lot more videos and tips that can be found both on the Playground Sessions software itself or on the YouTube channel. Even though this software came out almost a decade ago, you can still click around and find videos for playground sessions with instructors published just under a year ago. They are always updating with new lessons and have over 300 videos to watch on YouTube totally outside of the software.
In this section, there are many exercises based around building chords and working with chords such as inversions, arpeggios, and improvising. There are also some songs that you are given access to so you can practice the exercises over something fun and practical. This is where the instruction quality of Playground Sessions really begins to shine, the different kinds of instructors you encounter really give you a lot of background and extra information that lets you hear and see what makes other piano players different from one another.
AD - Harry Connick, Jr. Rookie Playground Sessions Lesson Sample
Advanced
Learning the songs that you've always wanted to play absolutely note-for-note is what the ultimate goal is, and you're finally here! The instruction on the songs and lessons are amped up to be accurate with the music as it truly is, without the training wheels. Now there is still a lot of learning to be done at this point, so not everything is going to be easy, but you're now diving into what the program is all about for people who already have a grasp on the keyboard.
This section covers a lot, including 16th notes and how they're written, how melodies work over chords, the introduction to the 7th chords and tunes to accommodate the lessons. You also start seeing a lot of multi-note melodies and interesting rhythms with the left hand that really start making the songs breathe life.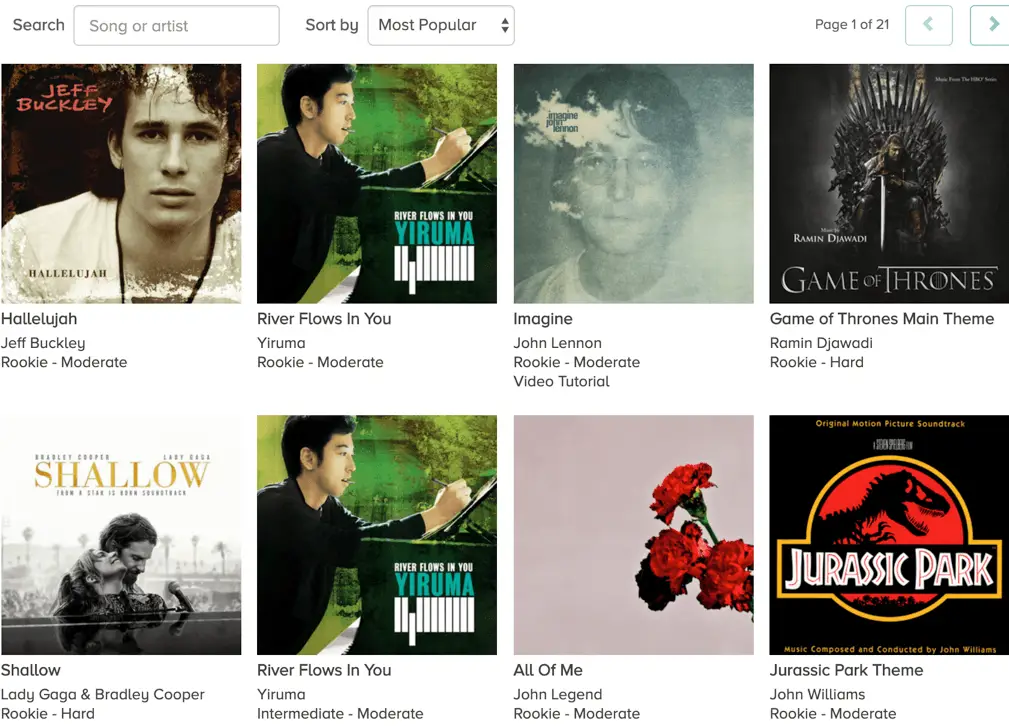 Songs
The songs are learned with a dashboard very similar to the bootcamp dashboard, with many of the same tools as well.
The song library of Playground Sessions is one of the most innovative, expansive, and expensive around. The library is constantly being updated and added to, so you always have new songs to choose from. You get a set number of free songs with each new lesson section you come to in the bootcamp section, as well as the 8 free ones you get during the free trial. Outside of these, the other songs have to be either earned or bought.
Playground Sessions has a credit system in place, where upon doing well in your lessons you earn a few credits. These credits can be used to earn songs in the song library, which is a nice motivation factor to have while doing the lessons.
When you buy or spend credits on a song, you have the option of changing the difficulty level on each song. This is pretty nice, as each difficulty level is a different arrangement of the song that can still get you playing the song no matter the level of playing. It is unique and very useful for a piano lesson software to have more than one arrangement of a song to play.
Once you get the song lessons down, you can use the performance option to get accuracy feedback on how you play as well as record so you can compare your progress over time.
Mobile
The same software on your computer is available for mobile without sacrificing anything about the software itself, available for both Android or iOS. The only difference being that your keyboard may not be be able to connect to your device, depending on whether or not you have a USB or MIDI connection on your mobile device. Either way, your lessons can be just as effective!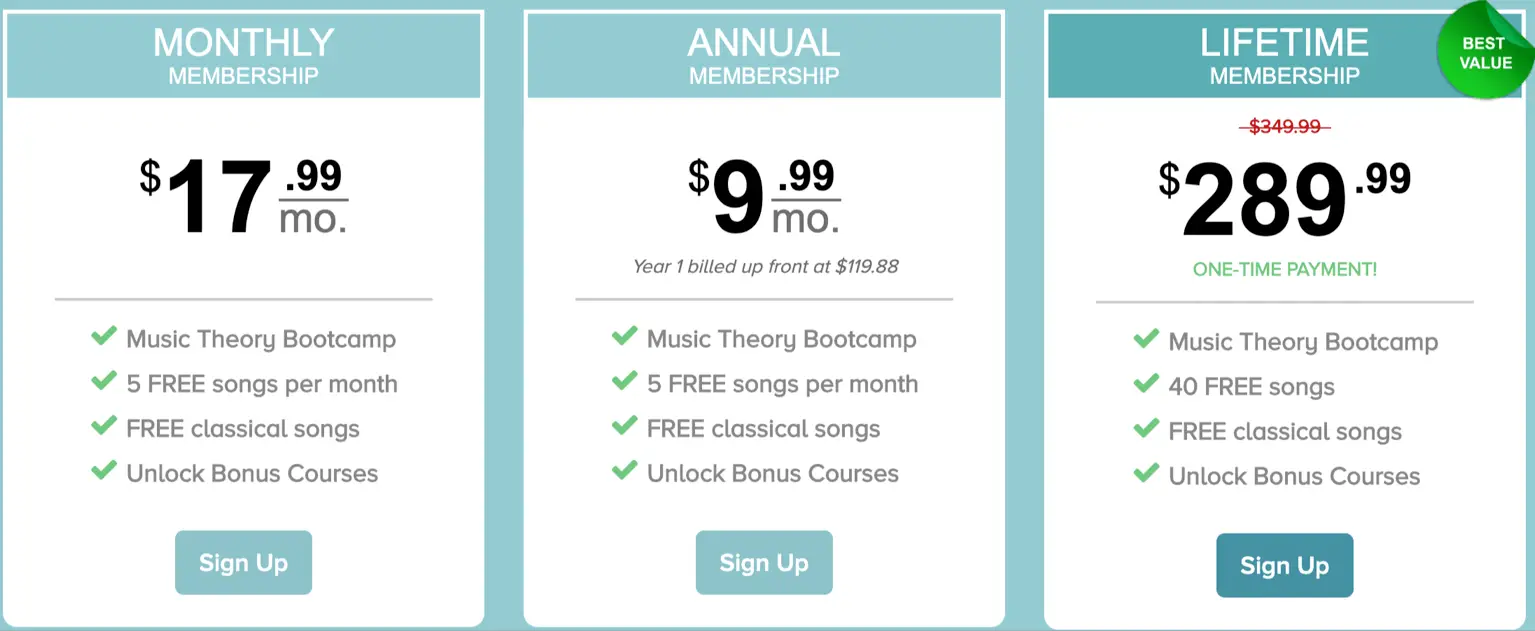 Value
For as innovative a product this is, it is not the most expensive software out there depending on the payment plan you choose. The monthly payment of $17.99 a month is pretty reasonable, but you pay it forever without owning it. The one-time payment is pretty pricey, at $289.99. Not only that, you don't get access to the entire song library upon purchase. You get 8 free songs during your trial and a few songs are included with each lesson you get to. You can get more songs by either earning credits or buying them outright, which just seems like a somewhat unnecessary expense with the cost of the program. However, the value that Playground Sessions offers almost makes it worth it, it has such quality characteristics and fine programming that I almost want to tell you to bite the bullet!
Strong/Weak Points
There are a lot of pros to Playground Sessions, everything from the medium of digital tools you get to work with to the fine tuned programming and immense credibility of the creators make it highly recommended already. However, there are some cons due to the price; it may be a little expensive for many students. You can always do the monthly payment of $17.99 with no commitment but you'll never own it. The one-time payment is on the event horizon of $300.00 and many of the songs are a separate expense. On the other hand, the song library is really expansive and can provide several arrangements for an array of difficulty levels with each song, which is a unique plus. The lessons and library also both accommodate all difficulty levels, so just about anybody can get this program and take something away from it.
Conclusion
The credibility of Playground Sessions is undeniably impressive, you get exposed to great teachers with individuality as musicians and the experience is pleasing. For the student that really wants to begin to learn the keyboard and have a great experience doing it, this is the one. However, as impressive as Playground Sessions is, it is also pricey. The cost can be discouraging at first if you aren't sure what you're getting into and I hope that this review helps to make that decision. If you were taking piano lessons seriously and really wanted to either learn or improve yourself, I would highly recommend it.