Playground Sessions is definitely not a newbie to the online piano learning scene and it's not the oldest either. It's been around since 2010 and has been a big player ever since.
It counts none other than Quincy Jones as its co-creator and Harry Connick Jr as one of its piano instructors and brand ambassadors.
So with millions of piano lessons being taught every month, let's dive straight in and find out what all the fuss is about in this review.
Getting Set Up
Playground Sessions is a little different from a lot of the other online piano learning platforms. Whereas a lot of the other platforms let you use their software in the browser, Playground Sessions doesn't.
You will either need to download their software for a Windows or Mac. iPhone and iPad users can head over to the App Store.
At the time of writing, there is no option to use Playground Sessions on Linux or Android devices. Also, it is worth noting that you can only register Playground Sessions' software on a maximum of two devices for a basic subscription or membership.
Another option for people who don't yet have a piano or keyboard is to buy a package deal. You can buy a keyboard and a subscription in one go straight from Playground Sessions themselves. This will give you everything you need to get started.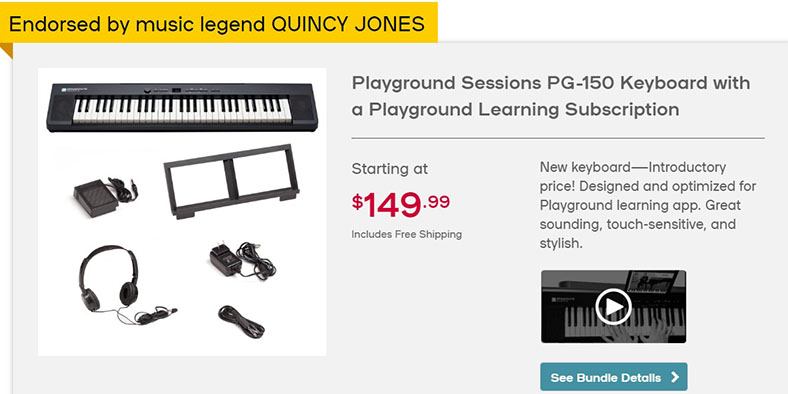 If you don't have a piano or keyboard and don't feel like committing just yet but would still like to have a go, there is a keyboard at the bottom of the app which you can use to play notes on. This is probably not the best way to learn piano but it might be helpful if you just want to get your feet wet on a free trial.
MIDI, Keyboard or Piano
You will need either a piano, keyboard or MIDI keyboard to use the app. The preferred choice as is a MIDI device that you can hook up to your computer.
Playground Sessions is able to give you real-time feedback on your progress, so it's definitely worth taking advantage of.
Getting Familiar With The Learning Environment
Playground Sessions can seem a little overwhelming at first and it might not be immediately obvious where you need to start. You have six tabs on the top of the app.
The "My Playground" section is essentially the dashboard.
Then you have Bootcamp and Courses sections. If you're new to Playground Sessions, then you should start with Bootcamp. If you're new to the piano, then you should start with the first lesson in Bootcamp Rookie Tour, otherwise, try and figure out your level.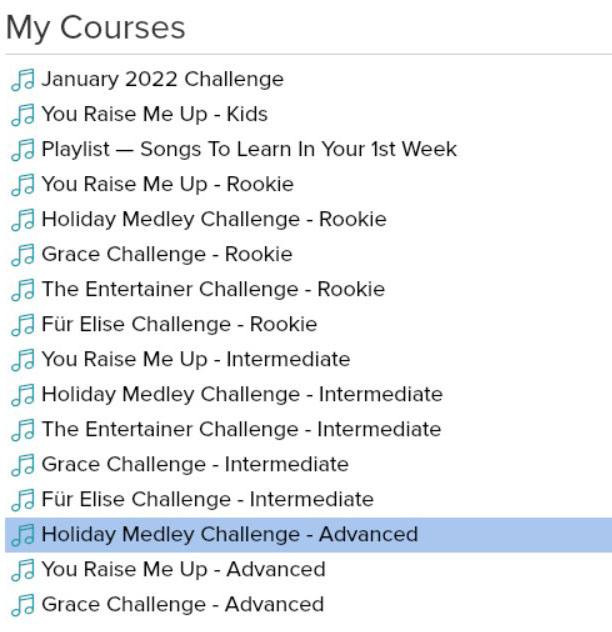 The Courses section can initially seem confusing and something you won't see on other platforms. Basically, as you work your way through the Bootcamp section, courses related to those lessons will "unlock" and become visible in the Courses section.
Some courses will also unlock when you hit certain performance goals such as getting a high accuracy score in the Bootcamp lessons.
The idea is that these courses are supplementary only and there to reinforce what you learned in the Bootcamp section.
After that, you have My Songs (the songs you bought) and the Song Store (the songs you can buy). Finally, you have the forum section, which is probably better used in a browser to be honest – I found the app to be slower.
Using the Course Material
Playground Sessions is a mostly video-based piano course all taught through one of its apps, so you won't be downloading PDFs or reading through documentation while learning.
You essentially get taught what to do by an instructor in a video and then you practice it and test yourself against the software.
Before you can begin any course in Playground Sessions, you will need to download it via the app. As it is not streamed, you will have to wait for the video to download, but a benefit of this is that you can watch the videos without an internet connection.
One of the things I didn't like with the Playground Sessions software is that you can't continue straight on to the next video. Instead, you have to go back and download the next class, wait for the download to finish, and then you can start up again.
Meet The Instructors
Playground Sessions has a total of 4 piano teachers although most of the lessons are taught by David Sides and Phil Anderson.

If you're hoping to be taught by a celebrity instructor like Quincy Jones or Harry Connick, Jr, then you may be a bit disappointed. Although they are associated with Playground Sessions, I wasn't able to find any lessons taught by them.
Gamified format
Playground Sessions is quite big on "gamifying" your experience by awarding points, stars and badges. They also keep track of your accuracy and attempts and let you know how well you're doing.

I tend to feel this kind of thing probably helps people who are less motivated about learning. That said, I did find the accuracy and attempts stuff pretty useful.
Music Reading and Sheet Music
If you don't know any sheet music yet, then Playground Sessions will slowly ease you in. Reading sheet music is only taught in the videos and there are no printouts that you might find with other online piano courses.
Try using a cheatsheet like this to quickly pick up the basics, then you can move through the courses more quickly rather than being stuck on one lesson trying to work out where all the notes are.
Video Lessons
One of the core features of Playground Sessions is the video lessons. They are slickly filmed from different angles and taught by professional piano players.

The instructors present the lessons in a fun and friendly format in clear American English making it a great piano learning experience.
Unfortunately, there are no subtitles which may not be helpful for people who don't speak English that well or those hard of hearing.
Practice Sessions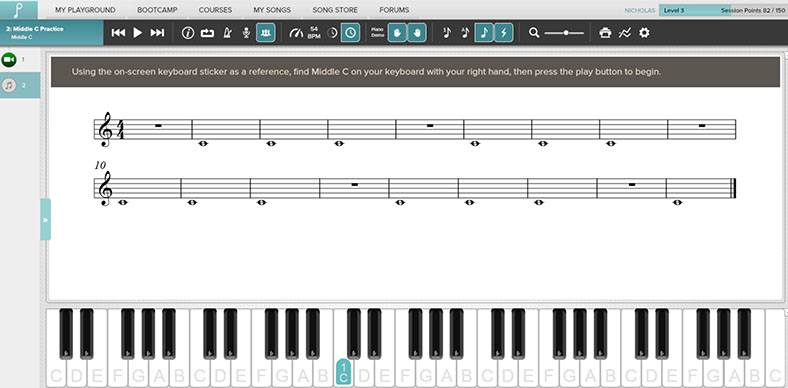 The practice sessions allow you to practice what you have just learned in the video lessons and they come accompanied with a bunch of features. You can:
Turn on a metronome to help you get the tempo right.
Record your work and save it to your computer.
Add accompaniments (additional instruments) to your practice lesson to enhance the learning experience.
Adjust the tempo. You can slow it down a bit if you feel that it's moving too quickly for you to keep up.
Toggle the notes. This is particularly useful if you're struggling to read the sheet music. You can turn on the notes under the sheet music. When you're feeling more confident, you can then just switch them off.
Use an on-screen keyboard. The keys that need to be pressed will light up as you're playing them so you know exactly where you are.
Get instant feedback. The notes you get incorrect turn red and prevent you from playing on. The ones you get right will turn green. You can toggle this feature on and off.
Beginners
The "Rookie" section, as Playground Sessions likes to call it, has a whopping 93 videos in it. In the first lesson, Phil Anderson talks you through the set up of a piano. He then teaches you about Middle C and Fingering as well as how the keys are grouped together.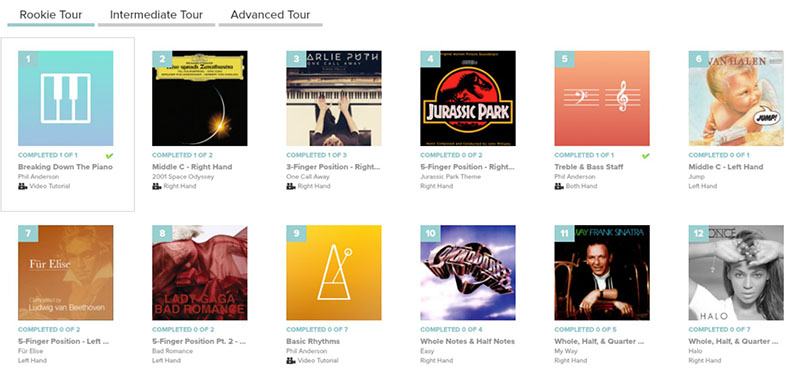 This is pretty much how Pianoforall starts out; the difference here is that it's filmed a lot more professionally.
The following lessons are taught by David Sides and he goes into much further detail about how to play the notes. Also, pretty much from the get-go, you'll be learning sheet music and how they relate to notes on the keyboard.
I found the Rookie piano courses to be extremely comprehensive and a great way for a beginner to cut their teeth. If you can get through all 93 lessons, you'll definitely be feeling more confident about playing the piano.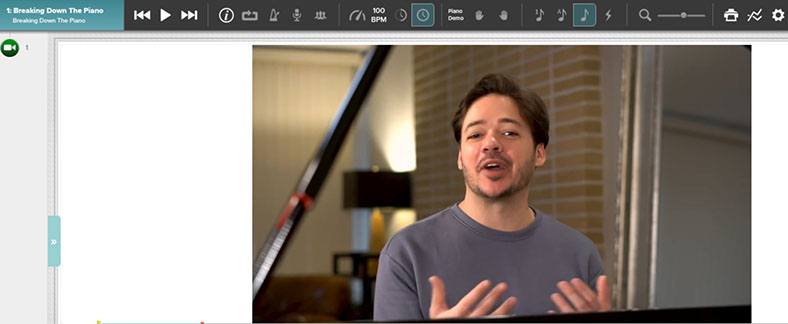 Out of all the courses I've reviewed (and I've done a lot), this has to be my favorite piano course for a beginner. I think the videos are much slicker than Pianoforall, which also has really in-depth beginner lessons, and is more complete than Flowkey.
Also, if you have a MIDI keyboard, you can then practice what you have just learned with the software.
Top Tip
If you're just starting out and have just bought a MIDI keyboard, it's probably worthwhile investing in some keyboard stickers as well. They're relatively cheap and will make your life much easier. You can find some here on Amazon.
Intermediate and Advanced Learners
Intermediate and advanced piano players can get a lot out of Playground Sessions. This platform is definitely not just for beginners.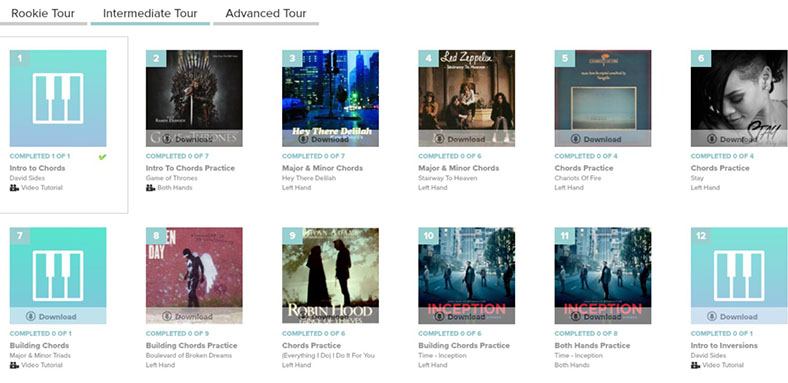 The intermediate tour alone has 63 lessons to it and starts with the basics of piano chords before ending with chord progressions.
The advanced tour is a little shorter with only 25 lessons and includes lessons on "voices" and arpeggios.
One of the cool things about the intermediate and advanced piano courses is that you actually start playing some classic songs.  The intermediate course teaches you "losing my religion" by REM and "Apologize" by One Republic.
The advanced course gets even more tricky with some classical music like Beethoven's "Fur Elise".
If you are able to complete the entire Bootcamp, you will definitely be a decent enough pianist. You'll know all the basics of the piano but you'll still need to improve by learning more songs – which takes us to our next section.
The Song Catalog
One of the downsides to Playground Sessions is the fact you have to buy the songs. Whereas in other online piano learning platforms, such as Flowkey and Piano Marvel, you will get a large selection of songs included in the price, unfortunately, that is not the case here.
With the exception of the five "free" songs included in your standard subscription, Playground Sessions expects you to buy your songs and they aren't that cheap either.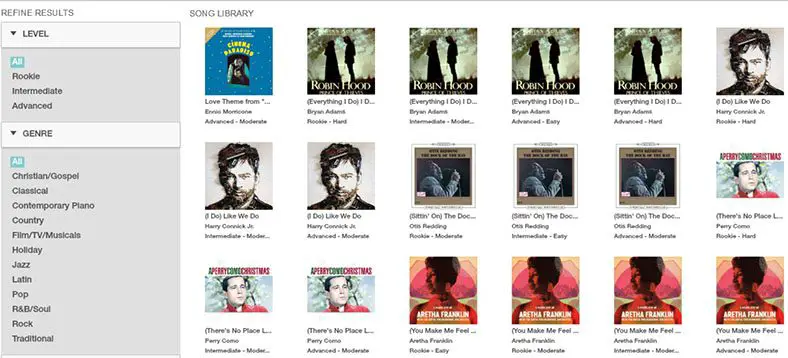 Expect to pay $1.99 per song. The Rookie songs come with a video guide, which some beginners may find helpful and something you won't get with other platforms.
The intermediate and advanced versions just come with interactive sheet music, which is essentially the same thing being offered by other platforms but included in the price.
On another note, excuse the pun, Playground Sessions only has 1000+ songs compared to 25000+ songs with Piano Marvel, so there's not really any comparison if you want a huge selection of songs to play.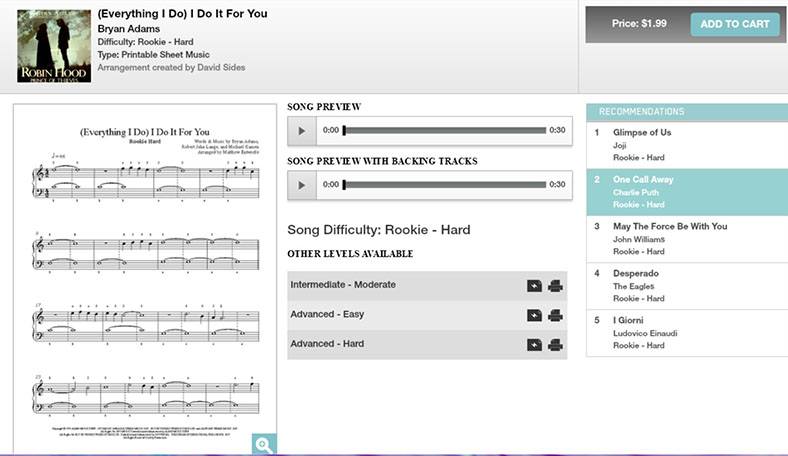 Even though the song selection is not as huge as other providers, you'll still find pretty much everything you're looking for. They have a decent selection of just about every music genre including jazz, Latin and pop.
If learning lots of different songs is your aim, then I recommend going with Flowkey if you're a beginner or Piano Marvel if you've played the piano before.
Is It Any Good For Children?
I would say Playground Sessions is not really aimed at young children learning the piano. I think a self-motivated child above the age of about ten would be able to handle the material.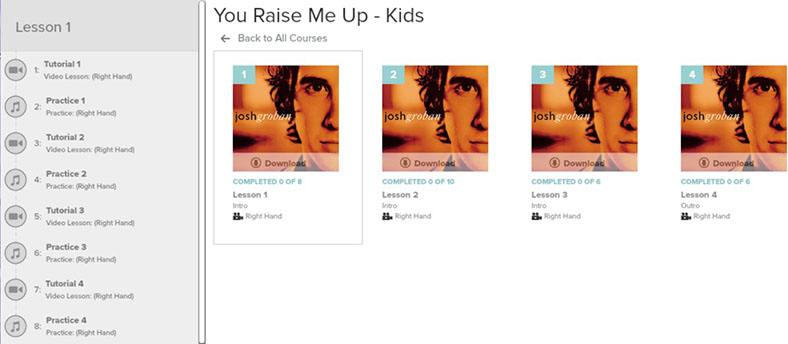 Playground Sessions themselves believe a child over 7 can use the platform but I'm not convinced.
My impression was the courses were more aimed at adults or motivated young adults.
How Many Languages Is It Available In?
Playground Sessions is currently only available in English. Confusingly, there is an option in the app to select other languages but it doesn't work and needs removing.
How Does It Compare To Other Piano Learning Platforms?
I would say Pianoforall and Playground Sessions are quite similar in terms of the content they offer, but their approach to teaching it is very different. Pianoforall is more of a one-man band operation whereas Playground Sessions is a whole suite of software and videos for learning piano.
You could probably put Playground Sessions more on a par with Flowkey or Piano Marvel as they are run as large companies. Each piano learning platform has its pros and cons.
If you want to learn a lot of songs, then Playground Sessions is probably not going to be the cheapest option, but if you are looking to just learn the piano or improve your piano skills, then Playground Sessions has got you.
Community/Forums
Playground Sessions has a fairly active community in a proper forum section where you can interact with other learners.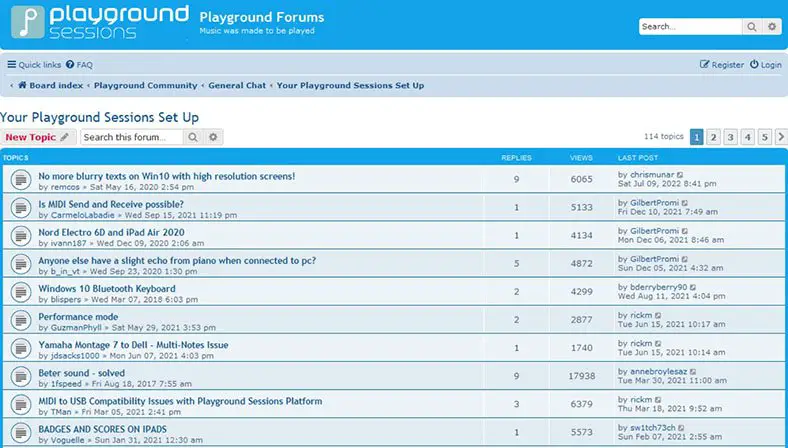 Just like any other forum, you can ask questions about certain aspects of Playground Sessions such as the courses or the song selection. There are also other features where you can make song and feature requests.
Some of the topics have recent threads whereas others date back to 2019. If you want to contact Playground Sessions about something specific, then contact them directly through their support channel.
Support
Playground Sessions support is fairly decent. I didn't think it was as fast as Piano Marvel or Flowkey though. You will probably get a response within 48 hours whereas other platforms will get back to you in 24 hours. Bear this in mind if support is high on your priority list.
Pricing
Memberships start out at $17.99 a month. If you can commit for more than a month, then the price goes down to $9.99 for annual subscriptions (paid up front) or $289.99 for a lifetime subscription.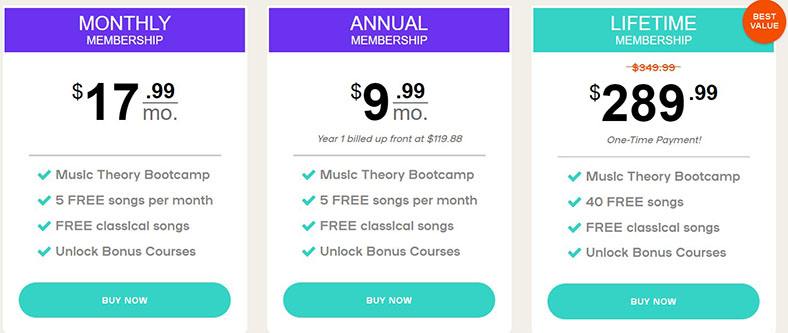 All the subscription plans cover the same things. You get full access to the material (not the songs) and then they will give you 5 "free" songs and some bonus courses.
They also have Family Plan options where they offer lifetime memberships to two or more people along with some more song credits.
What are the Differences Between the Free and Paid versions?
There is no free version of Playground Sessions. However, you can sign up for 14 days and get a free trial without a credit card.
If you think you can nail the piano in 14 days, then you can always give it a go. You'll probably be able to complete the beginner stuff if you're a total noob then don't expect too much. The idea is for you to test it and get hooked.
What I Liked the Most About Playground Sessions
I really liked the whole feel of the app. Once you get comfortable using the software, the lessons are presented in a fun and interesting way. After each video lesson, you are then able to practice what you have just learned and the software will tell you whether you are doing it correctly or not.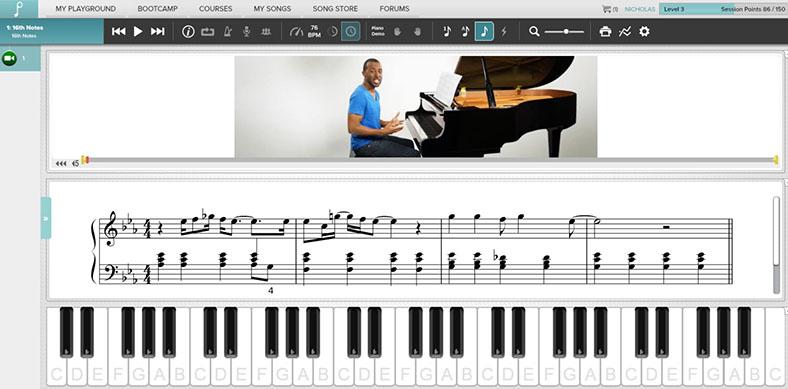 This is really important as you don't have a teacher there with you to help you. You need a way to be able to assess whether you are picking up the skills or not.
Other online piano courses have a similar set up but this one is just done better.
What I Liked the Least About Playground Sessions
The extra cost of the songs. I think if you've paid essentially 18 bucks for a course, then that should be it.
Playground Sessions Overview
So that concludes this Playground Sessions review. If you have any comments or want to chip in, then feel free to comment below.