A lot of folks are looking for the best acoustic guitar under $2000 because they've moved up from beginner and intermediate instruments to a more professional range of six-string acoustics. We're happy to help! For this list, we've taken a look at a number of different models from trusted brands and carefully selected the ones we think are the best in their category and price bracket.
All of the acoustic guitars in this list are fitted with electronics, with the exception of Martin guitars where a pickup-preamp system is optional. Let's get started!
If you're looking for something cheaper, then check out our main acoustic guitar review page.
Our Top Acoustic Guitars under $2000 Picks
| Image | Guitar | Summary | Price Check |
| --- | --- | --- | --- |
| | Taylor 314ce Acoustic Guitar | Taylor's offering for acoustic guitars under $2000 is the 314ce, a Grand Auditorium model with a Venetian cutaway for easier upper-fret play. The sound that comes from the Taylor 314ce is like a gem shining in the sun - clear and bright. The lows are warm, the mids are full and the highs are as bright as they could be. | |
| | Gibson J-15 Acoustic Guitar | Thank Gibson for coming up with handcrafted acoustic guitars under $2000. Built in the Gibson workshop in Bozeman, Montana, the 2018 Gibson J-15 is bound to get musicians scrambling to have it. Featuring a Sitka spruce top, two-piece maple neck, walnut fingerboard and walnut body, this guitar is a seriously straightforward acoustic from one of the world's best guitar makers. | |
| | Ovation 1627GC-1 Glen Campbell USA Custom Legend Acoustic Guitar | The Ovation 1627GC-1 Glen Campbell USA Custom Legend acoustic guitar celebrates the music of legendary artist Glen Campbell. This guitar recreates the sound of Campbell's original Ovation guitar and is made using premium materials such as AAA-grade Sitka spruce for the soundboard and ebony for the fingerboard. It also features Campbell's signature on the truss rod cover and fingerboard. | |
| | Martin 000-15SM Acoustic Guitar | This Martin has an all-mahogany body construction that's truly impressive. For a guitar that's priced below $2000, the Martin 000-15SM exceeds expectations. With this acoustic guitar, you will get a lot of warmth and sustain, plus a deep, dark and mellow tone that gets better with time. Perfect for guitarists who sing and songwriters who play! | |
Time for a Taylor! The 314ce sports the brand's signature shape, the Grand Auditorium, which makes it highly versatile and gives it that distinctly bright Taylor sound. Able to accommodate a variety of playing styles from strumming to fingerstyle playing, the Taylor 314ce guitar is well-suited for people who want an all-purpose instrument they can use anywhere.
Like most Taylor guitars, the 314ce has a solid Sitka spruce top for crisply articulated notes in a broad dynamic range. The back and sides are made from sapele, a fast-growing and highly sustainable wood from West Africa. It shares a tonal resemblance with mahogany, except that it has a slightly brighter sound with more sparkle on the top end, thanks to its higher wood density. The pairing of Sitka spruce and sapele results in a balanced and consistent tonal output across the spectrum.
The neck is made from tropical mahogany and the fretboard is made from genuine African ebony. The Taylor 314ce's Venetian cutaway allows easy access to the highest frets.
The Taylor 314ce projects extremely well, and each note is articulated clearly. If you need more, there's the Expression System 2 with a behind-the-saddle pickup for the most natural amplification possible.
Taylor 314ce Acoustic Guitar Overview
---
Not many people have $3000 or more to spend on an acoustic guitar from a high-end brand, which is why we're happy that Gibson has created handcrafted guitars for the enjoyment of more musicians.
The J-15 dreadnought is a prime example of a below-$2000 acoustic-electric guitar that nonetheless retains the excellent quality that Gibson guitars are known for. It's the company's most affordable acoustic. It also comes with a hardshell case, so it really feels like this guitar is quite a steal.
From afar, the Gibson J-15 in Antique Natural finish looks the same as many other acoustic guitars with its round shoulder body style, Sitka spruce soundboard, two-piece maple neck, and walnut back and sides. It's when you look closely that you'll notice the careful attention given to this model, with details such as a hand-fitted dovetail neck-to-body joint, genuine mother-of-pearl dot inlays on the walnut fretboard and hand-sprayed high-gloss nitrocellulose lacquer, which allows the solid-wood guitar to open and mature as it ages.
The J-15 produces a full-bodied, rich tone with impressive volume – basically the sound that Gibson acoustics are known for. Players can amp it up through the built-in L.R. Baggs Element pickup.
Gibson J-15 Acoustic Guitar Overview
---
Ovation worked extensively with music legend Glen Campbell during his decades-long career to build many of his guitars, which have become cultural icons. The story goes that because of Campbell, Ovation was pressed into developing its piezo pickup system for its acoustic guitars. Campbell wanted to be more mobile during stage performances and didn't like having a mic in front of the camera.
The Ovation 1627GC-1 Glen Campbell USA Custom Legend acoustic-electric guitar faithfully recreates the look and sound of Campbell's original guitar. It has a mid-depth body style, AAA-grade Sitka spruce top, refined scalloped X-bracing, 5-piece neck with maple/mahogany/maple laminates and walnut face, ebony fingerboard and bridge, pearl fretboard inlays, gold Schaller M6 tuning machines and trademark hand-laid Lyrachord body. Another striking artistic detail is the acrylic pearl oak leaves design for the rosette.
Also notable in this signature model is the electronic system, which is a reproduction of that found in Campbell's own guitar: Ovation's own SKM preamp (Single Knob Mono FET) and OCP1 pickup.
This guitar setup proved to be a favorite of Campbell, which is why we have it today. The guitar produces a warm tone with a clear sound and lots of projection.
Ovation 1627GC-1 Glen Campbell USA Custom Legend Acoustic Guitar Overview
---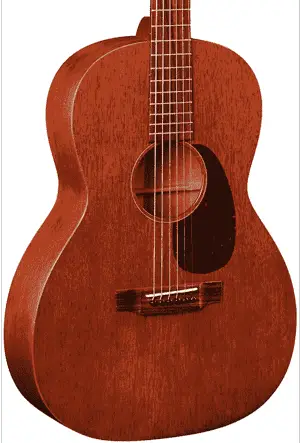 Buy from Zzsounds
One look at the Martin 000-15SM and you will be overwhelmed by how solid it looks. Because it is. Yep, that's all solid mahogany there, and you know what that means: an acoustic tone that settles in and improves every time you play the guitar. The 000-15SM develops a greater harmonic richness every year that passes.
The mahogany body construction also gives the guitar a warm, powerful sound with lots of projection. The deeper, more mellow tone of the guitar makes it an ideal companion for singer-songwriters and guitar players who like to sing, as it leaves a lot of sonic space for voices.
The Martin 000-15SM is a 12-fret model. Aside from the solid genuine mahogany top, neck, back and sides, the guitar also has an East Indian rosewood fingerboard with abalone inlays of diamonds and squares, side-mounted Golden Age tuners with a bright nickel finish, faux tortoise pickguard and old-style script logo on the headplate. The neck has a square-tapered slotted headstock that adds to the guitar's overall visual appeal.
Seeing, holding and playing the Martin 000-15SM feels like home. It's easy to play, lovely to hear, a joy to sing with and is built to last.
Martin 000-15SM Acoustic Guitar Overview
---
Buying tips for finding the best acoustic guitar under $2000
All of the acoustics in this list are worthy of purchase by serious musicians who want to make a good investment on a guitar. These guitars are what you can consider to be transition instruments – these are the guitars you move up from entry-level and intermediate guitars and right before you go for the high-end, more expensive instruments that cost upwards of $2000.
The materials and electronics used in making these acoustic guitars have a higher quality than those you would find in guitars from a lower price bracket. The craftsmanship is more top-notch and there is greater attention to detail. Overall, these acoustic guitars under $2000 are better in terms of sound, looks, feel and playability.
Spending your money wisely
For many people, it isn't easy to come by $2000 for a guitar, which is why this list shows only the best acoustics for that price tier. We want to help you make sure you're spending your money wisely by buying a quality instrument at your allocated budget.
But does it make sense to buy an acoustic guitar that can in no way be considered cheap?
Why buy a high-quality guitar
With guitars, the more you pay for one, the more you get out of it. This means that if you spend more now for a high-quality guitar, the better and longer-lasting your playing experience will be. And with a well-crafted and well-built guitar in your hands, you can be sure you'll be able to avoid unnecessary repairs or replacement of parts, which can cost you more in the long run.
This is important especially if you are looking for an acoustic guitar you can rely on for professional work, whether it be composing and recording music, performing songs live, giving guitar lessons or a combination of those income-generating activities.
While it's definitely tempting to go for a much cheaper guitar that meets the bare minimum of your requirements – a 'serviceable' guitar – it can result in you having to spend more money on it down the line. Imagine having to buy the same cheap instrument over and over again and having it fixed or spending on aftermarket upgrades like a different set of tuners or a new pickup. You may not even be able to resell it.
This isn't the case with high-quality guitars under $2000, which are more sturdy, have quality components and retain their value. As we've discussed, the tone quality of solid-top guitars also increase over time, making older guitars more valuable, if not as cosmetically spotless. Even if you need to sell your guitar so you can have funds for a top-tier model, you won't have difficulty selling it for a good price.
If having a great guitar is important to you, choose to buy one that's considered the best in its price category. Think about it as spending more to have the features that you want your ideal guitar to have, such as quality tuners, a solid wood construction, an efficient pickup-preamp system, sturdy bracing and the like. Investing more money on a better acoustic guitar construction means you'll have a durable, beautiful-sounding instrument you can rely on for many years to come.
Buying a guitar under $2000
If you want or need to have a high-quality guitar sooner than later, you need to find ways to spend less for it, especially if you're a bit short on cash.
Our top tip for you is to look around online retailers for the best deal. Many acoustic guitars are sold for a lower price online than in a physical music store. You also have price-slashing options such as coupon codes, sales and flash deals that can help you avoid paying the full price on a guitar.
Take time to do your research and look around for the best acoustic guitar that meets your needs and fits your budget. If you can try different models in a store, do so. If the guitar you want is priced lower online, see if the store is willing to match the price. If not, then simply order your guitar online.