Guitar amps are the foundation of any player's tone — and with the new digital and modelling options on the market, they can provide so much more than simple clean sounds. If you're committed to making your guitar sound as great as it can, then you need to pick one of the best guitar amps on the market.
These amps range from bargain solid-state models to more expensive, luxurious tube amplifiers. I've included amps from every category to satisfy players across all genres. No matter your budget or your music taste, there's something here that's perfect for you.

Our Top Guitar Amp Picks
| Image | Guitar | Summary | Price Check |
| --- | --- | --- | --- |
| | Boss Katana 50 MkII Guitar Amp | This is one of the most popular practice amps ever, and for good reason. With 10 different voicings and lots of onboard effects, the Katana can go from clean to metal with the twist of a dial. | |
| | Fender Champion 20 Guitar Amp | The Champion 20 is perfect for players on a budget looking to get solid sounds in a range of genres. It emulates classic Fender amps as well as more modern styles, for maximum versatility. | |
| | Fender Mustang LT25 Guitar Amp | The Mustang LT25 is the newest addition to Fender's digital lineup. With dozens of amp models, onboard effects, and a streamlined user interface, it makes it easy to dial in your perfect tone. | |
| | Yamaha THR10 MkII Guitar Amp | The THR10 MkII is one of the most capable desktop amps that you'll find anywhere. It runs off battery power, so you can take it anywhere, and its versatile models are perfect for jamming and recording. | |
| | Orange Crush 20RT Guitar Amp | Orange is known for their rock and metal amps, and the Crush 20RT is no exception. This solid-state unit offers rich crunch sounds, with lots of harmonic saturation for playing classic and hard rock. | |
| | Blackstar HT Club 40 MkII Guitar Amp | Blackstar's tube amps provide great drive sounds and versatile tone shaping. The HT Club 40 MkII excels at crunch and metal gain, and its ISF feature lets you switch quickly from American to British voicings. | |
| | Vox AC15C1 Guitar Amp | The AC15 is one of the most famous tube amps in history, used by everyone from the Beatles to U2 and Brian May. This modern version preserves all of the classic tones in a versatile, durable package. | |
The Boss Katana 50 is one of the most famous practice amps of all time, and for good reason. This humble solid-state amp has amassed a cult following thanks to its dependability, value, and wide range of features on tap.
At the core of this unit are its modes. The Katana offers five different sounds, taking you from pristine cleans to chugging metal sounds at the twist of a knob. The MkII model includes variations for each of those sounds, so you get even more control over your voicing.
No matter which mode you pick, the custom 12" speaker gives you great tonal balance with plenty of bass. The power knob helps even out the response at low volumes, so you can play with perfect crunch and saturation without breaking any windows. For a unique touch, you can also add in effects via the onboard knob.
I love how the Katana includes a specialized acoustic guitar voicing. It's a rare touch on a practice amp in this category, but it can come in handy if you want to add a warm, smooth touch to your sound or just want to play acoustic chords.
I'm also a big fan of the Katana's companion app, the Boss Tone Studio. It lets you add effects like reverb, chorus, delay, and EQ to your base tone — and it's one of the most streamlined apps that you'll find to adjust your sound. If you want lots of power to adjust minute details without a complex, daunting interface, this is one of the best options on the market.
Boss Katana 50 MkII Guitar Amp Overview
---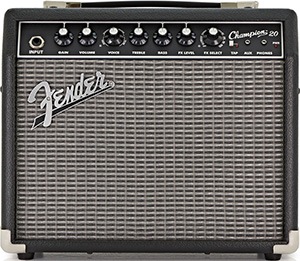 Buy from Zzsounds
If you're in search of an ultra-affordable amp that can get the job done for playing at your house and small jam sessions, the Champion 20 is hard to top. Thousands of players got their start using a Champ 20 — and even years after its introduction, its combination of sounds and great value make it a perfect fit for all kinds of players.
The Champ 20 contains 12 amp models onboard; they draw from Fender's heritage of tweed and blackface amps, while also expanding into British-style amps and metal tones as well. Each type of model offers multiple voicings, so you can tweak your tone even further.
Beyond the models, the amp also contains effects like reverb, delay, chorus, fangler, and auto-wah to spice things up. The 8" speaker is well-suited for low gain and clean tones, and it provides a focused, sharp saturation as you turn up the gain.
However, the small size and low wattage make it tougher to get great high-gain sounds out of this amp. At the highest gain settings, it sounds a bit compressed and thin — so if you're looking for a metal amp, you might want to check out the Blackstar HT Club 40 MkII, Boss Katana 50 MkII, or the Orange Crush RT20 instead.
Fender Champion 20 Guitar Amp Overview
---
The Mustang LT25 is the latest in Fender's lineup of digital modelling amplifiers, and it provides a great mix of sound quality and value for a versatile practice amp. There are 20 different amp presets, along with 25 effects sounds onboard for you to explore.
But while the sounds are great, the Mustang's streamlined interface sets it apart from competitors. The amp comes loaded with 50 presets, to help you get famous tones of rock history with just a single button press. You can also tweak any preset amp sound or effect with one adjustment knob, so you can get in and out of the menus and back to playing music.
Speaking of playing music, this amp is built for almost any situation. It's got a headphone output for silent practice and a USB out for recording into a DAW, but its 25-watt power makes it strong enough to handle a jam session or two.
The one downside of the Mustang LT25 is its small speaker. At just 8" in diameter, it's significantly smaller than many competing amps, and it holds back a bit of bass response. If you want louder bass with a more powerful, tight attack, then you might need to look for a different amp.
Fender Mustang LT25 Guitar Amp Overview
---
Yamaha's THR10 redefined what a desktop amp could do when it was first released a few years ago. The updated MkII release takes all of the great features of its predecessor, while improving on the voicings and connectivity for an even more dynamic experience.
This amp holds 15 different models, so you can emulate tones from American, British, and metal amps. With the connected app, you can tweak your models further or add effects like chorus, delay, reverb, and compression. Its pair of 3" speakers creates an accurate stereo picture to give extra depth for your modulation and delay effects.
The tones on tap range from bright and clean to gritty, saturated distortion. But beyond the sounds, the THR10 distinguishes itself with its portability. It can run on AC power, and you can purchase it with wireless power to connect seamlessly with your instrument.
However, if you want a balanced amp for recording, just use the Cubase AI and USB outputs to lay down pro-quality tracks. The THR10 can also handle an acoustic guitar or bass guitar, which makes it perfect for guitarists who need to record a whole band on a budget.
Yamaha THR10 MkII Guitar Amp Overview
---
Orange amps are known for their loud, punishing distortion and outstandingly rich harmonics. The Crush is the company's flagship beginner model, and the 20RT upgrades it with reverb and an onboard tuner. If you're just getting started but want to play hard rock, alternative, and grunge, the 20RT is a great choice.
This amp is built for overdrive and distortion; with its four-stage gain preamp, it can serve up more crunch than most other beginner amps on the market. However, it also offers a clean channel so you can play with a little less gain if you'd like.
The clean tones are full-bodied and surprisingly warm for a British amp, although they're not as dynamic as some other amps. However, the distorted sounds are fantastic for an amp this size. The 8" Voice of the World speaker is specially designed for this amp, so it preserves the tight, fast low end while maximizing the harmonic overtones at the upper end of the register.
Another feature that sets this apart is its headphone output. If you want to practice quietly but don't want to sacrifice your sound, you can run straight from the preamp into your headphones and preserve your perfect tone. The headphone amp comes with a cabinet simulation built-in, so it sounds just like you're playing on stage.
Orange Crush 20RT Guitar Amp Overview
---
Blackstar has built their name on their aggressive drive sounds and refined clean tones, with plenty of flexibility to switch between the two. The HT Club 40 MkII marries these features with a 12" speaker and 40 watts of power, for a combo that you can easily take from the jam session to the stage.
The HT Club 40 runs with two channels: clean and dirty. The clean channel prioritizes softer sounds, although it can also achieve some serious crunch if you turn the volume and gain up. The drive channel is built for face-melting gain, with the potential to play hard rock, metal, and extreme styles.
Each channel features two different voicings, which gives you more tonal options to play with. Overall, the clean options are solid, but the distorted tones really shine. It's hard to top the amount of gain on tap here, but they're also some of the most dynamic crunch sounds that you'll get anywhere.
Compared to the original, the MkII model offers thoughtful upgrades to make this amp a recording powerhouse. You'll find an XLR output on the back for plugging straight into audio interfaces, as well as a USB jack, headphone out, and effects loop.
Blackstar HT Club 40 MkII Guitar Amp Overview
---
The AC15C1 is an all-tube powerhouse that's helped create the signature sound of hundreds of bands and solo artists. With its traditional British sparkle and dynamic top boost channel, the AC15 is perfect if you need a tube amp for practice, recording, and gigs.
This amp runs with two channels: a "standard" channel, and a second "top boost" channel. The standard voicing is perfect for rhythm work and background lines, as it offers more balance and warmth.
The top boost voicing adds more clarity and chime to the upper treble register, which helps your sound cut through a mix more easily. Bands from the Beatles to Queen and Radiohead have used that "top boost" sound to great effect — it's one of the most recognizable amp sounds in rock, indie, and alternative.
With overdrive applied, the AC15 offers beautiful saturation thanks to its 12" Celestion Greenback speaker. Its harmonic depth has made it a favorite pick for guitarists like Brian May. You also get reverb and tremolo built in, so you can spice up your rhythm and lead tones.
The one downside of the AC15 is its weight. While it's powerful enough to play jam sessions and club gigs, that power comes at the cost of portability. If you're looking for a compact, comfortable tube amp, you might prefer a smaller combo like the AC10.
Vox AC15C1 Guitar Amp Overview
---
Honorable Mentions
While all of the amps that I've featured have something great to offer, there are just too many outstanding amplifiers for me to mention them all in one review. These amps here are the honorable mentions. If you're chasing a specific sound or just want a portable combo to take anywhere with you, these amps might be the right fit for you.
The Marshall JVM410H is amazing for veteran players who want a vintage amp that can fill stadiums. With 100 watts of tube power, it's one of the loudest and most dynamic amps on the market. Its classic "Marshall crunch" is perfect for blues guitar, classic rock, and even hard rock as well.
Unlike some other Marshall amps, the JVM410H also offers four channels, with all of the essentials you need to record directly from the amp. The onboard line output, effects loop, and MIDI input and output let you run straight to a digital audio workstation (DAW).
If you need a starter amp that provides genuine tube tone at bedroom volumes, the Bugera V5 Infinium is a great alternative. This 5-watt combo is perfect for low-volume practice because you can push it to overdrive at manageable volumes. While the EQ section isn't very detailed, it provides everything beginner players need to get the job done.
Finally, you might also want to check out the Blackstar FLY 3. This tiny amp offers three watts of power with two channels and onboard effects. It's light enough to throw in a backpack, and it can run off of battery power so you can play anywhere. With its durable headphone output and affordable price tag, it's great for players on the go.
Buying a Guitar Amp
Tube, Solid-State, or Digital?
The first decision is to select between tube, solid-state, and digital amps. While all of the three types offer their own strengths, the differences in sound and price make it crucial to pick which one you want before you start your search.
Tube amps have long been the gold standard for players looking to get the best tone possible. They're renowned for their natural, "lifelike" response and dynamic drive sounds that no other amp can quite match. With great phrasing and attack, playing a tube amp feels the best for country, blues, rock, and more.
However, tube amps are much more expensive than many other types of amps. And while most tube amps offer fantastic overdrive sounds, they don't have many built-in effects like delay, chorus, and echo. If you want more versatility out of your tube amp, look for a model with built-in tremolo and reverb to add some more flavor to your standard sound.
Because they use genuine vacuum tubes, they're also heavier and often tougher to carry than comparable solid-state amps. If you play a lot of gigs and need to carry your amp to each one, you might prefer a lighter, more portable solid-state or digital amp.
On the other hand, solid-state and digital amps are more affordable and more versatile than most tube amps. They're perfect for beginner and intermediate players who want the ability to play in multiple genres without buying an entire pedalboard. These amps also make great practice amps, because they offer good drive sounds at low volumes.
Where Will You Use It?
Once you've picked which type of amp you want to get, you'll need to determine the ideal size of your combo. Larger amps are perfect for playing gigs in clubs and jam sessions, but they're tougher to store and don't sound as good when played at low volumes.
Smaller amps, on the other hand, sound good for practice and jamming and are easy to carry wherever you need. However, they often feature less headroom than larger alternatives, which limits where you can use them without tapping into an external speaker system.
If you're just starting out and you don't think you'll play any gigs, a smaller amp is usually a good bet. The exact wattage will depend on how much volume you want for jam sessions, but anywhere from 5 to 50 watts is a good rule of thumb. On the other hand, if you want an amp that you can take on stage a larger tube amp like the Vox AC15 or Blackstar HT Club 40 MkII will be your best bet.
What Will You Play?
While it's important to consider the type and size of amp that you buy, you'll also need to think about how your chosen amp shapes your tone. Different types of amps are voiced differently, which can have a big impact on your guitar's final sound. Before you purchase one model, it's important to know how its voicing and EQ will mesh with your favorite genres.
In general, you'll find two types of amp voicings. These are often referred to as "American" and "British" amps, after the most famous brands in each style. American-style amps, like Fenders and Mesa/Boogie amps, usually offer more emphasis on the bass and treble with a scooped midrange.
American amps are known for their shimmering clean tones and warm, smooth overdrive. The midrange cut helps them slice through a mix more easily, because your ear perceives more treble content in the sound. They're also perfect pedal platforms, as we'll touch on more in the next section.
Fender amps have been used by almost every artist, and they're a great pick if you need one amp that can do it all. They're most popular in blues and rock and roll as well as classic rock, although you see Fender amps in everything from jazz guitar to indie and alternative music as well.
British-voiced amps, like Vox, Marshall, and Orange amps, offer more midrange content with a prominent emphasis on the upper midrange and high end. These amps are known for their saturated overdrive sounds, often described as "creamy" and "rich" because of the high overtones. Players also love their clean tones, which sound more chiming and bright than some American amps.
British amps are perfect for classic rock, because they provide plenty of "crunch" and dynamic gain response. You'll also see British amps like Marshalls on stage for hard rock acts. Their midrange boost gives these amps a thicker, grittier sound that's good for bands who want a powerful, visceral sound.
Do You Use Other Pedals?
While many players plug straight into their amp, other guitarists like to play through a massive pedalboard of different effects. These can take your sound to new dimensions and help you branch out into different genres — but they might not sound as good with every different amp you try.
That's because each different amp has its own EQ curve, which determines how it boosts and cuts different frequencies across the spectrum. Many pedals boost the midrange or treble frequencies of your signal, which can make them clash with amps that already have a lot of midrange in the sound.
To remedy this, look for amps with scooped midrange response curves. Fender is the most popular brand of amps in this category, but many "American" voiced amps will offer a similar frequency response as well.
Of course, with many solid-state and digital amps you can adjust the EQ response directly from the amp. This allows you to tweak the voicing of the amp for any situation, and helps you get the most out of your pedals without limiting yourself to one voice.
Drive pedals can sometimes send British amps like Vox amps and Marshalls out of control, because their natural response curves already boost the midrange. American-voiced amps counteract this boost, but you can also adjust the EQ frequencies to try and compensate. That way, the midrange boosts of your pedals will complement the midrange scoop of your amp.
Bottom Line
With so many fantastic amps on the market, it can be hard to pick one to buy. Thankfully, our list includes the seven best options plus a couple great honorable mentions.
If you want the best all-around amp for home practice and small gigging, the Boss Katana 50 MkII is the best bet. It's got a dazzling combination of  foundational sounds and cool effects to keep listeners always looking for something new.
Of course, for a more powerful option you might want to look for a larger tube amp like the Vox AC15 or Blackstar HT Club 40 MkII. These amps deliver vintage analog tone that's sure to turn heads on stage and in the studio.
No matter what type of amp you're looking for, the advice I've laid out here is sure to help you find the perfect fit. Make sure to look across all of the highlighted models and the honorable mentions so you can find the best amp for your needs.