We've sifted through and researched numerous online piano lesson platforms to find the best online piano lessons in 2023. We've whittled the list of contenders down to just six, which we think deserve a mention.
Here, we've tested many different aspects of each website, each with their own directly outlined pros and cons. Hopefully this helps you make your decision on how exactly you'll become the next pianist in your home!
|   | Playground Sessions | FlowKey | PianoForAll | Skoove | PianU | HearAndPlay |
| --- | --- | --- | --- | --- | --- | --- |
| Free Trial | No, but 30 day money back guarantee | No, but 8 free song lessons | No, but 60 day money back guarantee. | Yes, there's a completely FREE version | No, but the first lesson is free | No, but many free online videos via YouTube |
| Mobile Friendly | Yes | Yes | Yes | Yes | Yes | Somewhat |
| Beginner Friendly | Somewhat | Somewhat | Yes | Yes | Yes | Somewhat |
| Levels | Beginner-intermediate-advanced | Beginner – Intermediate- Advanced - Professional | Beginner - Intermediate | Beginner, intermediate, advanced | Beginner | Beginner-intermediate - advanced |
| Number of Lessons | 1000+ lessons | 63 Lessons each with their own range of chapters | 500+ Lessons including books, videos, and audio lessons | 400+ | 20 | 100+ lessons |
| Live Courses | No | No | No | No, but Premium members get one-on-one instructor support | No | No |
| Styles | Pop, Jazz, Hiphop, R&B, Classical, rock, and Traditional | Pop, Classical, Film, Games, Jazz, Rock, R&B, Mood Music, Traditional, and holiday music | Rhythm & Blues, Rock n Roll, Jazz, Classical, and stride piano | Classical, pop, blues, Christmas, film theme songs | Pop, TV themes, classical, children's music, and traditional | Gospel, Jazz, Salsa, Soul, Blues, Pop, Funk, and rock |
| Best Known For | Credentials in the creators of the software | Innovative online learning tools and large song library | Primarily teaching the piano by ear & chord shapes for recreational use | Interactive interface that lets you move at your own pace, huge range of songs and lessons | The entire program is browser-based | No sheet music required, totally by ear! |
| Community Support | Very active and supportive community, has its own forums on the product website | Forums are years old and generally inactive, but FaceBook page is developed and very active | Not very active | Blog, fantastic FAQ section | Not very active | Very large, very active |
| Video Quality | High quality | Above average | High quality | No video (interactive player) | No video, MIDI audio is average | Above average |
| Price | $17.99 p/ month, $119.88 annually, $289.99 one-time payment. Also has educator discounts, family plans and gift codes | $19.99 p/month, $12.99 p/month with a 3 month commitment, $9.99 a month with a 12 month commitment | $39.00 one time payment for the instant download, $49.00 for the DVD plus the instant download | $9.99-$19.99 month | $8.00 p/ Month, $60.00 p/ year, or one time payment of $225.00 | Individually priced lesson packages available in software, books, and DVDs starting at $25.00 |
| Visit | | | | | | |
Playground Sessions came in highly recommended as having been "rated the #1 piano learning software & online lessons", as advertised on their website, and was developed from some of the fattest cats in the music industry. Having been co-designed by Quincy Jones and having Harry Connick, Jr. featured as an instructor for the software gives the online lesson provider a huge shoe to fill.
My initial impressions of Playground Sessions were very pleasing to say the least. It is geared toward the beginner to intermediate pianist and does a very good job of keeping the interest of students while using the program by using songs to teach each concept. Like many online lesson platforms, it has a giant selection of popular and important songs to choose from, each with their own sheet music and MIDI keyboard interface to ensure you're plucking the right notes.
The MIDI interface also has fingerings laid out on the virtual keyboard to ensure that you're using the right fingers. A downside to the song library is that you don't have access to all the songs in the library upon subscription or purchase of the program. You either have to collect what is called "free song credits" within the program or you have to pay with real money to obtain access to these songs. I thought this was a bit steep of the developers as the one-time payment for the program is already nearly $300.00.
It all seems to be pretty high quality software with nice sounding MIDI tracks to play along with and just superb instruction by video. A very nice feature of this program is the 'bootcamp' tab. Here, you'll find lessons used in conjunction with popular songs organized by difficulty to target certain musical concepts for the student to learn, including a lesson that teaches playing by ear.
I really am a fan of the feedback feature of this software. As you progress through the songs and bootcamp lessons, you can look back under the 'my playground' tab and see the amount of time you've spent using the program, how accurate you've been, what you need to improve on, and other reflective bits of information. Looking at your progress in retrospect can be very encouraging and can also make you a very effective learner.
Playground Sessions Online Piano Lessons Overview
---
Flowkey is a very user friendly online piano lesson website for players of all difficulty levels. Not only does this website have hundreds of songs to learn in a wide array of different genres, there is also a range of lessons teaching everything from initial techniques and concepts to improvising with chords and everything in between. These lessons cover just about every attribute a pianist would need to have a solid musical foundation to play music well and look professional doing it too.
The videos included with the lessons are higher quality than the typical YouTube instructional video and focus on concepts like why good posture and technique are important. For instance, in the first beginner's lessons, there is a lot of attention paid to orientation of the piano as well as recommended fingerings, and finishes off with learning Beethoven's "Ode to Joy".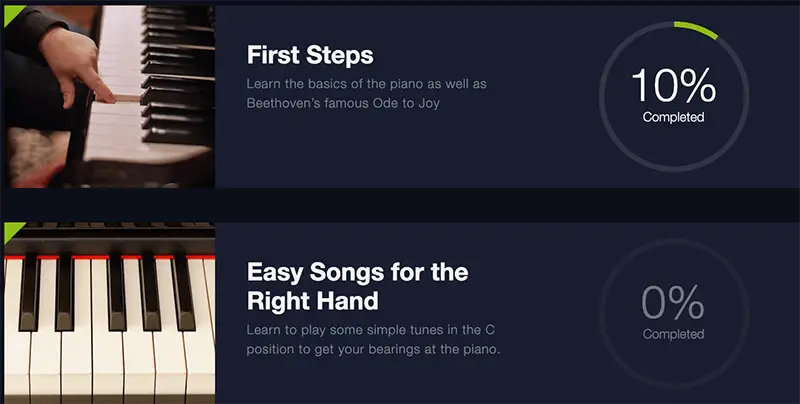 This site also includes a nice division between theoretical & technical lessons and learning songs. This is very important because not only is it vital to have good technique and musical knowledge, it is also critical to have a repertoire that is reflective of your skills. Flowkey makes it very convenient to pick and choose which songs would be best for you with the difficulty level categories as well as having a huge library of songs to choose from. Choices include everything from Mozart and Phil Collins to Ed Sheeran and Eric Clapton.
This online learning site seems to be innovative in its song learning tools; it combines many aspects of learning into one well put together interface. These tools include slow motion playing, wait mode, a score looping feature, and a very graphically informative play along screen. All this together is a little bit better than than what many other online lesson sites have to offer. The wait mode tool in particular is a unique tool as well as a very powerful one. While using it, the interactive sheet music and play along screen will only highlight the next note after the correct key is pressed, which teaches the player how the music should sound to the ear. This creates a great foundation for a very important musical skill: playing by ear.
Flowkey seems to have accurately combined many ways of learning into one easy to use program that is more user friendly than I initially anticipated. It seems that the only downside I can spot from using this program is that you do not have easy access to sheet music; it must be bought separately from Flowkey in order to own and use it. This 'downside' of the program is only reasonable, as the writers of the sheet music you want must have a way to make a career out of music!
Flowkey Online Piano Lessons Overview
---
Right off the bat, PianoForAll is obviously for the recreational musician. A lot of the program is play-by-ear with heavy instruction on chord progressions and songs. There is also instruction on sheet music as well, but it is not based around that skill. I find that this is very useful for real world situations for many reasons and this is a strong point for the program in my eyes.
Having chord progressions and chord shapes under your fingers is a skill that is very transferrable to many musical situations, especially for pop, blues, jazz, and many other popular genres of music. For instance, if you could only play Bill Wither's Lean On Me strictly while having the sheet music in front of you, how fun would that be? How often would you be able to find yourself not only in front of a piano but also in front of the sheet music of the perfect song?
Recreational and professional musicians both need to be able to have progressions and shapes memorized in order to sound authentic and, most importantly, to have fun. Not only does PianoForAll focus on this concept of chords for much of its material, it also introduces more complex chord shapes very early on in the lessons. This paves the way for a student to see the possibilities in genres like R&B or Jazz when harmonies in these genres are largely looked at as pretty advanced concepts. This is not to diminish the importance of reading sheet music. Sheet music reading on the piano is critical for learning how to play classical pieces like Ode to Joy from Beethoven's 5th Symphony or Mozart's Fur Elise and this program can still help you do just that.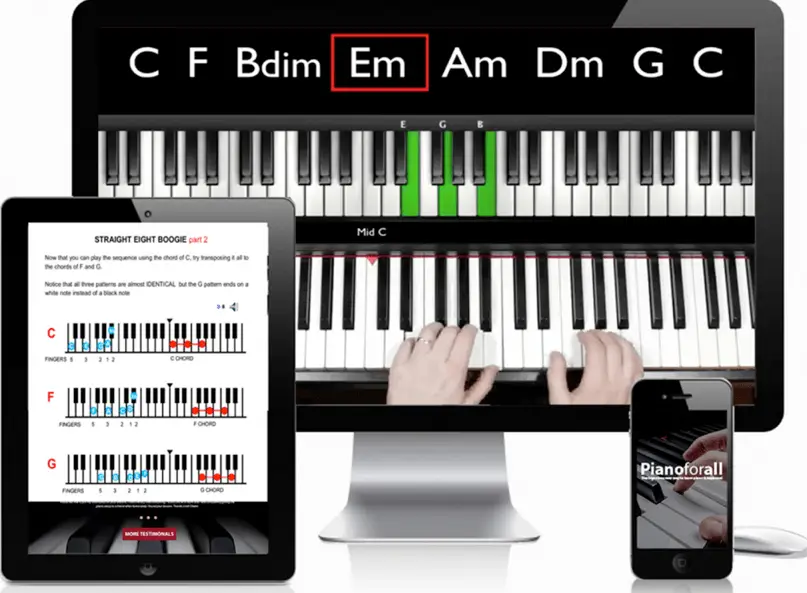 PianoForAll does not support a MIDI instrument, which is something that could be a pro or a con depending on how you prefer to learn the piano. PianoForAll is PDF and video based with several eBooks that are included as well as a DVD that you can pay extra for.
This isn't software that is installed and used through an app or anything of that sort, so you are sacrificing the use of a MIDI instrument like a keyboard plugged in by USB. This tends to have students make more mistakes without the program telling them they are hitting wrong notes on the keyboard as it is happening. However, for every mistake made, a lesson is learned. This program will teach you to hear wrong notes organically while giving you the foundation to impress your friends, play your favorite songs, and play music with others by memory.
The program is nicely priced for the skill it offers; a one time payment of $39.00 without the DVD. This is really good value compared to a lot of other lesson programs that are based through a website or an app that usually require a monthly or yearly subscription.
PianoForAll Online Piano Lessons Overview
---
If an incredibly interactive platform is what you're looking for, then I can say for sure that Skoove is the one for you. Just don't ask me what the name means.
Seriously though, Skoove is super user-friendly. Firing it up on my laptop and plugging in my MIDI keyboard, the first thing I noticed was how well laid out the individual courses are. You get 5 Beginner modules, 4 Intermediate modules, 1 Advanced module (for now), and another 10 modules which are mostly aimed at teaching you specific songs and styles.
Nice and straightforward, and easy to get an understanding of where you're at and what's coming up next. Clicking into one of the courses, you'll see the individual lessons laid out linearly. There are around 20 lessons in each course, and I found they progressed nicely in terms of pace and difficulty.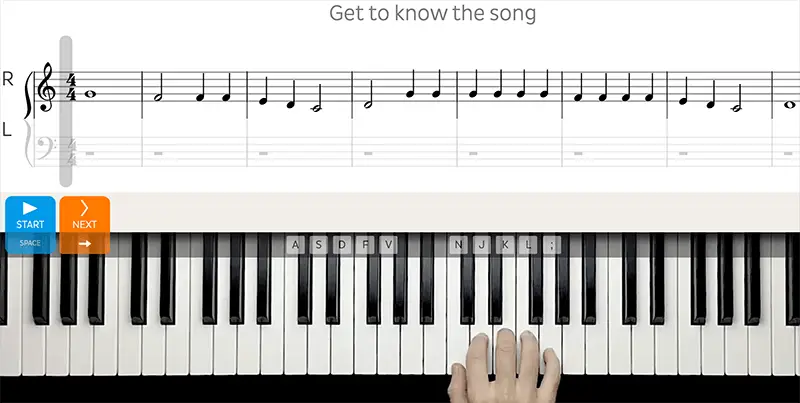 One thing that really stood out was the way Skoove introduced theoretical elements into each course. Rather than forcing you to sit through hours of theory, then teaching you songs and practical techniques, Skoove takes a one-for-one approach. By that, I mean you'll learn one piece of theory, for example, the note C, or the quarter note length, and then you learn a song or part thereof that allows you to put it to use. I found this super helpful for retaining learnings, and the information that you're being fed comes bite by bite.
The same ideology flows through the individual lessons too. Rather than using a video format (which can sometimes move too fast for me to follow), Skoove implements an interactive go-at-your-own-pace style interface. There's a handy progress bar at the top of the screen, and the lesson doesn't progress until you hit the next button.
I've noticed, having spent some significant time with online lessons, that not every program teaches you actual songs. I think this is somewhat of a mistake on their part. When I was first learning guitar, applying techniques to actual songs that you could listen to on the radio (no Spotify then) was what really kept my going, and gave me the motivation to practice.
Skoove, thankfully, throws that out the window. There are tonnes of songs to learn here. The Beginner Songs module has 85 tracks in it, to give you a sense of how much there is to learn. There are also courses for pop, classical, and blues songs. I particularly enjoyed the Keyboard for Producers course, as I like to produce music in Logic in my spare time, so this gave me some valuable tips that I can actually put into practice.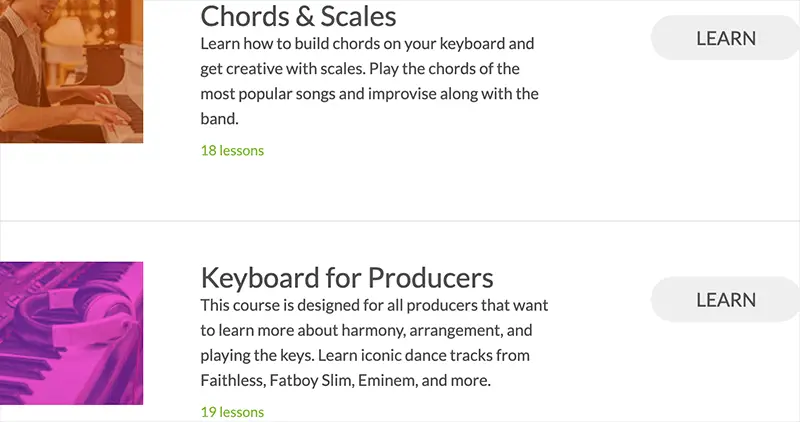 Pretty good value so far, I thought. Then I checked out the additional help sections. First was the tab called Magazine, which is essentially a blog. It's packed with tonnes of useful posts, though, and I can tell it's added to regularly as well.
What really impressed me here, though, was the FAQ section. Strange, I know. But Skoove went well past the point of troubleshooting tips, and even answered questions like what type of keyboard to buy.
All in all, Skoove represents incredible value for just $9.99. Plus, they promise monthly updates and additions. I'd suggest at some point in the near feature they might add a third membership tier that gives you access to less than the Premium option, but more than the free one. Yes, there's a free option too. So, get in quick, while it's still so cheap!
Skoove Online Piano Lessons Overview
---
Pianu is a browser-based online piano lesson program, which is unique in itself. As soon as you get onto the website, you can start playing the keyboard right away whether or not you have a keyboard set up. This is made possible by Pianu letting you either click, use your QWERTY keyboard, tap a touch screen, or use a MIDI keyboard to get through your online lessons. This is OK for learning the rudimentary fundamentals of the piano such as what notes are where, but I don't agree that it is plausible to continue using anything but a MIDI keyboard past your first free lesson.
In order to play the piano in any capacity, you need to learn technique and muscle memory to the scale of a keyboard or piano and that just can't be achieved using a touchscreen or QWERTY keyboard. Other than that detail, the lessons seem to run exceptionally smoothly for being totally browser based. Animation quality for the site is very pleasing – beautiful even.
The lessons are set up much like a game, where there are levels that you complete, you get feedback on the percentage of notes you hit correctly, and finally you unlock the next step or lesson. When learning a portion of a song for a lesson or a whole song, the game-like interaction is reminiscent of the Guitar Hero game series but with the addition of sheet music. This style of game is particularly beneficial when learning about timing and rhythm. There is also a badge system in place to reward you after successfully completing a lesson, which is great for keeping the attention of younger students taking the course.
Even though it is a well designed course, it is a bit on the pricey side when you consider how many lessons you get. A $225.00 one-time payment only grants you with 20 lessons that ends at an intermediate level and then a list of songs to choose from and learn, which seems steep compared to other lesson providers that offer hundreds of lessons from beginning to advanced for just a bit more. The simplicity of the program does make it really appealing to use, but that sacrifices showing you the truly endless possibilities you have available with piano.
Pianu Online Piano Lessons Overview
---
Hear and play has very a different approach to learning piano as opposed to many of the other online lesson formats being reviewed here. HearAndPlay works around the idea of finding keys, learning songs, and developing chord structures completely by ear. In my experience as a musician, some of the greatest and most fluent keyboard players I've played with learned in this way. I believe that this can be a really great foundation for someone that wants to recreationally learn to play the piano and be on the fast track to play in a church worship team or in a band.
A downside of this program right from the start is that the video lessons are largely unorganized and hard to navigate from the website. I would suggest going to the dedicated YouTube channel to get better navigation as the 4 free lessons that the program comes with is on that channel anyway. It can also end up costing much more than initially anticipated because of the individually priced packages that are geared toward certain lesson segments or ideas.
Some of these lessons are based on the software available and others are based through books, DVDs, and online videos. I find it somewhat inconvenient to have to learn some things on one platform and other things on other platforms. However, the instruction of the material is of very good quality. Every concept is nicely laid out in an easy to understand way if you already have somewhat of a conceptual grip on the keyboard as a whole.
Beginners may find it difficult to move forward with this style of learning because of the minimum amount ear training most people would need to be able to differ melodies and chords completely by ear, though this is geared toward beginners as well. Not all of these lessons are through the software and there is also the con of a MIDI keyboard only being viable for interactive use for some of the lessons. This may or may not be critical depending on how developed your musical ear is, as there will be many mistakes made when learning this way.
Given that it is a very popular program and over 270,000 consumers have used this product, community support is very strong. There are plenty of forums, ideas, reviews, videos, and much more to look for if you are stumped on a concept or having issues figuring it out.
The genres you are confined to when using HearAndPlay may not be everyone's cup of tea, but provide a very malleable foundation of musical knowledge that will be transferable almost anywhere. For example, when you eventually have the skill to find a key by ear and you also have the chords necessary for blues, gospel, or jazz, you can pretty much hear your way through any modern musical situation. Whether or not you are a beginner or advanced pianist, this skill can be very critical at times and can save you from embarrassment in front of a crowd!
HearAndPlay Online Piano Lessons Overview
---
Other Courses: Learn Piano in 30 Days
Learn Piano in 30 Days is a nice approach to learning the piano for beginners and also accommodates having lessons for intermediate and advanced players. When doing the $1 free trial as a beginner, you immediately start with learning the parts of the piano and they have you plucking some keys to music right away. The lessons are about 10 minutes long or so, which is a nice mouthful of information to digest at a time. As an intermediate or advanced player going into the program, you can choose the higher difficulty and it will have you play more advanced songs, typically classical music, to test your chops on the keyboard and begin improvement as soon as you register. The program will provide you with sheet music and video lessons but will not have much more to offer outside of that. There is no MIDI compatible software to be had so naturally this can be a downside for many people who are just starting.
The instructional videos are very clear and concise and do offer a lot of popular songs for people to learn as well as having a library of less popular genres to choose from. A great selling point is that they are always developing new tutorials for new songs, so a brand new song that is on the radio that everyone wants to hear can be learned through this program. There are also sections of this program that teach you how to play by ear, learn music theory, reading sheet music, and using proper fingerings.
The community support is pretty inactive even though the program is only a couple of years old. However, there is a nice discussion forum for students of the program to talk to their team of teachers to help iron out details and learn tips and tricks. You can also put in requests for new song tutorials or lessons via the forum.
Am I Too Young or Old to Take Online Piano Lessons? What Are the Benefits?
Taking piano lessons online can satisfy many different aspects of a person's daily life, no matter how young or old. Music is a creative outlet that can be a therapeutic stress reliever as well as a hobby that exercises the brain's cognitive mechanisms, not to mention satisfying a plethora of other emotional and physical benefits.
When starting at a young age, music lessons can improve academic skills like mathematics as well as teaching patience and teamwork. This tends to be a great foundation for children just starting school or are having trouble academically in their first few years. Not only can it provide great academic roots, but social roots as well. Children who play music in groups often have a more developed ability to interact socially with others and be part of a team more effectively. When children play different styles and genres of music, they are also exposed to many different cultures from around the globe, which is a powerful concept for young and developing students to learn early on in life. In the same sense, learning to read sheet music can also make the idea of learning another language not so intimidating. Music shares many aspects of learning a different language. There is terminology to be learned, techniques to develop, and upon becoming fluent, can be used to communicate to other musicians in musical situations.
Adult students can use music to alter their mood, to provide a stress-free escape from their day-to-day activities, and boost confidence in doing something they love. Adult students of music will usually be more successful more quickly than those who start as children because concepts can be explained more in depth with understanding and insightful questions can be asked and understood. There should never be any shame in adults taking lessons for the first time as it could be the most effective time in a person's life to learn!
In senior students, especially those who have developed Alzheimer's and other conditions that hinder cognitive abilities, playing music will help keep their minds working in ways that will help them in remembering names of people and things as well as keeping their ability to adapt to, obtain and recall new information. In many ways, the brain is a muscle and just like the muscles everywhere else on your body, it will diminish over time if it isn't being used. Times were very different 6 or 7 decades ago and many people had to leave school in order to pay bills; there was no choice. In many cases, cognitive training through music is very beneficial for older students who never received what we would call today as "proper education." No matter what your age is, there is no better day to start than today!
What Sort of People Can Benefit from Online Piano Lessons?
Taking online piano lessons can be beneficial for a number of different reasons and can help people with even the busiest schedules find time for creativity and expression. With online lessons, there are endless opportunities to squeeze in time to learn your instrument without the full commitment to a strict routine or schedule. I find that this is perfect for the student who wants to recreationally learn their instrument while at the same time giving themselves a great foundation of knowledge to take the skill to that next step if they decided to procure it.
Not only are online lessons totally workable at your own pace, you also get the convenience of an endless stream of inspiration, level of instruction, and huge libraries of music to draw from the internet. An even more powerful feature of online instruction is the variety of different learning tools at your disposal. There are many programs that allow you to slow down music, have hands-on and visual imitation videos, and access to instruction that uses the help of MIDI instruments. Online lesson programs many times combine a selection of these tools and put it into a user friendly interface to be used all at the same time. It has never been easier to be exactly the kind of musician you want to be and if there were ever a time to take advantage of learning music and gaining all of its benefits, it would be now!
"I Can't Learn the Piano, I don't Have Time In My Day and I'm Not Talented Enough!"
People often say that they don't have the time to commit to learning an instrument with an instructor and regular lessons, which is understandable. Life can get busy with work and family and the time can be hard to find. However, the internet has created a breeding ground for people who want to learn something in what little free time they may have available and music is no exception. Even if it is just for 15 minutes a day, as long as it happens consistently, the knowledge will surely stick. In many of the online programs being reviewed here, each lesson is often about 15 to 30 minutes long, usually depending on the complexity of the concepts being taught. A little bit can go a long way!
Many people I've asked tell me that they love music but their "talent is non-existent." I hate that word, 'talent'. It has a connotation of effortless success; of mystical performance. In reality, every ounce of musical talent or performance that you've seen or heard on any instrument is a product of consistent rehearsal and dedication. I've also been told that each hand independently doing a different task, as on a guitar or piano, is just too much for them for figure out. I promise, there are too many people out there doing it for it to be impossible! Anybody that has the drive and interest in an instrument can play music, it is a skill available to all in this day in age.
Are Online Piano Lessons Worth It?
Economically and pragmatically, yes. It is much cheaper to lean toward online lessons than to have individual instruction and will save you a lot of money. The typical one-on-one instructor can charge between $25-$75 per hour, depending on the level of credential and skill of the teacher. Now compare that with the fact you can get started for FREE on Skoove and at least pick up the basics.
You also don't need to make online lessons a priority if you don't want to, making it less stressful. If you've ever had a teacher that is constantly pushing you to do better every chance they have and driving you nuts with assignments, you know what I mean! The online platform gives the leisurely approach an option, which can be especially valuable for people who don't have a great amount of energy and time to devote to it. Ultimately it is up to you, the student, if it's worth it to you. Ask yourself questions like: "Why do I want to take these lessons? Am I looking to be the next best concert pianist? Do I just need a creative outlet I want to ease into?"
Final Thoughts
Learning the piano under any conditions isn't any easy task for most, but it also is not impossible for anyone! The path you take to get there is up to you, and that path should be determined by the goals you've set for yourself, pertaining to what kind of pianist you want to be. Whether you want to be someone who can wow the family at the next Thanksgiving get together playing Billy Joel or you want to become the next Herbie Hancock, there is room for all of us to play.
When you figure out what kind of pianist you want to be and what kind of music you want to play, then comes the decision of the path you should take. Online lessons are a great platform for almost every kind of piano student. Even if you are a self-taught or professionally trained pianist, there is still a lot you could learn through these lessons. Some of these platforms we've reviewed are designed to push the skills of even the professionals!
The other options you have like one-on-one training, self teaching, and YouTube lessons are perfectly viable but these alternatives also entail time, money, and inconveniences that discourage many aspiring musicians. Not to mention that many of us just simply don't have means to dedicate much time or money! Don't pass up the opportunity to explore one of these amazing programs and see how you can improve your life with the beauty of music and all it has to offer and find the best online piano lessons for you.