Having the best blues guitar is a step in the right direction toward becoming the next B.B. King, Jimi Hendrix or Eric Clapton. But it ain't easy choosing a guitar, so we've done the work and shortlisted the most recommended and highly rated ones to make your search easier.
We've picked out the best electric and acoustic guitars that are more than suitable to help you play your favorite blues tunes and even do your best improvisations. These guitars are great for a variety of music styles but sound and feel most at home with those soulful bluesy tones.
Our Top Electric Blues Guitar Picks
| Image | Guitar | Description | Price Check |
| --- | --- | --- | --- |
| | Epiphone Dot Electric Guitar | The Epiphone Dot semi-hollow electric guitar is the more affordable version of the Gibson ES-335 Dot. It's suitable not only for blues but also for jazz and some rock styles. The Epiphone Dot Archtop's semi-hollow body is made of laminated maple, while its neck is made of mahogany. Two PAF-style alnico magnet humbuckers capture the warm sound efficiently. | |
| | Gibson SG Standard Electric Guitar | If you can only choose one Gibson guitar to be your go-to blues buddy, let it be the SG Standard. This solid body electric guitar faithfully captures the spirit of the legendary 1961 while offering modern improvements. Updated features include white binding on the rosewood fingerboard and ultra-stable Gibson locking kidney tuners. Two PAF-inspired humbucking pickups deliver a vintage tone. | |
| | PRS SE Custom 22 Electric Guitar | How about a sleek and stylish PRS for your first or next blues guitar? We're talking about the PRS SE Custom 22, a semi-hollowbody electric guitar equipped with dual humbuckers for a wide range of tones. This guitar also boasts a beveled maple top with an eye-catching flame maple veneer, a mahogany back, a maple neck and a rosewood fingerboard. | |
Here's our take on the best electric blues guitars
No matter your story, the Epiphone Dot can help you tell it. If you're a beginner or are a working musician, this archtop offers a pocket-friendly way to get those much-desired semi-hollow tones perfect for jazz, blues, country and rock 'n roll. Not for high-output heavy metal though – there are other guitars for that.
The Epiphone Dot Archtop takes it design from the iconic Gibson ES-335 and its name from the simple pearloid dot inlays on the fingerboard. As a semi-hollow guitar it offers greater sustain and resonance than solid body electrics. The solid middle piece serves to reduce feedback.
This semi-hollow guitar has a laminated maple top, back and sides, body binding and a set mahogany neck with a comfortable SlimTaper D profile. The fingerboard is made of pau ferro wood.
And because it's modeled after the Gibson ES-335, the Epiphone Dot also has two alnico-magnet humbucker pickups (neck and bridge positions), each with its own tone and volume control. The guitar has a three-way toggle so you can switch between pickup combinations.
The semi-hollow design and pickups work well to deliver a full-bodied, warm sound. If this is the sound you're going for, the Dot's got your back.
Epiphone Dot Electric Guitar Overview
---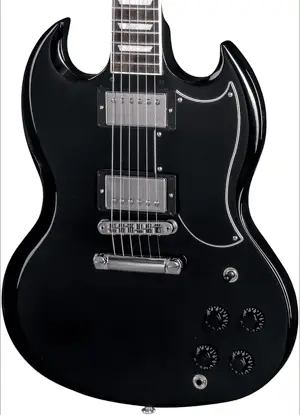 Buy from Zzsounds
The very first Gibson SG was introduced in 1961 and since then several variations of it were produced. One of these is the Gibson SG Standard, heralded as the company's best-selling electric guitar.
The 2019 model of the SG Standard shares many of the same features as the inaugural model and delivers the vintage tone that made the SG a favorite of many. It has a solid mahogany body with a black pickguard and a set neck made of mahogany.
The neck has a SlimTaper profile and topping it is a rosewood fingerboard with 22 medium frets and acrylic trapezoid inlays. The frets have undergone cryogenic treatment, making them stronger but not harder so they retain the same feel as standard frets.
The iconic SG sound is delivered by a PAF-style pickups – a 61R pickup at the neck and a 61T pickup at the bridge. Each has its own tone and volume control knob in a black top hat design. A three-way toggle switch lets you select either the neck pickup, the bridge pickup or both.
Other specs include Gibson locking kidney tuners, an aluminum Tune-O-Matic bridge assembly, an aluminum stop bar, chrome-plated hardware and white binding on the fingerboard.
---
It's easy to fall in love with the PRS SE Custom 22 with its dark good looks and alluring tone. This semi-hollowbody electric guitar is something you can count on for exceptional resonance with a clear and present midrange in addition to an extended frequency range.
What makes the SE Custom 22 look and sound as good as it does? There's the chambered body of course, which gives that temptingly sweet, airy tone that only a semi-hollow guitar can produce. The beveled maple top with a single F-hole has a flame maple veneer that shows off a beautiful wood grain. The maple wood delivers a bright tone with a good projection. It pairs up well with the mahogany back, which we can thank for a good midrange presence and clarity.
The neck is also made of mahogany and it has a Wide Thin shape. On top is a rosewood fretboard that offers a warm tone with a fast and smooth playing feel.
Dual humbuckers in the form of PRS 85/15 "S" pickups can be credited for capturing the semi-acoustic sound seamlessly. Volume and tone controls along with a three-way pickup selector let you tweak your tone however you wish.
PRS SE Custom 22 Electric Guitar Overview
---
Our Top Acoustic Blues Guitar Picks
| Image | Guitar | Description | Price Check |
| --- | --- | --- | --- |
| | Martin LX1 Acoustic Guitar | Now for some acoustic guitars! Our first acoustic pick is the Martin LX1 Little Martin, which may be small but it packs quite a punch. This guitar has a 3/4 scale, making it a good choice for beginners and small players. Specs include a solid Sitka spruce top, mahogany pattern HPL sides and back and a Rust Stratabond neck. | |
| | Fender CD-60S Acoustic Guitar | Up next we have the Fender CD-60S, a dreadnought that's perfect for those big, boomy blues tunes. It's one of the most popular and most affordable Fender acoustic guitars you can get your hands on. With its solid spruce top, mahogany back and sides, mahogany neck and rosewood fretboard, the CD-60S offers a classic acoustic sound with plenty of resonance. | |
| | Martin 000-28 Acoustic Guitar | The Martin 000-28 has a short scale length of 24.9 inches but it doesn't fall short when it comes to delivering a quality sound and playing experience. The 000-28 Standard Series guitar sports a modern auditorium body shape and boasts premium specs. These include a solid spruce top, a mahogany neck and a solid Indian rosewood back and sides. | |
And the best acoustic blues guitars are…
With the Martin LX1 Little Martin, you can play blues everywhere you go! The LX1 is a 3/4 scale acoustic guitar. Its scale length is only 23 inches – a comfortable choice for young players, beginners and those with small hands.
The Little Martin LX1 is part of Martin's X Series of acoustic guitars, which are all designed for budget-conscious musicians. The guitars in the lineup are definitely more affordable than most Martin acoustics, so if price is your primary concern but you still want something from a trusted brand, the Martin LX1 is worthy of consideration.
This acoustic guitar has a solid Sitka spruce top with a hand-rubbed finish for a clean, stylish look. Martin used a mahogany pattern high pressure laminate for the LX1's back and sides. The neck is made of Rust Stratabond, a sustainable and alternative material to natural wood. The fingerboard is made of either solid morado or solid East Indian rosewood depending on available stocks. It's the same with the bridge. The use of these materials results in a great-sounding yet affordable acoustic guitar.
Other specs include chrome small-knob tuning machines, a Black Micarta bridge, a compensated Tusq saddle and a White Corian nut.
Martin LX1 Acoustic Guitar Overview
---
If you're wanting a bigger, boomier sound from your acoustic blues guitar, check out the Fender CD-60S. Its dreadnought body shape and combination of tonewoods guarantee plenty of projection and resonance for those laid-back unplugged sessions.
The top of the CD-60S is made of solid spruce while its back and sides are made of mahogany. The neck is also made of mahogany and it's topped with a rosewood fingerboard. What you get from this tonewood combination is a full-bodied, warm and mellow tone with just the right crispness that works well with the blues.
The Fender CD-60S is strung with light-gauge steel strings and is highly responsive to various acoustic playing styles. It's comfortable to play, especially along the neck with its rolled fingerboard edges. These qualities make the CD-60S an ideal choice for beginners and intermediate guitar players looking for a good-quality instrument that isn't a pain to play.
This Fender acoustic is affordable as well and you can even get it already bundled with accessories. A Fender CD-60S guitar bundle already comes with a hardshell guitar case, an extra set of strings, a clip-on chromatic tuner, a guitar strap, some guitar pics and even a polishing cloth.
Fender CD-60S Acoustic Guitar Overview
---
Our last but far from the least pick for this list of best blues guitars is the Martin 000-28, particularly the 2018 Standard Series redesign. This acoustic guitar features solid tonewoods, including solid Sitka spruce at the top and solid East Indian rosewood at the back and sides. The top, sides and back have a sleek gloss finish.
As with other models in the reimagined Standard Series, the top of the Martin 000-28 has been given an aging toner for a warm and vintage appearance. The headstock also features Butterbean open-gear tuners as well as an old-style Script logo treatment. The guitar also sports an antique white binding for a vintage look and feel.
The select hardwood neck has a dark mahogany satin finish and has a short scale length of 24.9 inches, making the guitar more comfortable to play especially if you're playing lead. The neck also has a High-Performance taper for an optimum playing feel. Topping the neck is an ebony fingerboard with 20 frets and abalone inlays.
The tonewood combination delivers a great blend of rich low-end tones, creamy smooth mids and strong, articulate highs. Finally, the spruce top projects a responsive and undeniably crisp tone.
Martin 000-28 Acoustic Guitar Overview
---
Different Blues Guitars for Different Blues Styles
Blues is like rock – there are so many forms of it (glam rock, indie, heavy metal, punk, folk, psychedelic, etc.) that there isn't just one style or technique for it. Like rock, blues music covers a wide range of music styles or genres that share similar features. You have Delta Blues, Chicago Blues, Blues Rock, British Blues and more.
This is why shopping for the best blues guitar can be tricky – there are so many options out there. Your choice of blues guitar would depend on the kind of blues music you like and are looking to play. What would be the best guitar for you may not be the best for someone else – it's a hugely personal decision we'd like to help you make.
Beginners usually start off by basing their first blues guitar on the guitar that their favorite musician plays. This is good, because not only will you be already familiar with its looks but its sound as well. And while it may not be completely possible to but the same model because of budgetary limits or other factors, it's still a good basis for choosing your own blues guitar.
In this list we've picked out four electric guitars and three acoustic guitars that can deliver those warm, bluesy tones very well. These guitars are all versatile too, which means you can play other kinds of music on them. If you find them all to your liking, by all means do more research about them – how they play in live settings, unplugged settings (for acoustic guitars), how they interact with different amps and so on. You can even find videos and tutorials about customizations and other upgrades you can do to enhance the look of the guitars and improve their tone.
Here's a quick roundup of the recommended blues guitars we've showcased. We hope you find your new baby here!
Epiphone Dot – semi-hollow guitar, a pocket-friendly alternative to the Gibson ES-335 Dot. An archtop guitar with a semi-hollow body style, it's equipped with dual alnico magnet humbuckers that deftly capture the warm bluesy sound of the guitar.
Gibson SG Standard – a solid body guitar that's just like the 1961 model but with modern upgrades. A crowd favorite, the SG Standard also has two humbucking pickups designed for capturing the guitar's vintage tone.
PRS SE Custom 22 – a semi-hollowbody equipped with dual humbucking pickups for tonal versatility and an extended frequency range. Sleek and sturdy and would fit in with most blues styles.
Martin LX1 – acoustic guitar with a short scale. An affordable and portable Martin for blues players of all levels and sizes. Highly recommended for beginners.
Fender CD-60S – a full-size dreadnought acoustic guitar with a big, warm sound and lots of resonance. A classic when it comes to folk, country, blues and many other music styles.
Martin 000-28 – another Martin acoustic with a short scale length. Ideal for guitar players who want a simple, minimalist-style acoustic guitar with premium materials and appointments.
Becoming a Better Blues Player: Top 3 Tips for Beginners and Intermediate Players
Whether you have a newfound love for blues or have been secretly practicing blues tunes when your metalhead bandmates aren't looking, it's always worthwhile to know how to become a better blues guitarist. Remember that no matter how sleek or silky smooth a blues guitar it, if you can't maximize its full potential, you're doing yourself – and your guitar – a great disservice.
Here are a few tips you can follow to develop your blues music knowledge and skills so you can become the versatile and well-rounded musician you've always wanted to be.
Listen and learn
If you want to become a better blues player, you have to take in as much information about it as you can. You can do this by listening to different kinds of blues music. Listen to the music of blues guitar players old and new, particularly the work of B.B. King, Stevie Ray Vaughan, Eric Clapton, Buddy Guy, John Mayer, Albert King and others. Pay attention to their phrasing and playing style. Expand your musical knowledge and discover new artists via music streaming sites.
Get into the rhythm
The more you listen to different blues music, the more you'll be familiar with different blues rhythms and be able to apply these to your own playing. Get into the groove and develop your rhythm skills so you can get on with practicing those blues progressions.
Practice your scales
It can feel like a chore learning scales, but stick with it and eventually you'll have a knack for doing different variations and improvising. The pentatonic scale in particular has a major place in blues music, so if there's one thing you need to focus on and know by heart, it's that five-note scale.
As you advance in learning to play blues, you'll need to set your goals higher. You would need to work on expanding your blues guitar vocabulary by learning new techniques and licks, transcribing songs, improving your phrasing and improvisation skills and composing your own music. You'll be able to do all that with the right blues guitar, so explore your options. Shop around and try as many electric and acoustic blues guitars as you can. Groove on!