Fender Play is easy. According to samples of their marketing material, it's the easiest way to learn guitar. How does it work? It's easy – easy to learn, easy to play. As one of the most trusted figures in music, Fender Play is and should be expected to hold up the name's reputation for integrity. And they do. When they say it's easy, they're not kidding.
Obviously, the vast majority of online guitar instruction websites are in the business of selling lessons. All the toolboxes, promo codes, and freebies are designed to keep you tethered to the product.
Although Fender probably spent a lot of money to develop a step-by-step program that mimics what you'd get from an in-person guitar tutor, it seems like they're far more interested in selling guitars as opposed to having people play them.
And that should be apparent with 0.5 seconds upon arriving at the home page, where you'll see a banner ad proclaiming their cross-platform marketing approach: "Learn to play and get 10% off guitars, amps and gear." Here's the carrot, and here's the stick.
Fender Play Guitar Lessons
Beginner Lessons
Taking an exceedingly basic approach to level-based learning, hundreds of Fender Play video lessons walk beginning players down a Learning Path shaped by their musical preferences – styles limited to Rock, Pop, Blues, Folk, and Country. You'll learn essential skills and techniques in your chosen genre by playing popular songs, which have been integrated into the program.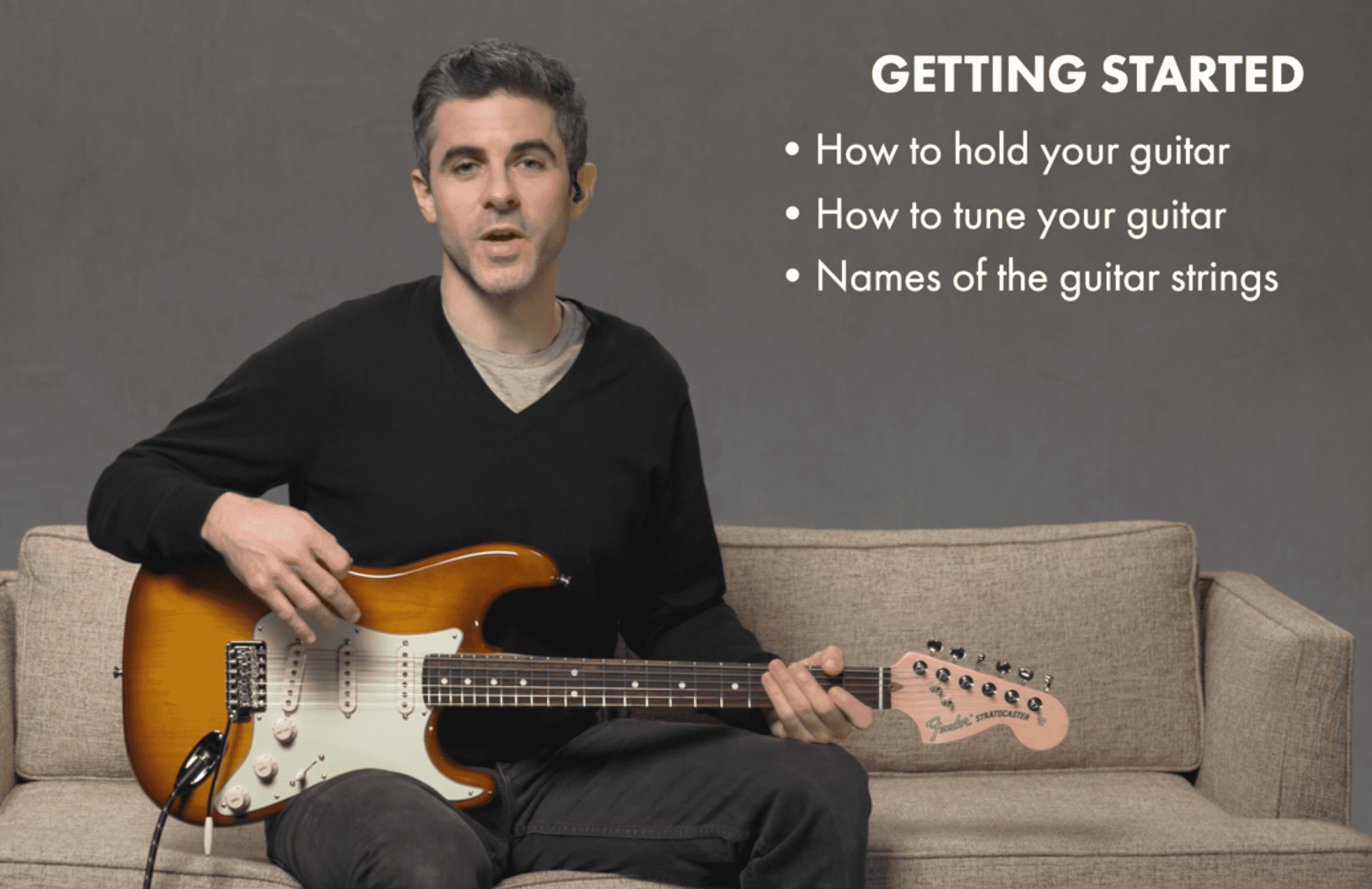 Fender Play is easy because it focuses on playing popular songs and having fun, as opposed to acquiring any sort of tangible, real-world musical abilities. You won't be trudging through a lot of theory and technique – unless you want to. And in that case, what are you doing at Fender Play?
One lesson that is pretty cool is the two-part "Guitar Speak" series, explaining the difference between a riff vs. a vamp.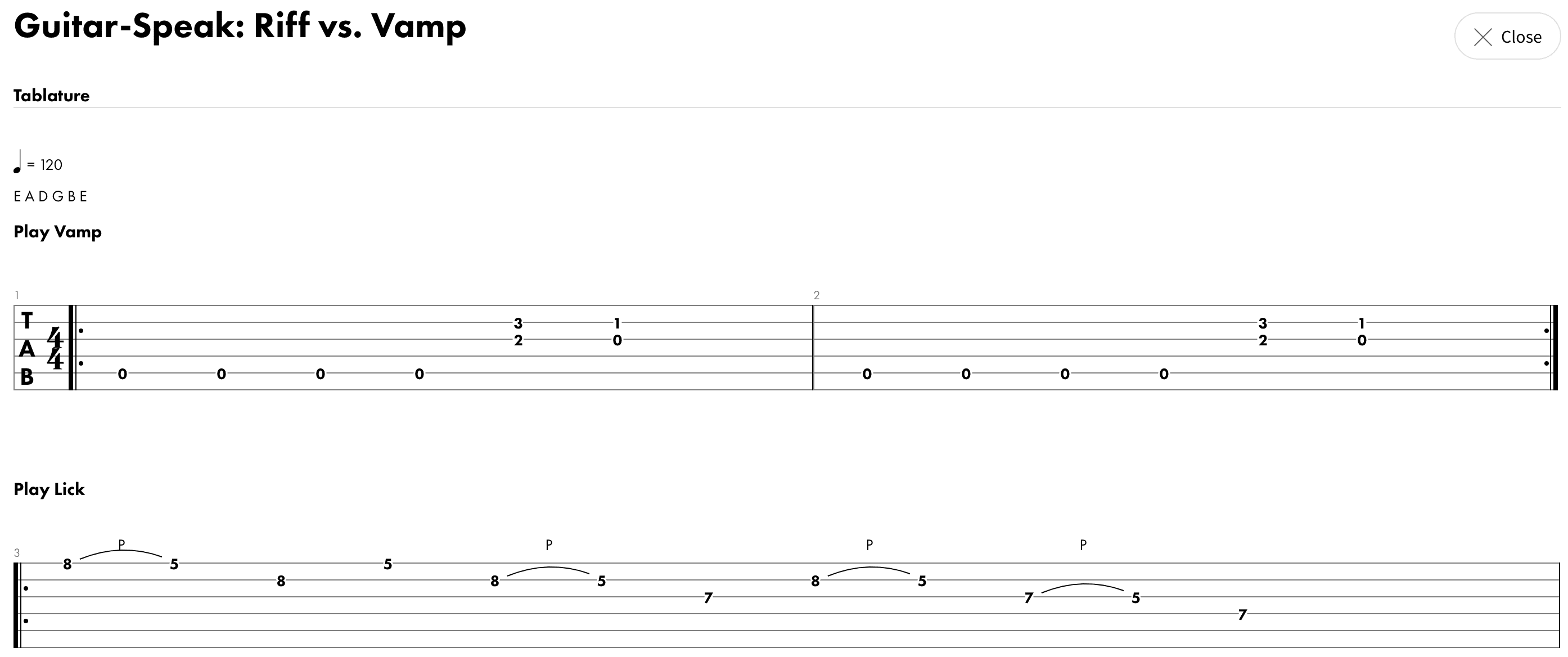 Intermediate and Advanced Lessons
Your learning path isn't set in stone, so if you get bored strumming Folk songs, you can jump around the levels and learn about the Pentatonic blues box, or get down with some power chords. However, most of the intermediate and advanced material is found by digging through the dropdown menus. But don't worry, like everything related to Fender Play – ease prevails. That said, if you do find yourself looking for next-level techniques, that's a good sign that you've outgrown Fender Play.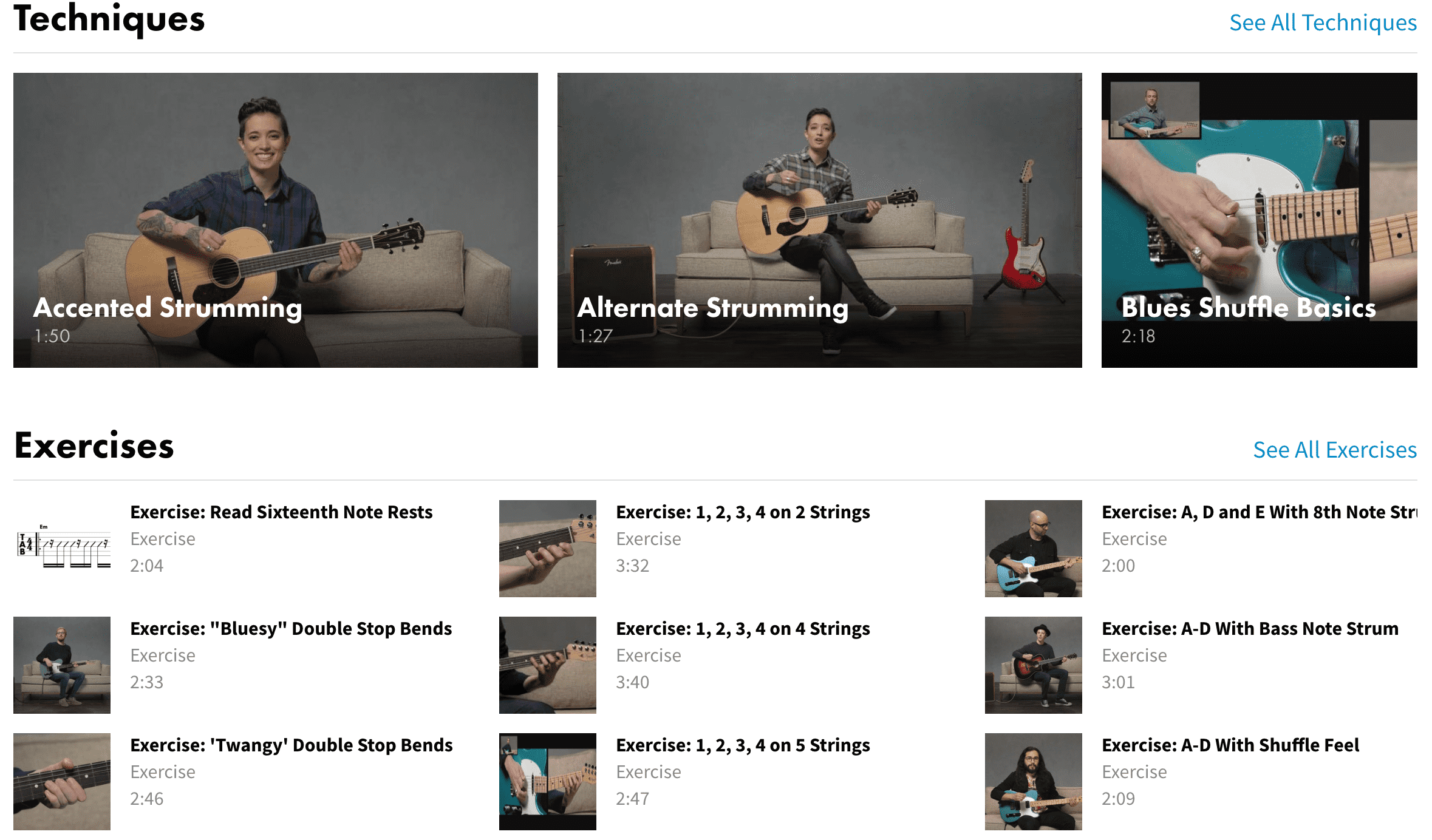 Acoustic Guitar Lessons
There's only so much you can say about stone-cold beginner acoustic guitar lessons. Do they show you the Open Chords? Can you hold the pick properly? Are you getting the strumming patterns? OK, great.
Fender Play does a very good job of fulfilling their promise – you will be taking the easiest road possible – and based on simplicity alone, I haven't seen another exceedingly better method of learning. The Play chord charts are offer seven different ways of playing an A major chord. That's plenty for most people. If you're interested in highly advanced chord inversions, you're in the wrong place.
And frankly, if you come out of the learning path with the ability to do what you want on the instrument, it's a win-win scenario.
Electric Guitar Lessons
It seems counterproductive – from a teaching standpoint – to have people playing songs – or just the riffs from songs – without an understanding of basic song structure. Just learning the main riff from "I Can't Get No Satisfaction" doesn't mean you know the whole jam. Therefore, any serious student of electric guitar should avoid learning the Cliff's Notes version of music. Some of us had to learn this the hard way.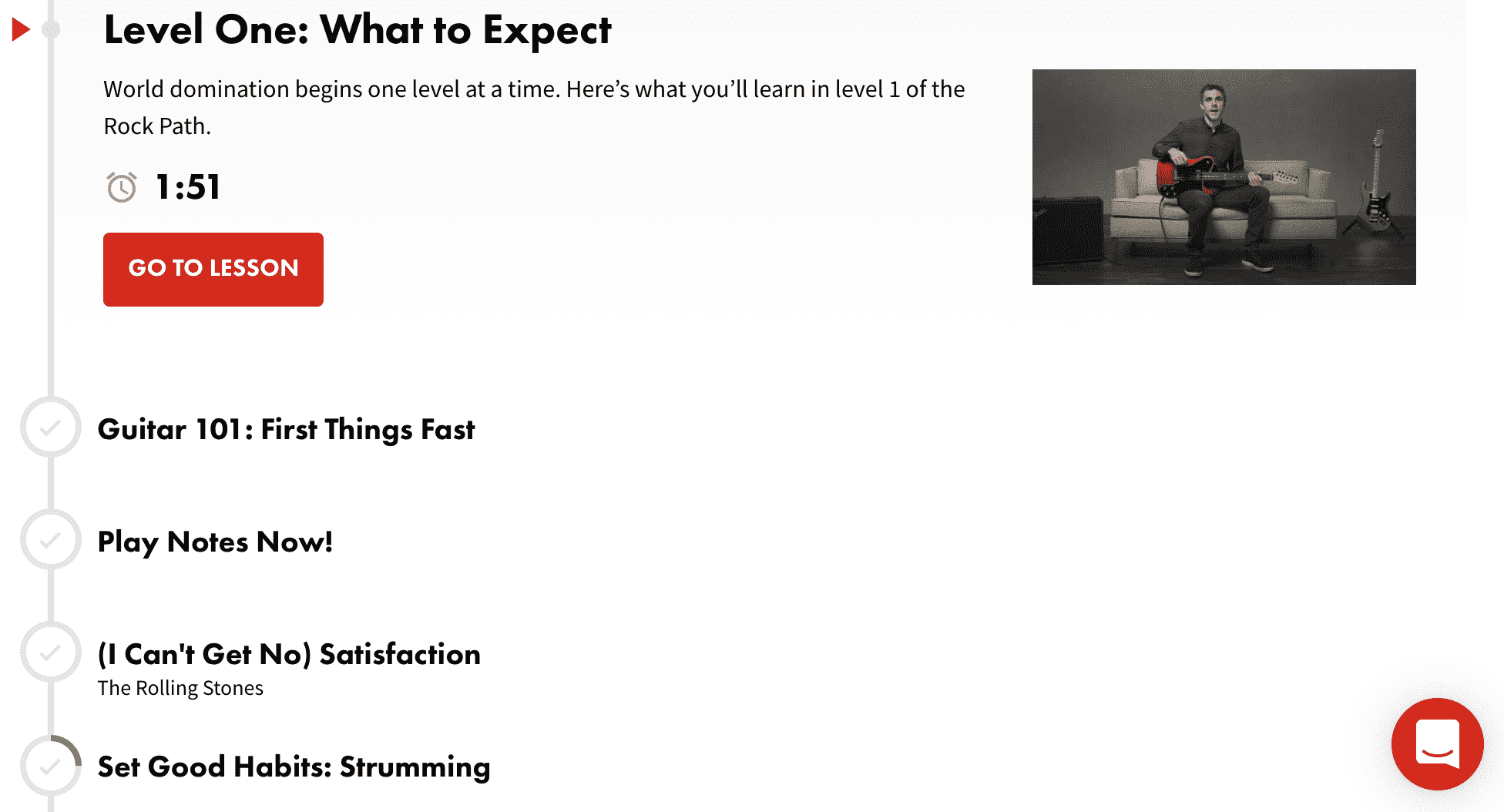 It must have been said before, but everything you see on Fender Play can be found elsewhere on the internet for free. They're not reinventing the electric guitar lesson wheel. So don't believe the third-party marketing hype that Fender Play lessons put free YouTube lessons to shame.
Bass Lessons
Fender Play's bass lessons are suitably adequate. They have a full suite of lessons as they do for acoustic and electric guitars.
Ukulele Lessons
If Fender Play stands above the crowd in any aspect – other than presentation – it's probably their ukulele section. More about that later.

Ease of Use
Aside from the glossy marketing gimmick to keep kids buying branded gear, at the risk of redundancy, ease of use is the gold standard at Fender Play – seriously impressive ease of use. The lessons are doled out in bite-sized morsels, a chimp could navigate the website, and, well, it's not rocket science. Lessons come on a split-screen, player-perspective approach.
Above all, it's supposed to be fun. And generally speaking, scrolling through as a series of dropdown and sidebar menus to find whammy bar techniques isn't a lot of fun.
Songs
In thinking back on my own musical upbringing, I learned to play guitar in a remarkably similar way to the Fender Play method – minus the associated digital devices involved. The first thing I learned to play – by ear – was a single-fingered version of the verse section of "The Spirit of Radio" by Rush.
Fender Play has a pretty decent selection of the most popular songs. Levels of difficulty range from one guitar pick (Easy) to three guitar picks (Advanced).
Recent additions include: "Piece by Piece" by Kelly Clarkson, "Cherub Rock" by the Smashing Pumpkins, and "Pumped Up Kicks" by Foster the People. You also have recent hits from Ed Sheeran and Taylor Swift to name a few. Generally speaking, there are no surprises in the catalog. As for my personal litmus test: Do they have "Roundabout" by Yes? Indeed, they do. Three picks, by the way – the hardest things get at Fender Play.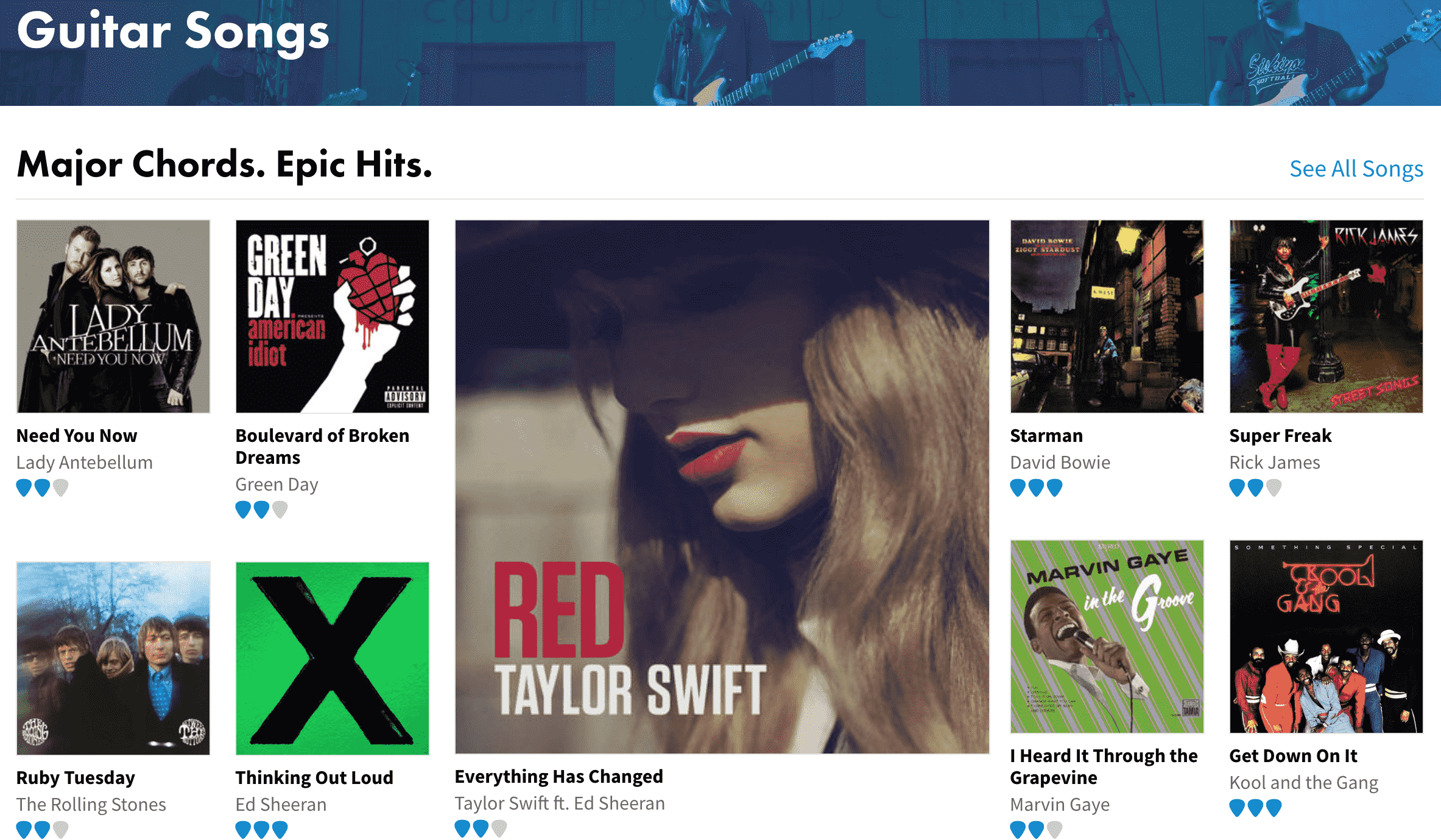 Style
Fender Play focuses on Rock, Blues, Folk, Funk, Country and Pop. There are other style resources available, but these don't match what you'll find at Guitar Tricks.
Vibe
Cool, stylish and well-groomed post-college graduates just chilling at home and plunking around on a guitar. If it seems like every single lesson video and marketing photo shows somebody playing guitar while sitting on an IKEA couch in the living room of a well-appointed, upper-middle class suburb of Orange County, California, it's just a figment of your imagination. There are shots of people sitting on beds and seated in chairs, too.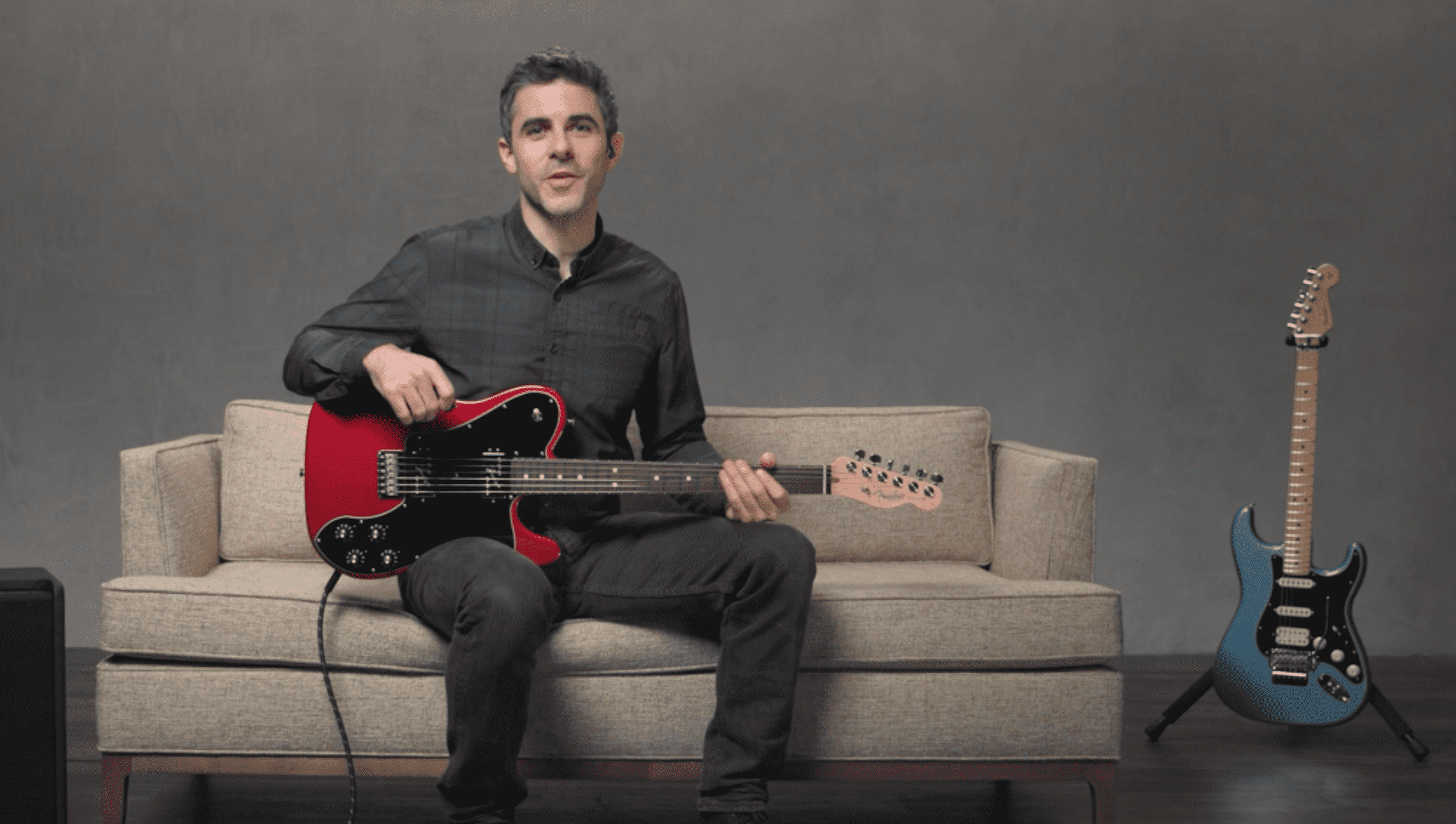 Fender Play doesn't come right out and say it, but there's a heavy "don't quit your day job" vibe.
At the same time, the program and materials are cohesive and consistent for achieving your intended goal, something all online lesson platforms are shooting for. The good thing about branded content is its predictability. We like Coca-Cola because we know exactly what we're gonna get, every single time we crack open a bottle or can of Coca-Cola.
There is absolutely nothing cheesy or contrived about Fender's overall marketing vision – from guitars to accessories to online lesson apps. The cohesion is pleasantly overwhelming, like a blanket. Everywhere you click, the content, scope, and vision of the Fender brand is locked in step.
Tools and Mobile Apps
The toolkit contains apps for tuning and getting tone. The mobile apps are fully integrated with branded content for all formats. You get: Pro Tuner, Rhythm, Chords, Scales apps to choose from. And of course, everything is iOS, Android, Windows, and MacOS friendly. One should expect nothing less.
Instructors
Never having any personal instruction on guitar, I'm likely to estimate teachers by personality, based on a completely different set of criteria that has nothing to do with guitar. It's not so much: "Would I want to learn guitar from this person?" as it is: "Would I want to have a couple of drinks and a conversation with this person?" It's only possible for me to say that so-and-so appears to be a good teacher.
But you're here looking for guitar lessons and you have a different agenda.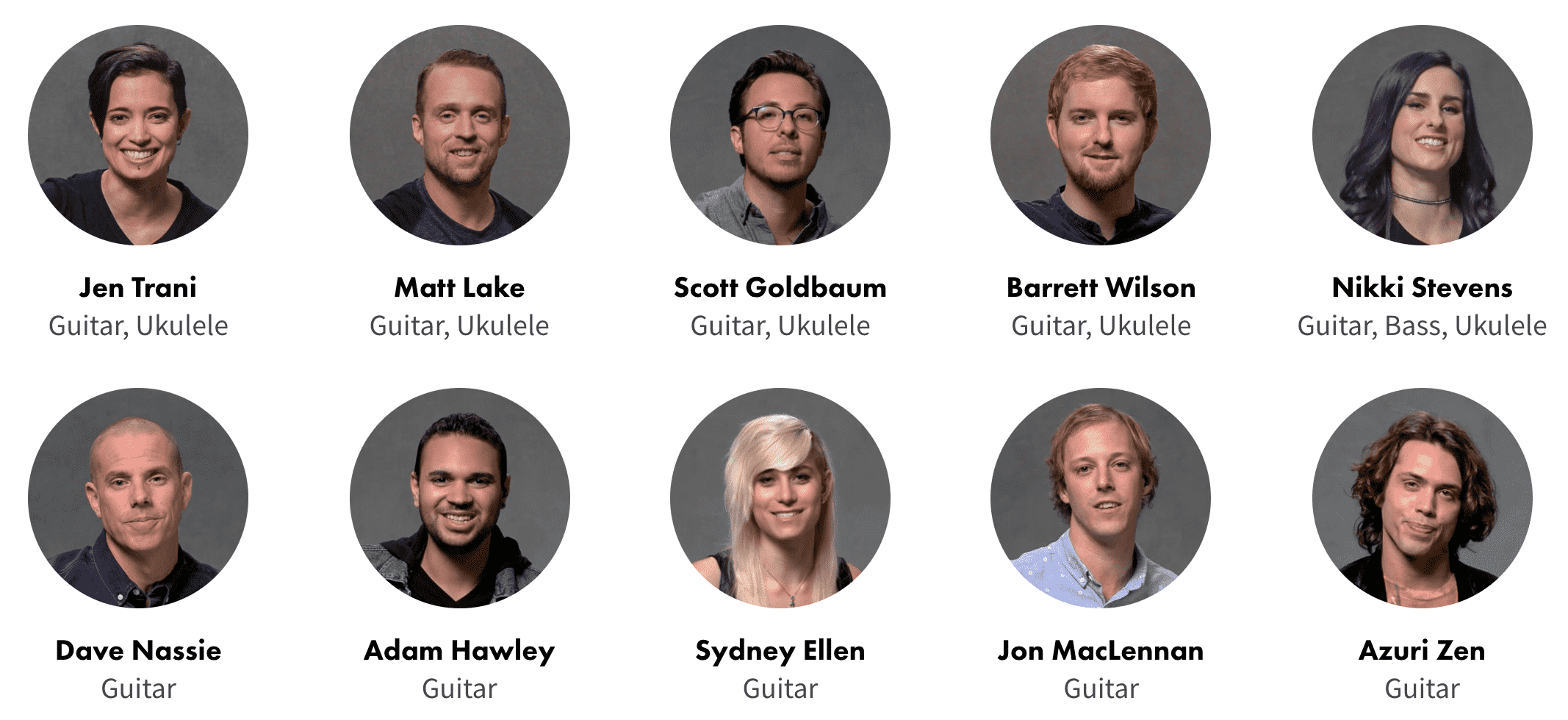 With 22 instructors in total, featuring no fewer than 8 ukulele instructors, the Fender Play roster of tutors features a well-rounded group of players with substantial credentials.
For example, bass teacher Pete Griffin is a former member of Zappa Plays Zappa who also studied at Northwestern. Guitar teacher Sydney Ellen graduated Summa Cum Laude from Berklee College of Music and studied with Jennifer Batten (Michael Jackson). Suffice to say, these folks all know what they're doing.
Out of curiosity, I wondered about the credentials of the ukulele teachers – do they even have ukulele courses at Berklee?
Katie Norregaard is an indie-folk musician with a background in teaching music classes to children, and currently performs on a musical improv comedy team. Abe Lagrimas, Jr. is primarily known as a jazz drummer and vibraphonist, yet has a thriving career as a ukulele player, and has written instructional ukulele books for Hal Leonard Publishing. And finally, Abby Lyons is singer-songwriter with a Master's in Music Composition from Cal Arts, with five years of experience on ukulele and a fondness for Harry Potter.
Support
Fender Play doesn't offer any direct support with regards to its provision of lessons and curriculum. Also, there is no means to contact the teachers themselves with comments or feedback. Fender feels that there is enough content on the site for students to essentially crack on with learning the guitar themselves.
However, clicking on the Support tab in the header will bring you to a fairly comprehensive FAQ about membership and use. You can obviously contact them directly if you need support with billing related issues by creating a support ticket on the site.
Community/Forums
At a passing glance, Fender Play does not appear to host a dedicated community forum. On further inspection, you'll find Fender Play topics of interest on the main Fender forum website.
Buried within the riff-raff of the About Fender Play page, you'll find a bit talking about the Fender Play Beginner Community, a Facebook group that provides exclusive content and practice tips, and connects users and instructors and other newbies.

Value for Money / Cost
Remaining objective is my greatest challenge as a reviewer of guitar-related products, mainly because I'm somewhat jaded and cynical, especially about the learning process. If it were up to me, I'd say forget all these internet sites, get yourself a couple of Mel Bay chord and scale books, the songbook(s) of your favorite band(s), a decent stereo system, and licensed copies of your favorite artists' records, and dig in. You don't need a teacher or these costly online lessons.
Having Fender Play isn't much different than following my recommendation. The irony of the story is: they're right – it is easy. And because learning how to play guitar is simply overcoming a series of small challenges toward proficiency, there's really not much to it. The degree of difficulty involved in achieving excellence in guitar is comparable to the field of medicine. Anybody can put a Band-Aid on a minor wound, but there are fewer than 1,000 heart transplant surgeons in the world
Once the free 14-day trial has expired, you can transition into Monthly ($9.99) and/or Annual ($89.99 per) subscriptions. The mobile apps for Guitar, Bass and Ukulele lessons come with both subscriptions.
For what basically comes down to 10 bucks a month, you're getting your money's worth.

Trial Period
Fourteen days – two weeks. Avail yourself song and skill lessons covering the basics (chords) through getting good tones.
Warning: You'll want to educate yourself about the disparities between managing subscriptions from the website (fender.com/play) vs. from the app.
Niche Aspects
Fender Play does a seamless job of matching the standards of quality found in Fender instruments. From the elegant website interface to the multiple camera angle video lessons, everything falls in line with the Fender brand. The integration between product and education is singular among all platforms – and frankly, guitar makers, too. Although Gibson has been churning out DVD guitar lesson programs for years, they've yet to dip their toes into the online world.

How Does it Compare?
It's unfair to compare Fender Play to other online guitar lessons because they'd be crucified for failing to deliver something they never set out to do in the first place.
Thus, the motivation behind Fender Play is indirect. They've developed Fender Play in response to financial woes, creating a tool that will help build and retain demand for their physical products.
Strong Points/Weak Points
Like many other platforms, Play doesn't go out of their way to encourage theory or how to read notation. Of course, Fender Play does offer intermediate and advanced instruction, you've got to go looking for it. Although Easy-Easy-Easy might be considered a strong point, it's also a glaring weak point if you want to understand the foundation and mechanics of playing guitar. In other words, you might want to have an idea what you're doing.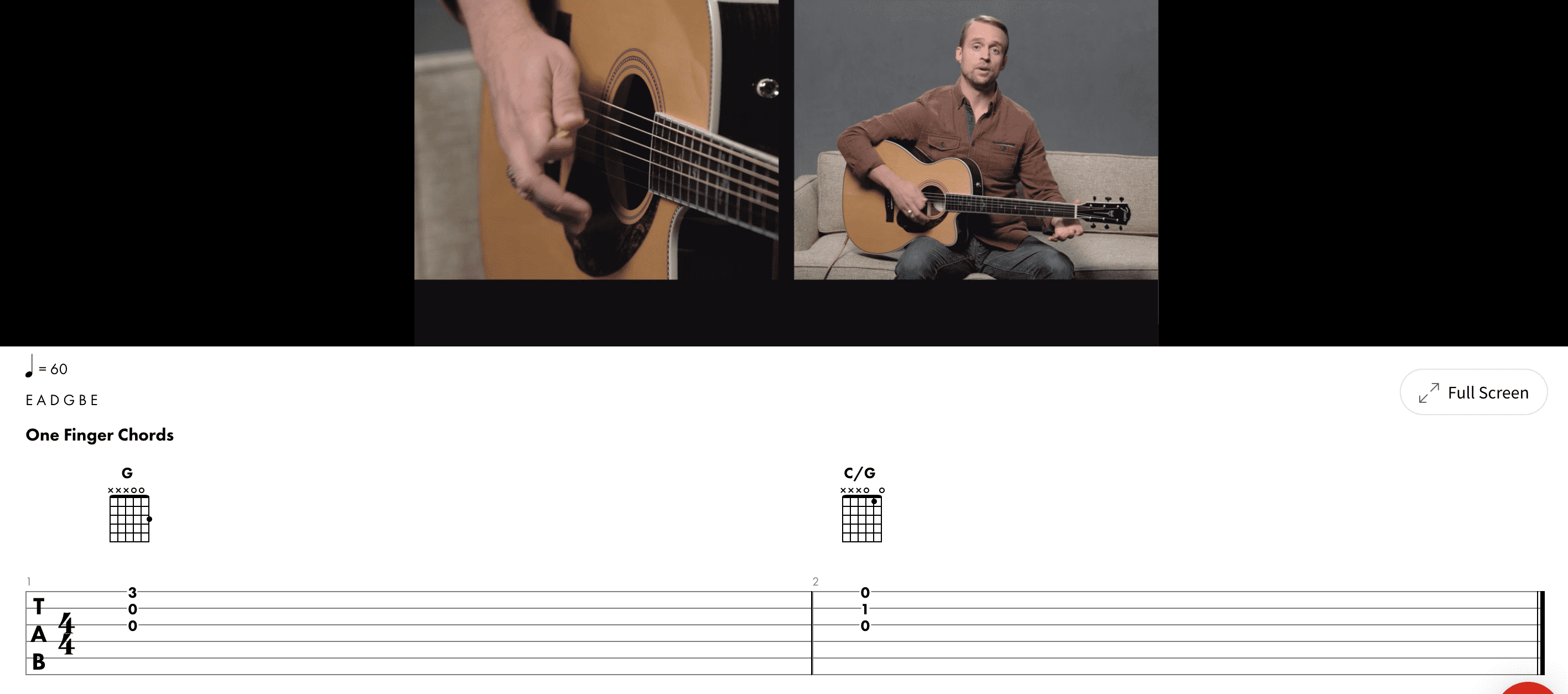 So it's a bit of a stretch to say that Fender Play creates a comprehensive, customized curriculum. Just because you're offering a narrow learning path doesn't mean all the more complex areas of interest don't exist. You're just not going to bother with them. And that's fine. Everybody has an individual method of learning.
If you're a total beginner with a casual interest in playing guitar, Fender Play might be worth 10 bucks a month – for a little while. If you're aspiring toward something more than plunking around, look elsewhere.
Update frequency
New songs are uploaded every week. Content appears to be consistently added and improved upon.
Conclusion
If you simply want to have fun, Fender Play is great. You will be making music – theoretically – in a very short time. However, we've established that there's nothing new here. The depth of content is lacking, but their song selection is adequate. Most, if not, all of the competition is doing a far better job of teaching people how to play guitar – as opposed to having fun on guitar, the Fender Play modus operandi.
If you have compared other online guitar lessons, you already know this. Everybody else is offering the same stuff, and in many cases, for free. Meanwhile, by intentionally steering students away from a proper guitar instructional course, Fender is not doing us any favors. But again, we must appreciate Fender Play for what it is – not what it isn't.