The Vocalist Studio offers something a little different to most online vocal lesson platforms.
Scratch that, TVS offers something a lot different from most other online singing lessons.
Rather than offering a selection of concepts or ideas, The Vocalist Studio provides a proprietary training methodology developed over the last 20 years by vocal coach Robert Lunte.
This is an incredibly deep, if somewhat convoluted, lesson platform, and it's not for the faint of heart. I know, it's a terrible cliche, but I back it.
If you're a serious, committed vocal student, this might be the one for you…
The Vocalist Studio Singing Lessons Overview
What's Included?
With 177 lessons across 14 different modules, The Vocalist Studio has got to be the most extensive home study vocal lesson program in the world. It's definitely the largest one I've come across.
This isn't just a collection of techniques, concepts, and ideas. The Vocalist Studio program is an original methodology developed by Robert Lunte over the last 20 years. That expertise is evident in the depth of this program.
The Courses
The lessons are divided up into 14 modules, which are based on category rather than difficulty level. For example, you'll find modules on physical modes, acoustic modes, vocal effects, and onsets.
This is the first online vocal lesson platform I've come across that even mentions these topics, and chances are you've never heard of them either. That's a real testament to how deep this program goes.
That said, finding your way around the program is somewhat challenging at first, as everything is available on the same page. It took me a little while to get my head around where to start. There are a few hints on this spread across the interface (more on that soon), and it appears that the lesson modules are split into two types: lectures and training videos.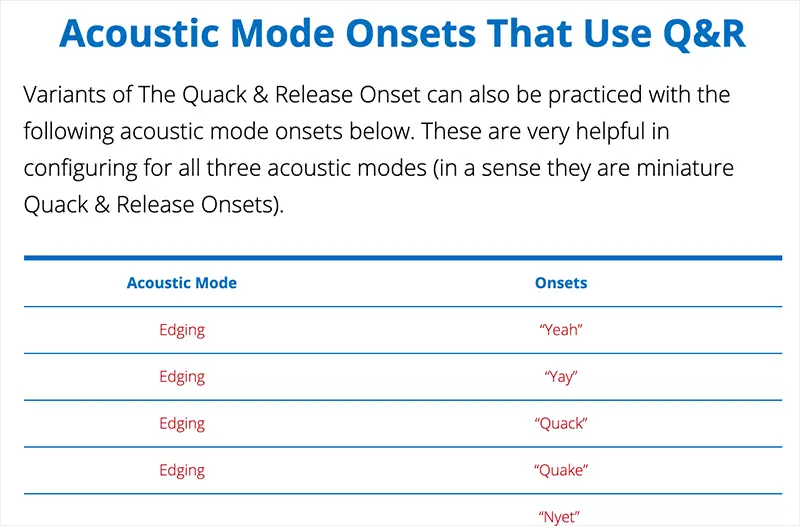 Lectures
The first 8 modules are laid out as lectures, where Robert takes you on a deep dive into concepts such as:
Critical success factors
Three tongue techniques
The four pillars of singing
Physical and acoustic vocal modes
Vocal effects like vibrato
Onsets
If you were to watch all of these videos in the order they are presented, chances are you'd be overwhelmed with information. Not because it's too much, the lectures Robert presents are excellent. It's just a tonne of information to get through before you get to the actual training videos. It would be wise to find the training workflow guides first to make a bit of a plan. I certainly found this made the course make more sense.
The next 6 modules are the training sessions, which are where Robert teaches you specific exercises and demonstrates them for you. You'll learn about:
Warm-ups
Onsets and sirens
How to practice efficiently
Bridging and connecting
Articulation
Many of these videos are quite short (2-3 min), and I found I needed to go back and watch them a few times to really get all the value out of them, they are pretty packed with information. I really enjoyed how, in each video, Robert would call out the techniques he's using that were discussed in the lectures.
For example, in a lesson on bridging and connecting, he asks you to pay attention to the type of onset he is using, as well as the vowel modification through the vocal break and into the head voice. Some of these are quite advanced concepts, so it's beneficial to see them in action time after time, so you really learn what they are, how they work, and importantly what they sound like.
User Interface
To be frank, the interface could use a bit of work to compete with other online vocal lesson programs. It's not necessarily that it's bad looking, it's just quite difficult to navigate, at least to begin with.
Once you spend a little bit of time exploring, and you spend some time checking out the workflow guides, it does get a bit easier. You do have the option of scheduling a Zoom call with Robert to take you through the program (more below), but even after that, I was still a little bit lost.
What I'd recommend doing is booking the call, but spending a decent bit of time looking around and learning about what's on offer before you have it. That way, you can ask any questions you might have around where to start, how to progress, what the thinking is behind the layout, etc.
Songs & Styles
As far as I could see, The Vocalist Studio doesn't really focus on any specific songs, styles, or genres. This might seem a bit odd for some and potentially make things difficult.
I'd say embrace it. It kind of follows Robert's ethos about deep learning and actually grasping the fundamentals of singing rather than merely discussing some interesting concepts or teaching you a couple of popular songs.
Tools & Support
You don't really get any tools like recording software or metronomes like you do with other platforms. However, Robert does reference and recommend some helpful gear.
On the support side, there's a tonne. The website has a chat system where you can talk directly with Robert, which I thought was a neat touch and goes much further than most platforms do.
You also get the opportunity to book an onboarding call with him on Zoom, which is a fantastic way to learn the ropes of the program and its interface, plus to meet Robert himself! That's only $40, so the value is incredible, and I'd highly recommend it. During this call, he'll also share an Evernote training log and archive template!
The site also gives you a few training workflow guides which demonstrate potential ways to progress through the lessons and modules, but to be honest, they are a little bit confusing and could be more intuitive. They're also kind of hard to find if you don't have the onboarding call.
The Book
This is something I haven't seen with any other vocal lessons, either online or in person. It's an optional extra, and it's not cheap, but it's bloody brilliant.
You'll receive a 616-page full-color book that aligns perfectly with the online modules. You'll also get access to the eBook version so you can get started straight away. This is a huge selling point for Robert's course, and I would definitely recommend getting it. Some of the concepts Robert teaches are pretty academic, so it's helpful to have a textbook to refer to, especially if, like me, you're more of a reader than a watcher when it comes to those kinds of things.
Value For Money/Cost
It's not the cheapest program, but to be honest for what you get, it's seriously worth it. This is one of the best value for money courses out there.
The program itself will run you $199, or $299 if you want the book as well. You then have the option to add some private lessons with Robert (not the same as the onboarding call). If you are considering the possibility of private lessons with Robert down the track at all, buy the package with three lessons.
It's an extra $200 ($499 all up), but considering Robert's private lessons are usually $250 per hour, it's well worth it.
You don't get that option with many online courses, and I think it's a great way to make sure you're staying on track and really mastering the concepts and techniques you are learning. My view is it's one thing to understand a technique; it's another to really master its application!
Trial Period
The short answer is no, no free trials here.
Niche Aspects
Who said size doesn't matter? The Vocalist Studio hands down has to be the most substantial online vocal lesson course on the planet. Or I guess, in the cloud.
Aside from the fact that the program is huge and incredibly deep, what really makes The Vocalist Studio a fantastic choice are the options to interact with a world-class vocal coach such as Robert Lunte. You get the opportunity for private lessons, an onboarding call, and even if you don't opt for that, you still have a live chat link to Robert.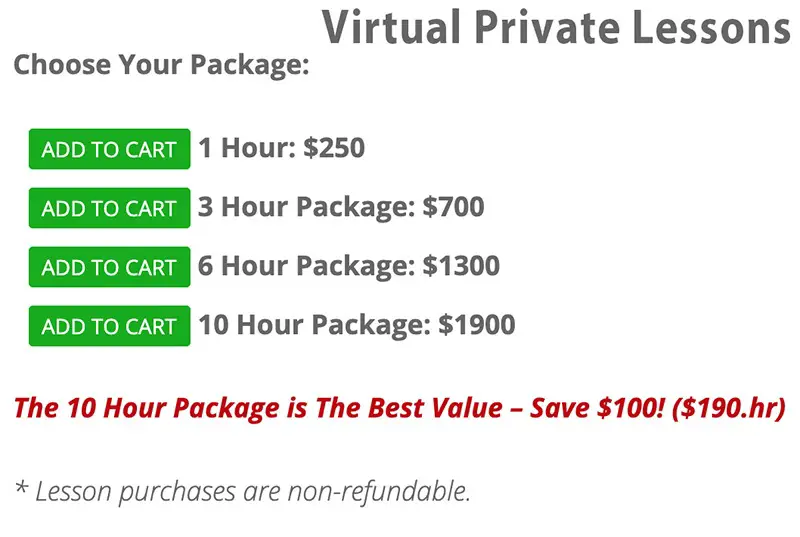 How Does It Compare?
There is no other online singing lesson platform that goes this deep. At least not one that I've found. 30 Day Singer is the only one that compares in terms of the number of lessons offered. However, I would still consider The Vocalist Studio's concepts more in-depth.
That might be a bit more than what you're after, though, as there is a fair amount of physiological discussion there.
The main thing that lets TVS is down is the layout, 30 Day Singer has TVS by the balls in that department.
Conclusion – Who Is The Vocalist Studio For?
If you're just looking to dip a toe in the water, TVS isn't your man. If you want a seamless user experience, TVS still isn't your man.
But, if you're dead set on becoming a vocal pro, and you'll do whatever it takes to get there, then this is the platform for you. It's deep, it's wide, it's well-researched, and it teaches you everything you ever need to know about singing. Just be sure to set aside some time to understand the interface.