PianoForAll Online Piano Lessons Full Review

Many online piano lesson programs start out the same way over and over, but not this one. PianoforAll is formulated around the idea of becoming a recreational musician but not without the foundation of being able to take it to the next step. Whether its seen as a pro or con, this program is PDF, book, and video-based. In some ways, this can be a downer as there is no MIDI input to be had.
I don't think this is necessarily a bad thing, though I have had students where this aspect not being included can make or break the experience. I find it nice to be able to look over the lesson as a whole by way of the PDFs and then start your lesson with a nice overview of what's going to be learned ahead of time, which can reinforce the learning experience.
The courses also include a visual keyboard with highlighted keys and finger number to keep you on track with coordinated audio files, not to mention a British instructor whose wonderful accent may go over better than a monotonous American instructor like myself. To me, this makes up for the fact that there is no MIDI input, as you really can hear the accuracy especially when playing along with the recordings.
However, to elaborate, there have been students I've had one time or another that simply cannot discern musical notes by ear. Whether its out of not understanding or literal inability, they do come around every once in a blue moon. If what I'm describing sounds like you, this may not be the program for you to learn with!
PianoForAll Online Piano Lessons Overview
Courses
Intro
Book 1 – Party Time / Play By Ear / Rhythm Piano
Book 2 – Blues & Rock n Roll
PianoForAll jumps into instruction teaching note names, how the piano is laid out, and where middle C is. The introductory is quite standard, but where it leads to next is interesting. From the introduction, you are immediately thrown into learning chords, how they sound, and what fingerings to use while using books 1 & 2 and corresponding PDFs and video.
This is a great aspect of this program right off the bat because chords are transferrable to songs, whereas melodies are not always. Most programs have you plucking along with 'Mary Had A Little Lamb' for your first real couple of lessons. I find that when students learn chords first, they often have a much easier time grasping their interest in the instrument.
After learning your first few white-key chords and play the I-IV-V progression, it dives even deeper into chords. This next part reveals the tip of the iceberg by mentioning progressions beyond the I-IV-V progression and lets you in on minor chords, bluesy rhythmic patterns, and even some 7th chords.
There is somewhat of a downside from learning all these chords up front: having to jump around the keyboard. When starting, you will learn your chords in root position and only in root position. This will cause you to have your hands jump around the keyboard to grab the root position chords shapes as they are the only ones that you know at this point. This is fine for learning, but you will eventually need to venture past this technique to gain fluency in your playing.
Pianoforall Free Sample Piano Lesson
Intermediate
Book 3 – Chord Magic
Book 4 – Advanced Chords
Book 5 – Ballad Style
Book 6 – Jazz Piano Made Easy
To reiterate, root position chords only are not the best choice when trying to be artful. This brings us to the beginning of book 3 where you learn your chord inversions to play through the songs you know with ease. Now, instead of hopping around, you can change entire chord qualities with a sleight of hand.
However, I don't like the way they teach the inversion names. They refer to inversion positions as a 'backward inversion' as well as some other unorthodox names. This is OK if you are only ever going to talk about inversions to anybody but yourself (which is usually the case), but can fall short amongst professionals.
Regardless, the material is there and is just as important! By the end of book 3, you should be able to play all of your basic major and minor chords on all the black and white keys in all inversions. This is the stopping point that most people get to, as now you have a great foundation of knowledge to learn most pop songs that many people want to hear.
This next section really begins to go down the rabbit hole in terms of chords. Book 4 will really get you into Beatles songs as there are a lot of fabulous chord progressions in their music that takes you well outside of the I-IV-V progression. This program has about 80 Beatles rhythm charts, which is really useful because of how many different styles the Beatles composed their music in. The Beatles and their music is a nice segue into book 5, which is all about ballads.
Ballads by definition are slower and are meant to caress the music it speaks, making it easier to fit in a lot of detail and is a great way to learn. This will really take you into playing around with 7th chords and color chords including diminished, augmented, add9, 11th, and 13th chords. However, the book seems to mention 9th chords and 11th as synonyms of one another, possibly to keep this section from being seen as overwhelming to students as there is an immense amount of information fed here. 9th chords and 11th chords are in fact different chords to be used differently under many circumstances! This section also gives you a playground to begin improvising using scales over chord rhythms, which is an incredible skill to be had!
Now you are given access to book 6, Jazz Piano Made Easy. You now have the foundation of chord vocabulary necessary for one of the most, if not the most defining American genre out there. Here, you incorporate everything you've learned about inversions and 7th chords as well as learning riffs and runs to add into your improvisation skills you've been working on since book 5. You'll learn the blues scale and pentatonic scales and learn how they fit improvisationally over tunes like 'Fly Me To The Moon'. You'll also learn a plethora of jazz chord progressions that occur in so many jazz standards, making you a very useful pianist.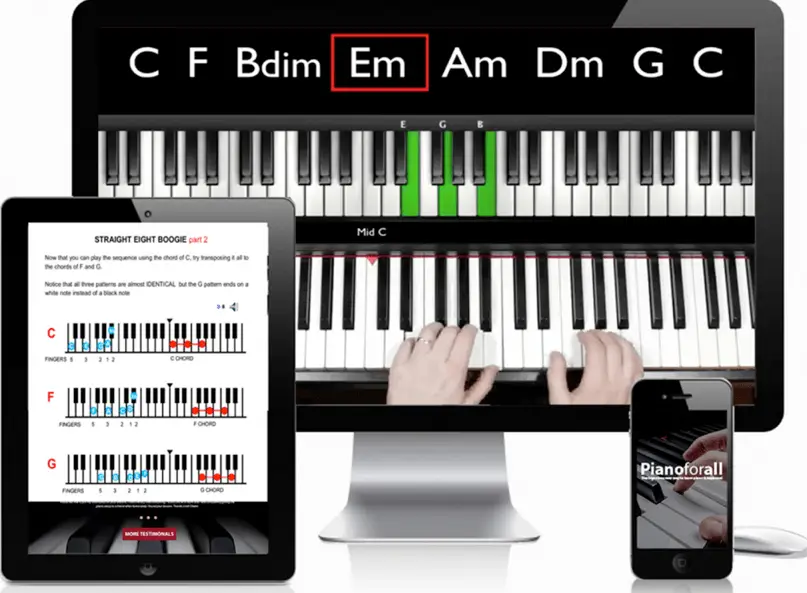 Advanced
Book 7 – Advanced Blues & Fake Stride
Book 8 – Taming the Classics
Book 9 – Speed Learning
The next book here builds upon the blues rhythms that you had been working on since Book 2 and lets you in on harder techniques like stride piano. This is a very difficult style of playing, which is why I decided to have this section to begin the Advanced portion of this review. You'll find that upon learning stride styles and some other more advanced blues rhythms, they really bend the way you want to naturally play with lots of grace notes and syncopation to learn.
There is a version of The Entertainer by Scott Joplin, which is a tune I dreamed about playing in high school, that gives you a great foundation of where to begin with stride playing as well as giving you a tune that just about everybody has heard at one point or another.
In the 8th book in the series, you'll step away from the jazz and blues for a moment to gain your grounds in classical piano. You'll be using a combination of chord knowledge and a sight reading aid designed by PianoForAll to get you playing tunes by Mozart, Chopin, Beethoven, and more.
I like that this section was saved for later in the course because this music and style is where most students without a handle on the piano will drop out because of the sterility of the music and increased difficulty. Much of this music is not dance music and is not something you can usually sing along with, but is music than can be played as art and heard as beautiful. This section is mainly for the repertoire.
Speed Learning is the final text in this series and really gives an informative run around on how you can improve your practicing now that you have this incredible base of material to work with. Everything you learned in the course can turn into a lifetime of procuring an art and this will teach you how to better make it into a fluent art more quickly than before. This book includes exercises in every key, scale positions, and chord progressions to keep the practice fun.
Songs
There is a huge lack in modern song choice; you are basically confined to the world of blues, jazz, and old rock and roll for the majority of the course. You do however get to learn many Beatles songs, foundational American rock music like Jerry Lee Lewis, and many beautiful jazz standards like 'Fly Me to The Moon'. Book 8 also has a concentration of classical music, which is also beautiful and an artful repertoire.
Mobile
The mobility of this program lies in the fact that the material is in the form of PDFs and eBooks. This is easily transferrable to any tablet or smartphone for very easy access without even having to download an app and keeps the medium of learning to a standard across all devices.
Value
This program represents incredible value, just $39.00 one-time payment with a 60-day money back guarantee. This also includes free updates if there are ever changes or updates made to the product as well as great support with the developers for feedback or problems you may come across.
Now, when you visit the website it advertises that there is a discount from $79.00 to $39.00, but that sale price has been running since 2016. It would still be great value at $79.00, because it is not a subscription based product like many other programs that are out there. You end up getting a lot more with PianoForAll for a lot less money.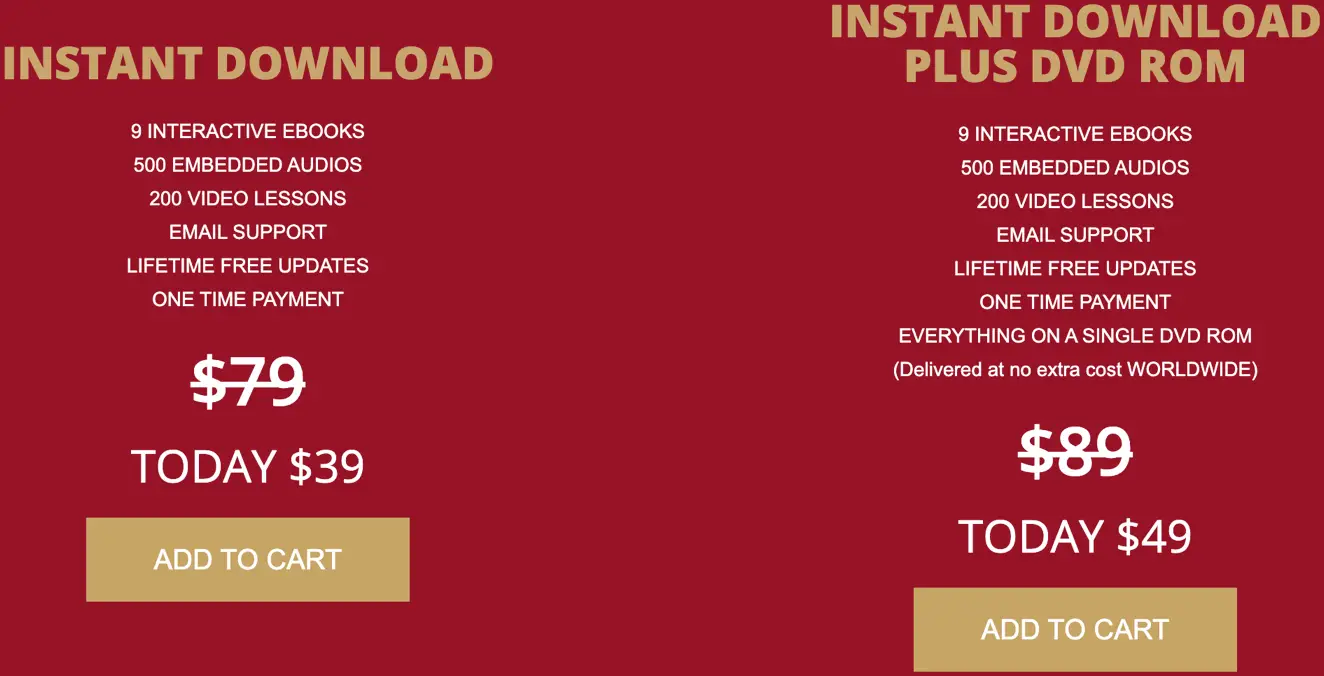 Strong/Weak Points
As opposed to a browser based or application based platform, I enjoyed the PDF and eBook medium of learning because you are able to get an overview of what the lesson will be about by reviewing the PDF before you begin. This is kind of like taking an online class, which can be easier in a lot of ways. This can also be looked at as a weaker point because this condemns the program to never accept MIDI input, but that isn't always a bad thing. It makes up for that fact by having a visual keyboard that you can follow along with that has highlighted keys, numbered fingerings, and an instructor to follow.
A point that is more directly weak about this program is that the accompaniments that you learn for the most part are not as recognizable as I think younger students might want them to be. You spend much of your time practicing blues, jazz, and some older rock and roll, which doesn't give the repertoire of the modern recreational musician. With that being said, you do however have more than enough foundation to learn any pop songs you may hear on the radio by the end of book 3 or 4.
Final Thoughts
PianoForAll creates one of the best foundations of piano playing that I've come across so far, and the fact that you can have these books, sounds, and PDFs forever once you have paid for them is great for looking back at the lessons later on. This can be a great beginning for anyone who wants to learn older music or is looking for a great way to learn how music works as a foundation for whatever you may want to do. As a music teacher, I am sold on this product mostly because of the organization of the curriculum, even if there is no MIDI input and some of the repertoire is for older tastes.