Piano Marvel is actually an old piano learning platform that was set up in the late noughties. Although it's not new, their piano learning app is anything but old. In fact, it uses some pretty advanced features which can all be controlled within your computer's browser.
So, when you purchase a subscription at Piano Marvel, you get a modern piano learning tool with years all the years of tweaking to boot.
This platform has a lot to offer. Unusually, it has two learning paths: one for technique and another for method. It also has a whole section dedicated to sight learning and a song library that rivals any other online piano learning program.
Let's dive right into our Piano Marvel review and find out whether it's all it's cracked up to be.

Getting Set Up
Midi/USB or Piano
To get started with Piano Marvel, you are going to need either a piano, keyboard or a Midi Keyboard. Piano Marvel can give you feedback on your playing, so a Midi Keyboard is the preferred option and the road that I went down. You can pick a basic Midi Keyboard up off Amazon for $100 and then plug it into your laptop and then you're good to go.
If you decide to use a piano, then you'll need to do the assessment part yourself which is a little more cumbersome.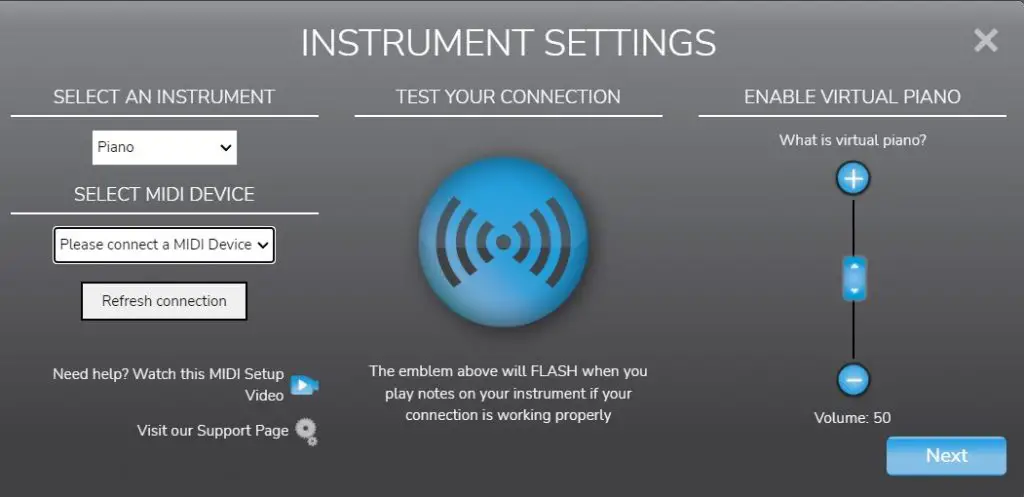 Which browser?
If you intend to use Piano Marvel in the browser and want to use Firefox, then you will need to install an additional plugin. To save the hassle, it's probably best to stick with Chrome.
Installing the App on your Device
The best way to learn Piano Marvel is via iOS. At the time of writing, there is no Android app and some of the features in iOS are not available in the browser.
You can install the app via the App Store and sign in with your Piano Marvel credentials and you're all set.
Getting Started
When you first enter Piano Marvel, you will see the Dashboard which basically shows you everything Piano Marvel has to offer. The Library is where all the songs are contained. The Method and Technique sections have all the lessons in them.
The fourth and most unique section I have seen so far reviewing piano lessons is probably the SASR section which stands for Standard Assessment Sight Reading. This section is kinda like a computer game where you get shown a piece of music and then see if you can play it against the computer.
There are also some motivational features in the app at the top of the Dashboard. It shows you how long you've been practicing and how many days consecutively you've been practicing aka a "Streak". There's also an option to set your goals, which some people may find useful, especially if you find it hard to motivate yourself.
Learning and Teaching Method
In a nutshell: Learn, Practice and Play.
The idea behind the "Learn" method is that it breaks down the music into smaller sections that are easier to learn.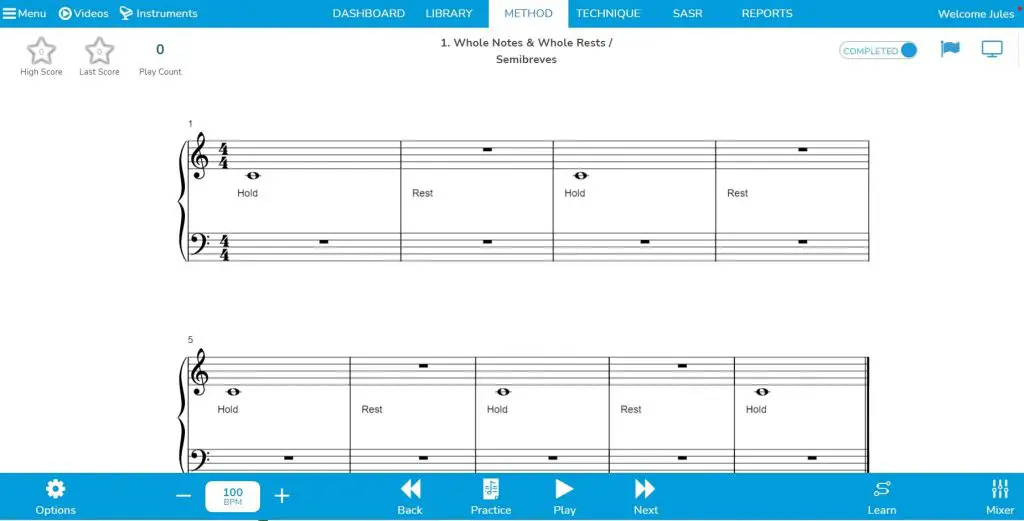 The "Practice" method helps you learn the piano notes and note patterns in the most effective way. When you are practicing, you can only move on to the next note when you play the current note correctly. The notes turn green when you play them correctly or red when you don't. You then get feedback at the end of the song as to how well you played it. Once you get 100%, then it's time to Play.
Unlike Practice, Play will score you on both note and rhythm accuracy. In Play mode, you are able to carry on and the red notes are left behind to show you your mistakes and the green notes show you where you played well.
The Levels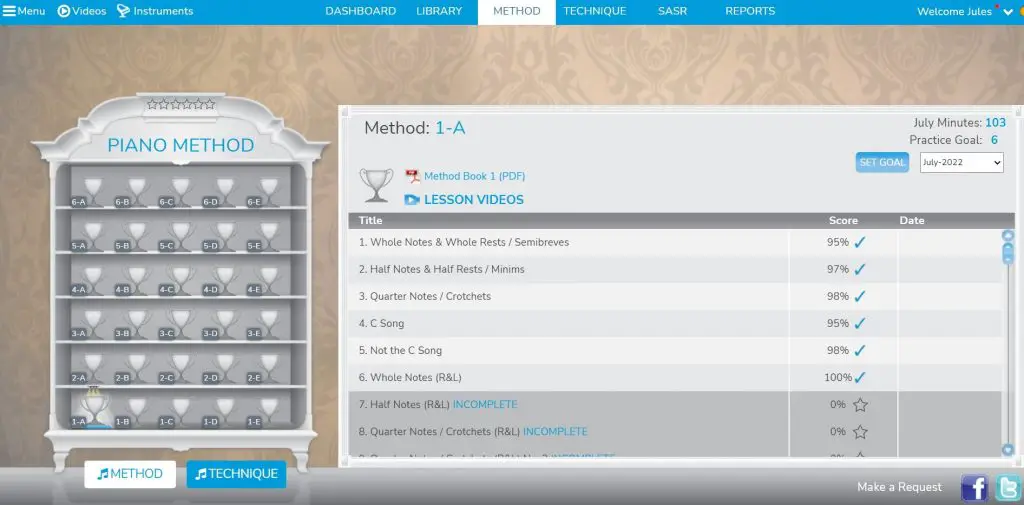 The course is broken down into 6 tiers or levels. Each level has 5 piano lessons to it. In total, you have 30 method lessons and 30 technique lessons.
Piano Marvel is slightly different in its approach to learning than other online piano courses. The idea is that you simultaneously go through both the method lessons and the technique lessons at the same time.
The aim is to receive a well-rounded musical foundation of the notes, rhythms, ear training, scales/arpeggios and so on.
I personally would prefer to just have one course to blast my way through but Piano Marvel has split these up into two discrete sections. I preferred the Playground Sessions approach to piano lessons.
The Song Library
The song library is probably one of Piano Marvel's best features. It has over 25,000 songs. That compares to Flowkey's mere 1500, so you definitely have plenty to choose from.
One of the cool things is that all these songs are included in your subscription fee, so you can pick and choose which ones you want to learn and play to your heart's content.
At first, the huge selection of songs can be a bit daunting but you have plenty of ways to filter and find the songs you are looking for. You are able to pick by style (ie. solos, duets etc.) or by level ranging from beginner to professional.
You can also pick which genres you are most interested as well, so you are pretty much guaranteed to find what you're looking for.
When you select the song you want to play, Piano Marvel then gives you the choice of deciding which level you want to play the song at and how you'd like to learn the song ie. whole, chopped or minced.
Minced is the easiest as it breaks it down into the easiest possible way of playing the song. You can then start practicing from the very beginning and build your way up.
An interesting aspect of the song library is that users can upload their own songs and have them added to the library.
One of the downsides of the song library is that you will need to be able to read sheet music quite well to be able to use it unless you're on iOS.
Is Piano Marvel Any Good For Beginners?
Piano Marvel probably wouldn't be my first choice for someone who wants to start learning piano from the very beginning. In fact, I'd probably go as far as saying this was the most disappointing part of the piano course for me. I would recommend Pianoforall or Flowkey for that.
Most of the really basic stuff is actually taught with a PDF document, which seemed weird for what is essentially a "piano learning app". I definitely think this could be done better with videos in the way Flowkey does it.
It starts with the very basics of the piano, teaching you about posture, how to read sheet music and finger numbers – the usual stuff you'd expect from a piano course.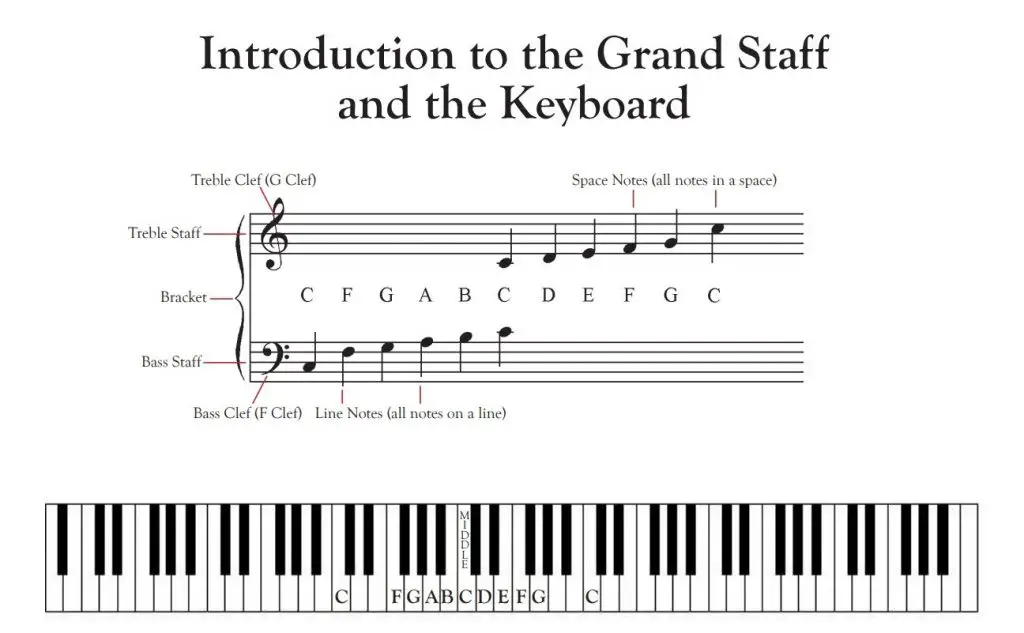 It then hits you with a diagram of the Grand Staff and notes on a keyboard along with actual sheet music with very little explanation, something I think most beginners to sheet music would find terrifying.
It's also not clear as to whether you should start with the Method section or the Technique section or how you should alternate between the two.
I definitely think they could reorganize this part of the course and formalize a proper beginners' section to make it easier for someone who is just getting started.
Is It Any Good For Children?
If your child already has some basic piano knowledge then this may be a good fit but there are better options out there like Flowkey to engage a beginner or a child that's not entirely motivated.
How useful is it For Intermediate and Advanced Players?
This is probably where Piano Marvel outshines its competitors. If you know precisely where your weaknesses are, then you can find suitable courses in the piano method or technique section and then start working on that area.
Say for example you would like to practice playing more advanced G chords, you can pull up that section and then practice and play against the computer.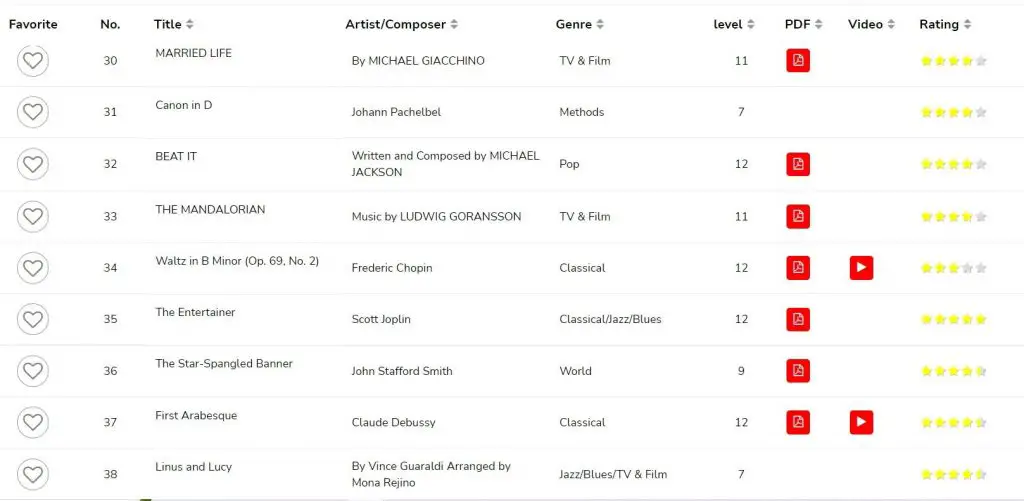 Community and Forums
There is no forum where you can chat or engage with other users on the site but you can join Piano Marvel's Facebook community. There are two Facebook groups: a general user group and another one for teachers.
Group members can step in and answer questions but they are also moderated by Piano Marvel's staff and they provide feedback where necessary.
An interesting feature that Piano Marvel does have is that you can add your music or piano teacher by sending them an invite. This could be handy for music students.
Unfortunately, Piano Marvel does not have a separate forum unlike Playground Sessions.
How Many Languages Is It Available In?
Just English.
Support
I have been in touch with them quite a lot during the course of this Piano Marvel review ironing out some of my concerns and getting clarification on certain aspects of the app. They have usually responded within 12 hours, so they are definitely very proactive with getting back to their users.
Android and iOS
There is an iOS app but not an Android App. I have been in touch with Heidi at Piano Marvel and she has assured me that their dev team are about to release an Android version, so depending on when you read this, it may be available.
The iOS app gives you a slightly better interface than the browser at the moment. You are able to view the piano keys being pressed as you play, a feature not available in the browser as of Summer 2022.
Feedback and progress
If you have a MIDI device plugged into your device, then you are able to get instant feedback regarding your progress. In fact, it is recommended that you use a MIDI device to get the best user experience from Piano Marvel.
Some of the piano learning sections such as the Method, Technique and SASR will require you to be plugged in to make a proper assessment of your progress.
Standard Assessment of Sight Reading (SASR)
This is essentially a way for piano students to improve their sight reading skills. It does this by giving you 20 seconds to review the sheet music and then once your time is up, you have to start playing it. Once you have finished playing the piece, you are then given a score by the software.
Now the crux of this is that you have to score above 80% every time you play a piece, if you score less than that, then you get a strike. If you get three strikes, then you're out!
Once you have completed one song, then a new song that is ranked slightly harder will come on and you'll have another 20 seconds to review the music before playing it and so on and so forth. Just like a video game, you basically keep on playing and playing until you lose all your lives and the game is over.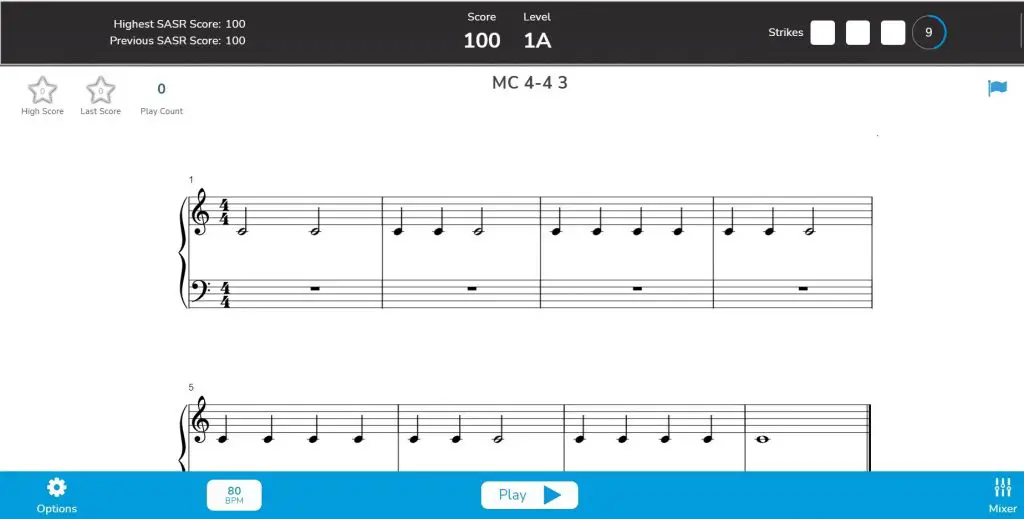 This is a great way for beginners to improve their music theory and sight reading.
This is quite an unusual feature for an online piano course. The only other course to have something similar is Playground Sessions. If you're anything like me and a bit competitive, you'll definitely find yourself absorbed in this section trying to beat your old score.
Competitions
Piano Marvel also holds annual piano competitions. The competitions range from elementary students to adult learners and even offer prize money for the winners.
This kind of thing makes learning the piano even more fun and engaging and something you won't see with other online piano courses.
How Does Piano Marvel Compare To Its Competitors?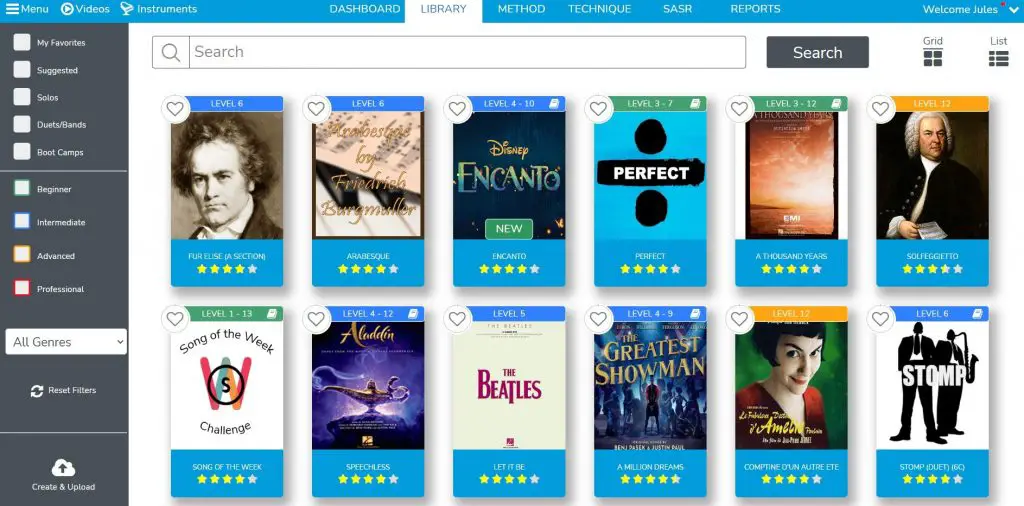 If you compare it to Flowkey, which is a very similar piano learning platform to Piano Marvel, you can immediately work out where the first lesson is and how to use it.
There's also an assumption you know how to read some sheet music before you start. This is a completely different approach to Pianoforall, which advocates starting by playing rather than reading.
I think one of the cooler features is the SASR section which I haven't seen on other platforms. If you like to compete and play games while learning, then this feature might just be up your alley.
If you already know how to read sheet music and have played the piano before and are just a bit rusty, then this piano course is for you.
If you are a complete beginner who has never touched a piano before in your life, then save yourself the hassle and start with a more basics-oriented piano course. I personally would recommend Flowkey as it's very similar in design to Piano Marvel but covers the basics in a lot more depth.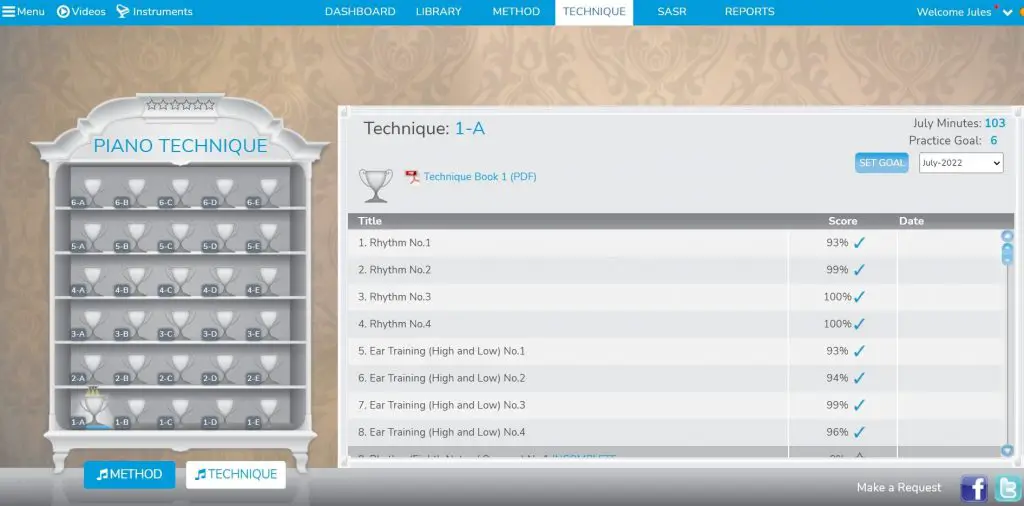 Another thing you will notice is that Piano Marvel doesn't have any demo videos during the training sessions unlike Playground Sessions. For the most part, you read the PDFs and then practice against the computer.
If you like to have that personalized feel, then this piano program may not be for you.
Where It Can Be Improved
Some of the PDFs are a little old dating back to 2008 and 2011 and include stuff you can print out and fill in. I think they definitely need to keep it all within the browser or the app.
I also think the piano lesson design could be better structured – certainly for beginners.
What Do You Get With a Free Account?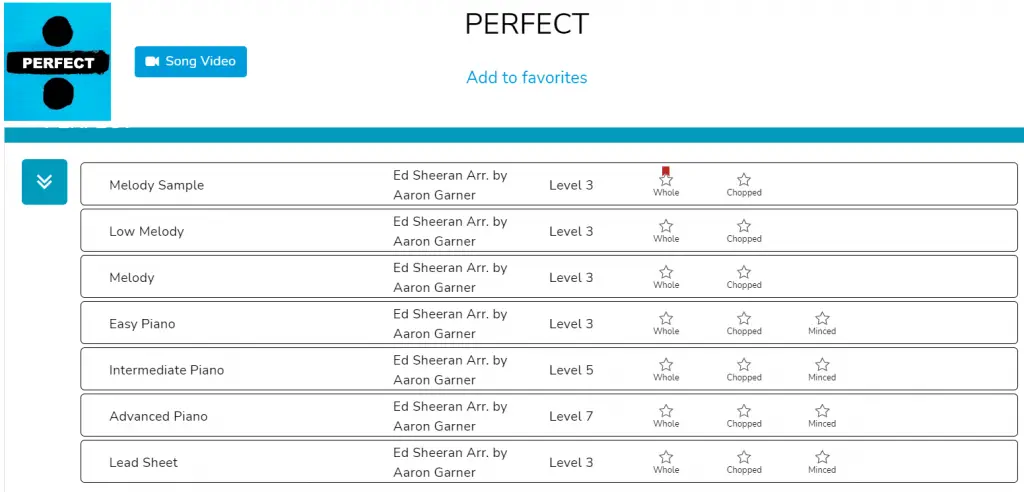 If you don't want to pay or just want to test it out, then you sign up for a free account. Free accounts entitle you access to the first two levels of the piano Method and Technique sections. You also get access to 200 songs in the music library.
Unfortunately, you won't get access to any of the copyrighted material. That said, you will get access to songs in the public domain and all of Aaron Garner's compositions and arrangements. You will also get access to most of the hymns.
A free Piano Marvel account will also let you take the sight-reading tests as many times as you want for the first month. After that, you will be limited to just three times per month.
Paid Account Pricing
Piano Marvel monthly subscriptions with full access normally start at $15.99 but you can get them for $12.99 with our promotional code. Annual rates are $110.99, so offer a slight saving.
Piano Marvel Overview
So that concludes this Piano Marvel review. Be sure to check out all our piano lesson reviews and leave a comment below to let us know what you think.