ROCKET UKULELE IS NOW CLOSED! If you want online ukulele lessons, we recommend Ukelikethepros.
Revolutionary… Intuitive… Fail proof. These are just a few of the comments about one of the most popular online ukulele instructional websites. This is impressive considering the offerings of other online ukulele prospects.
Rocket Ukulele prides itself on the effectiveness of its program by stating that just about anybody can become a ukulele player (of sorts) in as little as 30 days. And when they say that, they mean it! Once a student acquires the ukulele basics, the intermediate and advanced lessons shift gears to propel the student forward focusing on concepts of style and technique to aid students in attaining a professional level of performance. Rocket Ukuleles' statement, while lofty, puts it in a class of its own among other online ukulele courses. Rocket Ukulele goes way beyond mastering a few chunka chunka chord rhythms or plinking out a few simple ukulele songs. Students are encouraged to develop into real ukulele artisans with the requisite skills to begin a career in music if they so choose.
Rocket Ukulele utilizes what it calls specialized instructional strategies, which sounds a bit mysterious, but as they advertise, these methods are scientifically research-based.
Rocket Ukulele Online Ukulele Lessons Overview
They claim that these learning techniques reduce the overall learning curve by a healthy 10%. An important part marker along the road to helping students achieve ukulele mastery is that the Rocket Ukulele system teaches students how to read and write musical notation. As any skilled musician will tell you, this is an important part of developing as a professional. It also opens up a whole world of possibilities for learning and creating music of all sorts. In addition to reading and writing music, Rocket Ukulele encourages students to tap into primal musical instincts to learn about rhythm, timing, meter, and phrasing along with developing the all-important skill of playing by ear.
Don't have the time or the patience to work through a lengthy series of traditionally structured lessons? Is there a song that you just have to learn to impress your friends and family? No problem, Rocket Ukulele can help you with that. With a substantial list of popular song tutorials, you can pick and choose what you like and get right into strumming out your favorite tunes. What could be better than that? Rocket Ukulele also offers a good variety of bonus materials included with their lessons such as ukulele learning forums, tools, software and resources from sheet music, to tablature, to audio files that can be used to supplement student practice sessions.
Rocket Ukulele, like other ukulele sites, features access to instruction specializing in a variety of musical genres that range from classic Hawaiian fare, to jazz, rhythm and blues, rock, pop, and even gospel. With that much variety students can explore different styles to see what they like and then take advantage of focused training by genre to hone in on learning all aspects of a specific style.
The ability for students to work at their own pace is a prominent feature built into the Rocket Ukulele system. Students need not feel rushed to cover a certain amount of material before they have truly mastered a concept. Students need not worry about making mistakes or disappointing a demanding instructor. With Rocket Ukulele, boring, monotonous practice is a thing of the past, because lessons are designed to be engaging and fun, making students look forward to practicing the ukulele.
For added value, students of Rocket Ukulele are able to participate in a flourishing online community dedicated to like-minded ukulele enthusiasts where they can expand their learning, share their accomplishments, and broaden their knowledge base.
Along with the other lesson resources, there are four BONUS categories that contain a large collection of materials, resources, and useful learning tools every ukulele player will appreciate.
The FAMOUS SONG TUTORIAL, BONUS #1, puts students on a fast track to learning their favorite popular songs. This site has hundreds of song tutorial lessons by some of today's most in-demand artists. Students can dive in to learn the notes, chords, and strumming patterns of their favorite songs.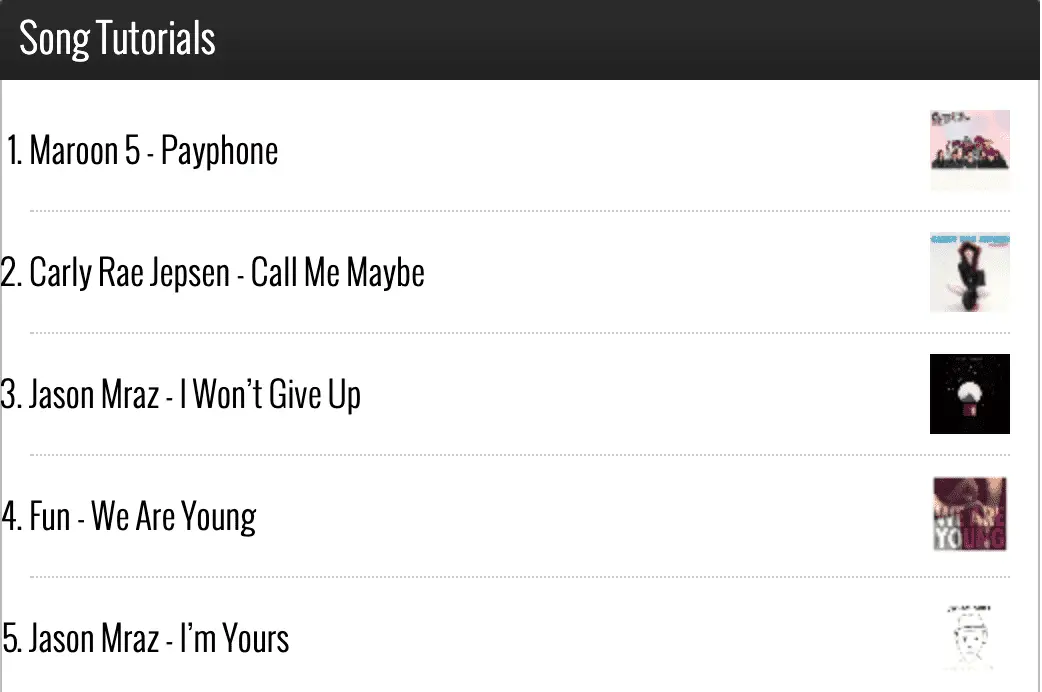 BONUS #2 contains access to LEARNING FORUMS where students can exchange their thoughts and experience with ukulele professionals ready to work through their problems and answer questions 24/7.
Other important and useful features are contained in BONUS #3, items such as: Ukulele Tools, Software and Resources. Featured here are ukulele based games and quizzes, visualization tools, flashcards for memorizing music theory and information about the ukulele. Students can also play a virtual ukulele from their desktop or tablet. Another outstanding feature of the BONUS #3 materials is that students can record and edit recordings of themselves playing the ukulele and apply musical tools to manage and shape their recording.
If that's not enough, BONUS #4 features access to literally thousands of pages of printable sheet music, tablature, and backing tracks to accompany your own ukulele playing.
Once subscribers become a part of the Rocket Ukulele nation, they are granted a lifetime membership that does not expire. This entitles students access to all the current and future content and resources as they become available. This gives Rocket Ukulele a distinct advantage over other lesson providers whose lesson content is largely static or is not updated as frequently.
When it comes down to dollars and cents, Rocket Ukulele is modestly priced at $79.97. Periodically, Rocket Ukulele offers discounts to new subscribers. As of the time of writing this article, one such offer is in effect allowing new subscribers to access all of the online lesson content and supplemental materials for an amazingly low $27. Payment can be made by credit card, online check, or PayPal. As mentioned previously in this article, traditional ukulele lessons can cost around $60 an hour on average, which is cost prohibitive for most people, making Rocket Ukulele a reasonably priced and attractive option.
If you want the flexibility of learning the ukulele from top to bottom with a full range of tools, resources, and community support, then Rocket Ukulele maybe your answer. It has lots of popular songs with step-by-step focused tutorials on how to play them. With its comprehensive resources, lifetime membership, and reasonable price, Rocket Ukulele scores a very agreeable 4 ukuleles out of 5 and is certainly worth checking out.