The Best Bass Guitars in 2018 Reviewed and Tested!
Welcome to our Bass Guitar review page where we have searched high and low to find you the best bass guitars the market has to offer in 2018. Our review list begins with the more expensive bass guitars starting at just under $1000 before moving down to the budget end of things. We have also included travel and beginner bass guitars on our list for this year. At the bottom of the page, you can find more general bass guitar info that we have prepared for you. So what are you waiting for? Let's find the best bass guitar for you in 2018!
Best bass guitars for under $1000

The Yamaha BB Series bass comes in the 424X, 1024X and the 2024X versions. Yamaha's new BB series bass guitars boast all the well-loved characteristics of the original BBs launched more than 30 years ago, from the big body design and vintage-style hardware to the bolt-on neck and split-coil pickups.
The BB424X has four strings and features a bolt-on 5-piece maple/nato neck, ceramic pickups, alder spline-joint body and an appealing tobacco sunburst finish. The legendary BB design, passive P/J pickup configuration and overall simplicity of the bass makes it a great choice for purists and those looking for a straightforward bass without the frills. It comes completely set up, with just a few minor adjustments needed to suit individual tastes.
The Yamaha 424X is one great bass for its price range–it can easily compete with more expensive bass guitars from other companies. It's great for all uses, from practicing and jamming with friends to playing in small venues and recording your own tracks.
Beautiful finish and flawless construction throughout

Versatile to fit all music and playing styles

Smooth feel and great playability

Lows have a piano-like quality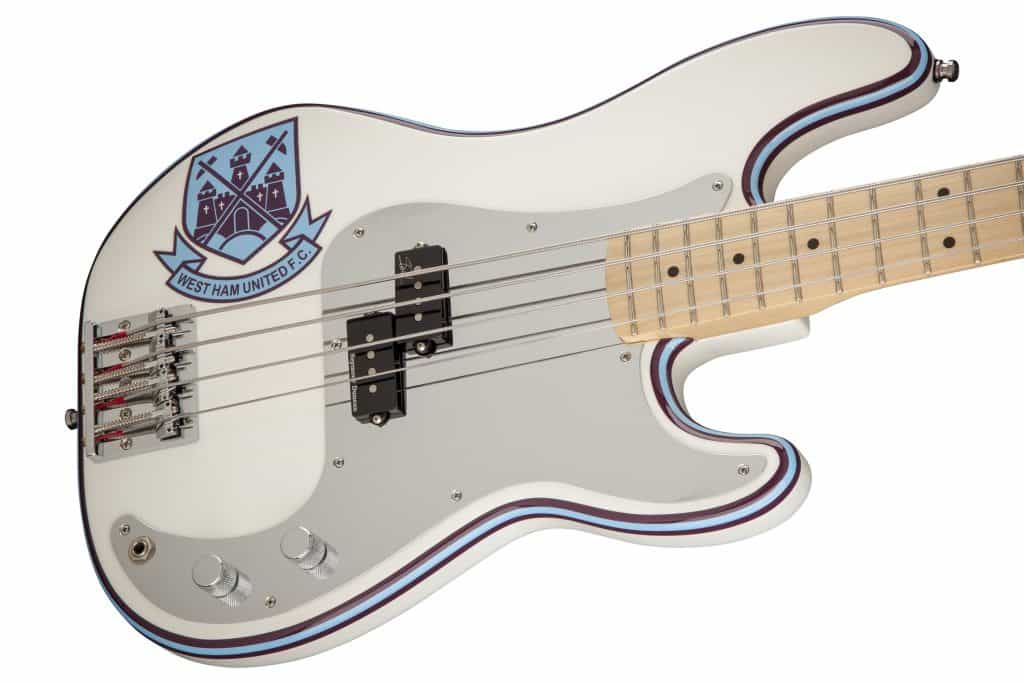 Steve Harris of Iron Maiden has garnered a massive fan base for his gallop and now he's inspired so many to take up the bass as well. His signature Precision Bass is now available for those who want to be as fleet-fingered as him. Like Harris' own Precision Bass, this Fender sports the crest of UK football club West Ham United, of which Harris has been a staunch supporter. He was actually asked to train for the team during his younger years before he realized that being a pro footballer wasn't really what he wanted to do.
Now more about the bass: special pinstriping on the gloss white finish make this instantly recognizable as a Steve Harris. You also have his signature at the back of the headstock.
Does it also have the same bass tone as Harris' own axe? You bet, thanks to the Seymour Duncan SPB-4 (split coil) pickup that Seymour Duncan made. The pickups are also directly inspired by Harris' unique bass tone.
Clarity in tonal transfer plus max resonation are provided by Fender's own High Mass bridge. The modern C-shape neck profile makes the bass comfortable to play, especially for beginners. A deluxe Fender gig bag is included with the guitar so you can be on your way to become the next (or possibly even better) Steve Harris on tour.
Responsive pickup

Design and construction are top quality - expect no less from a Fender

Great sustain
May be too heavy for young players
Best bass guitars for under $500

The Schecter Stiletto Extreme-4 bass guitar sports a lower-cutaway mahogany body, a rosewood fretboard, a figured maple top, a maple neck and a diamond bass neck. It comes equipped with two Schecter bass humbucker pickups with active EQ circuit, allowing players maximum control over the sound output. For just under $500, you get a top bass that's got you covered whatever music style you play. Its strengths make it ideal for warm contemporary R&B tones, slap-bass tones and even jazz solos.
The Stiletto Extreme-4 has a low action and a narrow neck, making it comfortable to play for new players. It not only feels and plays great, it looks great as well with its unique body shape and stunning finish. This is a beautiful bass more than worth its price.
Lightweight and small, with low action - good for beginners

Playable out of the box--any minor adjustments necessary can be done using the included wrenches

Diverse with a wide range of tones

Thin and fast neck
Case is sold separately

Generic battery and string replacement recommended

Squier's Vintage Modified Jazz Bass V is a If you're looking for a solid, top-quality 5-string bass that won't break the bank, Squier's Vintage Modified Jazz Bass V might be right up your alley. This Squier delivers that classic Fender Jazz Bass Tone without the cost usually associated with a Fender. With two Fender-designed single-coil Jazz Bass pickups, it's easy to see why Squier bass guitars have the same sound quality as the more expensive Fenders.
Construction-wise, this bass has a soft maple body with a natural gloss body finish and a "C" shape one-piece hard maple neck with a vintage-tint gloss and maple fingerboard. Black binding, block inlays, a three-ply pickguard and chrome hardware and tuners round off the design.
Overall quality exceeds that of other bass guitars in this price range

Good playability out of the box

Comparable to a Fender Jazz Bass in sound quality
Some minor manufacturing defects reported
Best bass guitars for under $300

Considered one of the best basses in this price range, the Yamaha TRBX204 boasts impressive specs. Aside from the standard Yamaha cutaway shape, this basswood-bodied bass guitar has a bolt-on maple neck with a satin finish, rosewood fretboard with 24 medium frets, split single-coil pickups and controls for master volume, pickup balancer and EQ (treble and bass).
The precision-fitted bolt-on neck joint allows for maximum adjustability as well as a clear, punchy tone. The neck joint shape efficiently balances vibration transfer, strength and also upper-fret access. The TRBX's high-mass diecast bridge perfectly transfers string vibrations to the guitar's body for a rich and full tone.
Good weight distribution

Controls allow for a more aggressive tone

Versatile for different playing styles
Initial setup may need to be modified according to individual preference

Another 5-string bass on our list is this offering from Ibanez. The GSR205BWNF features a mahogany body, GSR5 maple neck, rosewood fretboard with a white dot inlay, medium frets and a B15 bridge for impressive sustain. This model is part of the GIO series, developed for musicians who want the quality of an Ibanez guitar in a wallet-friendly package.
This bass guitar has two passive Dynamix H pickups (bridge and neck) and a Phat II equalizer with active bass boost for a fat, punchy tone. The contoured body and slim neck profile allows for extreme playing comfort and speed. If you're not up to shelling out up to $500 and are adamant about purchasing a bass that's "too inexpensive to be good," then this Ibanez will definitely suit you well–very, very well.
Amazing playability out of the box

Lightweight and easy to hold

Great bass for the price
Needs a better set of strings
Best bass guitars for under $200

Aspiring musicians should really thank Squier for giving them Fender-quality instruments at an accessible price, like this short-scale Vintage Modified Jaguar Bass Special. This bass guitar is more than a just a beginner's model, however. With its retro looks, ultra-slim neck and powerful Fender electronics, this is an instrument any bassist–cash-strapped or otherwise–would be only too happy to have.
Vintage SS Modified Special Jaguar bass guitar sports a short-scale maple neck and rosewood fretboard that allows for fast and smooth action. Together with the sleek body profile, this is one comfortable bass to play. It's usually hard to balance comfort with sound quality, but Squier nails it with the Vintage SS Modified Special Jaguar's single-coil Precision Bass pickup at the bridge and Jazz Bass pickups at the neck. These alone make this a great-value bass for the price. The brand may say Squier, but we say at its core it's a true Fender.
The shorter scale and slim neck make it easier to play - great for smaller hands

Set up well out of the box

High-quality tuners that stay in tune
Some quality control issues reported

Stock strings in need of replacement
Bass Guitar Consumer Info
Bass players are often overshadowed by lead guitarists in a band but they actually have the most crucial role in a performance. Every band member depends on the bass player's lead; bassists are responsible for making the link between a song's harmony (the chords) and its rhythm (the groove).
Linking the harmony with a song's distinctive rhythm impacts the style or feel of the music–in a way, the bassist is the one who determines the genre of the song being played, whether it's jazz, rock, soul or some other style.
Bass players in no way play second fiddle to the guitarist as they have their own distinct role: to keep time, keep the pulse going or establish steady rhythm by locking in with the drummer. Together with the drummer, bassists provide the backbone that holds up the entire ensemble.
As Flea of the Red Hot Chili Peppers puts it, "As a bass player, you're laying the foundation, you're making the bed, you are giving the ground for everyone else to dance upon and you have to make it solid… Your rhythm has to be good, and you have to be listening and paying attention to what everyone else is doing and doing the best job that you can to create the atmosphere for everyone else to be beautiful."
Learning to play bass is definitely a plus for those who already play the guitar. Even for those who have not tried playing any musical instrument, a bass guitar is a good first instrument to pick up, especially if you like rich, low and deep tones and feeling the rhythm of the music. Here's all you need to know about this instrument to get you started!
How to choose the right bass guitar for you
As with other musical instruments, a bass guitar is an investment. If you're serious about learning to play, it's important to get a good, comfortable one from the get-go as this will help you learn to play properly and motivate you to keep practicing. A bass guitar that won't stay in tune, is too heavy or is too cumbersome for you just won't cut it, so it's recommended to try as many bass guitars as you can before buying one.
Is price a factor? Definitely, though you can buy a good bass guitar even on a limited budget. The rule of thumb here is to buy the best bass guitar you can afford. Starting with a well-performing instrument will make learning to play easier, plus you won't outgrow or need to upgrade as quickly.
For beginners, it's ideal to choose a 4-string bass for the sake of simplicity, and choose one that has frets and simple controls. This way, you can learn chords easily and focus on the strings instead of being distracted by knobs.
A bass guitar that comes in a color and shape that you like is a good choice because it will also help motivate you to play. When you buy a guitar that appeals to you aesthetically, you'll want to always have it in your hands or at least within easy reach for practice sessions.
For young players, petite players or adults with small hands, a short-scale bass is also an option.
When you have the chance, go to a music store and check out all the available bass guitars so you can get better acquainted with how they look and feel in person. The neck profile should be nice and comfortable in your hand and it shouldn't give you muscle strain with its weight. The string action should be low enough for playability–then again, this can always be adjusted according to your preference.
All in all, choosing the bass guitar that's right for you would depend on your budget (don't forget you still have accessories like cables and an amp to purchase), skill level (fretted for beginners), aesthetic taste and playing comfort. Shop around, watch demos and try them out yourself before buying bass guitars online or elsewhere. The extra work you put in will be worth it once you have your perfect bass baby set up and ready to play.
What materials are used to make bass guitars?
Bass guitars are built similarly with electric guitars. They are made of different materials, with wood being the most predominant. Different types of wood may be used to make a bass guitar's body, fretboard and neck. The most common wood types used for the body of a bass guitar are alder, ash, maple, poplar and mahogany. For the fretboard, the preferred type of wood is rosewood though ebony and maple are also used. The neck is usually made of maple or mahogany.
There are also custom bass guitars that make use of more exotic types of wood such as wenge, bubinga, goncalo alves and ovangkol. For example, bass and guitar company Alembic makes use of cocobolo as material for their instruments' bodies and top layers because of the wood's attractive grain. Warwick, another bass guitar brand, also uses exotic hardwoods in their guitars: ovangkol for the necks, wenge or ebony for the fretboards and bubinga for the bodies.
And as with electric guitars, graphite composites are also used to create lightweight necks and bodies for bass guitars.
What is a good size and shape for a bass guitar?
Bass guitars come in two major sizes and a various shapes. There's the long-scale bass and the short-scale bass. A long-scale bass has a scale length (the distance from the saddle to the nut) of 34-35 inches, with strings having a 36.5- to 37.5- inch winding length. Long-scale basses with a 34-inch scale length have become the standard.
A short-scale bass has a string length of less than 31 inches and therefore has a different tonal character. A shorter string length means less volume for the higher harmonics, resulting in a darker, thicker tone.
A good size for a bass guitar depends not only on the sound you want to create but also comfort and playability. With a shorter neck, short-scale bass guitars are more comfortable for young players or anyone that has difficulty reaching the other end of a long-scale instrument.
In addition, short-scale bass guitars require a lower string tension to be tuned properly. With a looser tension, the strings also have a softer, more loose feel, making short-scale bass guitars easier to play.
As for the shape, it doesn't really matter in terms of sound quality. The shape of a bass guitar does contribute to how you are perceived as a player–if you have a sunburst Fender Precision bass, you'll be seen as a jazz, blues or R&B player; change the color to a bright turquoise or pink and you might be considered a funkateer. Choose a V-shaped or pointy bass and your audience will think you're out to rock it hard. It's really all about cultural trends and personal aesthetic preference.
A good size for a bass guitar therefore is one that lets you play comfortably and produce the sound that you want, and a good shape is one that appeals to you. After all, there's no rule stating that you can't play a powder blue guitar in a death metal band.
Which bass guitar brands are most respected?
When it comes to bass guitars, the following brands have earned a reputation for producing reliable, quality instruments any player would be proud to have.
Fender – the Jazz and Precision Bass guitars have set the bar when it comes to bass guitars. Famous Fender bass players include James Jamerson of the Funk Brothers, Flea of Red Hot Chili Peppers and Mark Hoppus of Blink-182.
Squier – this Fender-owned brand offers low-cost versions of Fender instruments. The high-quality, budget-friendly Squier Affinity Series are a smart option for beginners, while the Classic Vibe and Vintage Modified series are geared toward veteran bassists.
Ibanez – the brand's BTB and Soundgear lines are loved by many bassists around the world, especially those into metal and hard rock. The GSR200 is often recommended as a starter bass guitar for beginners. Famous players include Korn's Fieldy Arvizu, The Offspring's Kevin John Wasserman (aka Noodles) and Slipknot's Paul Dedrick Gray.
Rickenbacker – though not as well-known as Fender, Rickenbacker is also a well-respected brand that has shaped the sound of rock music. Some of the popular bass players who have used Rickenbackers are Lemmy Kilmister, John Entwistle, Geddy Lee and Paul McCartney. The 4000 Series bass guitars are considered classics.
Washburn – this brand has been around for more than a century. The company mostly makes mid- to high-end, top-quality bass guitars. The Washburn Taurus series has the T12 as the basic model going up to the T24 (4-string bass) and the T25 (5-string bass).
Schecter – one of the top brands for metal and hard rock bassists. Schecter guitars are often well-appointed instruments equipped with features you would expect in guitars that cost a lot more. The Stiletto series are often recommended for beginners on a budget.
Gibson – Gibson's bass guitars aren't as popular as its electric guitars, but that doesn't mean they don't have the same wow factor. One of the top-selling Gibson basses is the Thunderbird, which is modeled after the company's Firebird guitar, and which Nikki Sixx of Motley Crue played for years. There's also a Les Paul bass, which has the same maple cap and mahogany body as the Les Paul electric guitar. Nirvana's Krist Novoselic, Sonic Youth's Kim Gordon and Kings of Leon's Jared Followill have all been seen playing a Gibson bass.
Peavey – this brand is known for making affordable bass guitars and coming up with starter packs that are perfect for newbies. The Milestone, Grind, PDX and Millennium series are worth checking out.
Lakland – a relative newcomer compared with other brands that have been around for decades, Lakland has quickly gained a reputation for producing bass guitars with exceptional sound and quality.
Music Man – Music Man's bass guitars stand out because of their use of big humbucking pickups instead of the usual single-coil pickups, resulting in a beefier tone and a more efficient way to cancel unwanted noise. The StingRay is the brand's flagship model. Other models include the Sterling, Bongo and Sabre.
Spector – guitarists might say "What?" when they hear Spector, but bassists would simply nod in respect. Spector bass guitars are favored for their beautiful finishes and deep, warm tone. The Spector NS is the classic model.
Warwick – a Germany-based bass maker, Warwick is known for its high-end Thumb, Streamer and Corvette bass guitars. The brand also has a Rockbass line for budget-constrained bassists. Some of the most popular Warwick bass players are Bootsy Collins of Fatboy Slim, Adam Clayton of U2 and Stuart Zender of Jamiroquai.
Yamaha – this brand has a wide range of instruments, from pianos and drums to electric guitars and basses. Often considered a beginner- and budget-friendly model is the RBX170; on the higher end are the TRBX bass guitars that can go headstock-to-headstock with the best guitars from other brands. Tony Kanal of No Doubt, Nathan East of Toto and John Ro Myung of Dream Theater have all played a Yamaha bass guitar.
Which bass guitar is best for beginners?
There are actually plenty of bass guitars that are suitable for beginners. Three of the best that are worth considering are the Yamaha RBX170, Ibanez GSR200 bass and Fender Precision Bass. The RBX170 from Yamaha has surprisingly good hardware and a great tone with a P/J pickup layout, at a below-$200 price point that's too good to pass up.
The GSR200 from Ibanez is another great option for beginners, though priced a bit higher than Yamaha's entry-level bass. Still, this is a solid bass that gives good value for money, plus the thinner neck is easier on small hands.
Last but certainly not the least is the popular Precision Bass from Fender, the first mass-produced electric bass guitar in the world and still going strong. Also known as the P-Bass, this guitar has a focused low-frequency response that makes it many bassists' go-to instrument for rock, pop, blues, jazz, reggae and other music styles. The budget-friendly alternative is Squier's Classic Vibe '50s Precision Bass that produces the classic P-Bass tone without the P-bass price.
What is the best fretboard material for a bass guitar?
Bass guitar fretboards may be made from rosewood, maple or ebony. Some argue that the tonewood used on a fretboard doesn't really play a significant role in defining the bass guitar's overall tone, but instead is a factor when it comes to the playing feel and to some extent the instrument's aesthetics.
When you look at the fretboard material this way–considering that the way an instrument feels in your hand and appeals to you affects how you physically interact with it–the type of wood used does contribute to the final tone that you make.
The preferred and most common fretboard material is rosewood, with pro bass players swearing by its bright and clear tone that has a warmer and darker sound than that produced by a maple or ebony fretboard. Rosewood is a naturally oily wood, which means it doesn't require a finish. Many bassists prefer this natural, slick feel. Both Brazilian and Indian varieties of rosewood produce a warmer and softer tone than maple and ebony, with Indian rosewood generating a warmer tone.
Maple, unlike rosewood, requires a finish that some players find too sticky. Constant use also makes the light-colored maple fretboard take on a dirty appearance, but bassists do like how the material produces a well-defined, bright and crisp sound.
Ebony also produces a clear, crisp sound like maple, but at a brighter degree. Similar to maple in density but to rosewood in terms of natural oiliness, ebony does not require a finish. It's the darkest fretboard material among the three, making it a popular choice among musicians who believe that black will always be the new black.
To determine which fretboard material would suit you, go to a music store and try out different bass guitars with rosewood, maple and ebony fretboards. How the fretboard feels is definitely an important consideration, since a playing surface that feels off or uncomfortable to you will result in you not being able to play your best, if at all, no matter how good your bass guitar sounds.
Where are bass guitars usually made?
Bass guitars, like electric guitars, are usually made in the workshops or instrument-making facilities where the company, luthier or custom shop is based. Some U.S.-based brands also have their bass guitars manufactured and assembled in countries such as Mexico, China and Indonesia. There are also companies that source the parts from other countries then have the guitar assembled in their home facilities.
Fender is one example of a company that manufactures some of its products outside the United States: it makes its budget-friendly Standard P-bass and Jazz bass guitars in Mexico. Gibson is another company that has facilities offshore (China).
How many strings should I have on my bass guitar?
Traditional bass guitars have four metal strings tuned to EADG. You can also find bass guitars with five to twelve strings, with the 8- and 12- string models having pairs of strings meant to be played together, usually in a more classical context. The most common bass guitars have frets, while some do not, which allows for a greater subtlety of sound.
For beginners, a 4-string bass guitar is suitable for most music styles. The neck is also smaller than those on more-stringed basses, making 4-string guitars easier and more comfortable to learn with. If you need a lower pitch, it's possible to tune a 4-string bass to get the desired effect.
However, if you want to reach lower notes without having to detune your instrument, you can opt for a 5-string bass, which has a lower B string that gives the instrument a deeper range. Bass guitars with five strings are popular with jazz, fusion, metal and hard rock musicians.
A 6-string bass, which has a high C string and a low B string, would probably be too much for learning on, but if you want the challenge, then by all means get one with six strings especially if you're looking forward to a lot of soloing.
What's the difference between passive and active pickups?
Active pickups on a bass guitar need a power source (usually a 9-volt battery) in order to work while passive pickups do not. An active pickup The difference doesn't end there however, because each pickup type has its own sound and advantages over the other.
Bass guitars that have active pickups use a battery to power an onboard pre-amplifier (preamp). The preamp enables players to cut and boost frequencies, allowing bassists to have more control over the tonal output. The amount or extent of control a bass player has depends on the preamps features–some preamps just have controls for bass and treble, while others are equipped with mid-range controls. This is why in some cases, the preamp can also serve as an equalizer.
Since active pickups are battery-powered, if the battery dies, most active pickup systems will fail to work. It's necessary to carry spare batteries especially if going on gigs. When not in use, active basses need to be unplugged to avoid battery drain.
Compared with passive pickups, active pickups have a louder output, pick up less interference and external noise and there is less signal loss to the amplifier. Active pickups also make use of smaller magnets than passive pickups. Active electronics is a popular choice for bassists who want a brighter and snappier tone and a broader tonal range as well as those who have a slap-and-pop playing style.
Passive pickups are straightforward and do not give a bass player much control over the tonal output, but they are considered to have more dynamics than active electronics. On passive pickups, players can only turn down the treble and bass frequencies–this means that how you play can affect how the tone comes through. If you play gently, the tone will be softer.
Many bass players prefer the simplicity of a passive pickup system that doesn't require changing batteries or any sort of power supply to work. Passive pickups also tend to have a warm, full and "punchy" tone.
Some bass guitar models have both active and passive electronics that allow players to switch between the two pickup systems. Fender's American Deluxe Precision Bass and American Deluxe Jazz Bass are some examples.
If you are looking for a good starter bass, either pickup system is fine. It's up to you to decide what you prefer in terms of tone control and output as well as which pickup system best suits your needs.